sep 30, 2013
BIG, SANAA + OMA among shortlist to design axel springer's new media campus
BIG, SANAA + OMA among shortlist to design new media HQ for axel springer
aerial view of the lindenpark plot site

on may 27th, 2013 it was announced that axel springer AG was hosting a competition to realize a new media campus for the publishing enterprise. at that time, a selection of twenty international firms, both the established and avant-garde, were invited to participate and informed of further steps for tendering. the project site for the new multimedia center, which is set to be home to axel springer AG's digital and daughter companies, is the lindenpark plot–framed by schützenstrasse in the north, axel-springer-strasse in the east, zimmerstrasse in the south and jerusalemstrasse in the west–within the immediate vicinity of its existing headquarters.
'the building should not only be overwhelmingly beautiful, but also address the question: what does material mean in a dematerialized media economy, what does an office mean in a mobile working environment, in which offices are no longer really required? the project can play a key role in the digital transformation of our company by bringing the digital subsidiaries which have so far been located on the periphery of the company into the center and networking them with the organization's traditional brands,' said mathias döpfner, chief executive officer of axel springer AG, at the presentation of the project.
five firms have now been shortlisted to realize the multimedia centre. bjarke ingels group (BIG), kuehn malvezzi, ole scheeren, rem koolhaas (OMA) and SANAA have been selected from a total of 18 submissions, to move on to the second and final phase of the competition to realize the 60, 000 m2 complex. the winner will be announced in december 2013.
oct 06, 2016
oct 06, 2016
mar 27, 2014
mar 27, 2014
dec 25, 2013
dec 25, 2013
aug 08, 2017
aug 08, 2017
jul 13, 2017
jul 13, 2017
jun 01, 2017
jun 01, 2017
dec 10, 2016
dec 10, 2016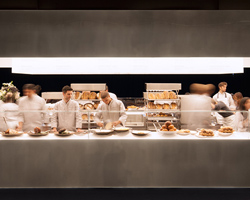 nov 29, 2016
nov 29, 2016
sep 01, 2016
sep 01, 2016
jul 10, 2017
jul 10, 2017
jun 19, 2017
jun 19, 2017
jun 05, 2017
jun 05, 2017
SANAA
(66 articles)
jun 14, 2017
jun 14, 2017
jan 08, 2017
jan 08, 2017
nov 28, 2016
nov 28, 2016