german footwear company birkenstock has settled their australian headquarters in the area of clifton hill in melbourne. the new headquarters boasts a design that has been developed with sustainability as the main focus, while following birkenstock's core values; honesty and integrity, sustainability, quality and craftsmanship.

all images © peter clarke
occupying a refurbished two-storey heritage shop façade that can be completely opened to the streetscape, the birkenstock HQ was conceived by the architects at melbourne design studios (MDS). the double façade with two layers of operable glazing open onto a living grass floor and a deciduous tree to invite customers into the rustic interior which continues to incorporate greenery into all-aspects of the interior. in total, the building is composed of a retail shopfront, e-commerce, wholesale, offices and showrooms, workshop, courtyard and warehouse with mezzanine.

once a boot manufacturer, the building was reinvented by locally based firm melbourne design studio
throughout, the new headquarters apply techniques to promote a healthy and comfortable working environment for the birkenstock employees. low VOC materials, sustainable forested and recycled timber used, carbon neutral target, carefully positioned skylights to maximize southern light are all techniques used. at the center of the building, a courtyard modeled as an australian landscape featuring timber sleepers and a water tank provides a break-out space for socializing.

selected plants are positioned throughout the building as 'air purifiers'
meanwhile partitioning and traditional dividers have been eliminated between desks to to encourage collaboration, innovation and communication. melbourne design studios founding director marc bernstein-hussmann explains how the studio opted to integrate the different departments of birkenstock into a single company culture through the sustainable design: 'some staff amenities are shared between the building levels so retail and wholesale staff can meet in the middle throughout the working day, avoiding isolation,' he said. 'creating a green environment within an existing, heritage building is much more challenging than a new build. coincidentally over a hundred years ago the building was conceived for a boot manufacturer. we've reinvented an almost derelict building to live and breathe its owners' values.'

periscope-like skylights maximize southern light thus reducing the need for artificial lighting

the brick walls have been kept with the insertion of a new ceiling and additional floor plates

the interior highlights birkenstock's core values; honesty and integrity, sustainability, quality and craftsmanship

traditional dividers have been eliminated between desks to to encourage collaboration

the north facing shopfront has a double-façade with two layers of operable glazing

the central courtyard is modelled as an australian landscape

the heritage shop front in clifton hill with a living grass floor and deciduous tree
Save
Save
Save
Save
Save
Save
jul 07, 2017
jul 07, 2017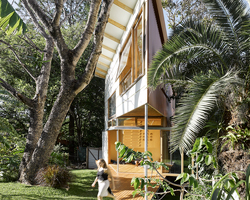 jun 28, 2017
jun 28, 2017
jun 26, 2017
jun 26, 2017
jul 21, 2017
jul 21, 2017
jul 16, 2017
jul 16, 2017
jul 11, 2017
jul 11, 2017