in southwestern france, bjarke ingels group (BIG) and FREAKS freearchitects have designed a major new cultural venue that contains a trio of institutions. centrally located in bordeaux, between the river garonne and saint-jean train station, the new 18,000 square meter maison de l'économie créative et de la culture en aquitaine, or MÉCA for short, brings together three regional arts agencies: FRAC for contemporary art; ALCA for cinema, literature, and audiovisuals; and OARA for performing arts.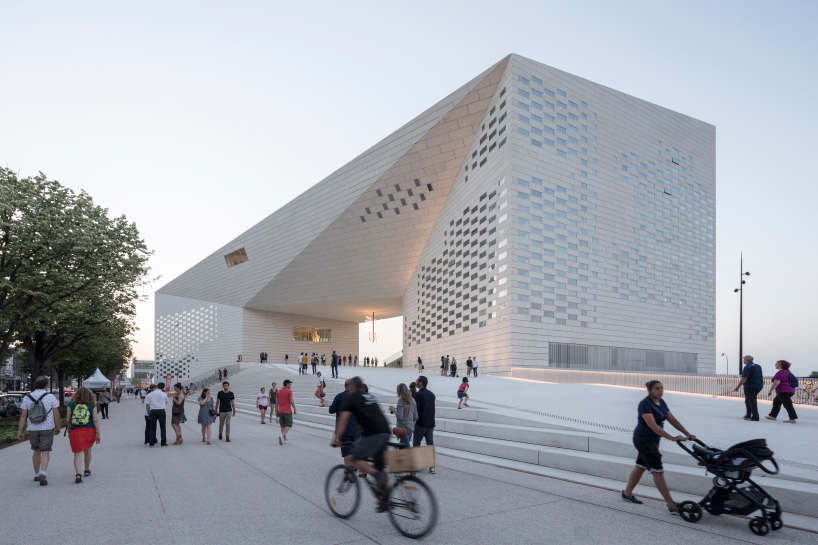 all images by laurian ghinitoiu
'OARA, ALCA and FRAC have already arrived when the building completed — and now that MÉCA has opened, the fourth and final element is here: the city and the citizens of bordeaux,' says bjarke ingels, founding partner & creative director, BIG. 'within this new urban room, we have already seen the arrival of the first skateboarders, the first romantic couple sharing a bottle of bordeaux on the steps, and the first demonstration on the sloping promenade. so consider MÉCA's urban room as a blank canvas, or rather an empty frame, for the bordelais to fill it with their ideas, their creativity, their culture, and to make it their own.'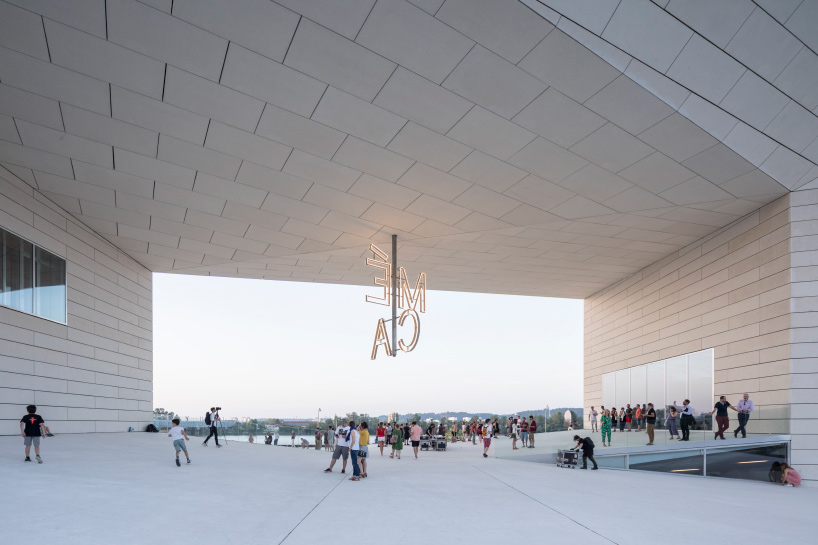 BIG and FREAKS, who were selected to complete the project in 2012, conceived the building as a single loop of cultural institutions that forms an extension of the promenade. 'not only does MÉCA spill its activities into the public realm and the urban room, but the public is also invited to walk around, through, above and below the new cultural gateway,' ingels continues. 'by inviting the arts into the city and the city into the arts, MÉCA will provide opportunities for new hybrids of cultural and social life beyond the specific definitions of its constituent parts.'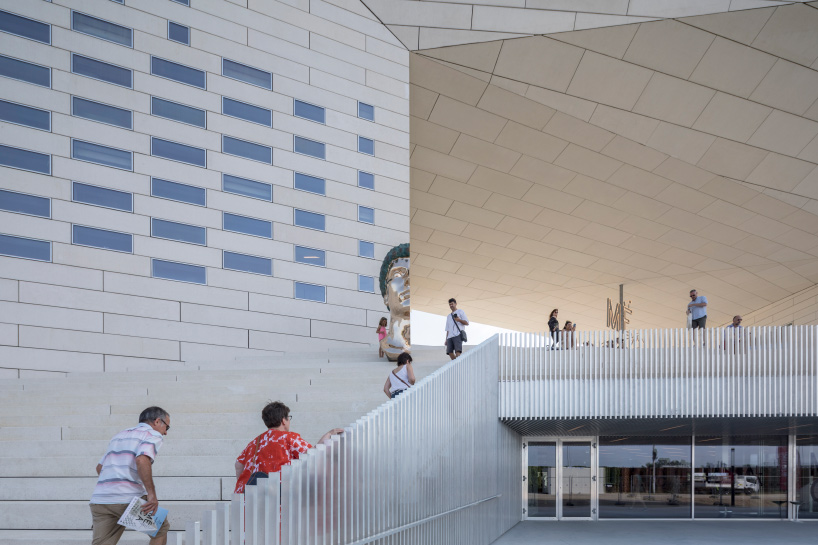 a series of steps and ramps lead the public directly into the outdoor urban room at the core of MÉCA, where a 7-meter-high (23ft) MÉCA sign illuminates the space with white LED lights. 'the urban room is at once a frame for the artwork, a stage for the performances, a screening room for the media collections and most perhaps most importantly, an open room for the urban life of bordeaux to invade and engage with the arts,' says jakob sand, partner, BIG. 'the visitors are almost participating in an installation, just by being there.'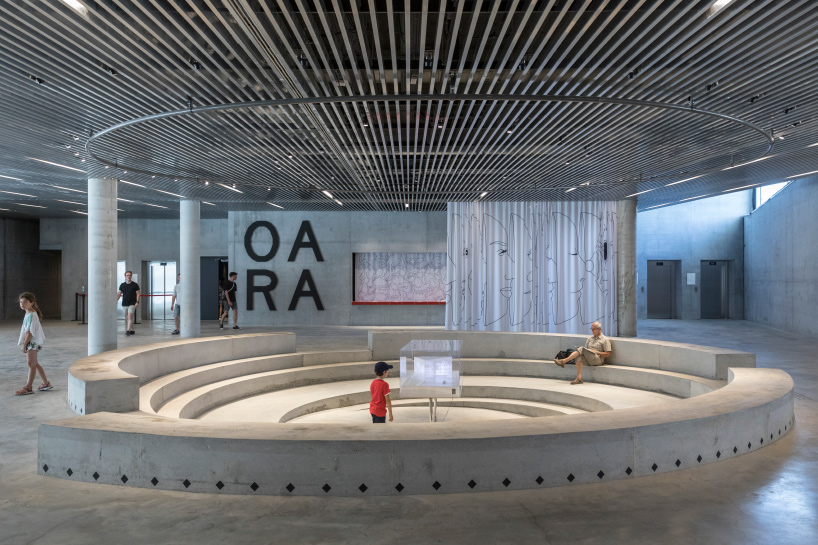 the outdoor spaces can be used as stages for concerts or even as external galleries. a permanent bronze sculpture depicting a half-head of hermes by french artist benoît maire is placed where the public space cuts through the building. 'the piece of the head that is missing is also the piece of the building that is missing,' adds bjarke ingels. 'the missing pieces are maybe the most interesting parts for the building because this is where all the public events and activities can happen, and for the sculpture because that's the part that is left open for people's interpretation.'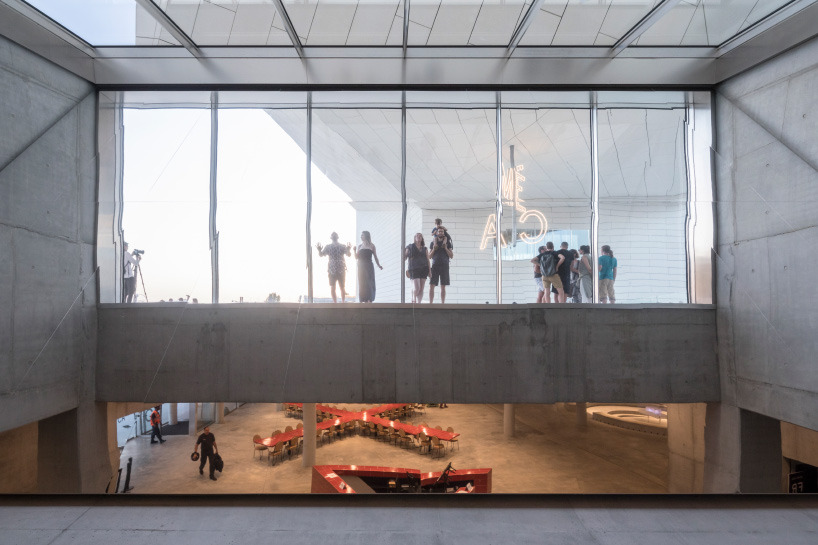 upon entering MÉCA from the ground floor, visitors arrive at the lobby where they are greeted by a spiral pit and a restaurant furnished with red chairs — designed by BIG in reference to bordeaux wine. meanwhile, a giant periscope by the restaurant and elevators allows visitors to view the activity taking place outside the building. 'working on the MÉCA building in bordeaux is a great occasion to cross views and balance between international references and local issues,' says guillaume aubry, cyril gauthier, and yves pasquet, founding partners, FREAKS freearchitects.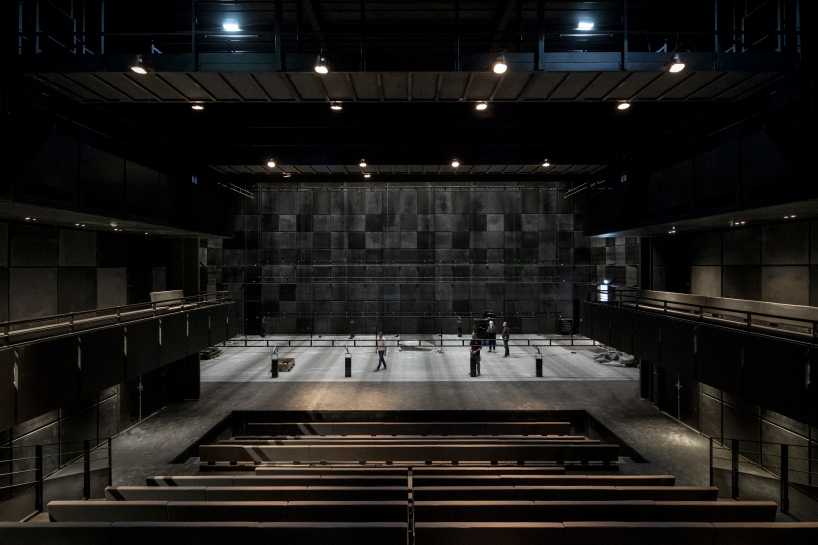 elsewhere on the ground floor, those with tickets can enjoy performances in OARA's 250-seat theater, while upstairs, film-goers can view screenings at ALCA's red-accented 80-seat cinema or visit the two production offices and project incubation area. finally, FRAC occupies the upper floors with generously proportioned galleries, production studios for artists, storage facilities, a 90-seat auditorium, and a café. a public roof terrace serves as an extension of the exhibition spaces, allowing large-scale art installations and performances to be placed outdoors with the city as a scenic backdrop.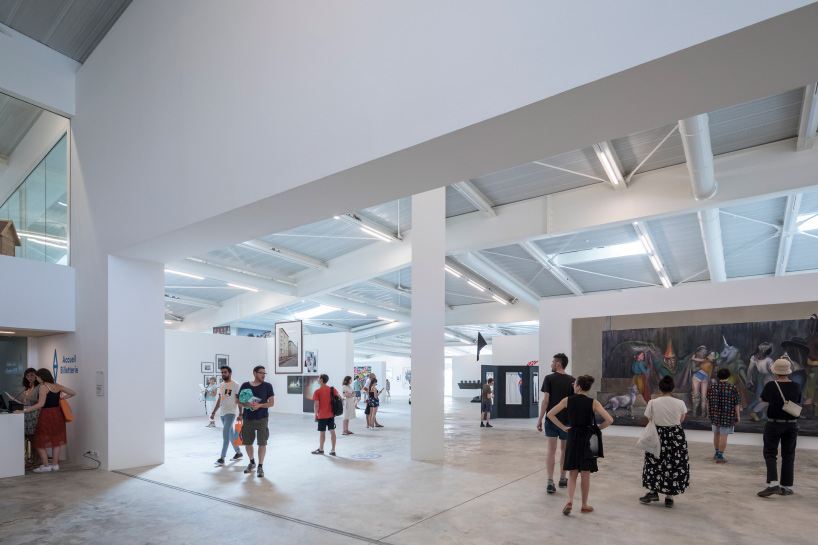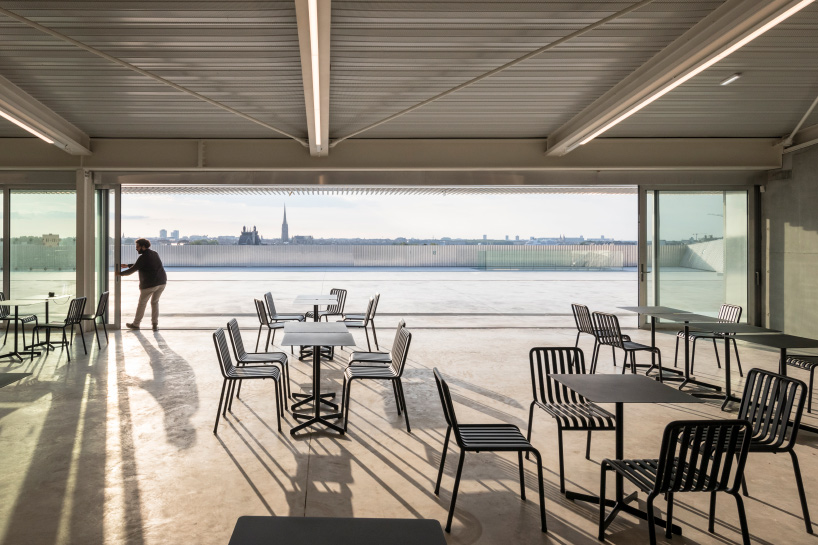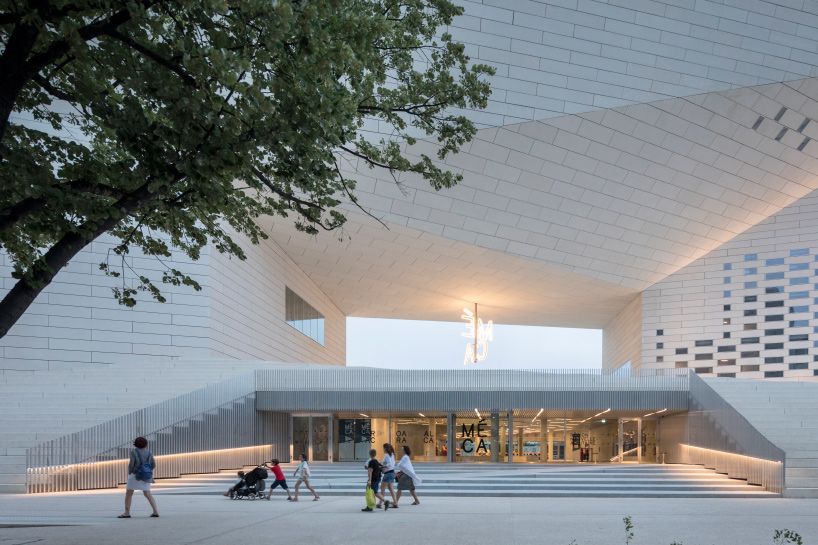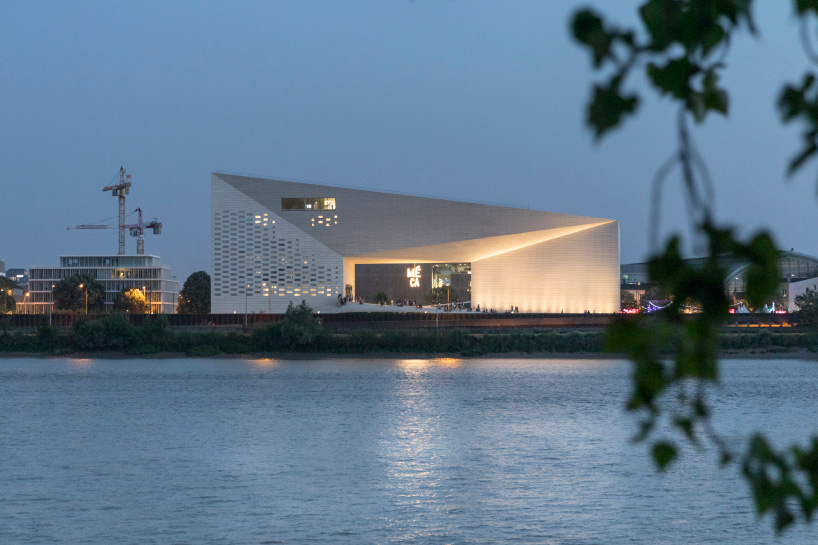 project info:
name: MÉCA
location: bordeaux, france
program: culture
status: complete
size: 18,000 sqm / 193,750 sqf
project type: competition
client: région nouvelle-aquitaine
design: bjarke ingels group + FREAKS freearchitects
collaborators: lafourcade-rouquette architectes, ALTO ingénierie, khephren ingénierie, hedont, dUCKS scéno, dr. lüchinger+meyer bauingenieure, VPEAS, Ph.A lumière, ABM studio, mryk & moriceau, BIG ideas
project team:
partners-in-charge: bjarke ingels, jakob sand, finn nørkjær, andreas klok pedersen
project manager: laurent de carnière, marie lancon, gabrielle nadeau
team: alexander codda, alicia marie sarah borhardt, annette birthe jensen, åsmund skeie, aya fibert, bartosz kobylakiewicz, bernhard touzet, brigitta gulyás, david tao, edouard champelle, espen vik, greta krenciute, greta tafel, hyojin lee, ivan genov, jan magasanik, jeffrey mark mikolajewski, karol bogdan borkowski, katarzyna swiderska, kekoa charlot, lorenzo boddi, maria teresa fernandez rojo, melissa andres, michael schønemann jensen, nicolas millot, ola hariri, ole dau mortensen, pascale julien, paul-antoine lucas, raphael ciriani, santiago palacio villa, se hyeon kim, sebastian liszka, seunghan yeum, snorre emanuel nash jørgensen, teresa fernández, thiago de almeida, thomas jakobsen randbøll, yang du, zoltan david kalaszi, tore banke, yehezkiel wiliardy
aug 03, 2020
aug 03, 2020
aug 03, 2020
aug 03, 2020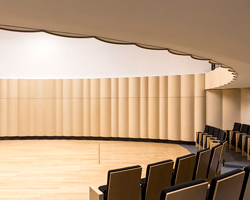 jul 28, 2020
jul 28, 2020
jul 24, 2020
jul 24, 2020
jul 23, 2020
jul 23, 2020
jul 22, 2020
jul 22, 2020
jul 19, 2020
jul 19, 2020
jul 11, 2020
jul 11, 2020
jul 06, 2020
jul 06, 2020
jul 30, 2019
jul 30, 2019
sep 05, 2014
sep 05, 2014
sep 04, 2014
sep 04, 2014
may 09, 2020
may 09, 2020
may 06, 2020
may 06, 2020
oct 28, 2019
oct 28, 2019
jul 29, 2020
jul 29, 2020
jul 29, 2020
jul 29, 2020
jul 23, 2020
jul 23, 2020
a diverse digital database that acts as a valuable guide in gaining insight and information about a product directly from the manufacturer, and serves as a rich reference point in developing a project or scheme.