the government of dubai has announced that bjarke ingels is slated to build the largest ever space simulation city in the UAE desert, a destination which will mimic the conditions of life on mars. covering 1.9 million square feet, 'mars science city project' will provide a realistic model to simulate life on the surface of the red planet. a series of monumental domed structures will host laboratories for food, energy and water, agricultural testing and studies about food security, and a museum displaying humanity's greatest space achievements. the walls of the museum will be 3D printed, using sand from the emirati desert.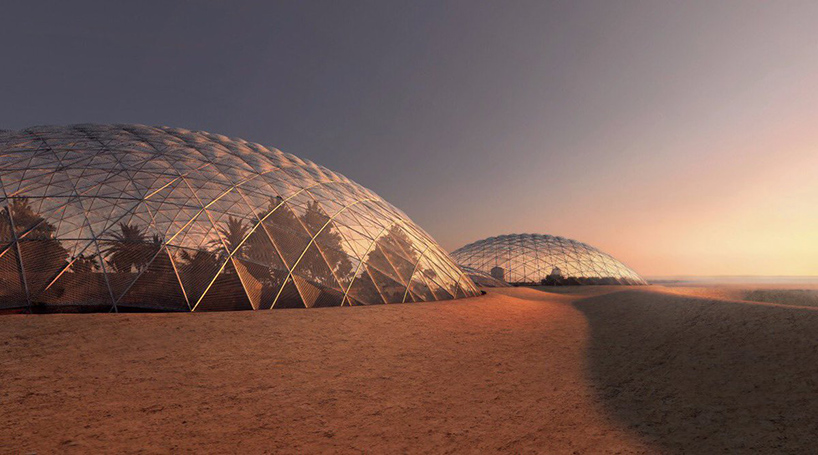 'mars science city project' will cover 1.9 million square feet
all images courtesy of dubai media office
'mars science city' is to be led by a team from the mohammed bin rashid space centre and dubai municipality in cooperation with bjarke ingels / BIG and a team of emirati scientists, engineers and designers. the scheme includes an experiential element involving a team of people who will live inside the simulated red planet city for one year. replicating the conditions on the surface of mars, it is hoped the experience will become a model for innovation, particularly in regards to sustaining life in a hostile planetary environment. additional experiments will study self-sufficiency in energy, water and food.

the scheme will provide a realistic model to simulate living on the surface of the red planet
laboratories will simulate mars' harsh terrain and environment through 3D printing technology, heat, and radiation insulation. 'mars science city' is hoping to attract the brightest scientific minds from around the world in a collaborative contribution in the UAE to human development and the improvement of life. 'the UAE seeks to establish international efforts to develop technologies that benefit humankind, and that establish the foundation of a better future for more generations to come,' said sheikh mohammed bin rashid said. 'we also want to consolidate the passion for leadership in science in the UAE, contributing to improving life on earth.'

a series of monumental domed structures will host laboratories for food, energy and water

the walls of the museum will be 3D printed, using sand from the emirati desert
sep 07, 2017
sep 07, 2017
may 29, 2017
may 29, 2017
apr 27, 2017
apr 27, 2017
mar 16, 2017
mar 16, 2017
mar 15, 2017
mar 15, 2017
jan 19, 2017
jan 19, 2017
oct 19, 2017
oct 19, 2017
oct 03, 2017
oct 03, 2017
sep 28, 2017
sep 28, 2017