nov 27, 2008
book report: some ideas on living in london and tokyo
some ideas on living in london and tokyo
by stephen taylor and ryue nishizawa
editor: giovanna borasi
publishers: canadian centre for architecture & lars müller publishers
year: 2008
size: 160 pages, 15 x 21 cm
ISBN: 978-3-03778-150-0
http://www.cca.qc.ca http://www.lars-mueller-publishers.com http://perspectivesdevie.org
thinking about the house is to think about the city, and to consider the kind of city we want is to consider
the way in which we choose to configure our housing.
content
earlier this year designboom featured the canadian centre for architecture's exhibition 'some ideas on living in london and tokyo by stephen taylor and ryue nishizawa'. the exhibit features residential projects by the two international architects. now that the exhibition is complete, the CCA has teamed up with lars müller publishers to release a catalogue of the show in both french and english.
like the exhibition, the book presents both stephen taylor and ryue nishizawa's distinctive solutions to the challenges of building homes dense urban cities. the book documents their projects through plan diagrams, prototypes and photographs of complete homes. in addition, there are many photographs taken from the exhibition at the CCA in montreal, canada. overall the book features 110 reproductions.
the exhibition and the book were a collaboration between the two architects and the show's curator, and editor of the catalogue, giovanna borasi. borasi also contributed an essay to the book, which accompanies written pieces by stephen taylor and ryue nishizawa. other texts include an interview with the architects and giovanna borasi and an essay by peter allison, architecture professor at london south bank university.
is it for me?
this book is ideally suited to architecture professionals, but is approachable enough for the layperson. stephen taylor and ryue nishizawa's architectural ideas are something every home dweller can relate to and provide probing insight into contemporary living.
more
some ideas on living…
apr 12, 2010
apr 12, 2010
aug 12, 2009
aug 12, 2009
dec 18, 2008
dec 18, 2008
jun 20, 2008
jun 20, 2008
may 19, 2008
may 19, 2008
jan 31, 2008
jan 31, 2008
apr 29, 2017
apr 29, 2017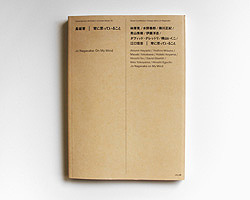 feb 03, 2017
feb 03, 2017
dec 12, 2016
dec 12, 2016