unstudio completes booking.com city campus building
With the completion of the Booking.com City Campus in the heart of Amsterdam, all 6,500 employees of the Dutch travel platform can now work in the same building for the first time in more than a decade. Previously spread out among numerous locations dotted all around the city, today Booking.com celebrated its coming together with the Grand Opening of its new state-of-the-art City Campus. Alongside the adjoining residential component, the main campus building was designed by UNStudio, who worked in close collaboration with BPD and the Booking.com team to create the best possible contemporary work environment for Booking.com's employees, as well as the most healthy and sustainable urban development possible. As the Lead Interior Architect, HofmanDujardin created and coordinated the interior fit-out masterplan that combines the work of multiple international design firms.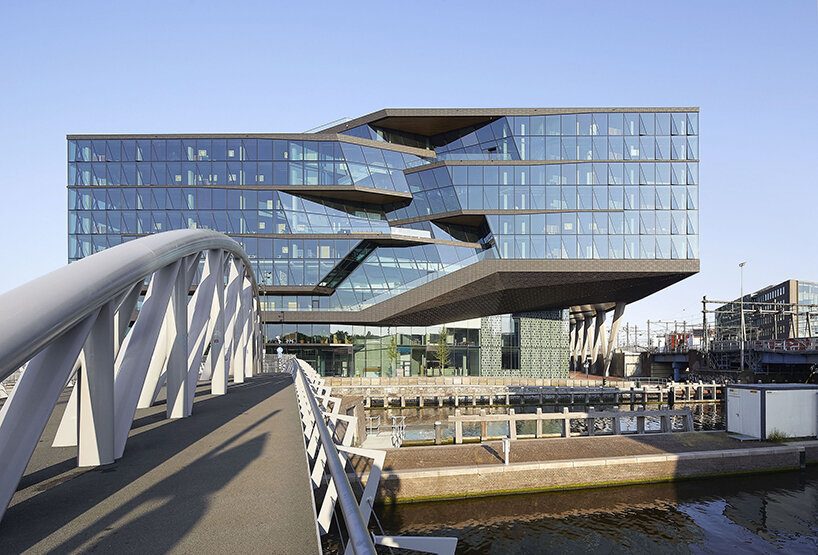 image © Hufton+Crow | @huftonandcrow
a robust and glazed architecture designed to connect
Today's celebrations follow a phased move of the entire Booking.com workforce into the building. Since user needs and working habits have shifted in various ways since the pandemic, Booking.com observed and listened to employee feedback during this carefully orchestrated, step-by-step rehousing. Just as UNStudio (see more here) paid close attention to the needs and objectives of Booking.com from the outset and created a flexible design for their new City Campus, the practice also collaborated closely in the final phase to assist with design improvements to accommodate any identified shifts in post-pandemic user needs.
Both the architecture and the interiors of the 65,000 sqm campus are primarily designed to 'connect': to create a healthy and sustainable architecture of inclusion that supports diversity and stimulates serendipitous encounters among Booking.com employees, visitors, residents, and the vast array of people who live, work or visit the Oosterdokseiland in the center of Amsterdam.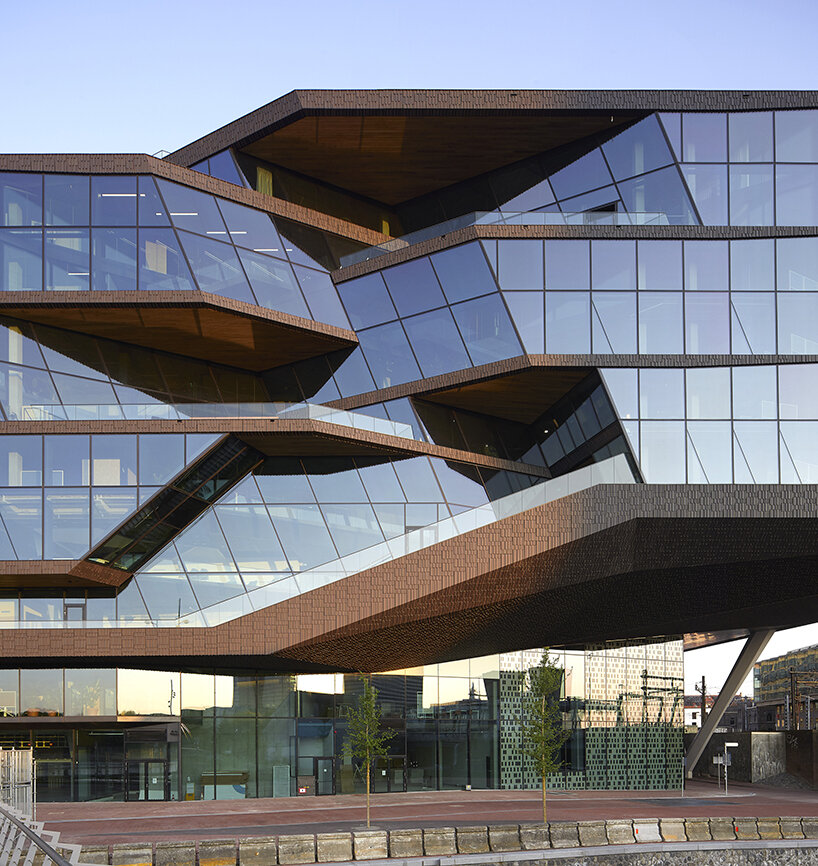 image © Hufton+Crow
In 2015, Booking.com and BPD (Bouwfonds Property Development) selected UNStudio to design their new campus in the center of Amsterdam. From the outset, the goal for the buildings was to create a healthy community, to bring employees together, and to attract new talent from across the globe. The travel giant was keen for its headquarters to be a reflection of its leading position in the tech world. It, therefore, considered the building an essential tool in attracting and retaining top young talent from the industry. This goal served as the starting point for the design. During the research phase, visits were made to other successful tech company buildings. However, Booking.com wanted its facility to provide an unparalleled experience for its employees, so a completely new, out-of-the-box and unique concept was required.
'While the individual interior spaces enjoy a truly international flavor that reflects Booking.com's core business, we wanted the overall concept for the building to serve as a reflection of Amsterdam – its location and the Dutch travel company's homebase since its inception. The architecture, therefore, combines the robust qualities and the industrial history of the harbor with glazed detailing that reduces the overall immenseness of the building and gently reflects the glistening of the water and sky. The organization of the interior, meanwhile, is designed to characterize the vibrancy of Amsterdam's lively central neighborhoods,' shares Ben van Berkel, Founder and Principal Architect at UNStudio.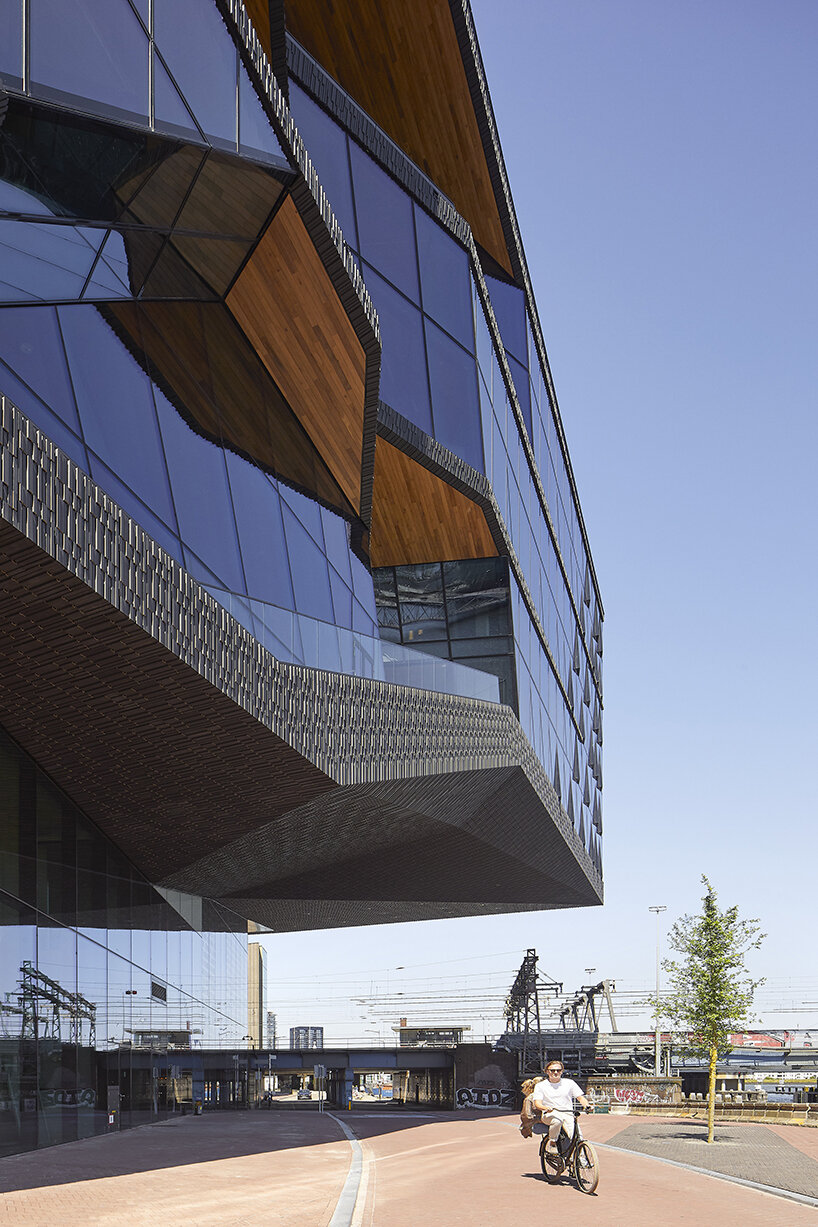 image © Hufton+Crow
Creating a work environment that is socially, physically, and mentally healthy for employees was also a key aim of the design from the outset. Throughout the building, the architecture nudges employees to move by fostering engaging environments and encouraging physical movement by using stairs, bridges, and galleries across all levels, including the rooftop. Even the emergency staircases become part of this concept, as untypically, these are glazed along the atrium side, which encourages not only daily use but also offers light views from the stairs and visibility from the other spaces in the building. Underfloor air distribution provides fresh air close to the users, while radiant ceilings allow for very comfortable heating and cooling. Special attention has also been given to the acoustics in both the office spaces and the atria, while alongside the generous daylight throughout the building, high-quality artificial light with very low glare enhances visual comfort.
The new campus is also state-of-the-art regarding all sustainable solutions and achieved a BREEAM Excellent design certificate. In addition, a connected building management system is incorporated to enable a frictionless space for all employees and operations staff alike. 'The overall design of the campus reflects the functional, transparent, and connected way of working at Booking.com and creates an integrated, flexible urban campus that reflects how we will work, live and connect in the future,' concludes UNStudio.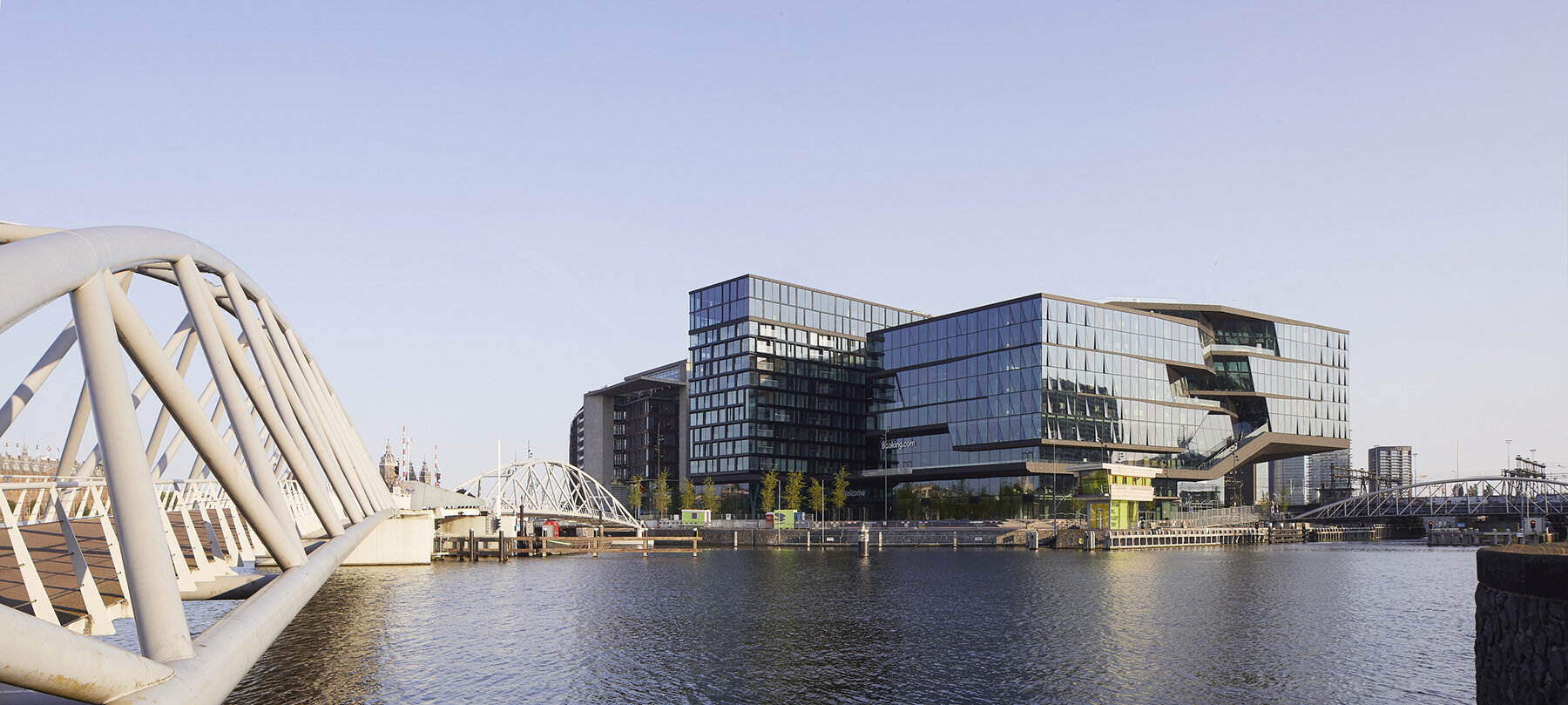 hofmanDujardin's interior design reflects diversity of 'home'
While UNStudio led the Booking.com City Campus's urban approach and architecture, including the building's continuous spatial experience, the HofmanDujardin team designed the interior masterplan. The practice was responsible for collaborating on and supervising the spatial architecture within. Formerly spread over several locations in Amsterdam, the truly global company Booking.com is powered by employees representing more than 100 nationalities. It envisioned the masterplan around the 'Booking Home' concept and aims to create a home for all workers; every place in the world, every travel destination, is someone's home. Because everyone has a different idea of home, HofmanDujardin developed a masterplan to embrace diversity. It defined principles and mood boards for several uniquely themed areas.
Different area designers were invited to follow those principles but also put their design stamp on each. Additionally, specialist layer designers were selected to create greenery, lighting, wayfinding, graphics, carpets, and food and beverage throughout the campus. These firms are UNStudio, Linehouse Design, i29, Studio Modijefsky, CBRE Design, Powerplant, Mijksenaar, MOSS, Scholten & Baijings, and Studio Rublek.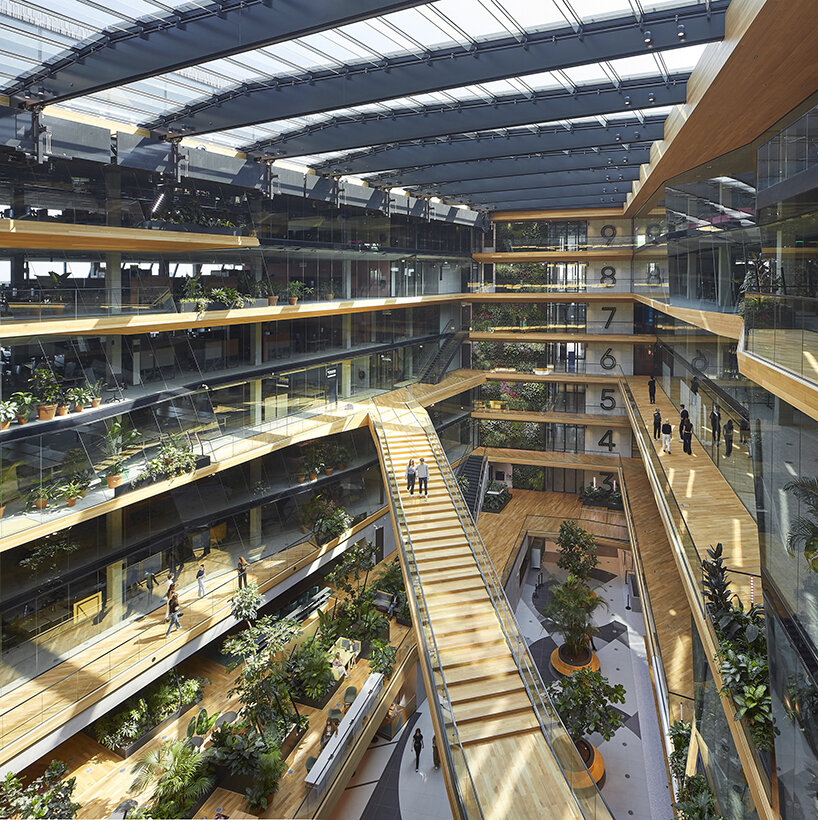 image © Hufton+Crow
The campus journey starts at the main entrance, flanked by digital walls showing travel movies and slow-motion mood scenes, such as running water or leaves in the wind. It also offers views up a sweeping staircase and green corridor of plants to the light-filled upper floors. Everything about the entrance says: 'come in and explore the world with us'. The route leads up to the first-floor meeting point and recruitment, research, and learning centers and fluently continues to the central atrium on the second floor.
This bright and vibrant connecting space offers physical and visual relations with all upper office floors. Meals are taken in one of three restaurants: the second-floor Market (designed to give a sense of being in a spacious European market hall), the 5th floor Five Islands (designed as five joined but individually themed zones or 'islands'), and the ninth floor High Garden with its lush roof garden and panoramic views over Amsterdam. Even the car parking and bike parking areas are designed to reflect the wonder of travel. The former invokes the ice sheets of Antarctica while the latter has an ample, color-changing 'sun' light, giving bicycling employees a pleasant surprise each morning.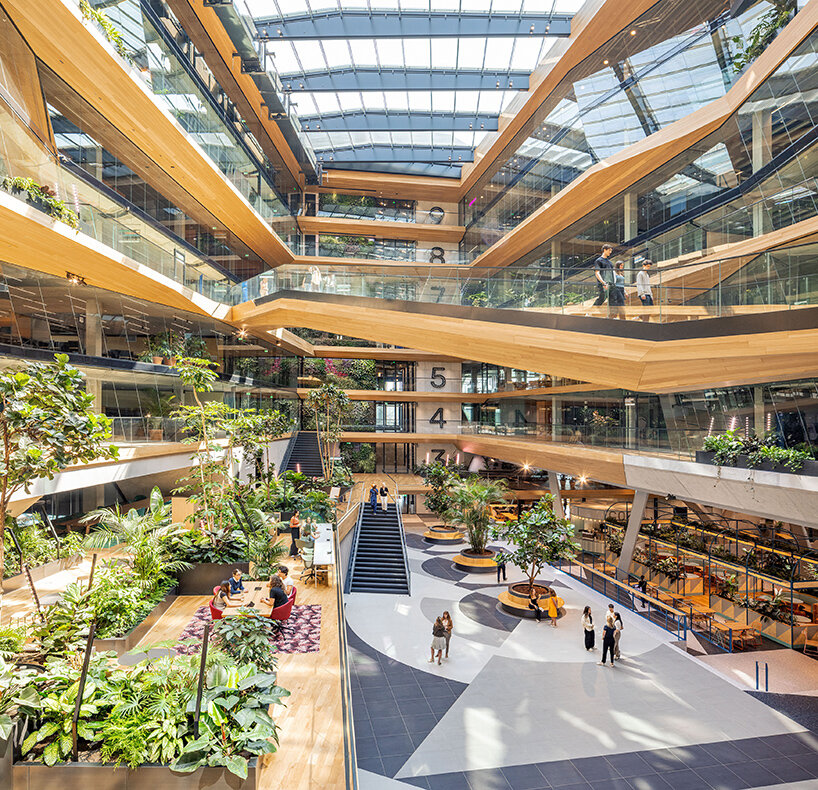 image © Matthijs van Roon | @matthijsvanroonphoto
The Booking.com City Campus has 28 'micro-holiday destination' breakout spaces, each themed on a place. 'People can stroll through New York City and Rio de Janeiro, chill out in the Greek Islands, and visit the Amazon. Together with the larger connector spaces, they offer breaks from computer screens, allowing workers to collaborate, reset their minds, and helping them to increase creativity and productivity. Employee photographs and souvenirs from around the world provide more reminders of travel and get people more involved with the building,' notes the practice.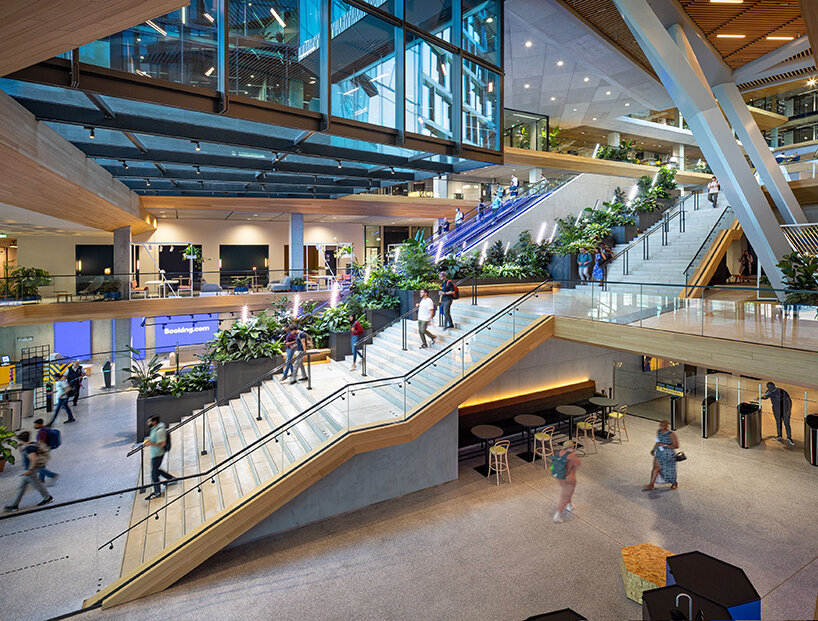 image © Matthijs van Roon
selected areas across the booking.com city campus
Guided by the principles and mood boards in the interior masterplan, multiple designers were invited to create and outline various spaces inside the Booking.com City Campus. Below, we outline in a compact overview each intervention bringing the Amsterdam headquarters to life.
The Balcony by HofmanDujardin: The practice designed the interior masterplan, the base on which all areas are set up. They also detailed the workplaces, among various other areas, including the third-floor balcony. This central space flanks the interior of the large atrium and enhances its brightness and spaciousness, creating a fresh, outdoor feel. Numerous planters with trees and lush greenery break up the space to create different places to work and have informal meetings. Tables of various sizes allow small group gatherings, while more intimate spots and lounge seating provide privacy.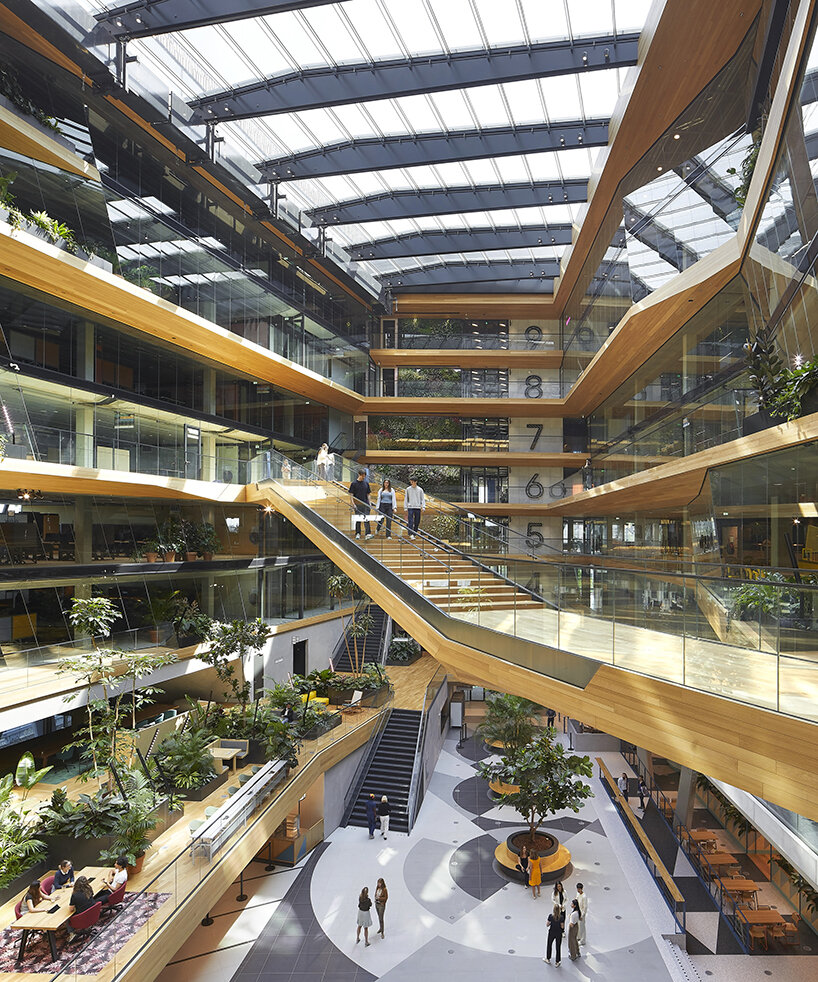 image © Hufton+Crow
Auditorium by UNStudio: As well as designing the urban approach and architecture, including the continuous spatial experience of the building, UNStudio was responsible for the design of the Auditorium and Multifunctional Space. Half movie theatre, half presentation venue, the space is ideal for learning and sharing knowledge. Designed to convey an atmosphere of adventure, it is a place where employees and visitors can take sound-and-vision journeys. Physically connected to the 1st floor, the space can accommodate up to 400 seats in various layouts.
Boardroom Connector by CBRE Design Collective Amsterdam: CBRE designed various areas, including breakout spaces, research, recruitment, learning centers, and the Panama City-themed Boardroom Connector. Inspired by the Latin American city's diversity, the design reflects the different atmospheres of its Casco Viejo (or Old Quarter), its Innovation Center, and the Panama Canal within the different zones of the Boardroom area. Combining these elements created the contrast and roughness that typifies Panama City, as described in the interior masterplan. The goal was to create privacy where needed and let employees and visitors enjoy the beautiful views of both atriums from the Boardroom Connector.
Restaurant The Market by Linehouse Design: Linehouse was commissioned to design the rooftop bar Club 11 and restaurant The Market – a food hall – located on the 2nd floor of the atrium. The concept was developed around the journey one begins when arriving in a new city waiting to be discovered. The central element is the market square, where people gather and reflect a sense of community. A white metal structure houses a coffee bar and frames a playful exploration of graphics, text, natural materials, and patterns which complements the tall vertical space. Surrounding the main market square are diverse dining experiences, from intimate rooms, nooks, and lounge seating to long tables for bigger groups.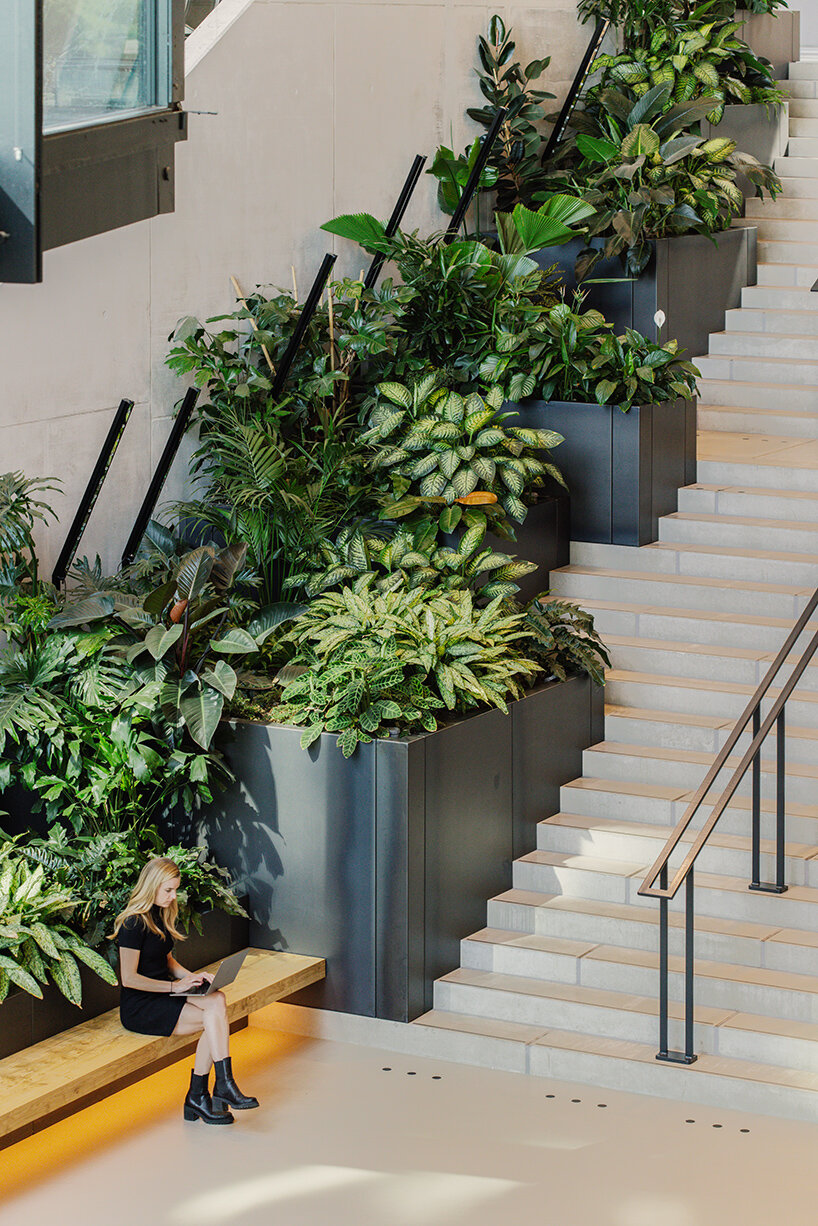 image © Jordi Huisman | @jordi.huisman
Restaurant Five Islands by Studio Modijefsky: Studio Modijefsky was invited to design multiple areas, including connectors and restaurant Five Islands. They created a spatial design concept of five island groups: View, Fire, Canyon, Flight, and Treasure Islands. The five island groups break up what was originally a large, open area into smaller, more intimate, and welcoming zones. Spatial interventions – a wall, a curtain, a lowered ceiling, and an elevated floor – establish new areas without blocking sightlines, so a glimpse of the next adventure is always in view. All the island groups are subtly linked and play with flooring, lighting, and partitions, as well as color, texture, and material, to create a distinct environment and atmosphere.
Restaurant High Garden by i29: i29 designed various breakout spaces and restaurant High Garden, where fresh herbs are grown and used for healthy dishes. The designers at i29 questioned the relationship between nature and technology, referencing modern food production with vertical farming and having fun with a food wall serving healthy 'Fastbowls' – a playful wink to the Dutch 'automatiek' (or fast food wall). Pink lighting and stainless steel were used for the 'kitchen laboratory' contrasting with natural bamboo and lush greenery in a 900m2 restaurant and rooftop garden. This offers Booking.Com employees different zones and atmospheres to eat, relax and collaborate.
Workplace by HofmanDujardin & CBRE workplace consultancy: In close collaboration with Booking.com, HofmanDujardin, and CBRE, HofmanDujardin created a workplace concept that perfectly fits the company. Each work floor offers different types of workplaces for varying levels of concentration. Colorful acoustic screens define smaller clusters of workstations, ranging from single-desk concentration places to open team settings. Closed booths for single and double-use offer space for calls or small meetings. In proximity to the work, floors are 28 uniquely themed breakout areas with similar supportive functions like a pantry with a high table, lounge seating, meeting rooms, and stand-up spaces. The breakouts stimulate collaboration, allowing the work floors to be relatively silent.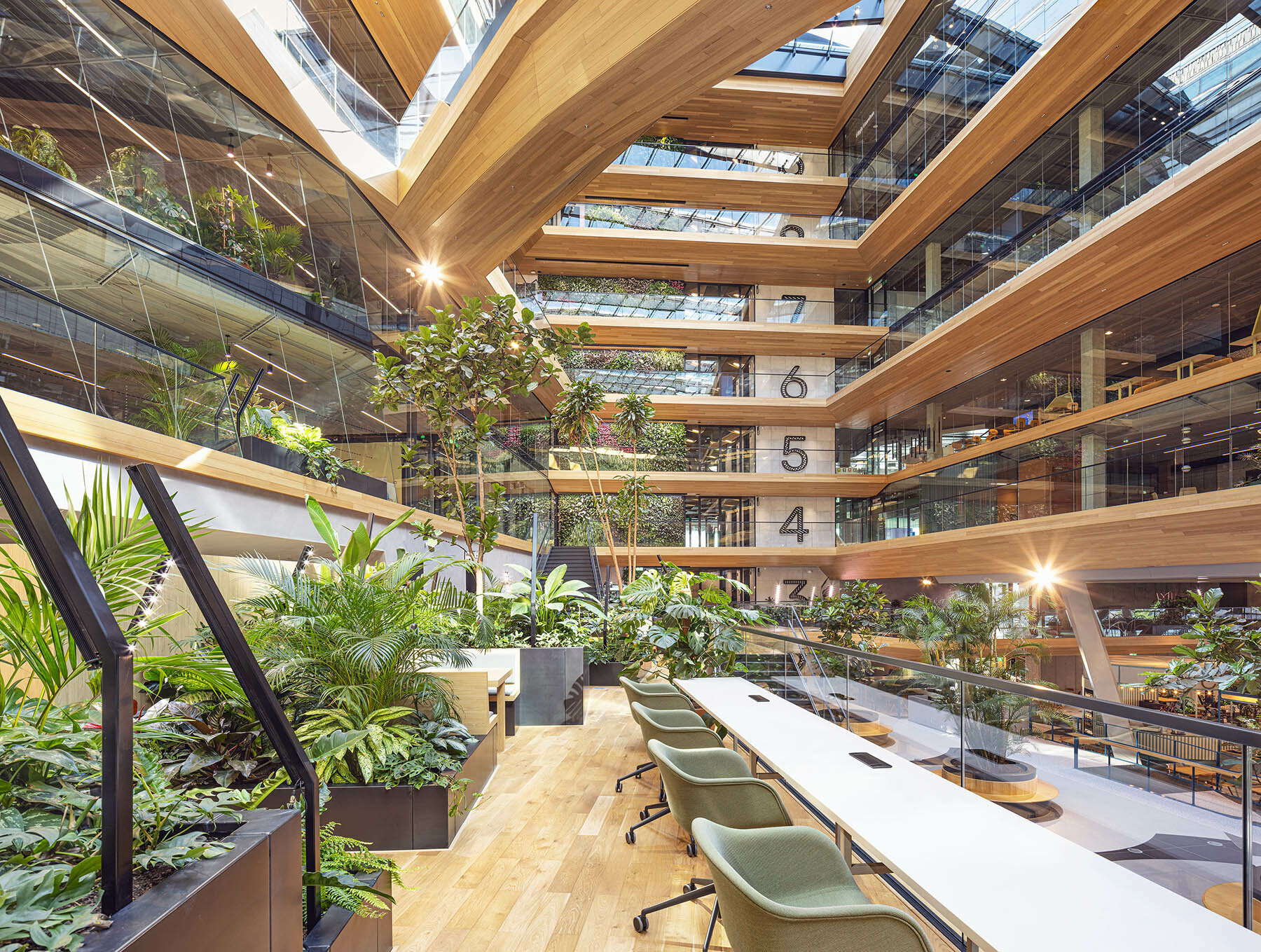 image © Matthijs van Roon
a layered design aesthetic blending diversity & continuity
Furthermore, throughout the entire urban campus, specialist designers created and supervised specific building layers. Harmonizing diversity and continuity, their work ensures a fluent experience for employees and visitors to increase their wellbeing.
Greenery by MOSS: Makers of Sustainable Spaces (MOSS) developed a visionary green masterplan for the campus, aiming to use inspiring greenery to forge captivating environments. Nature seamlessly integrates with a botanical staircase, a seven-story green wall, and vibrant rooftop perennials. Workspaces flourish with plant groupings, enhancing employee mood and productivity. Breakout spaces celebrate diversity, mirroring travel destinations with a rich array of plant species — i.e., green accents and vertical farming that help provide fresh dining experiences.
Wayfinding and graphics by Mijksenaar: As a layer designer, Mijksenaar was responsible for connecting the spaces of the City Campus to every visitor by creating consistent and clear wayfinding in line with Booking.com's identity. The wayfinding ties together each place, from the bicycle parking to the atrium and onto the Serengeti breakout space. This is done using compelling colors for identification, grid elements that work with the environment, and playful typography and pictograms familiar to users. By fluently navigating the world through the Booking.com campus, every visitor and employee can feel genuinely connected and empowered to explore.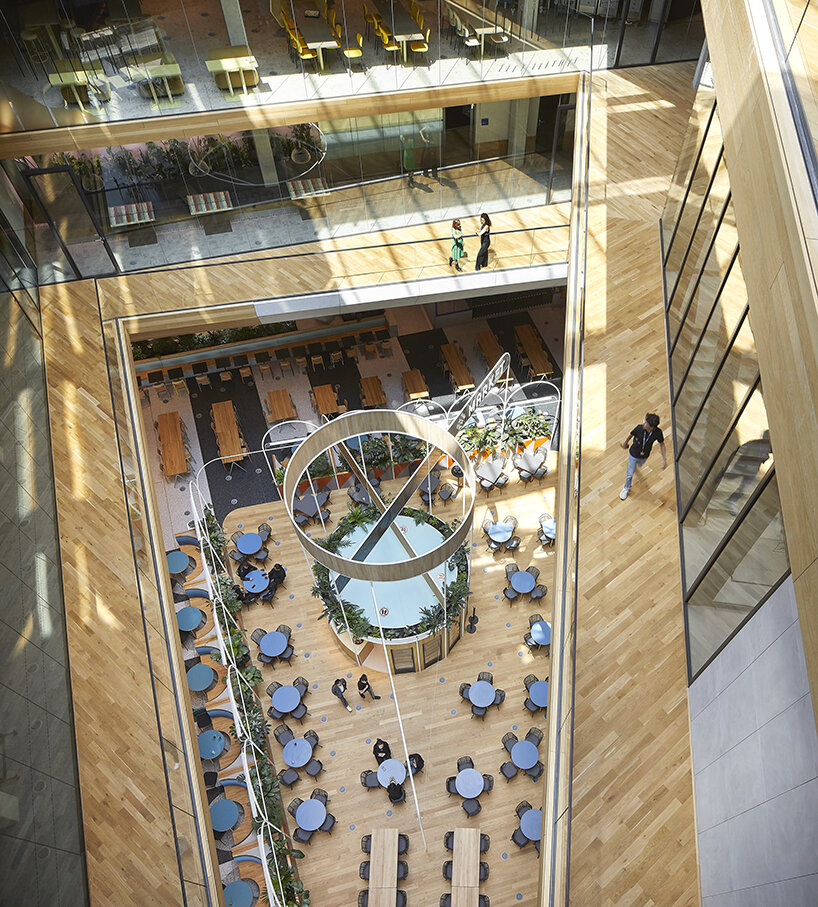 image © Hufton+Crow
Carpets by Scholten & Baijings: Scholten & Baijings created an office floor color and material concept called Destination Amsterdam. In collaboration with floor covering company Desso | Tarkett, they developed 14 custom carpets. They visited the area multiple times and used colored pencils to create layered color notations. Static reference points, such as elements of surrounding buildings, were captured along with fluid and momentary sky tones and water reflections. These color notations form the base of the concept. To every workspace in the building, the designers assigned a specific color, considering the viewpoint, light situation, and window orientation. The colors travel from darker water nuances on the lower floor to lighter sky tones higher up in the building. The color flow works on each floor and throughout the entire campus building.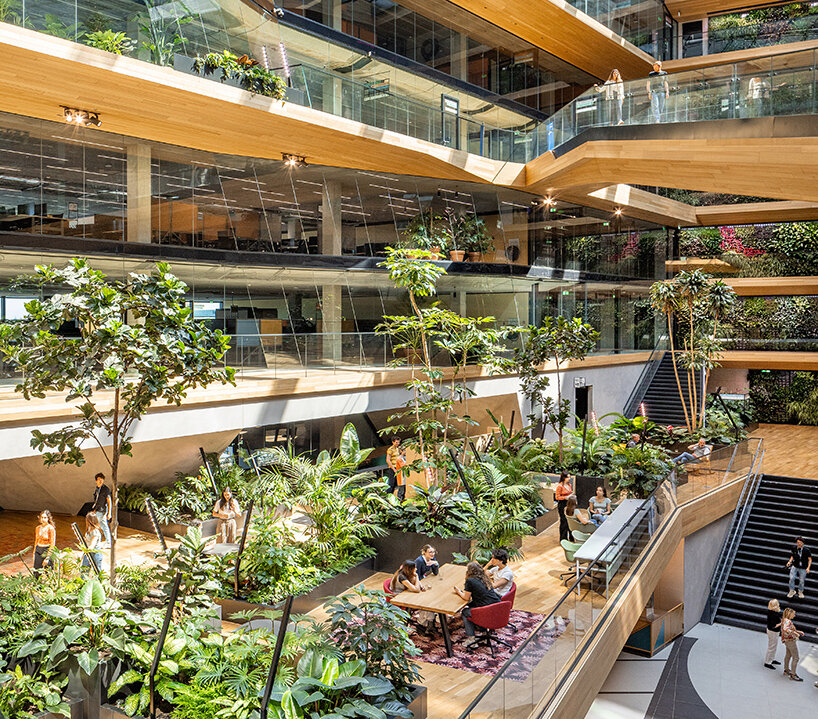 image © Matthijs van Roon
Lighting by Studio Rublek: As a light consultant, Studio Rublek joined forces with UNstudio and HofmanDujardin to supervise the light plan for the Booking.com Campus from design to delivery. This involved creating the right atmosphere in all the layers, from architecture and interior design to joinery, light, and design, all seamlessly blending. Studio Rublek was asked to design a custom light plan and fixtures for feature areas. They focused on functional light with added aesthetic value for workplaces, reception areas, pantries, and the auditorium, combining local production with high-end technology. Whether directly visible or not, light enhances the building users' experiences and wellbeing in the Booking.com City Campus.
Food and Beverage by Powerplant: Powerplant (under the former name Enbiun) was responsible for engineering all food and beverage spaces in the Booking.com City Campus. They created a seamless concept that reduces waiting time while increasing the customer experience by serving beautifully curated dishes that change every day. This all happens in three distinct and unique restaurants dispersed over three floors.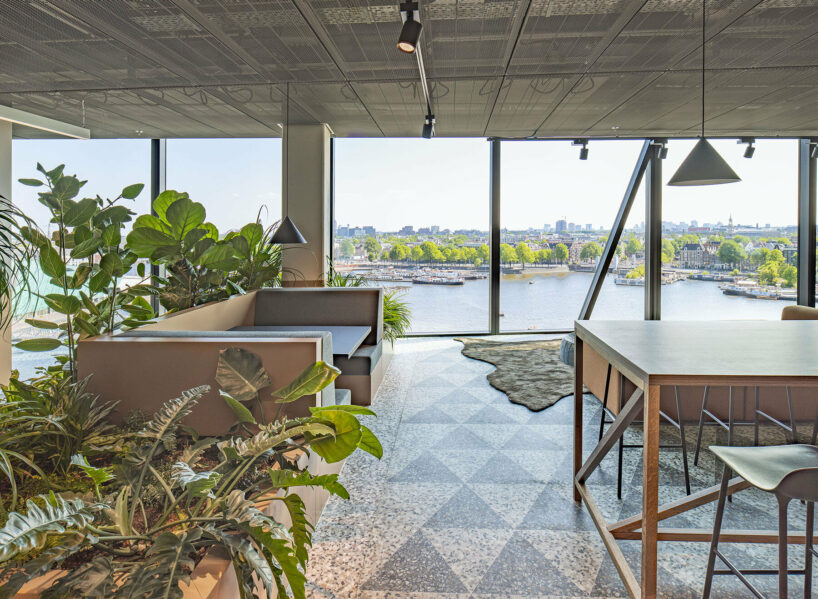 image © Matthijs van Roon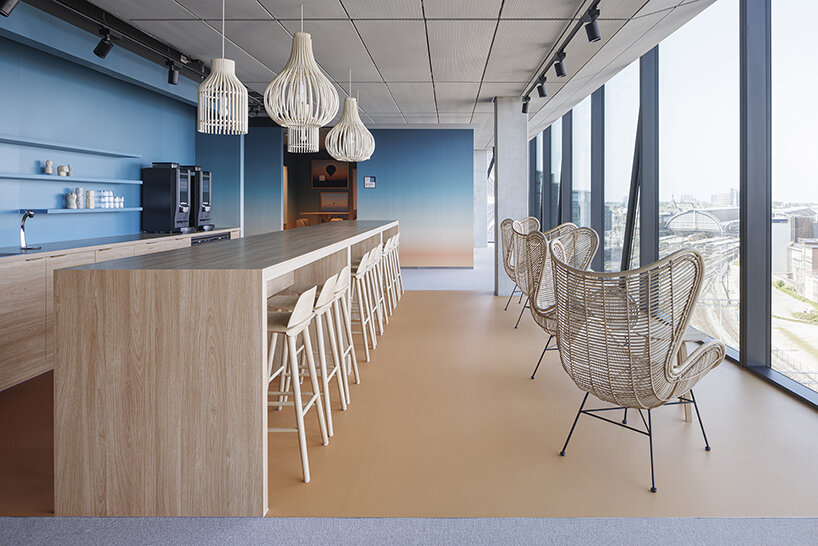 image © Ewout Huibers | @ewouthuibers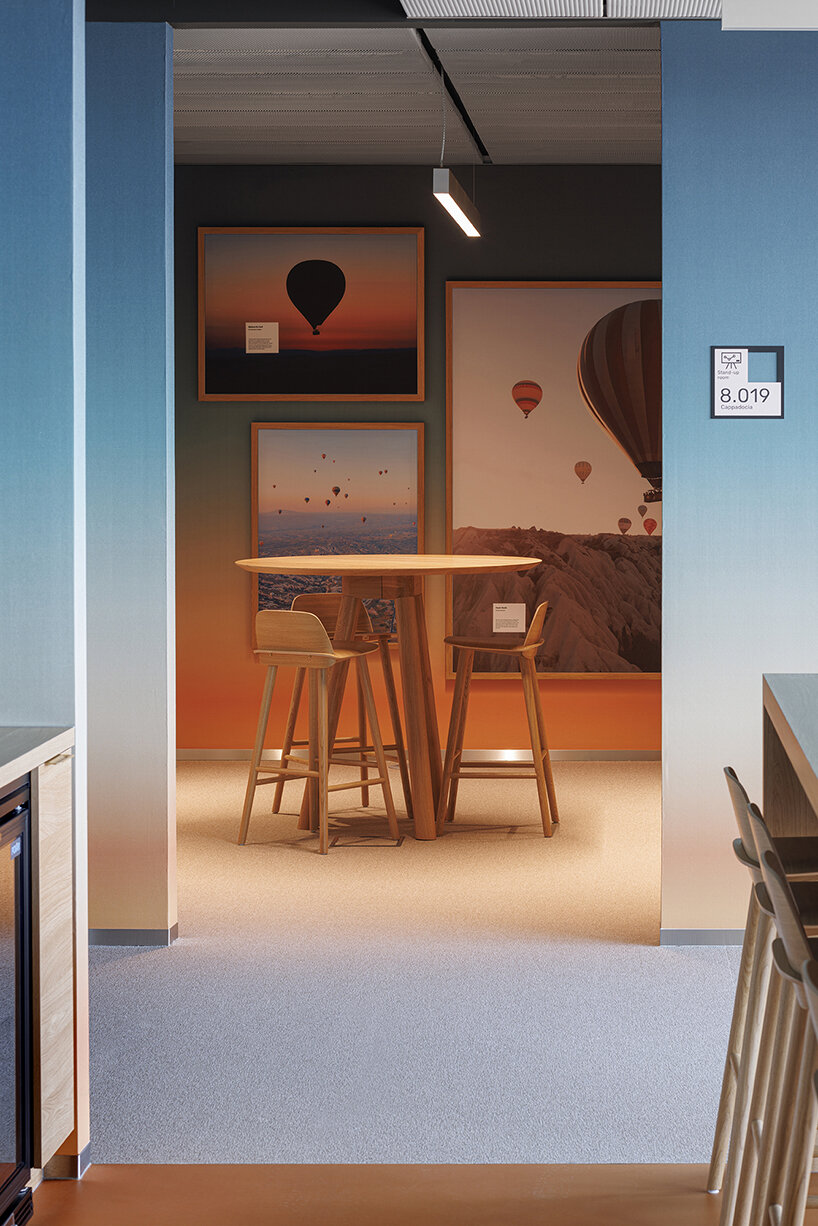 image © Ewout Huibers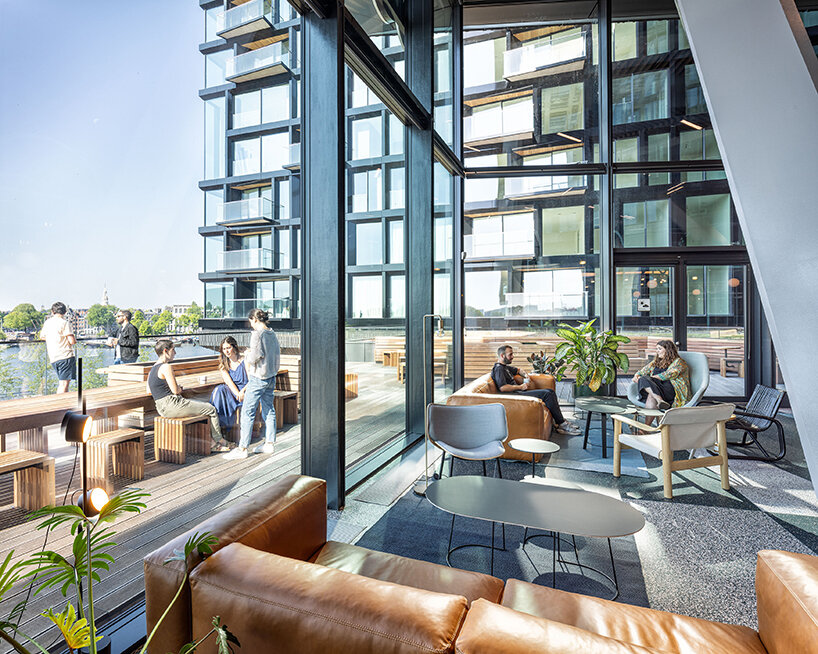 image © Matthijs van Roon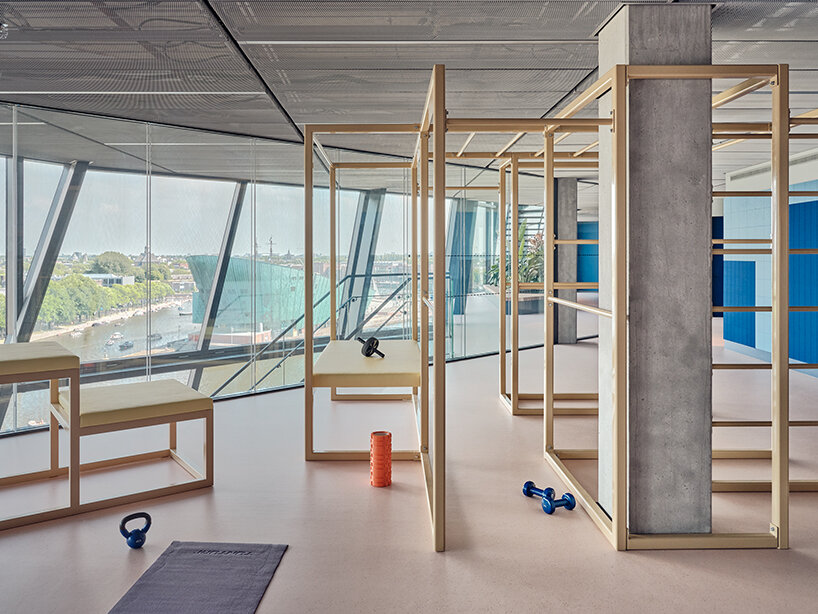 image © Maarten Willemstein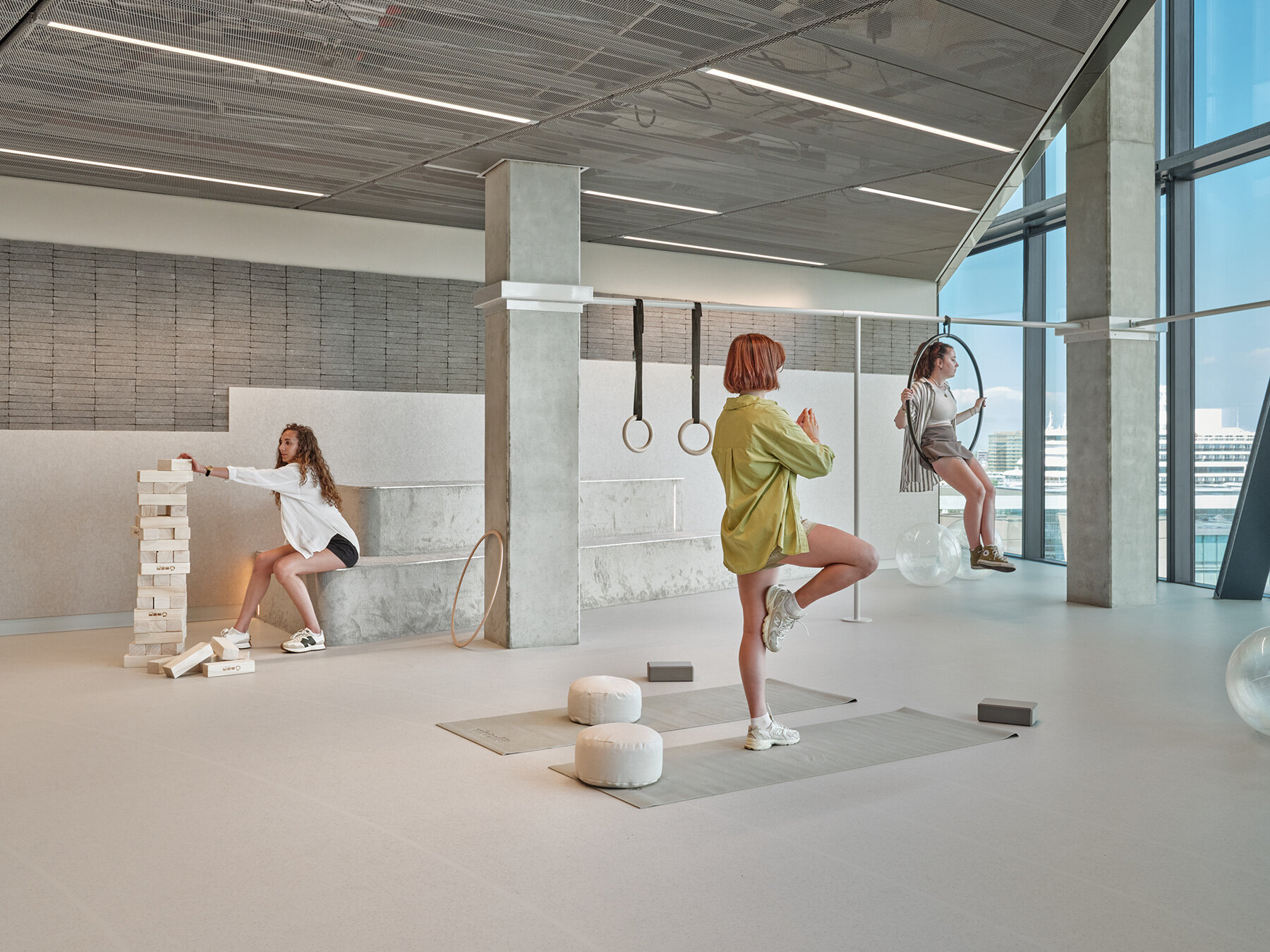 image © Maarten Willemstein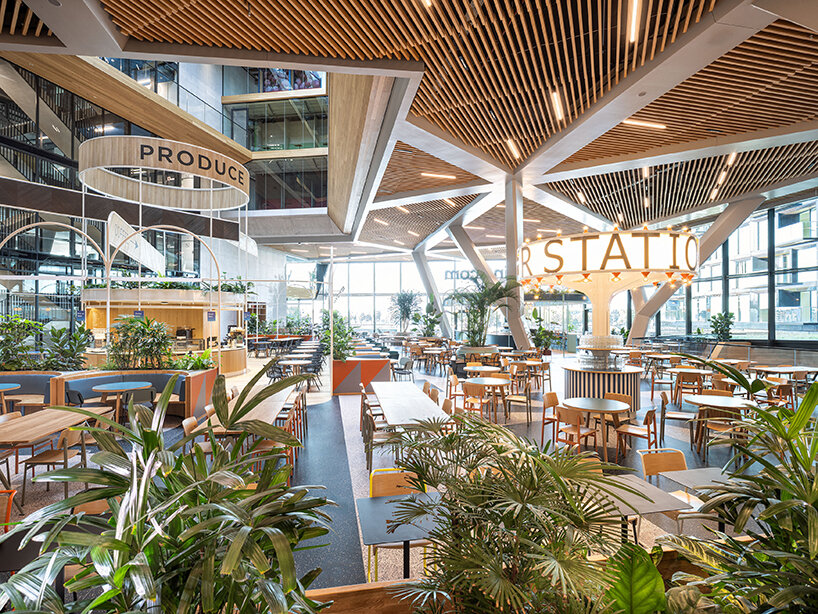 image © Matthijs van Roon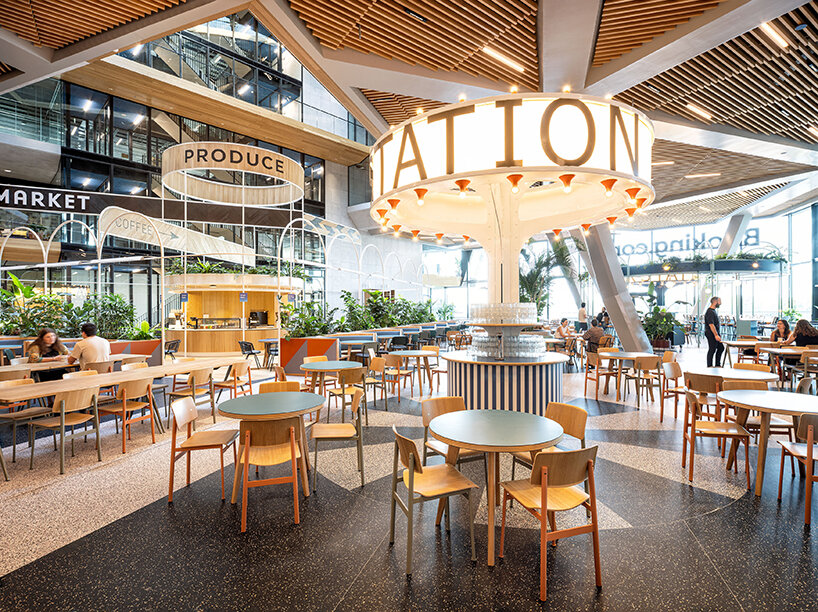 image © Matthijs van Roon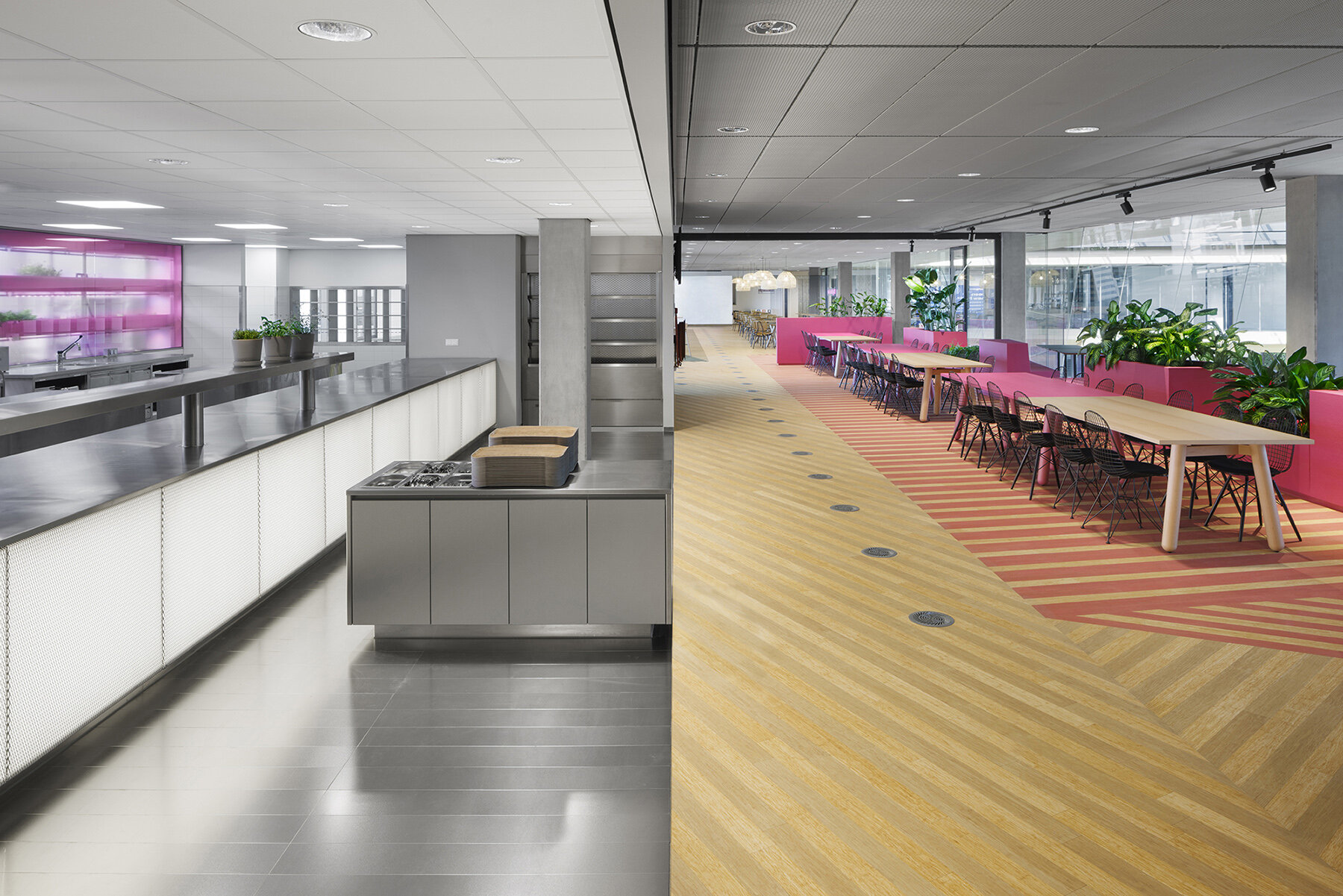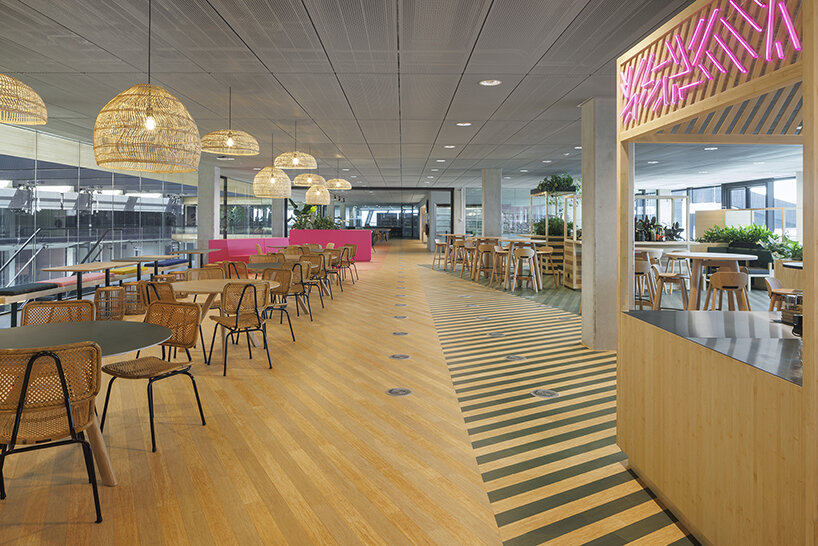 image © Ewout Huibers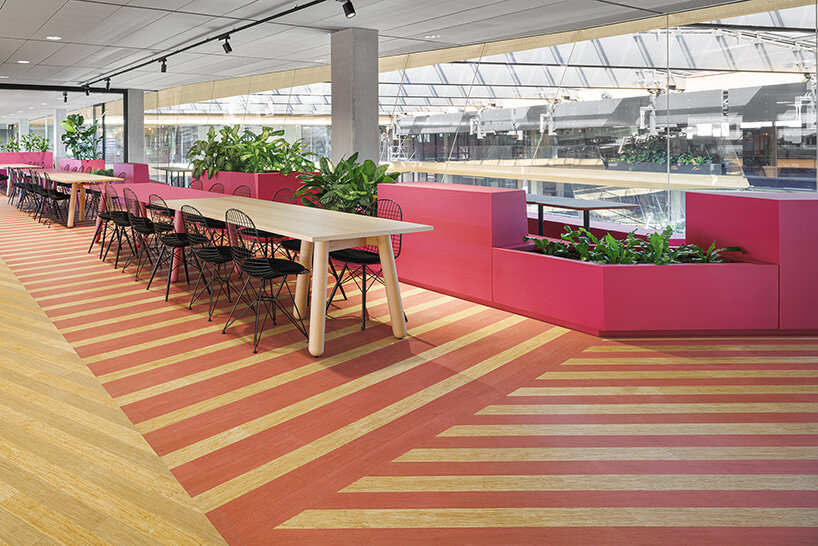 image © Ewout Huibers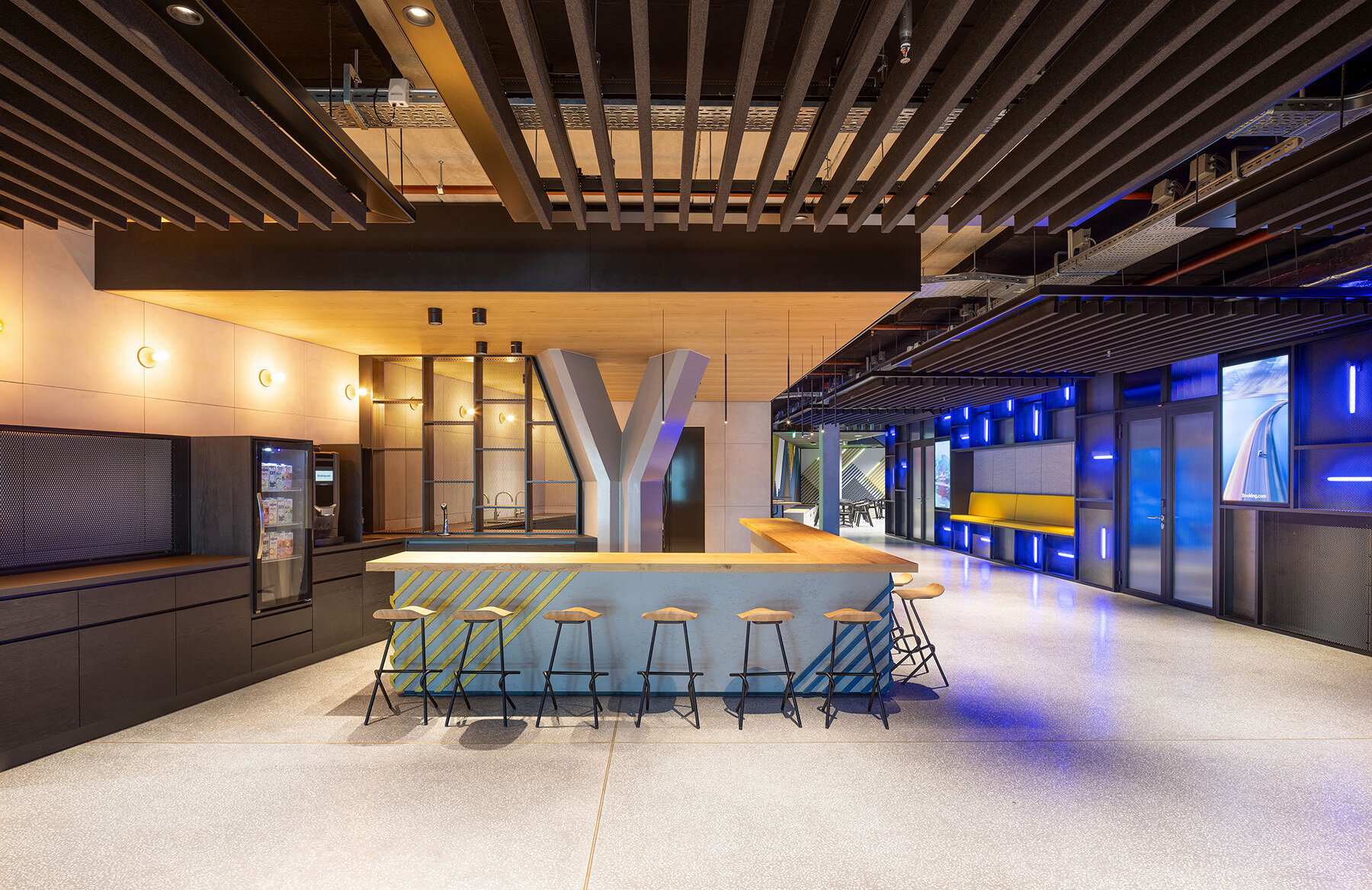 image © Matthijs van Roon
image © Hufton+Crow
image courtesy HofmanDujardin
image © Scholten Baijings
image © Matthijs van Roon
image © Maarten Willemstein
masterplan sketch © HofmanDujardin
image © Matthijs van Roon
masterplan sketch © HofmanDujardin
image © Hufton+Crow
image ©Hufton+Crow
image © Matthijs van Roon
image © Matthijs van Roon
image © Matthijs van Roon
image © Jordi Huisman
image © Matthijs van Roon
image © Matthijs van Roon
image © Stijn Poelstra
image © Matthijs van Roon
image © Matthijs van Roon
image © Matthijs van Roon
image © Matthijs van Roon
image © Matthijs van Roon
image © Matthijs van Roon
image © Maarten Willemstein
image © Matthijs van Roon
image © Stijn Poelstra
image © Matthijs van Roon
image © Matthijs van Roon
project info:
name: Booking.com City Campus
location: Amsterdam, The Netherlands
architecture: UNStudio | @unstudio_architecture
lead interior architect: HofmanDujardin | @hofmandujardin
UNStudio team: Ben van Berkel with Arjan Dingsté, Marianthi Tatari, Marc Hoppermann, Misja van Veen, Juergen Heinzel, Ariane Stracke, René Toet and Albert Gnodde, Albert Laarman, Anna Garazdowska, Ardit Curraj, Ayax Abreu, Bruno Peris, Clare Porter, Cristina Bolis, Ergin Birinci, Georgios Siokas, Guilherme Miranda, Ivo van Capelleveen, Izak Kljakovic, Jolien Bruin, Juan Luis Mayen Moran, Ka Shin Liu, Luke Tan, Mahmoud Meligy, Mark Maas, Martin Zangerl, Maya Christodoulaki, Menida Avram, Mitchel Verkuijlen, Olivier Yebra, Pieter Doets, Robbie Neijzen, Ryszard Rychlicki, Alex Tahinos, Argyrios Delithanasis, Bart Bonenkamp, Gary Polk, Ke Quan, Kyle Tousant, Mahmoud Meligy, Ryan Henriksen, Xinyu Wang, Yan Ma, Derrick Diporedjo, Gys le Roux, Jahan Tahamtan, Lu Ding
model team: Patrik Noomé
project management: CBRE Design Collective | @cbredesigncollective
— area designers —
restaurant The Market, event space: Linehouse Design
restaurant High Garden, breakouts: i29
restaurant Five Islands, connectors: Studio Modijefsky
meeting point, learning & talent center, recruitment center new talent, research labs, boardroom connector, breakouts: CBRE Design Collective
bike & car parking, bike entrance, auditorium & multifunctional space, rooftop garden, core & shell:
UNStudio / Ben van Berkel with Arjan Dingsté, Marianthi Tatari, Ariane Stracke & Antoine van Erp, Cristina Bolis, Yiming Zhang, Mitchel Verkuijlen, Lachlan Million, Lieneke van Hoek
interior masterplan, main entrance, service area, balcony, workspace, breakouts: HofmanDujardin
— layer designers —
wayfinding: Mijksenaar
indoor & outdoor greenery: MOSS
food & beverage: Powerplant
carpets, graphic walls & floors: Scholten & Baijings
lighting: Studio Rublek
AV consultant: Heuvelman Sound & Vision
— DD & TD stages —
lighting design consultant: a.g LICHT
structural engineer: Aronsohn
BIM manager: B+M
building physics, acoustic & fire life safety consultant: DPA
facade consultant: IBS
cost & quantity surveying: IGG
mep & vertical transportation consultant: Techniplan
— TD & CD stages —
MEP contractor: ICO
vertical transportation contractor: Kone
facade access contractor: Manntech
facade contractor: Scheldebouw
architectural cladding contractor: Sorba
contractor: Zueblin Nederland
project area : 72,500 sqm
offices & facilities: 65,000 sqm
residential: 7,500 sqm
underground bike storage & public parking: 27,000 sqm
design period: 2018-2020
construction period: 2020-2023
sustainability: BREEAM Excellent
KEEP UP WITH OUR DAILY AND WEEKLY NEWSLETTERS
a diverse digital database that acts as a valuable guide in gaining insight and information about a product directly from the manufacturer, and serves as a rich reference point in developing a project or scheme.
designboom will always be there for you
milan, new york, beijing, tokyo

,
since 1999