oct 26, 2012
budapesti muhely: rácz thermal bath, budapest
'rácz thermal bath' by budapesti muhely, budapest, hungary
image © tamas bujnovszky
this renovation of the 'rácz thermal bath' by hungarian practice budapesti muhely reveals layers of history within the
spatial sequence which dates to the ottoman period of the 16th century, making it the oldest bath in budapest, hungary.
positioned at the base of gellert hill, the facility was most likely founded in 1560, surviving the turkish seige of 1686.
the overlapped updates and extensions made during the 1860s with romantic stylings were resolved, unifying old and new
building parts while revealing the technical inventions of the original bath. additional damage from bombings during world war II
and demolition during the 1960s were collectively addressed in 2006.
special attention was paid to the materials and ornament as well as shower, lighting and heating techniques, returning to customs
of water pressures in the various bathing halls. the once destroyed moresque shower hall was reconstructed to the original plans at a 1:1 scale
with thin shell concrete walls measuring 15 centimeters thick instead of the typically used brick masonry, creating a regularity
in the vaulting that could not exist before with hand-made processes. glass facades and well as glass walls along corridors and internal rooms
join the restored areas with the contemporary spaces.

view of the concrete vaults
image © tamas bujnovszky

image © tamas bujnovszky

image © tamas bujnovszky

image © tamas bujnovszky

images © tamas bujnovszky

glass facades join to the restored building
image © tamas bujnovszky

image © tamas bujnovszky

image © tamas bujnovszky

image © tamas bujnovszky

image © tamas bujnovszky

exterior
image © tamas bujnovszky

image © tamas bujnovszky

image © tamas bujnovszky
project info:
project: rácz thermal bath
location: hungary, budapest
leading architects: tamás dévényi, csaba valkai, anikó varga, péter kis
general design: tamás dévényi – budapesti műhely
leading architects: tamás dévényi, csaba valkai, anikó varga, péter kis
associate architects: zoltán bun, gábor balázsa, orsolya máté, eszter mihály, donát szakmári, tamás ükös, viktor vadász
structural engineering: andrás szabó, tamás tamássy
mechanical engineering: ervin barta
electrical engineering: ferenc haasz, gábor somogyi
landscape: adrienne szalkai
public utilities: bálint simon
archaeologist: adrienn papp
historical research: ferenc bor, györgy bartos
year designed: 2007
construction period: 2007-2010
photographs: tamas bujnovszky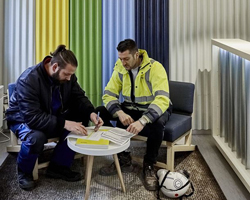 jul 13, 2017
jul 13, 2017
jul 08, 2017
jul 08, 2017
jun 18, 2017
jun 18, 2017
sep 24, 2012
sep 24, 2012