design firm carlo ratti associati has revealed a proposal to re-design a former american military village in germany. the re-purposing of the patrick henry village, which is on the outskirts of heidelberg in south western germany, is set to transform the center into a 21st century commune committed to the ideals of the sharing economy. by following these principles, the space focuses on co-living, co-making and co-working, and aims to create a clear vision of cooperation and inclusiveness. overall, it aims to accommodate 4000 like-minded people in the 97-hectare site.

garages will be turned into residential manufacturing labs
named the 'patrick henry commune', carlo ratti associati builds upon the internationale bauausstellung (IBA) initiative that promotes avant-garde architecture projects in germany. the design recreates the original village, referencing its suburban style of architecture, and offers accommodation to anyone willing to embrace the sharing philosophy. here, several three-story housing blocks and villas with garages will be refurbished, partially demolished and connected together as a new flexible space. furthermore, derelict structures will be converted back into farmland, where nature can overrun the areas.

the 'co-living blocks' offer shared kitchen and office spaces to encourage common activities
'historically, communes have been places to experiment with forward-looking attitudes and behaviors, where new social ideas and innovative architecture go hand in hand',
says carlo ratti, professor of the practice of urban technologies at the massachusetts institute of technology (MIT) in boston and founding partner of carlo ratti associati.
'we started this project with a question: what would a commune based on digital sharing look like? this unique site – an american enclave in the heart of europe -seemed an ideal test- bed to answer such a question.'

the 'maker palace' can even house performances and artistic events
patrick henry commune's buildings will provide travelers or local residents, with various housing options. as part of this, the 'co-living blocks' offer shared kitchen and office spaces to encourage common activities. furthermore, car-sharing systems will remove the need for the garages, which, in turn, will be transformed into fab-labs that promotes local manufacturing.

an aerial view of the village
another variant of accommodation options for carlo ratti's patrick henry commune, is the 'maker palace' – an open-source architecture experiment. influenced by cedric price's 1961 'fun palace' design, the building strips out an ex-housing block and places cranes overhead. these enable residents to reconfigure the space as they wish, and will even accommodate performances and artistic events.

an overlook of the building plans and the different typologies of structures
'this is a place for the sharing economy in its most inclusive interpretation, involving all spheres of our daily life, from housing to working to mobility', said emma greer, project manager at carlo ratti associati: 'it aims to experiment with a model that can potentially offer precious insights for both high-density urban centers and suburban locations alike.'

the 'maker palace' was influenced by cedric price's 1961 'fun palace' design

buildings will be refurbished, partially demolished and connected together
sep 19, 2017
sep 19, 2017
sep 18, 2017
sep 18, 2017
sep 17, 2017
sep 17, 2017
sep 06, 2017
sep 06, 2017
jul 12, 2017
jul 12, 2017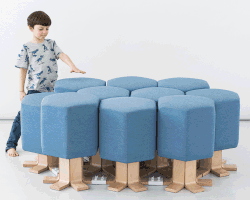 may 02, 2017
may 02, 2017