this family home in the hamptons comprises a simple timber box that sits atop a stone masonry base. the house, which has been designed by architect-developer cary tamarkin, is located in the town of southampton, new york, and seeks to draw from the region's vernacular architecture. the dwelling and its interiors have been entirely built using locally available materials, with wood and stone sourced from the rural surroundings.

the family home comprises a simple timber box that sits atop a stone masonry base
image by bart michiels (also main image)
titled 'island creek' — a name that references the picturesque setting — the generously proportioned property contains five bedrooms across its three storeys. tamarkin worked on the project's interiors with longtime collaborator suzanne shaker, with the use of locally sourced timber continued inside the residence. a spacious basement, enclosed behind the building's hewn stone base, contains three bedrooms alongside storage space and a subterranean den.

a 1,230 square foot deck wraps around the property
image by bart michiels
the home's primary living space is found at ground level where an open-plan kitchen and lounge spills out onto a 1,230 square foot deck that wraps around the property. from here, residents are afforded external views that take in the creek and the surrounding landscape. the uppermost storey houses the master bedroom with its own private terrace. throughout the design, large windows ensure that natural light fills the home, while simultaneously maximizing views of the waterside setting.

an open-plan kitchen and lounge offers sweeping external views
image by william abranowicz

timber has been used throughout the residence
image by william abranowicz

the dwelling and its interiors have been entirely built using locally available materials
image by william abranowicz

the master bedroom has its own private terrace
image by william abranowicz

the bathroom includes a tiled enclosure with a tub and a shower
image by william abranowicz

the ground floor terrace is suspended from the box-like structure
image by bart michiels

the house is located in the town of southampton, new york
image by bart michiels
Save
Save
Save
Save
Save
Save
Save
Save
Save
Save
oct 30, 2017
oct 30, 2017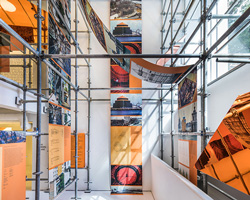 oct 27, 2017
oct 27, 2017
oct 22, 2017
oct 22, 2017
oct 21, 2017
oct 21, 2017
oct 19, 2017
oct 19, 2017
oct 17, 2017
oct 17, 2017
oct 30, 2017
oct 30, 2017
oct 30, 2017
oct 30, 2017
oct 30, 2017
oct 30, 2017