head architect marco casagrande of casagrande laboratory has installed a micro-apartment building in a bustling helsinki square. measuring a mere 2.5 x 5 meters with a foot-print of a single car parking space, tikku is assembled out of CLT cross-laminated timber spatial modules and can be erected on-site overnight. it is a safe-house for neo-archaic biourbanism and is a contemporary cave for a modern urban nomad, while offering privacy, safety and comfort.

additional insulation is unnecessary since 20 cm of CLT is sufficient for cold winters
all images © jenni gästgivar / iltalehti
marco casagrande's micro-apartment is self-sufficient: it produces its own energy with solar panels and uses dry toilets. additionally, the CLT used is five times lighter than reinforced concrete and since the structure is erected on regular concrete streets, tikku does not require a foundation. however, a sand-box balances the building. the apartment itself features three levels: a bedroom, a working space and green-house.

the apartment has a foot-print of a single car parking space

the concrete plaza acts as the apartment's foundation

it offers panoramic views of helsinki's bustling plaza

casagrande transformed the upper level into a greenhouse

the small rooms can be used for various functions such as: room, green-house, office, shop, kitchen, dojo, workshop

the lounge area of the micro-apartment

marco casagrande with the tikku house
TIKKU
video © casagrande laboratory
project info:
architect: marco casagrande
casagrande laboratory team: nikita wu, taijirou okuda
construction work: woodpolis kuhmo
structural design: timber bros
location: keskuskatu, helsinki finland
site: 2,5 x 5 m (one car parking place)
floor area: 37, 5 sqm
height: 3 floors
materials: cross-laminated timber, glass, sand
organizer: helsinki design week
curator: martina wuoristo-huhta
completed: 2017
in co-operation with: crosslam kuhmo, woodpolis, city of kuhmo, profin, plantagen, sponda, pefc
oct 29, 2017
oct 29, 2017
oct 24, 2017
oct 24, 2017
sep 28, 2017
sep 28, 2017
sep 18, 2017
sep 18, 2017
aug 29, 2017
aug 29, 2017
jul 24, 2017
jul 24, 2017
nov 05, 2016
nov 05, 2016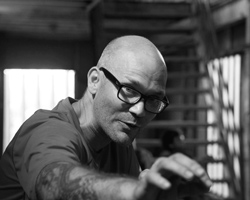 oct 14, 2014
oct 14, 2014
oct 02, 2014
oct 02, 2014
aug 31, 2014
aug 31, 2014
feb 23, 2014
feb 23, 2014
aug 28, 2013
aug 28, 2013
oct 29, 2017
oct 29, 2017
oct 16, 2017
oct 16, 2017
oct 11, 2017
oct 11, 2017
sep 26, 2017
sep 26, 2017
sep 15, 2017
sep 15, 2017
sep 02, 2017
sep 02, 2017