oct 24, 2013
CASE-REAL aligns restaurant on the sea in teshima, japan
CASE-REAL aligns restaurant on the sea in teshima, japan
photo by hiroshi mizusaki
all images courtesy of CASE-REAL architects
located on teshima island in japan, 'restaurant on the sea' by CASE-REAL seeks to provide for the region's local population as well as visitors arriving for the 2013 setouchi triennale arts festival.
the subject of food has long been an important issue for the island, where the once rich rice fields have been left deserted. the brief was to provide an inclusive 'place for food', catering for as wide a range of people as possible, in an attempt to revitalize the region.
two elongated arched volumes form the structure of the building where a terrace offers views of the surrounding ocean. this area is perhaps the most important element of the design, becoming a hub connected to the primary kitchen, a public kitchen and the seating area. translucent polycarbonate panels enclose the space providing shelter, but allowing generous amounts of light to permeate the terrace, thus creating a distinct change in atmosphere when compared with the interior of the project.
another significant area of the project is the public kitchen, connected to the terrace, where a variety of different people will be able to contribute to the restaurant.

the location of the restaurant in relation to the sea and the passing road
photo by hiroshi mizusaki
the red-brown concrete used to raise the building's foundations, protecting against the threat of floods, offers a distinct contrast with the sky, ocean and the building itself.

the building's foundations are raised to protect against flooding
photo by hiroshi mizusaki
case-real aimed to provide architecture that co-exists with the island, taking into account the region's unique climate to produce a meaningful and significant destination for teshima. 

the terrace provides an important central hub for the design
photo by hiroshi mizusaki

interior spaces offer different perspectives of the project
photo by hiroshi mizusaki

the restaurant, looking out past the terrace
photo by hiroshi mizusaki

two elongated arched volumes form the structure of the project
photo by hiroshi mizusaki

the restaurant's seafront location
photo by hiroshi mizusaki
project info:
design: koichi futatusmata, yasushi arikawa (CASE-REAL)
project in cooperation with: tsuyoshi matsuzawa
structural engineer: hiroshi ohno (ohno japan)
design cooperation, construction: naikai archit
lighting plan: masaaki sato (ushiospax fukuoka)
sign design: fumikazu ohara (soup design)
manufacture of furniture: e&y
photos: hiroshi mizusaki
client: circle house cooperation
location: kagawa (teshima), japan
construction period: 2012 – 2013
structure: steel frame
scale: 1 storey
building area: 471 sq m
site area: 1685 sq m
jun 17, 2017
jun 17, 2017
nov 01, 2016
nov 01, 2016
apr 26, 2016
apr 26, 2016
aug 14, 2017
aug 14, 2017
aug 13, 2017
aug 13, 2017
aug 10, 2017
aug 10, 2017
nov 25, 2013
nov 25, 2013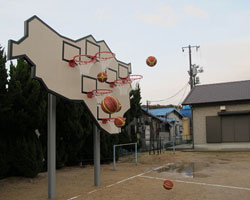 nov 10, 2013
nov 10, 2013
oct 20, 2013
oct 20, 2013