the 'experimentarium', one of denmark's top science centers, has reopened with a striking new interior. designed by architecture firm CEBRA, the scheme features a 100 meter-long helix staircase, built from 160 tons of steel and clad with 10 tons of copper. the impressive structure welcomes visitors inside the museum, before spiraling upwards, leading to each of the institution's four storeys.

all images by adam mørk
'the staircase ensures a good internal flow and creates coherence between the floors,' says CEBRA's founding partner, kolja nielsen. 'at the same time, it substantiates the building's scientific focus. 'during a workshop with jakob bohr, professor at DTU nanotech, we were inspired to work with the stairs as an abstract version of the DNA strand's structure. and so, the idea for the helix staircase was born.'

the scheme features a 100 meter-long helix staircase
the experimentarium, located in hellerup, copenhagen, seeks to explore and convey the fields of science and technology — from the illustration of fluid dynamics on its façades, to the helix staircase itself. the refurbishment doubles the size of the venue's previous exhibition area with a total of 16 interactive exhibitions. 'the aim of the design is a radical change of experimentarium's architectural expression,' continues nielsen. 'from previously being an introvert building to now appearing as an extrovert, engaging and vibrant attraction.'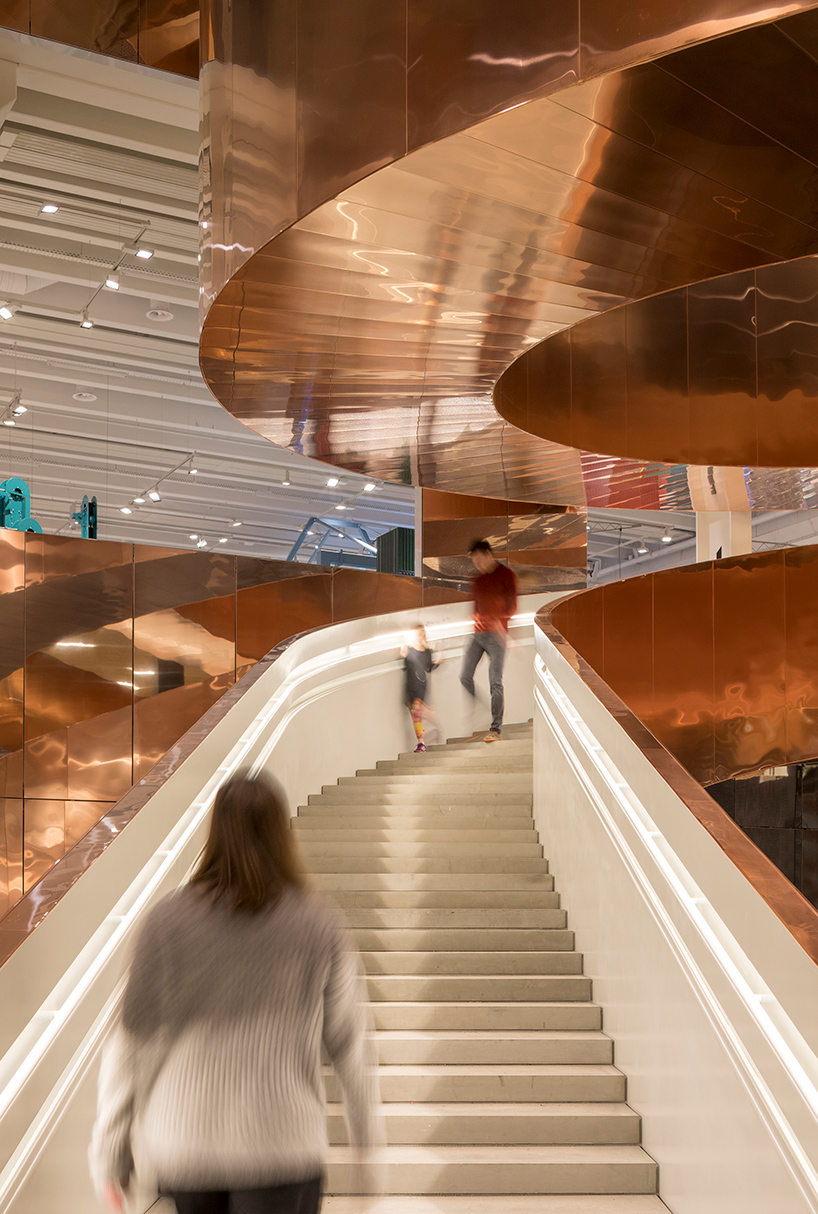 the stairs are built from 160 tons of steel, and have been clad with 10 tons of copper
externally, the building's different functions are made visible in the form of stacked boxes. clad with a lightweight façade of perforated aluminum panels, the boxes establish a contrast with the building's base, where the existing brickwork has been preserved. simultaneously, the perforations create a pattern that illustrates how the flow of air and fluid changes when met with resistance.

the structure welcomes visitors inside the museum
as well as doubling the exhibition area, CEBRA's refurbishment adds a large roof terrace, which opens for activities during the spring of 2017. modern staff facilities, a large café and a picnic-area, a convention center, teaching amenities, and a series of workshops are also included as part of the overhaul.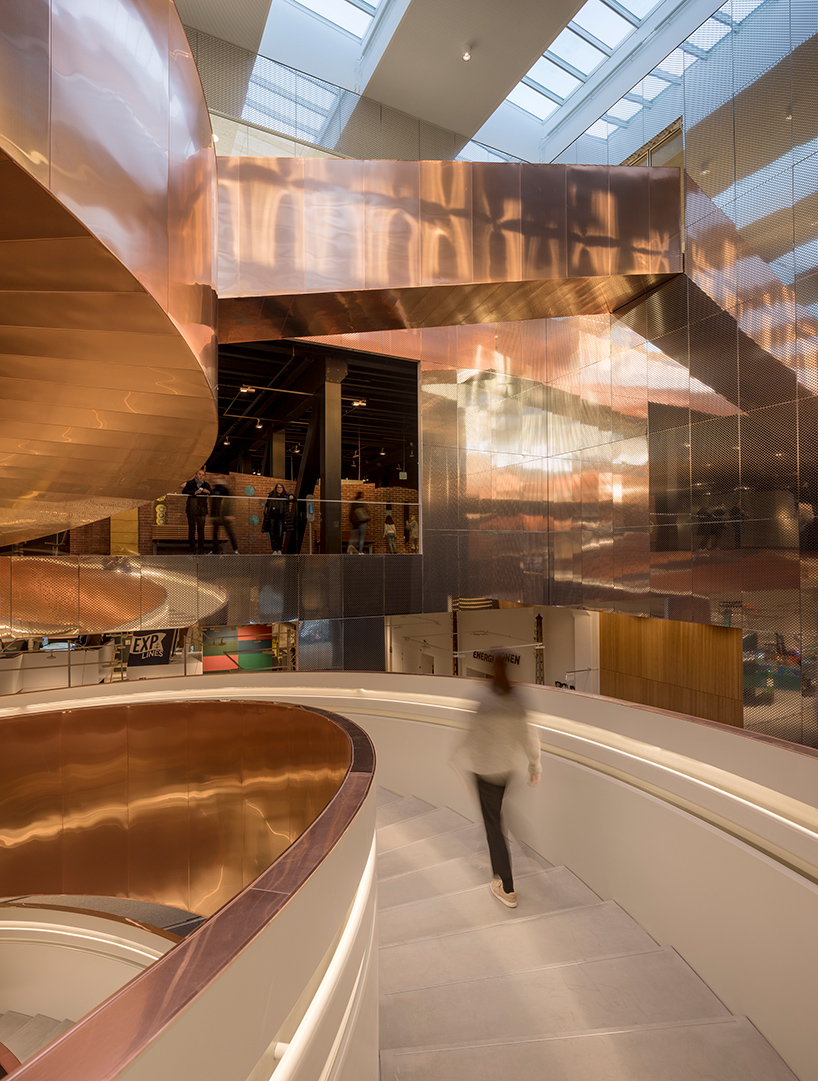 the spiraling ramp leads to each of the institution's four storeys
'curiosity is the core element that experimetarium is made of,' adds kim gladstone herlev, managing director of experimentarium. 'we want to light a spark in children and young people, inspiring them to explore and understand our wonderful world. now, this curiosity gets a new, spectacular, and flexible framework. we have doubled the exhibition area, and the roof terrace will strengthen experimentarium as an all-year attraction.'

looking upwards at the staircase from ground level

the helix-shaped feature substantiates the building's scientific focus

the refurbishment doubles the size of the venue's previous exhibition area

the redevelopment also includes a convention center and teaching amenities

perforations create a pattern that illustrates how the flow of air changes when it meets resistance

the building's different functions are made visible in the form of stacked boxes
project info:
location: tuborg havnevej, hellerup, denmark
client: experimentarium
floor area: 26,850 sqm (building: 25,000 sqm, roof terrace: 1,850 sqm)
construction period: 2014 – 2017
architect: CEBRA
engineer: orbicon
Save
Save
Save
Save
Save
Save
Save
Save
Save
Save
Save
Save
oct 03, 2017
oct 03, 2017
sep 28, 2017
sep 28, 2017
sep 26, 2017
sep 26, 2017
sep 09, 2017
sep 09, 2017
sep 01, 2017
sep 01, 2017
aug 28, 2017
aug 28, 2017
nov 23, 2016
nov 23, 2016
jun 10, 2016
jun 10, 2016
may 27, 2015
may 27, 2015
nov 30, 2014
nov 30, 2014
oct 16, 2014
oct 16, 2014
jul 04, 2014
jul 04, 2014