jan 15, 2013
cheungvogl: aesop city + telford plaza signature stores, hong kong
aesop signature store, cityplaza, tai koo shing, hong kongall images courtesy of cheungvogl
hong kong-based studio cheungvogl has been working together with cosmetic brand aesop, on a series of case studies developing eleven installations, signature and concept stores across asia and europe as a result. each space, though completely unique in their approach, materiality and character, expresses a strong analysis of the australian company's philosophy, with a focus on the integration, interaction and communication between humans and objects.
the two timber storage units are informed by the way wooden crates are stacked and organized during product distribution
the aesop signature store, cityplayza at tai koo shing, hong kong, simplifies and maximizes product display and storage through a series of stacked timber shelving which is informed by the way in which crates are organized during production, shipping and delivery. the two linear timber shelves demarcate the front of the store from the back, offering adequate storage while visually keeping the space open. additional design elements include a concrete sink counter and industrial epoxy concrete floor which respond to the practical way in which the products are presented, categorized, changed, removed and replenished.
a concrete sink counter stands as the focal point of the retail space
general view
project info:
name: aesop signature store, cityplaza, tai koo shing, hong kongyear: 2012main use: retailsite area: 33 sqmbuilding area: 33 sqmGFA: sqmstoreys: 1
aesop signature store, telford plaza, kowloon bay, hong kong
cheungvogl's telford plaza signature store for aesop, located in kowloon bay, continues the successful design language of the cityplaza space, maximizing the product display and storage areas within. situated on a bridge construction which acts as a gateway between commercial buildings and the subway, the retail unit has been conceived as an extension of the public, offering varying degrees of customer interaction.
the overall volumetric organization speaks of the dimensions of the products on display, enhancing the communication of the brand, as well as accommodating changes which may take place. once again, stacked timber shelving units are employed which provide a clear hierarchal structure that separates the various range of the brand's goods in a simplistic manner, while the walls and ceilings are clad in blackened steel metal panels. a wooden counter, offers a place for client consultation, illuminated by a 1950s 'tallerkent lamp' by poul henningsen. a sink counter and slate floor accompany the overall look of the pragmatically designed shop.
a timber counter offers a place for client consultation
timber shelving units line the walls of the retail space
the walls and ceiling are lined with blackened steel panels
project info:
name: aesop signature store, telford plaza, kowloon bay, hong kongyear: 2012main use: retailsite area: 30 sqmbuilding area: 30 sqmGFA: 30 sqmstoreys: 1
aesop
(28 articles)
apr 30, 2017
apr 30, 2017
mar 12, 2017
mar 12, 2017
dec 27, 2016
dec 27, 2016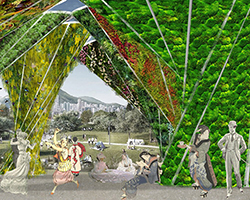 jun 22, 2017
jun 22, 2017
jun 19, 2017
jun 19, 2017
jun 13, 2017
jun 13, 2017
jun 19, 2017
jun 19, 2017
oct 31, 2016
oct 31, 2016
sep 07, 2016
sep 07, 2016