this sports hall for a school in thailand utilizes prefabricated bamboo trusses to span more than 17 meters without steel reinforcements or connections. commissioned by the panyaden international school, an international and bilingual institution located in the country's chiang mai province, the project was designed by chiangmai life architects (CLA), a firm who specializes in bamboo and earth architecture. the building is expected to last for at least 50 years.

the school is located in the country's chiang mai province
image by markus roselieb (CLA) (main image by image by alberto cosi)
CLA's design is based on the lotus flower, a symbol of both thailand and buddhist teachings. the design team, led by markus roselieb and tosapon sittiwong, was asked to construct a large hall able to accommodate 300 students while blending with its natural surroundings. the brief also called for modern sports facilities and stated that only bamboo could be used to maintain the school's low carbon footprint.

the building's design is based on the lotus flower
image by markus roselieb (CLA)
covering a total area of 782 square meters (8,417 sqf), the completed structure hosts basketball and futsal, and can also accommodate volleyball and badminton courts. storage facilities are positioned behind a stage that can be lifted automatically, while elevated balconies provide space for parents and other visitors to watch the hall's various events. natural ventilation and insulation ensure that the space remains cool throughout the year, while the exposed bamboo offers an aesthetically pleasing structural presence.

bamboo trusses allow the roof to span more than 17 meters
image by alberto cosi
with the help of two independent engineers, the sports hall was designed to withstand high-speed winds, earthquakes, and other natural forces common to the region. newly developed bamboo trusses, that allow spans of more than 17 meters, were assembled on site before being lifted into position with the help of a crane. as the bamboo used absorbed carbon to a much higher extent than the carbon emitted during treatment, transport, and construction, the project has a zero carbon footprint.

natural ventilation and insulation ensure that the space remains cool throughout the year
image by alberto cosi

bamboo staircases lead to elevated viewing balconies
image by alberto cosi

the large hall is able to accommodate up to 300 students
image by alberto cosi

the structure covers a total area of 782 square meters
image by markus roselieb (CLA)

the sports hall was designed to withstand high-speed winds, earthquakes, and other natural forces
image by markus roselieb (CLA)

the project has a zero carbon footprint
image by markus roselieb (CLA)

the building is expected to last for at least 50 years
image by markus roselieb (CLA)

an aerial view of the school's campus
image by markus roselieb (CLA)
project info:
name: bamboo sports hall for panyaden international school
location: hang dong district, chiang mai province, thailand
architect: chiangmai life architects (CLA)
built area: 782 sqm / 8,417 sqf
completed: 2017
photography: markus roselieb (CLA) and alberto cosi
lead architects: markus roselieb, tosapon sittiwong
engineers: phuong nguyen, esteban morales montoya
client: panyaden international school
budget: USD 300,000
carbon footprint: zero
manufacturers/products
chiangmai life construction: borax/boric acid treated bamboo
yang ma sports tech co., ltd: EPDM/SBR indoor sports floor
PSC commercial co., ltd.: cree multipurpose LED lights
Save
Save
Save
Save
Save
Save
Save
Save
oct 04, 2017
oct 04, 2017
sep 12, 2017
sep 12, 2017
sep 01, 2017
sep 01, 2017
aug 25, 2017
aug 25, 2017
aug 23, 2017
aug 23, 2017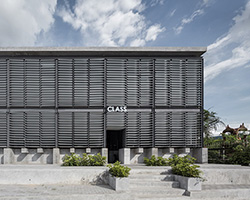 aug 18, 2017
aug 18, 2017
aug 29, 2017
aug 29, 2017
aug 24, 2017
aug 24, 2017
jul 31, 2017
jul 31, 2017
oct 30, 2017
oct 30, 2017
oct 27, 2017
oct 27, 2017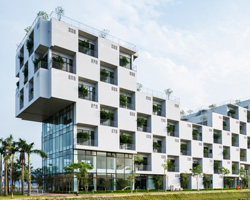 oct 24, 2017
oct 24, 2017