the hutong is a narrow alley or courtyard condition that defines the urban fabric of many northern cities of china — primarily beijing. historically, as the city grew and transformed, urban organization clustered around these small courtyards. the fabric of an ancient chinese city would have been comprised of hundreds of hutongs. by the mid 20th century there were thousands. these intimate public zones had become the sites of real chinese culture and community. tourists are attracted to beijing more to explore its network of hutongs than to visit the city's high-rises.
the 21st century has seen the impact of intensive urbanization as these pockets of gathering space have begun to fill in with new construction. no more than a thousand remaining beijing hutongs can be found. the preservation of these spaces has become a priority for contemporary designers as people yearn to either re-discover or maintain respect for the traditional urban architecture of china.
this second edition of designboom readers radar looks at how contemporary architects in china are transforming hutongs through program and materiality to preserve the integrity of the traditional courtyard.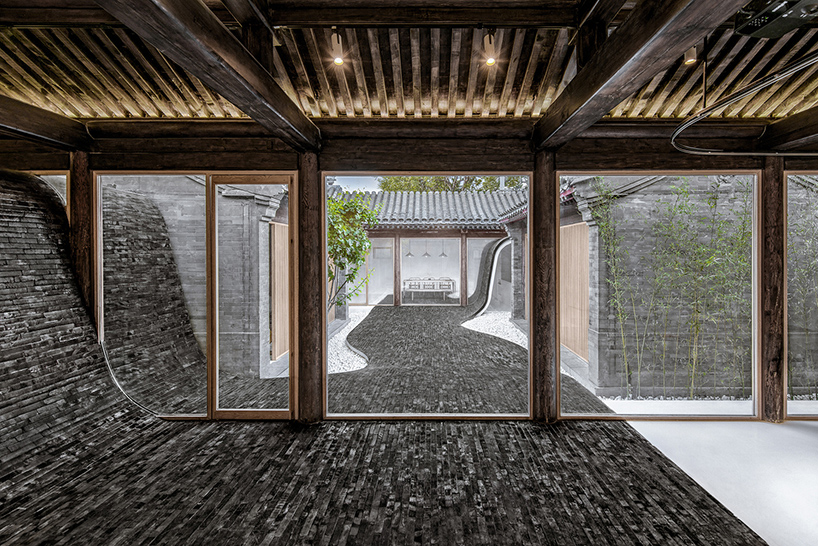 image courtesy of wang ning and jin weiqi
completed by archstudio, 'twisting courtyard' is a renovated residence in paizihutong, dashilar area, beijing. the property was once a siheyuan (courtyard house) with a single entry, and the purpose of this project is to upgrade the necessary infrastructure needed for a contemporary lifestyle. hence, this traditional courtyard which mainly served as a residence is turned into an attractive, urban public space within beijing's inner city.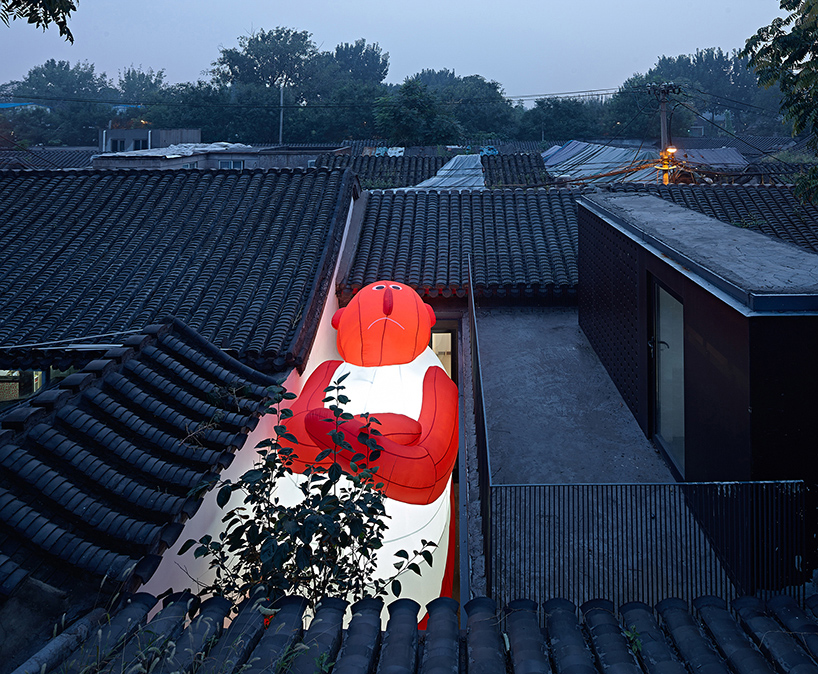 image © yang chaoying and chen su
architect hu yue, currently operating under his own architecture firm, unveils his latest transformation of a traditional beijing hutong with a contemporary touch. typically, beijing courtyards dwellings are designed with a peaceful inner yard, surrounded by rooms with good lighting and proper ventilation. however, these characteristics have been disappearing along due to the exceeding population expansion and additional construction in the city. human progression has been replaced by a vast non-human qualities. yue's response is to install a 10 meter high inflatable figure to emphasize the concept of space.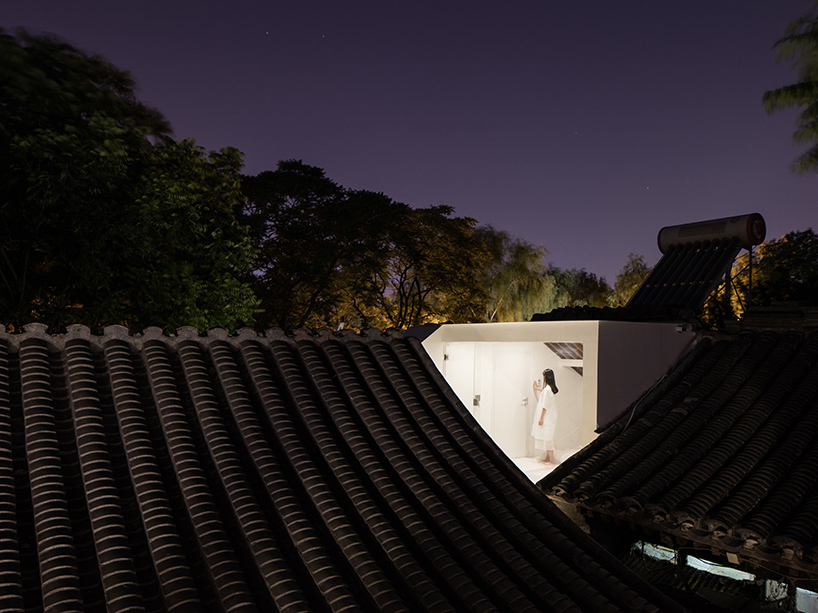 image © sun haiting
at the hutong is threatened by modernization, the nondescript concrete block and mega-complexes that take their place signal towards a 21st century china uninterested in the preservation of what's left. however, over the past decade a new generation of architects has stepped in to campaign for their preservation. tasked with rethinking the boundaries and expanding the possibilities of this forgotten architecture, wonder architects aim was to produce a space which was light, airy, and contemporary. using the framework provided by the traditional structure, the studio redesigned the layout of the suite into different units before reconstructing each one to suit its contemporary vision.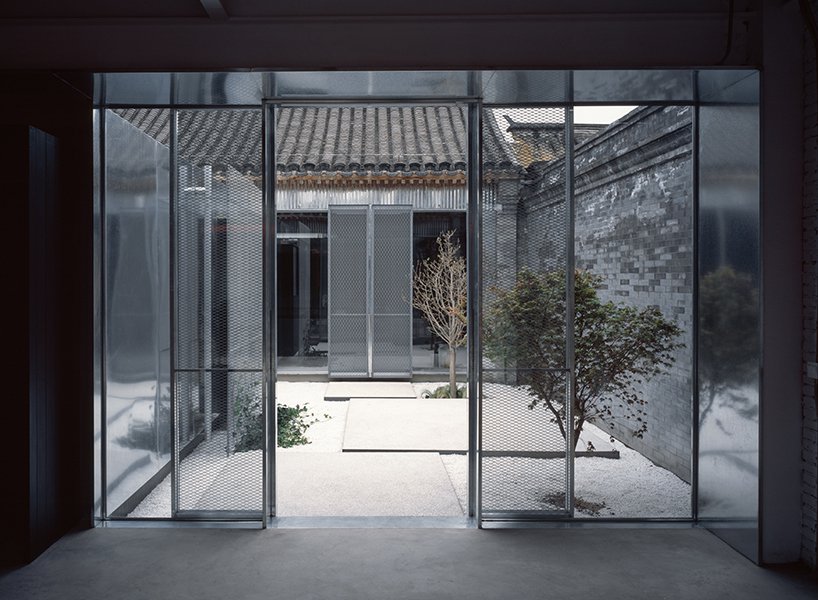 photo by chen hao, wang yi-chi
MINOR lab has transformed a traditional hutong residence in beijing's old-town area into the office and exhibition space of PAGEONE bookstore. the structure has operated as a hostel since 1998, while in 2014 it was converted into a small theater using steel. given that its function will change again soon, the architects adopted a light and flexible approach, retaining memories of the site and keeping the dynamics of the city and the street while refining the main structure. furthermore, in order to divide spaces flexibly, the architects have implemented cross-shaped movable walls made from OSB boards and steel rails, as well as aligned sliding doors, where a straight path turns the separate areas into one flowing space.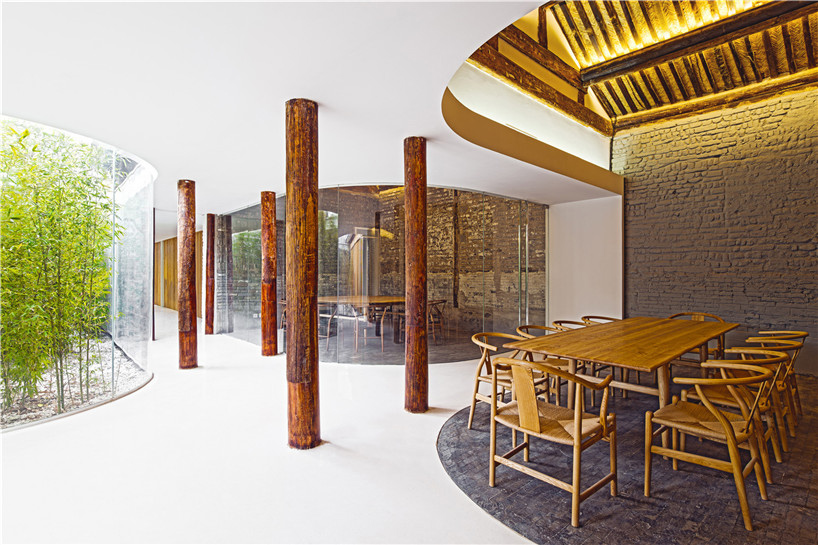 image © wang ning
in beijing, local practice archstudio has completed a tea house and café set within the city's historic hutong district. the L-shaped neighborhood — which measures a total of 450 square meters — had previously been lying dormant, and was in need of major renovation work. before any new elements were added, the architects began by selectively repairing the existing structure — parts of which predate the qing dynasty. the careful restoration is sympathetic to the building's historical appearance, with only essential modifications made.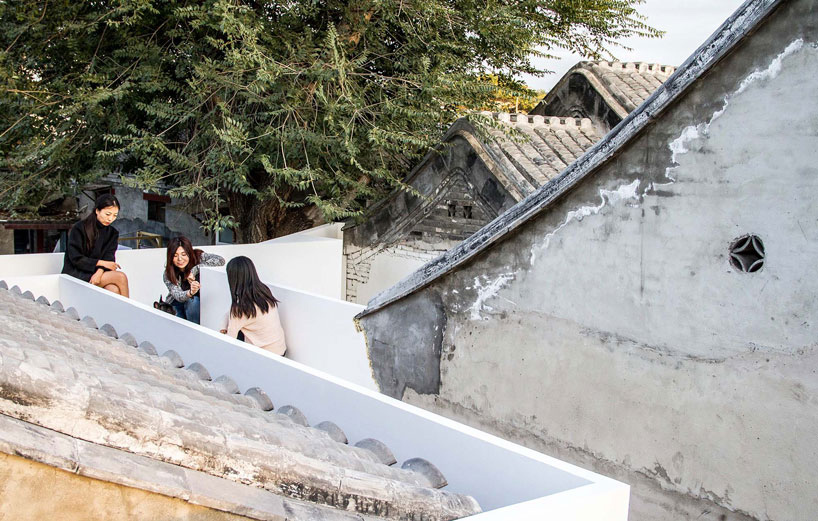 image courtesy of maison h
maison h's 'baitasi sharing courtyard' is located in beijing's historic center, in an area full of hutong laneways and ancient courtyards. it's a hands-on academic project, conceived by master students from tsinghua university, in which they investigate how to 'lever social change in china through design'. students deal with issues from a grounded, built reality, which complements what they learn in the design studio. surrounded by authentic hutong life, the proximity of the site to the white pagoda temple provided a unique experience for students to investigate.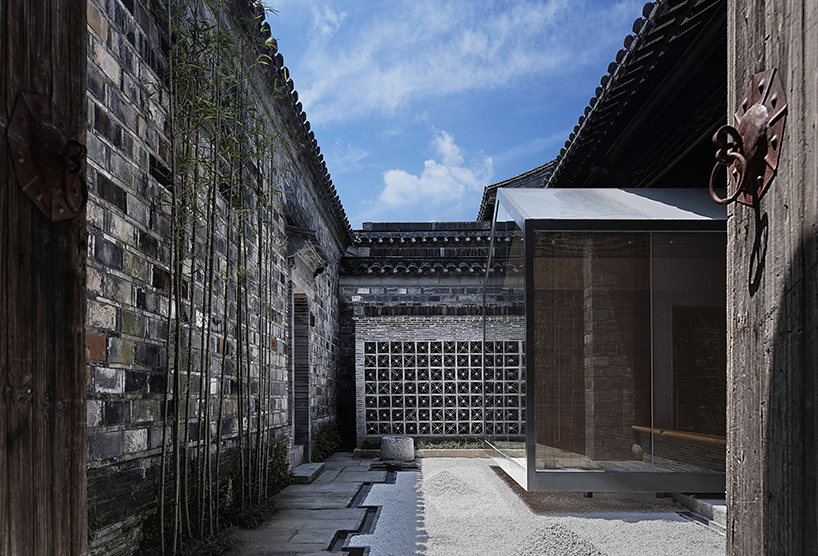 image courtesy of minggu design
located in the south of nanjing, china, this hidden residential gem is brought back to life by architectural practice minggu design. for hundreds of years, the 'lai yard' has stood in the alley and near the ancient city wall — listed as a protected building that needs restoration. at the north of the original house, two-pseudo architectures have been built to create three enclosed courtyards interwoven with an intimate group of trees. objectively speaking, the studio has witnessed unsophisticated and archaic site conditions that do not reflect the ancients' works. regardless, the residence still reflects the memory and desire for traditions by today's community.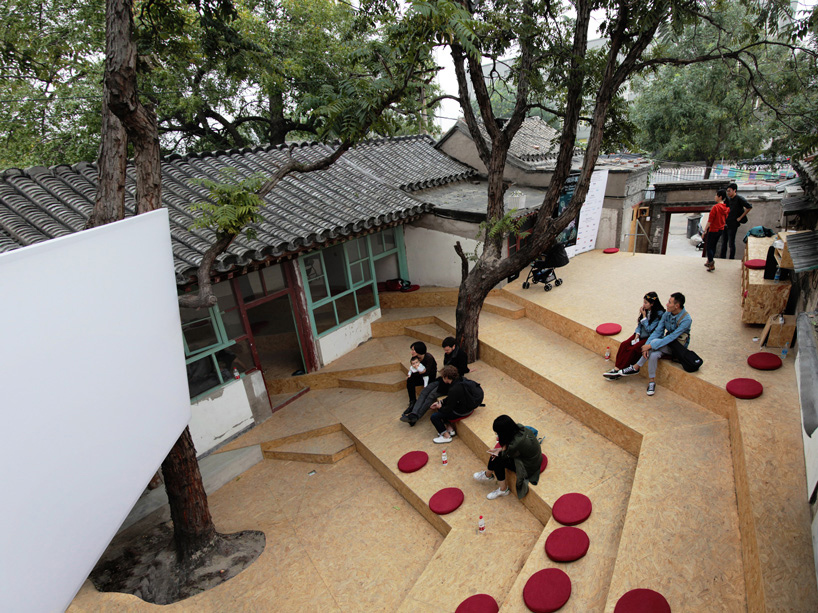 image courtesy of BaO
beijing design week 2016: the construction of the BAITAcinema sees the temporary activation of a hutong in beijing's historic baitasi district. conceived by BaO architects, in partnership with the french embassy in china, the project is the first stage of a longer-term strategy to transform the courtyard into a permanent cultural space. the scheme includes the realization of a wooden amphitheater within the existing layout. invading both outdoor and indoor spaces, and entirely transforming the visitor's experience, the installation opens up a new range of uses inside the traditional residential setting.
jul 02, 2020
jul 02, 2020
jul 02, 2020
jul 02, 2020
jun 30, 2020
jun 30, 2020
jun 30, 2020
jun 30, 2020
jun 28, 2020
jun 28, 2020
jun 26, 2020
jun 26, 2020
oct 16, 2019
oct 16, 2019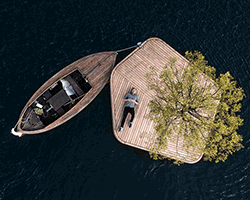 sep 15, 2019
sep 15, 2019
jul 18, 2019
jul 18, 2019
jun 24, 2020
jun 24, 2020
jan 09, 2020
jan 09, 2020
nov 22, 2019
nov 22, 2019
a diverse digital database that acts as a valuable guide in gaining insight and information about a product directly from the manufacturer, and serves as a rich reference point in developing a project or scheme.