the 'krøyers plads' residential project has been fully completed with the design realized in collaboration danish firms COBE and vilhelm lauritzen architects. the sharp-edged brick builds is sited at the heart of the copenhagen harbor opposite the royal playhouse. this prime location neighbors 300 year-old industrial warehouses and this historic element has been a focus, unfolding into a series of three five-story housing blocks topped with folded roofs. this feature ultimately bases on the contextual approach of creating a link between new and the old.

all images © rasmus hjortshøj – coast
this modern interpretation seen in the schemes is a nod to the copenhagen warehouses, with a total of 105 units inside the three apartment blocks. together, COBE and vilhelm lauritzen arkitekter followed a sympathetic approach and the significant characteristics of the old warehouses was translated, including the harbour facing gables, harbor-facing gables, height, material and heavy expression. besides the emphasis on site context and public involvement, focus has also been placed on developing the residences following sustainable principles. this meant the buildings met the needs for environmental, social, economic and resource-focused aspects during its construction.

the project is based on an agreed, contextual approach where the folded roofs and architectural heaviness respect
the surrounding warehouses
'the neighbours were for instance invited to help de ne the height of the buildings and to help select the materials – both crucial for the way the new krøyers plads relates to its surroundings. instead of inventing a new building typology, krøyers plads became a reinvention of the one already found adjacent to the site – the industrial warehouse,' comments dan stubbergaard, founder and creative director at COBE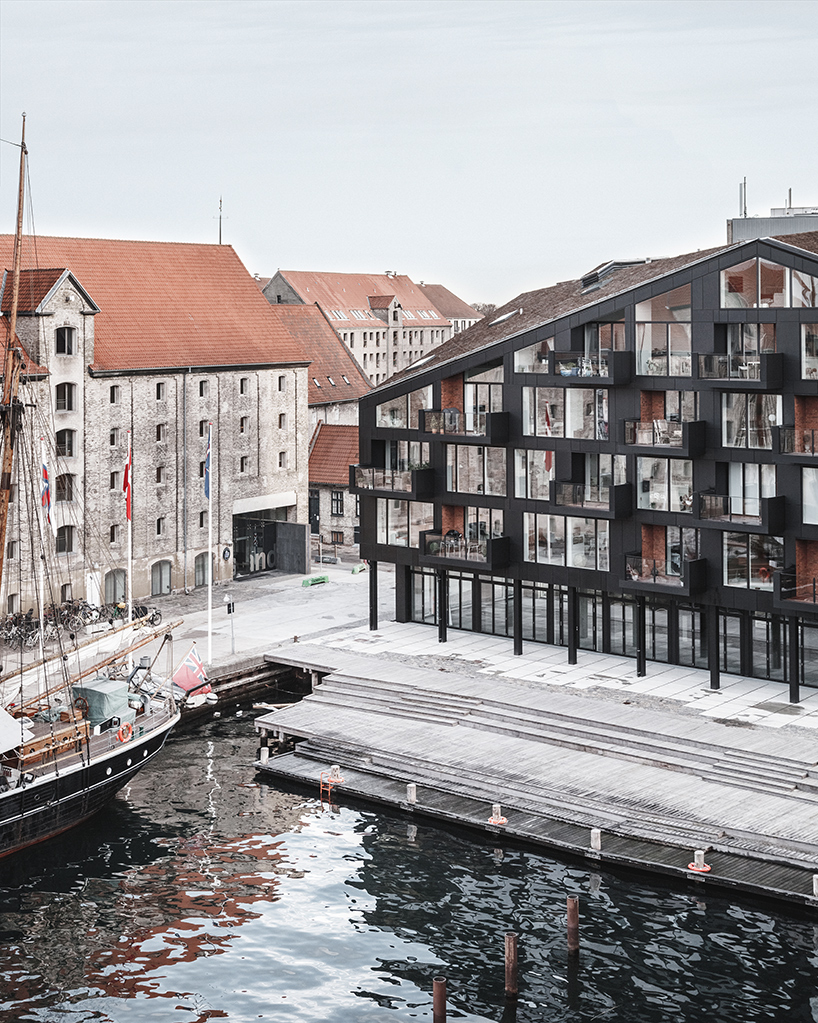 the approach was to translate all significant characteristics of the old warehouses into the new
the ground floors of each housing block will open with restaurants, retail and a supermarket. the surrounding landscape decked with a wooden waterfront promenade and will become a popular space during the summer for residents and locals of the city. overall, the planning of krøyers plads and facilities within the site will enliven the once abandoned area and further characterize the copenhagen harbor front.

the project is located in the heart of the copenhagen harborfront area
'from the start we were determined to create the first nordic eco-labelled apartment buildings in the world. the nordic ecolabel is a label that requires very high standards for sustainability – both in terms of environmental and constructional quality,'. says thomas scheel, partner at vilhelm lauritzen architects.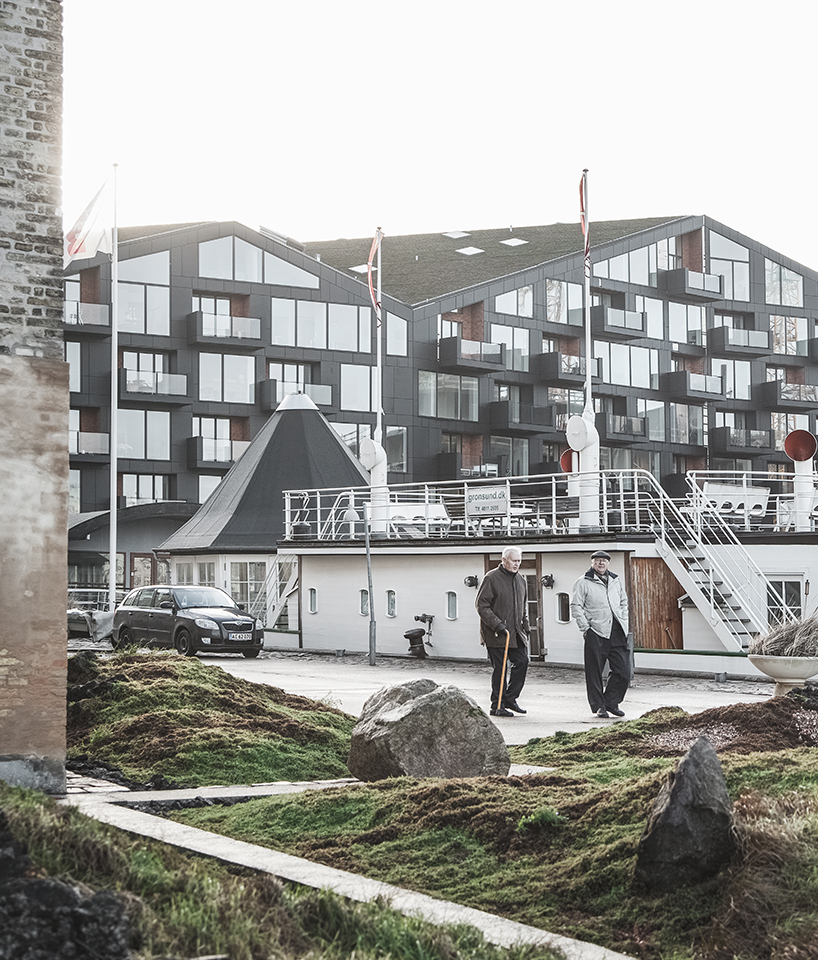 besides the emphasis on site context and public involvement, focus on the sustainability principles of the buildings

the ground floors will feature retail and restaurants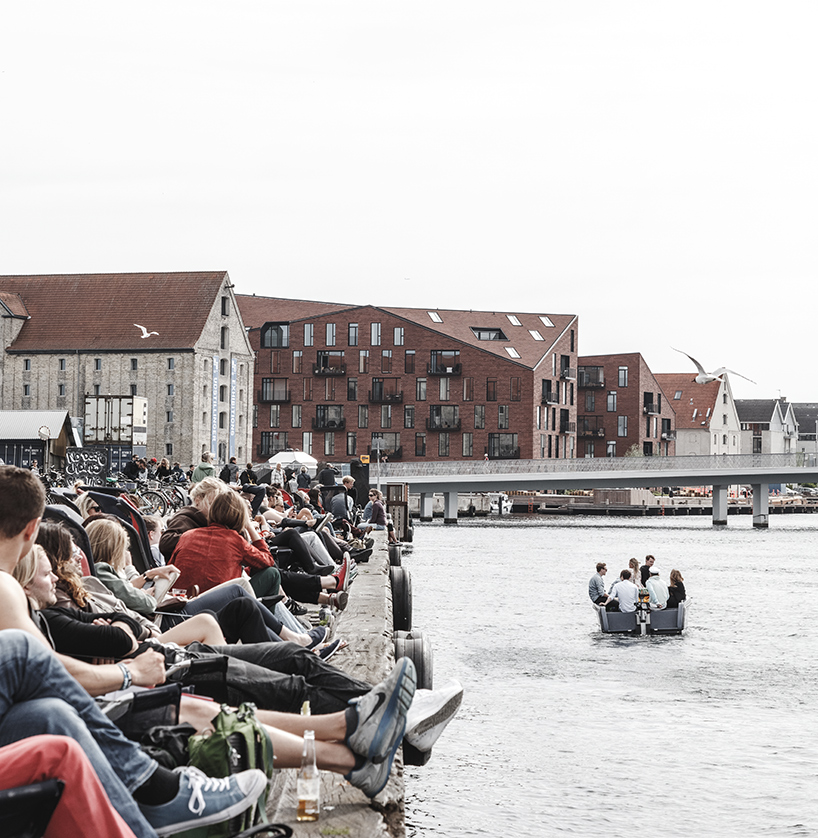 the prime location will be popular during the long danish summers

the project consists of 3  five-story housing units with 105 apartments ranging from 79 to 250 sqm in size

apartments have direct views onto the water

the material chosen for the envelope i

set between 300-year-old industrial warehouses the new development is based on the constraints and demands from
the public voices of copenhageners
Save
Save
Save
Save
Save
Save
Save
Save
Save
Save
oct 03, 2017
oct 03, 2017
sep 28, 2017
sep 28, 2017
sep 26, 2017
sep 26, 2017
sep 09, 2017
sep 09, 2017
sep 01, 2017
sep 01, 2017
aug 28, 2017
aug 28, 2017
jun 28, 2017
jun 28, 2017
mar 30, 2017
mar 30, 2017
sep 29, 2016
sep 29, 2016
apr 29, 2016
apr 29, 2016
feb 11, 2016
feb 11, 2016
feb 04, 2016
feb 04, 2016