DIY project of designboom – container office in sardinia image © designboom
for some time designboom has been planning to transfer our office during the summertime months from the bustling city of milan to the seasides of sardinia (sardegna), an island off the western coast of italy. after all these years of publishing articles on exciting experimental and sustainable architecture, we've undertaken our own DIY shipping container home project, featuring adaptable living and work spaces. we wanted to share our experience as a starting point for readers who might be interested in creating similar structures of their own! there is a high demand for summer residences on sardinia, and in order to stop over-development of its coastal line and countryside, the government has adopted extremely rigid criteria for building permits. receiving construction permission is a long and difficult process, but one means of getting around the waiting period is the use of temporary and modular structures for housing. we envisioned a low impact dwelling, which could be placed on our ground without any planning permission, and ultimately integrated into a traditional permanent edifice once the proper legal permissions have been obtained.
the area features an outdoor kitchen and dining area, covered with a straw canopy, adjacent to two live-work container spaces. these are arranged such that their external doors may be opened out from the container and latched together, creating a wall that protects the dining area from excess wind. all spaces feature opening or sliding glass doors installed within the container frame. a separate shipping container serves as the bathroom, which has been fitted with a functioning toilet and shower.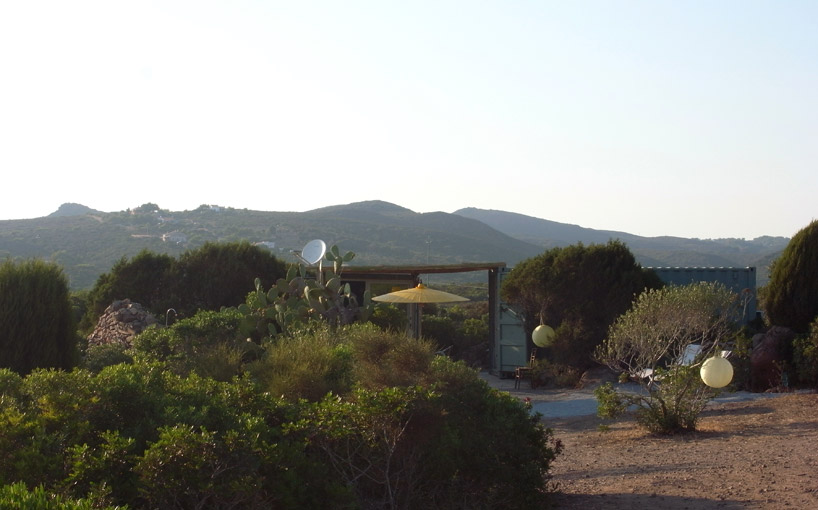 great for nature lovers, the boxes make use of the hill itself, expanding interior space beyond the containers image © designboom
in general it is a good thing to recycle materials that otherwise have no further use for their intended purpose. cargo shipping containers are used only 20 years for its original purpose, nowadays their life-span is even shorter. reason is that many asian economies have an export-oriented development strategy and we (europeans) are buying so much merchandise from these countries, primarily china. the imbalances in commercial relations (we export less) determine a situation where it's too expensive to ship empty containers back to the their origin (it's cheaper to buy new containers). the result is an extremely high surplus of empty, used shipping containers in europe's ports… they represent a stockpile of ready-made building units.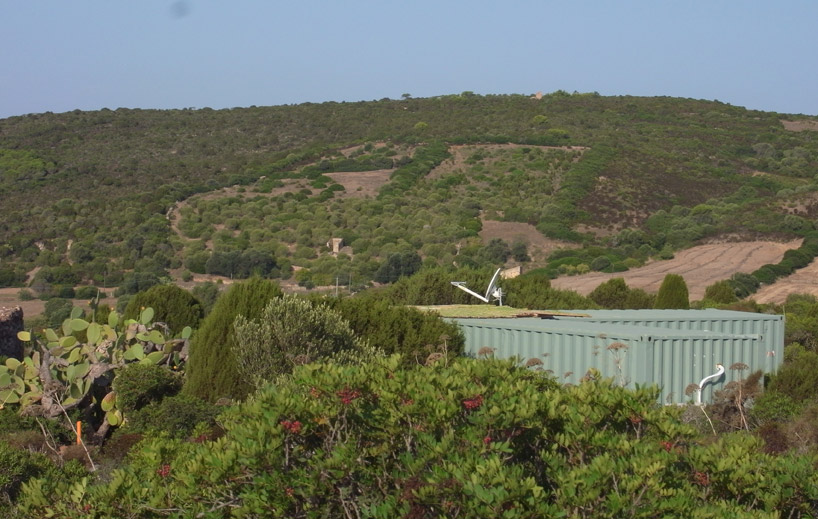 we placed two of the three containers at a 90 degree angle. sizes are 20ft (6.1 m) x 8 (2.43 m) x 8 feet (2.43 m). image © designboom
the containers, properly called inter-modal steel building units (ISBUs) are manufactured to international standards, easy to transport, and readily available. constructed out of heavy-gauge corten steel, used for ocean shipping, water and flood proof, resistant to humidity and saltwater, fire proof, designed to carry everything. they offer tremendous sustainability and strength. the cargo containers come in two main standardized sizes, 40 ft (12.19 m) x 8 (2.43 m) x 8 feet (2.43 m) and 20 ft (6.1 m) x 8 (2.43 m) x 8 feet (2.43 m).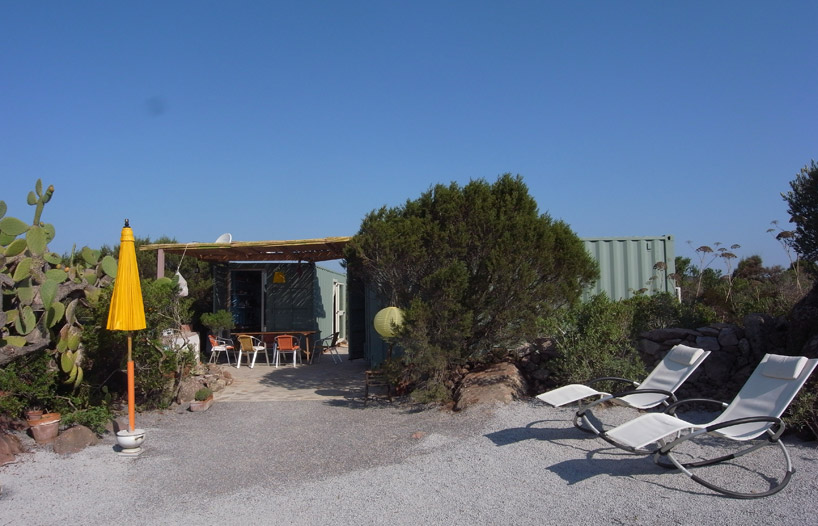 image © designboom
the price for containers themselves as well as all additional expenses is influenced by many factors (and your geographic location). we bought 3 bright orange, used containers. on sardinia, they were a bit more expensive, but usually used containers are within the range of 2,000 to 3,500 USD, in addition to transport costs and site preparation, which must be accessible by heavy trucks and a crane.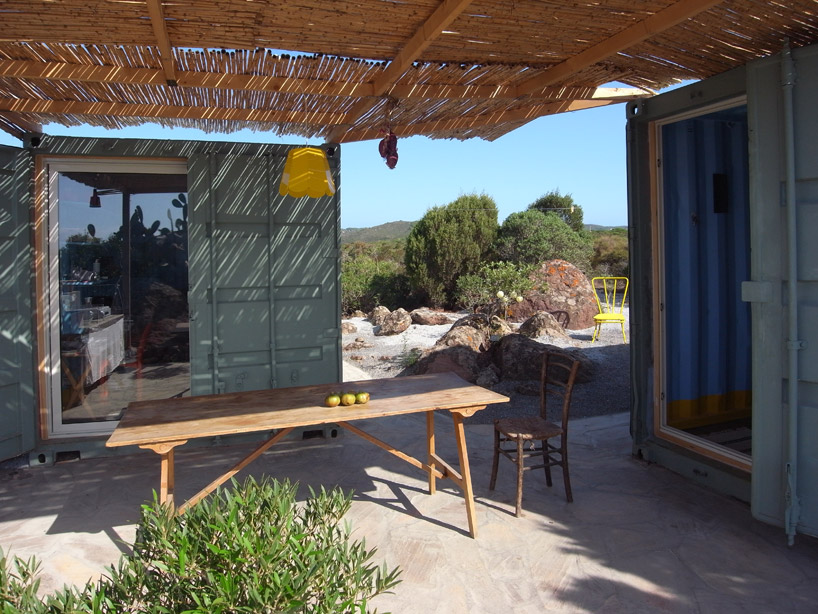 two courtyards, designboom's own folding table developed in 2001 image © designboom
a container construction does not necessarily produce cost savings compared to a traditional permanent building, but if you opt to build the home yourself (either completely or partially, performing the painting or flooring by yourself), the cost of the total project drops significantly. as mentioned before, with this structure we tried to be the least invasive possible and avoided building a concrete block foundation. the containers were simply crane-lifted one by one onto the natural stone pavement, and are thus completely removable.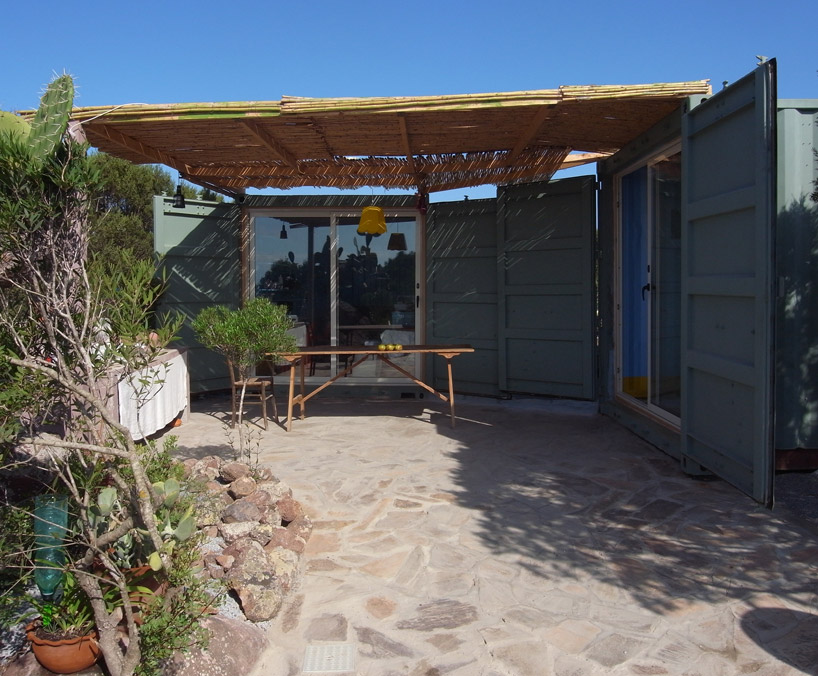 a simple cane roof for some shade, outdoor flooring uses only original stone from the site image © designboom
non-standard security sliding door frames were measured and cut prior to delivery. unfortunately these sliding glass doors needed a few adjustments to be set into the openings. without a special permission, creating a concrete floor was not an option (this kind of intervention generally does not comply with the planning and building regulations in many regions, including those in sardinia). therefore, we had only a few inches depth of gravel placed where the front and rear ends of the container rest. as a result, the containers are not perfectly horizontal and not perfectly level, but this does not cause any problems for living and working. for the outdoor flooring we used only original stone from the site, placed on sand and mortal – no concrete.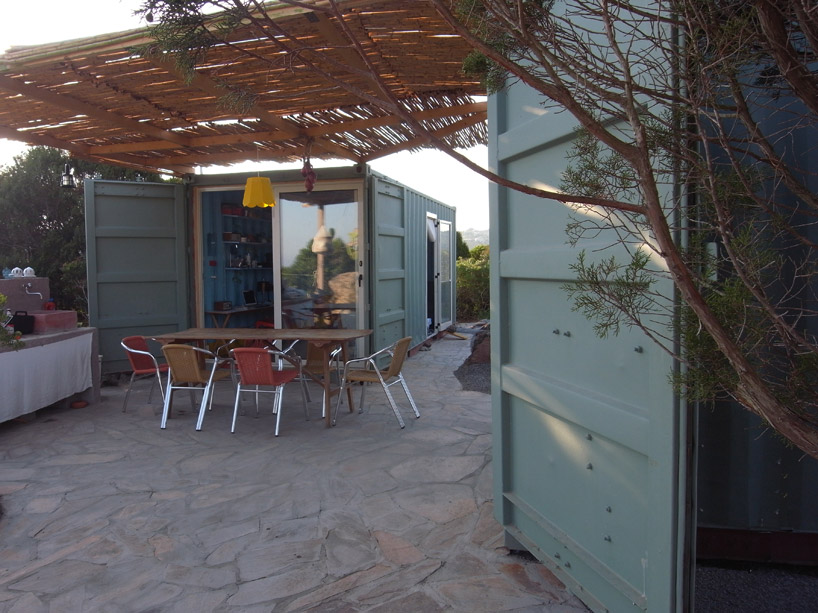 image © designboom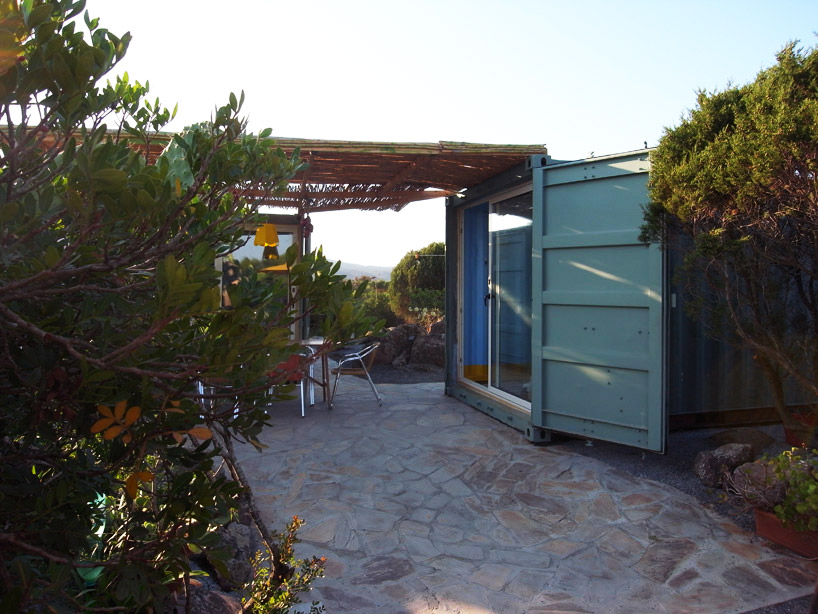 image © designboom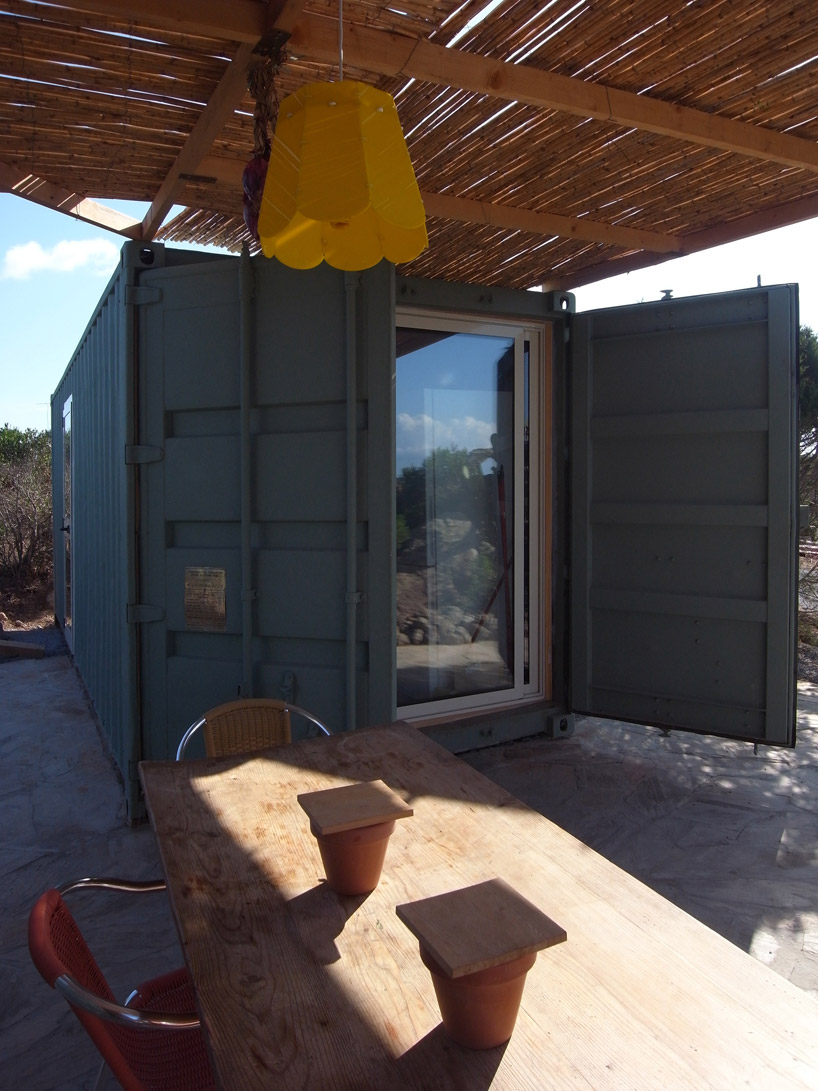 image © designboom

image © designboom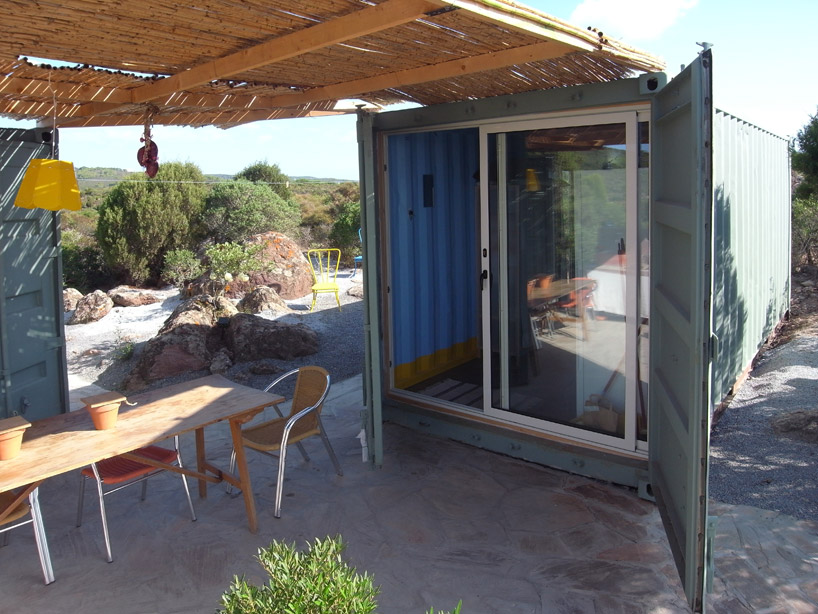 image © designboom

satellite connection image © designboom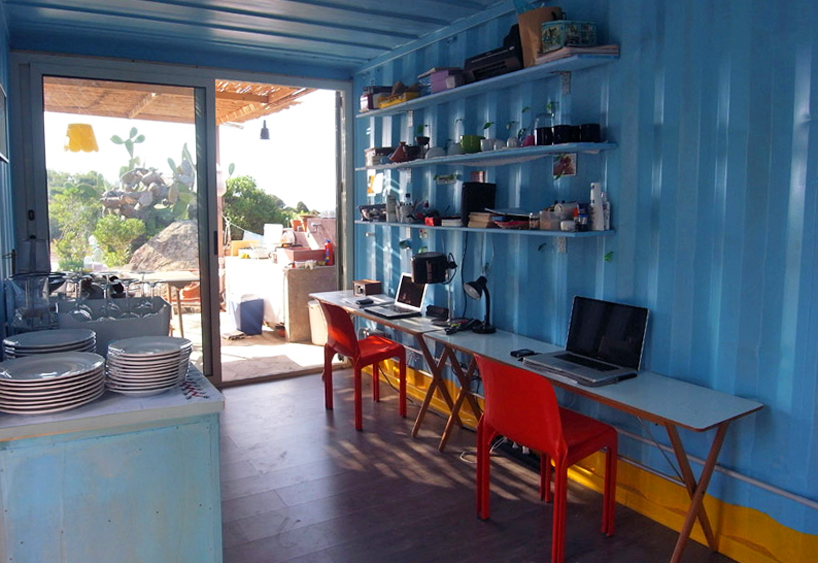 the designboom office interior of one of our shipping containers with the corrugated steel frame image © designboom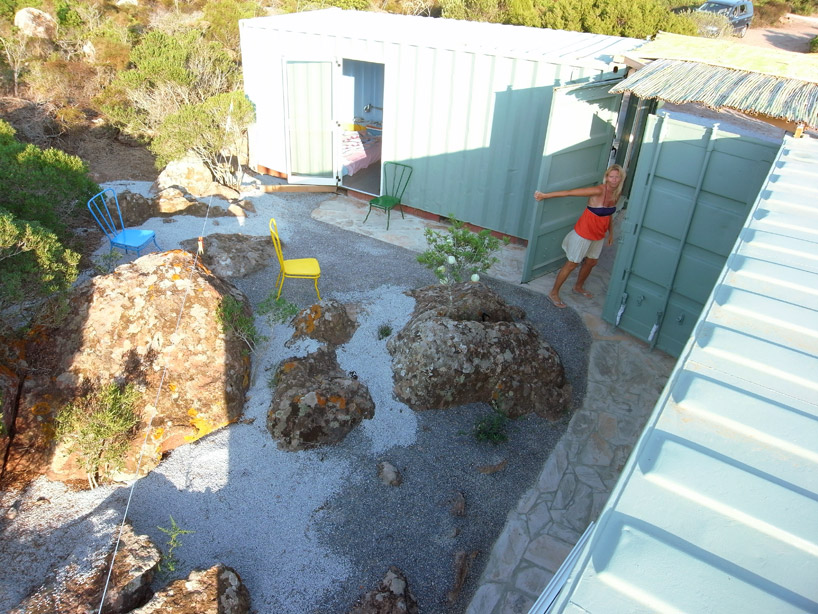 birgit shows the idea of the two closed courtyards – on windy days we simply close the steel doors of the two containers image © designboom
the plan was to place two containers at an angle of 90 degrees and at the right distance, that the doors at 45 degrees touch. in this way, we simply close the steel doors of the two containers to protect us from the mistral wind.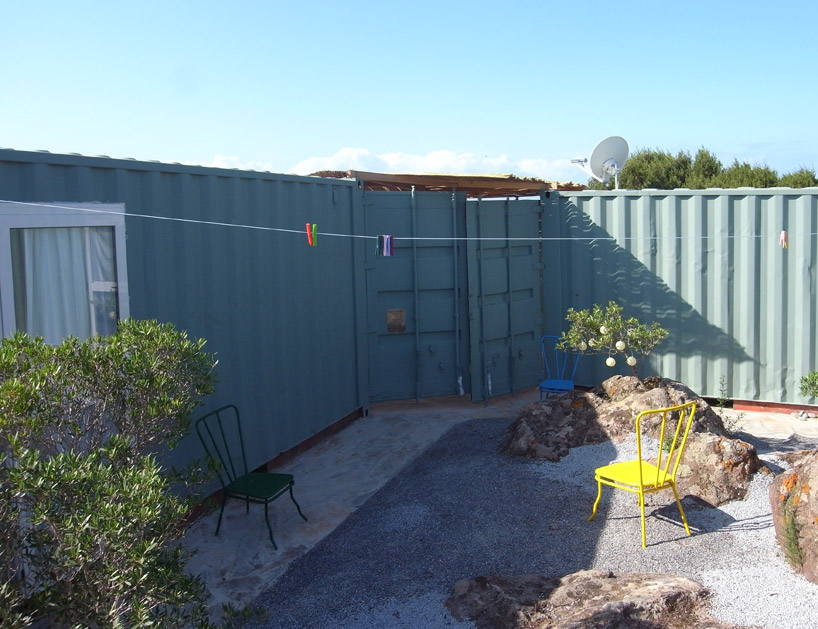 image © designboom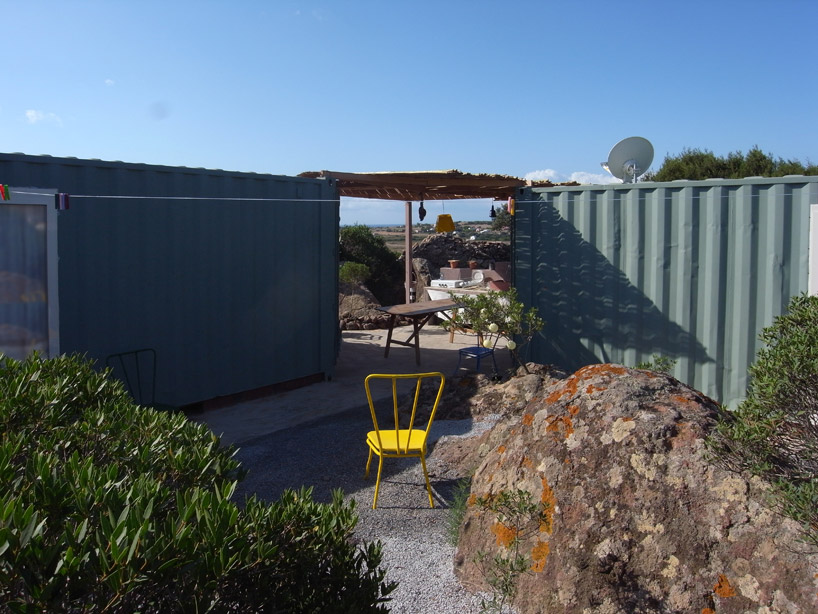 image © designboom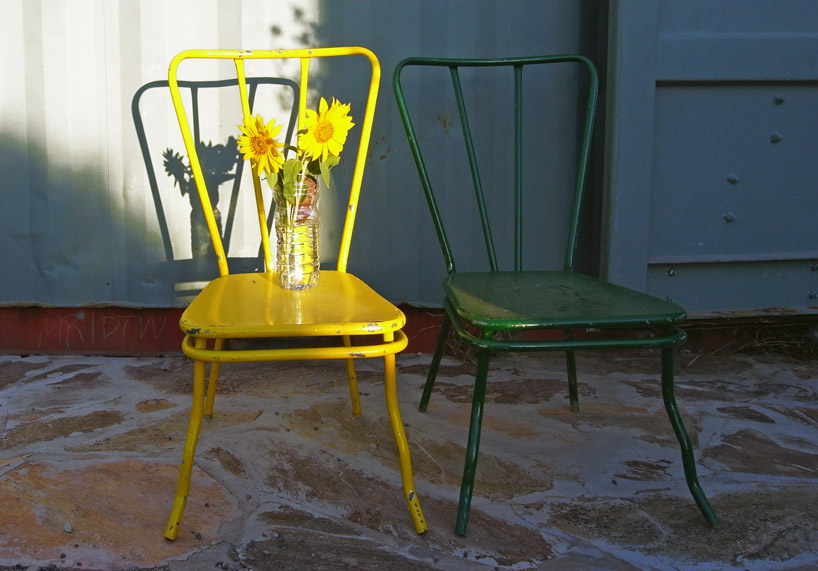 image © designboom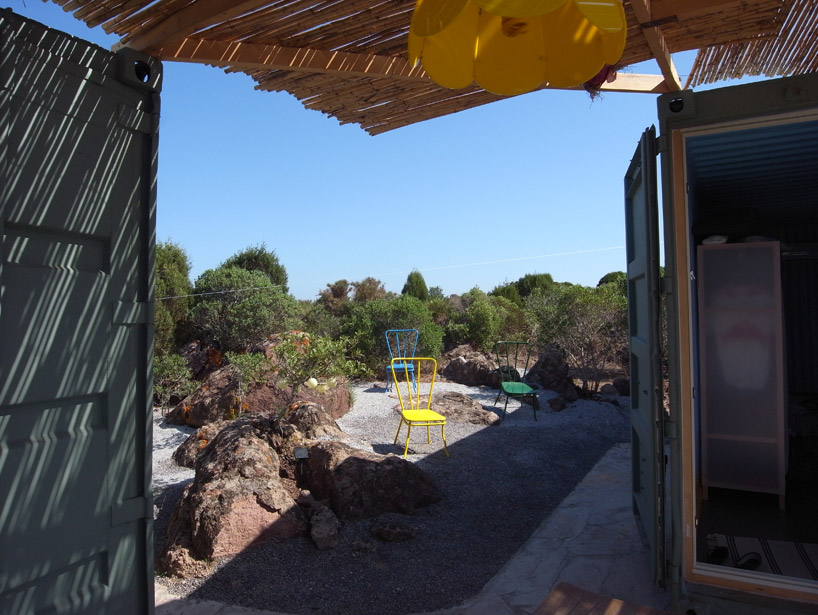 image © designboom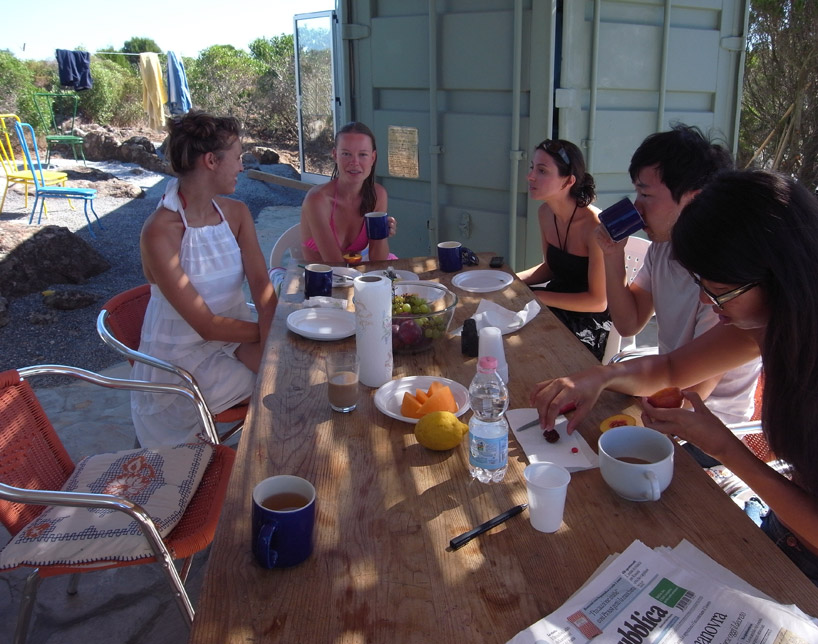 a few of the team (jenny, anita, lauren, shuhei and andrea) have a second breakfast break (anita took an open-air shower) image © designboom
container-built homes are popping up in urban planning sessions and university housing discussions worldwide. many are the possibilities, from a museum project to a pop-up shopping center made of hundreds of them. the designboom team took about 30 days to build this new environment of single holiday home offices.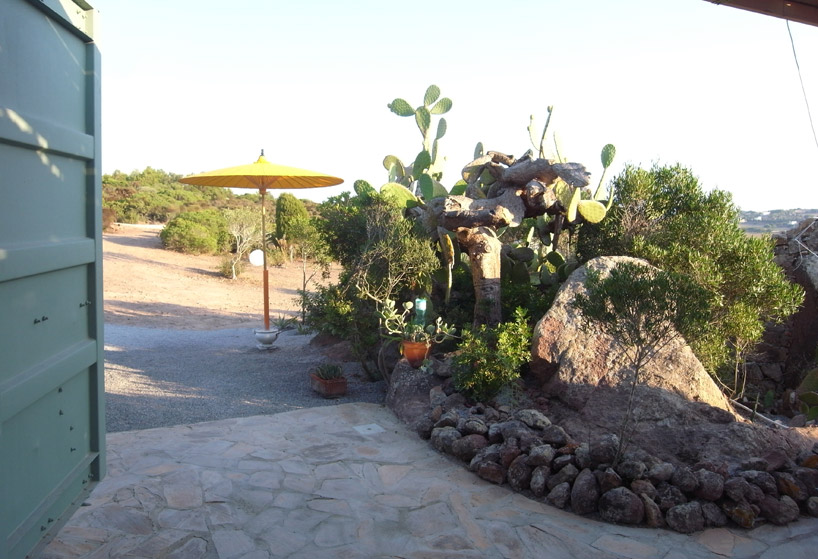 image © designboom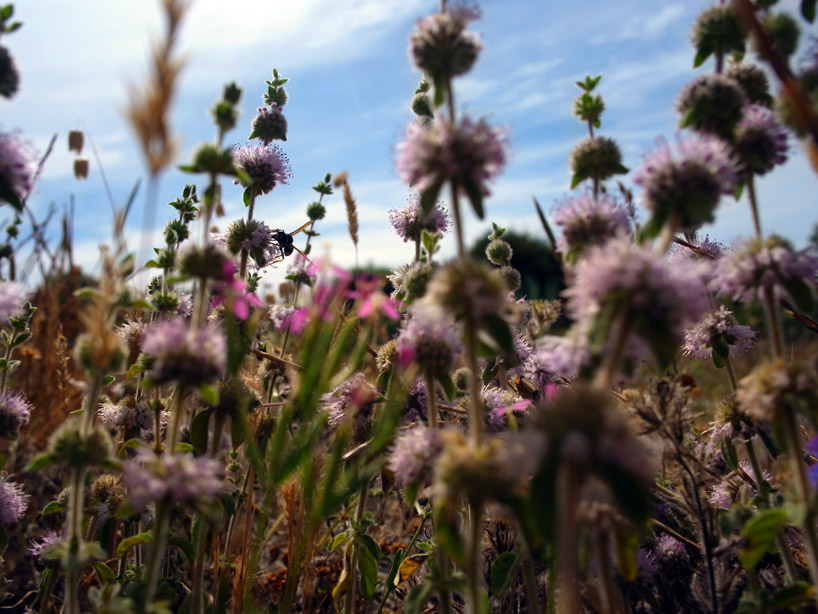 wildflowers on the site image © designboom
working in untouched nature is very beautiful.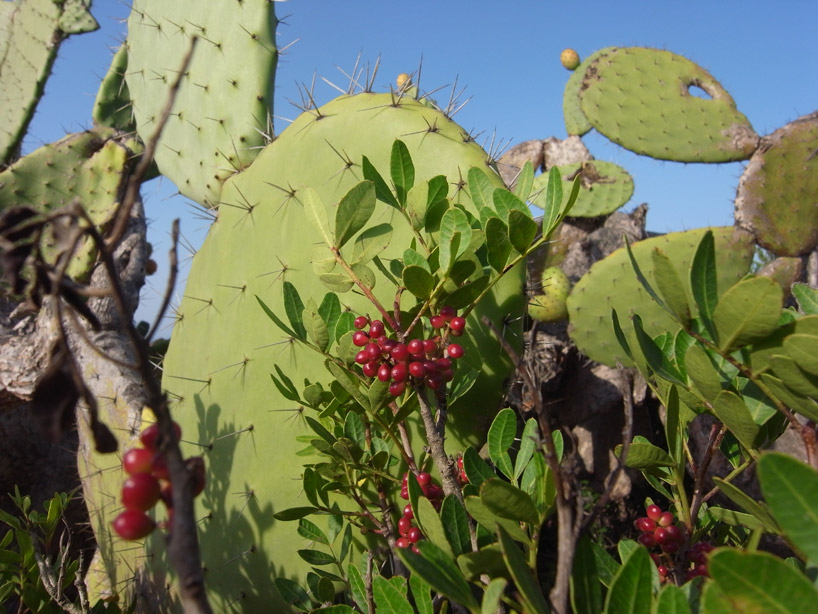 image © designboom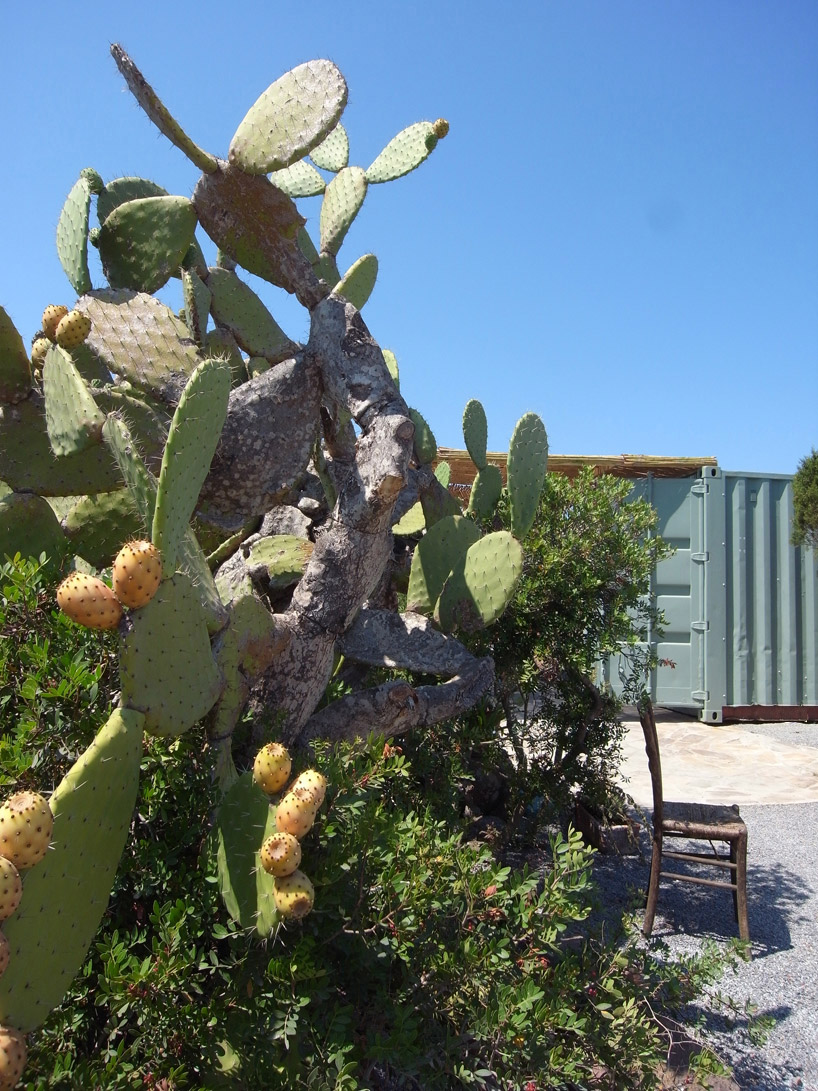 image © designboom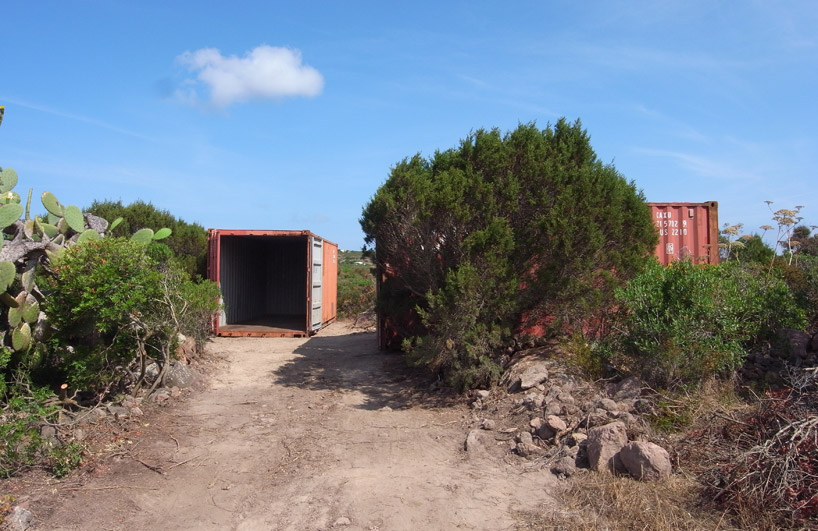 this was the starting point. on top of the hill, the containers were placed right next to each other with a 90 degree angle image © designboom
the containers have been transformed to living spaces all directly on site.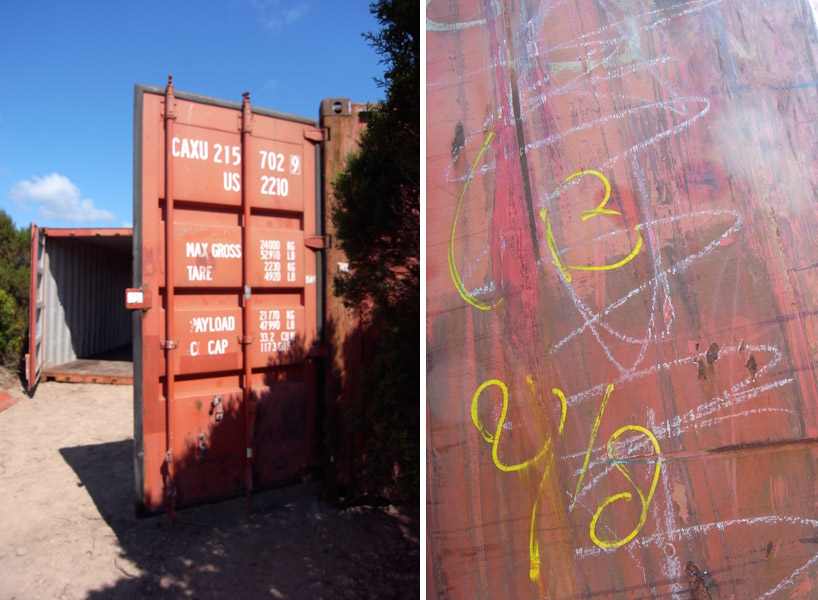 lots of finishing work to do image © designboom
we cut openings into the outer walls for a set of extra doors, for better ventilation and circulation.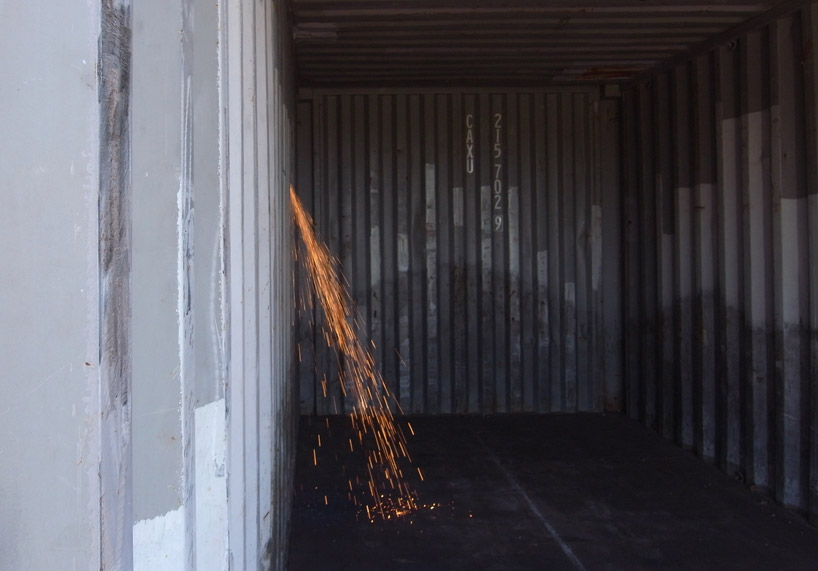 cutting the sidewalls for extra doors image © designboom
the biggest concern for this kind of project is insulation.
sardinia has a typical mediterranean climate. during the year there are approximately 300 days of sunshine, the average temperature is between 11 to 17 °C (52 to 63 °F), but in summer the extreme temperature fluctuations and lack of water make it a 'desert environment'. from an LA-based friend (hello michael), we've heard that ceramic coatings will work under these conditions and on such structures. we've painted the corrugated-steel exterior with SUPERTHERM ®, a ceramic coating that insulates the structure to reduce heating and cooling loads. the product has been developed in part after the ceramic tiles the NASA uses on the space shuttle. SUPERTHERM ® ceramic coating is a paint mixed with 4 ceramic compounds for application via spray or roller to exterior and interior surfaces. ceramic coatings are measured by their emissivity – it measures both the ability to reflect heat and the amount of heat that is loaded onto a surface.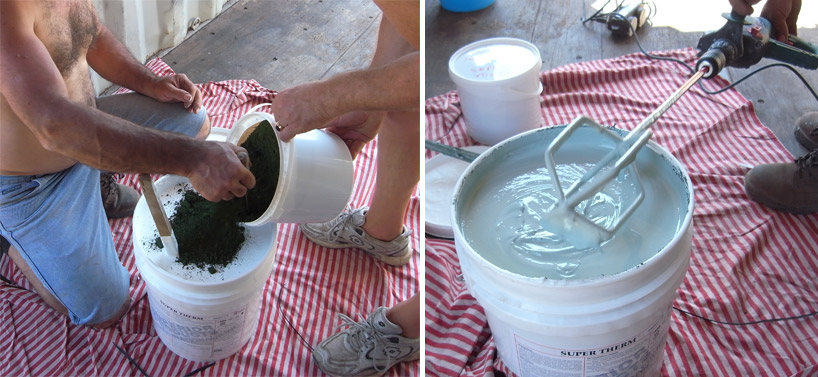 here we are mixing color pigments into the SUPERTHERM® ceramic paint to obtain the 'right kind of green hue' image © designboom
the white ceramic paint is very effective, but we were forced to hide the containers, blending them perfectly into the surrounding nature. unfortunately mixing the white base with dark color pigments (green) reduces the product's efficiency of about 50%. nonetheless, although we installed air conditioning, we have never used it thanks to the SUPERTHERM® insulation. if anything, the paint works almost too well, making the containers feel almost like refrigerators at night!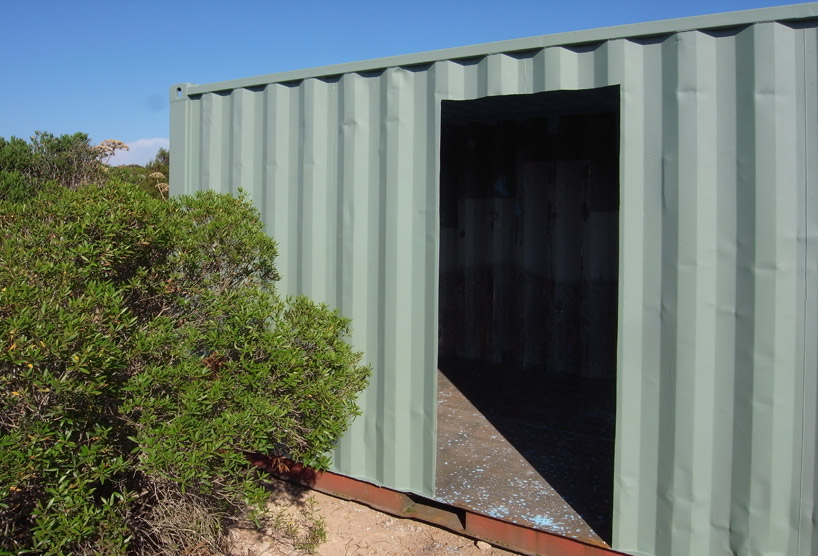 yeah, great color image © designboom

interior details before covering the walls with water-based paint we needed to get rid of a lot of rusty surfaces image © designboom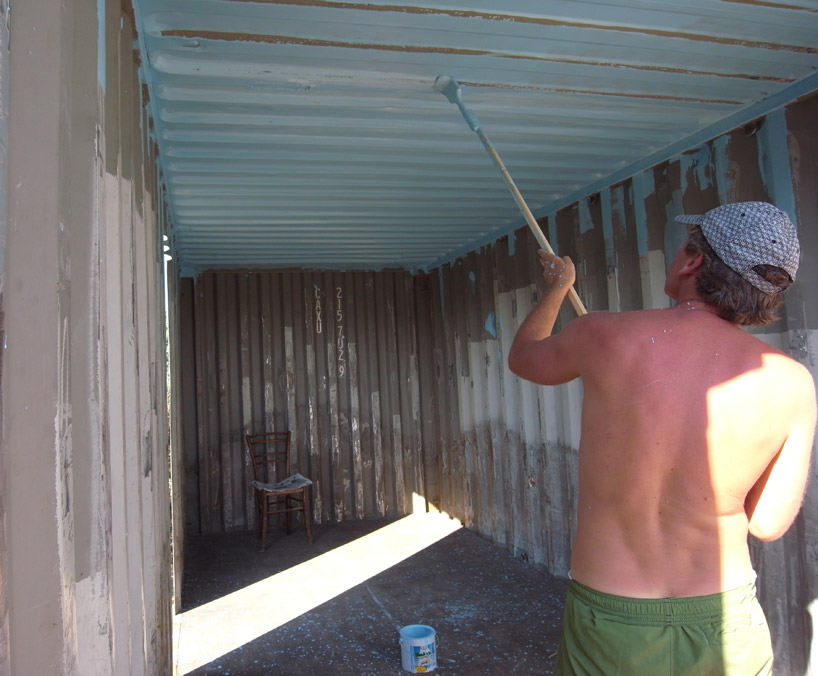 image © designboom
painting the corrugated surfaces took a long time.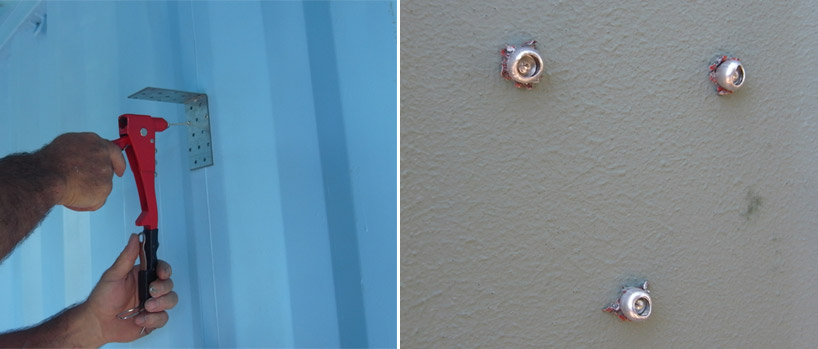 rivets image © designboom
inside the containers we painted the walls with water-based sky-blue color and we've installed a dark plywood floor over the existing teak sub-floor.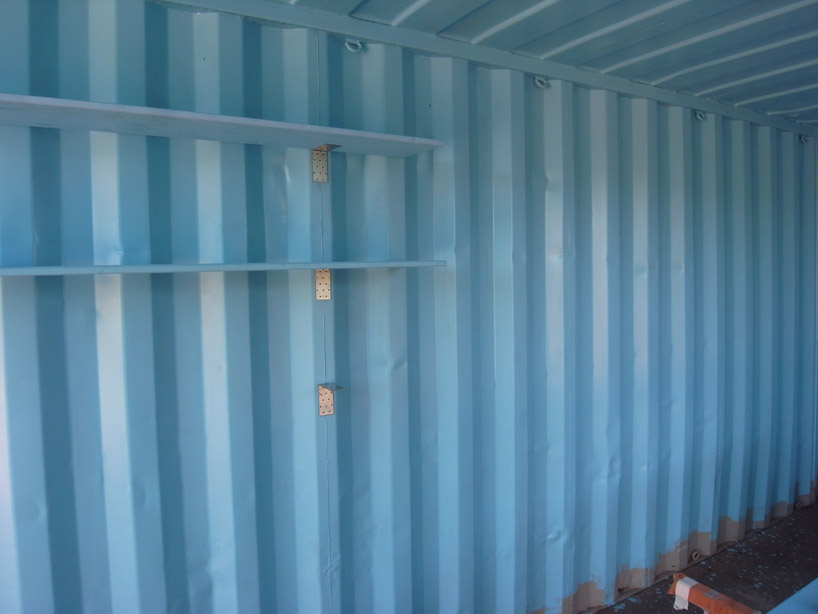 simple book shelves are attached with rivets to the thin walls, the brackets are not very stable, slightly bending, but it worked out OK. image © designboom
all work was D-I-Y, except the plumbing connection and the electrical installation, which have been done by local professionals.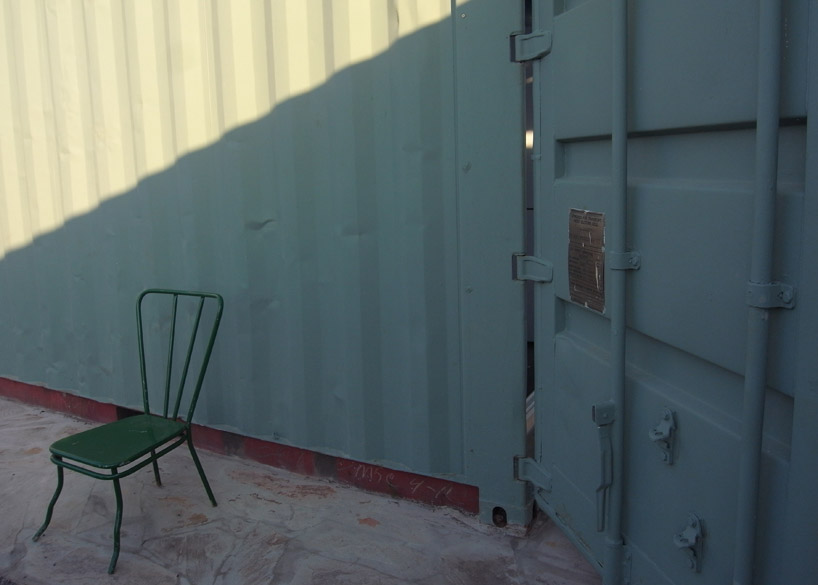 exterior view of bathroom. please note the door with identity tag – 'approved for transport under customs seal …' image © designboom
according to the tags on the doors, a sort of identity card, the three containers come from china, thailand and india.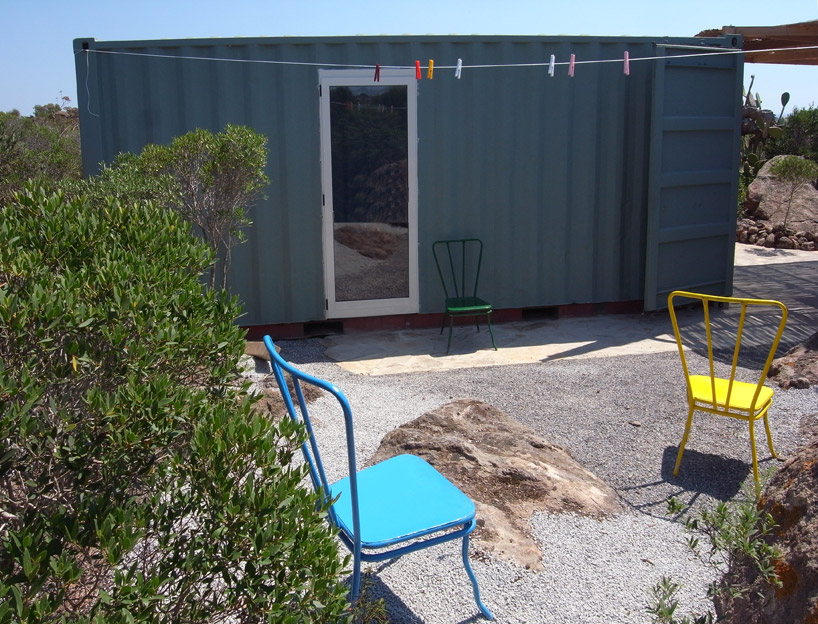 image © designboom
the third container, has a fully equipped bathroom, with shower box, washing machine, sink and composting toilet. you don't find images of the interior, because we have not completely finished it yet. summer is ending and we're leaving for milan now. there is still lots to do – for next year. what about piling containers for a fantastic sea view from the second floor?
massimo mini
I designboom
sep 05, 2011
a diverse digital database that acts as a valuable guide in gaining insight and information about a product directly from the manufacturer, and serves as a rich reference point in developing a project or scheme.
designboom will always be there for you
milan, new york, beijing, tokyo

,
since 1999