crossboundaries has developed an urban planning strategy for a new high speed railway bridge in beijing's fengtai district. with china's high-speed train network growing at rapid pace, a new viaduct measuring almost 10 kilometers (6 miles) is set to be built, providing access to beijing's city center from its south western outskirts. however, like many other railway viaducts, the 'fengtai high speed railway bridge' appears more like a disruptive element than an integrated part of its surroundings.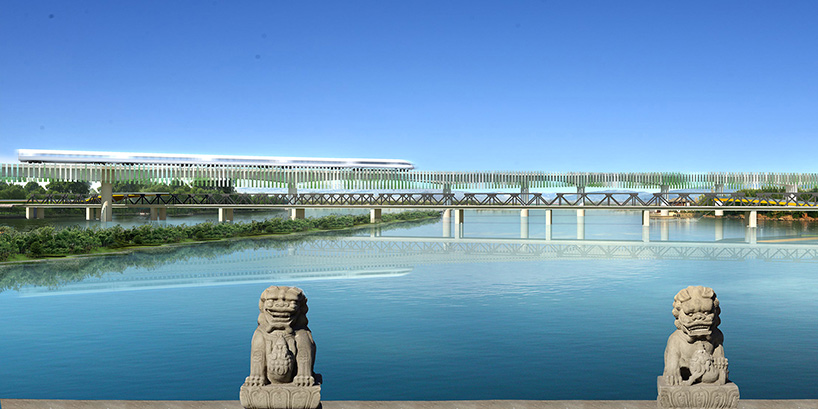 all images courtesy of crossboundaries, unless otherwise stated
consequently, crossboundaries was asked to look into the landscape and urban design of the designated area to come up with a more integrated and inclusive solution. 'the relationship between a city's infrastructure, its urban landscape and its inhabitants shouldn't be a mutually restricting one, but rather interactive, lively and infused with vitality,' says dong hao, co-founder of crossboundaries. 'infrastructure is resulting in an improvement of the lifestyle and even an increase of income for many urban residents, at the same time the arrival of residents can stimulate consumption power and gives the opportunity to optimize the use of the available land for different kinds of activities.'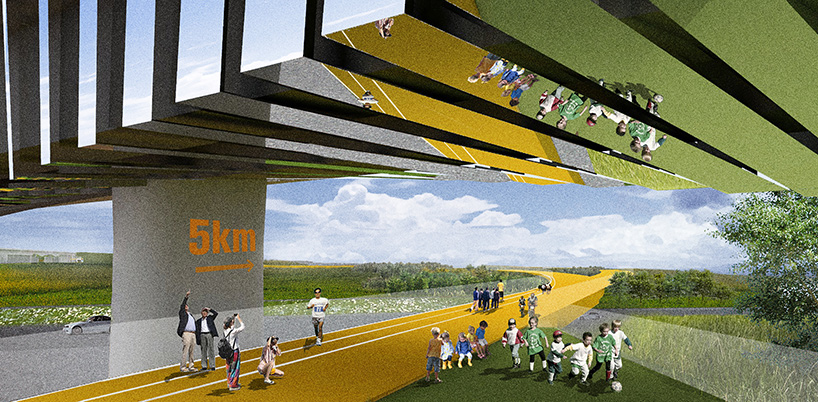 what started as a project to create a more aesthetic, harmonious relationship between fengtai bridge and its surroundings, soon evolved into a comprehensive design concept. crossboundaries' main conceptual idea was to 'weave' and 'stitch' together the different sites and zones that are currently separated by the viaduct to create high quality spaces. furthermore, the planners approached the design in a way that allows for a step-by step-implementation.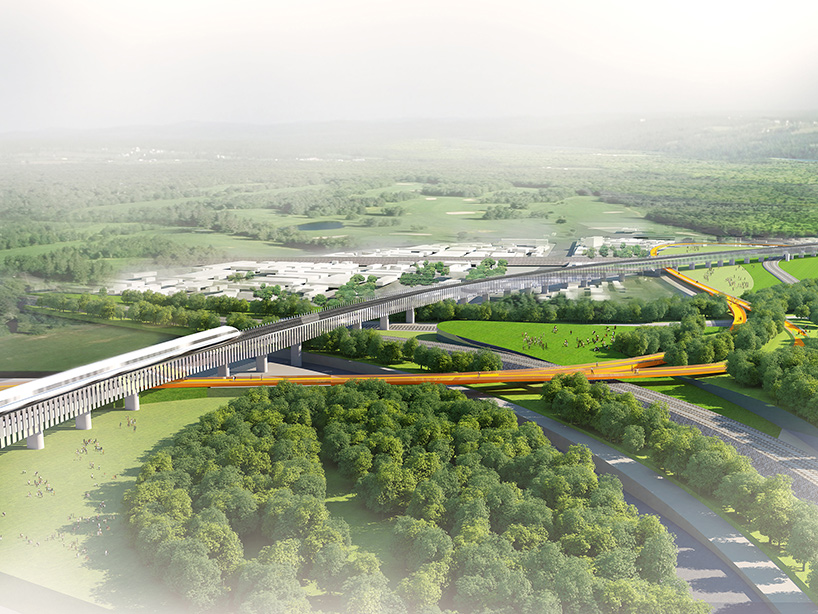 as a first step to blend the enormous viaduct into its surroundings, crossboundaries proposed to line the sides and the pillars of the bridge with mirrored panels — absorbing and mirroring on their shiny surface the ever-changing landscape. with the high-speed trains seemingly floating above, the mirrored surfaces reflect the sky, different weather conditions, distant mountains, the water in the rivers and the green scenery. the continuous rhythmic surface of the paneling can also potentially function as an acoustic shield.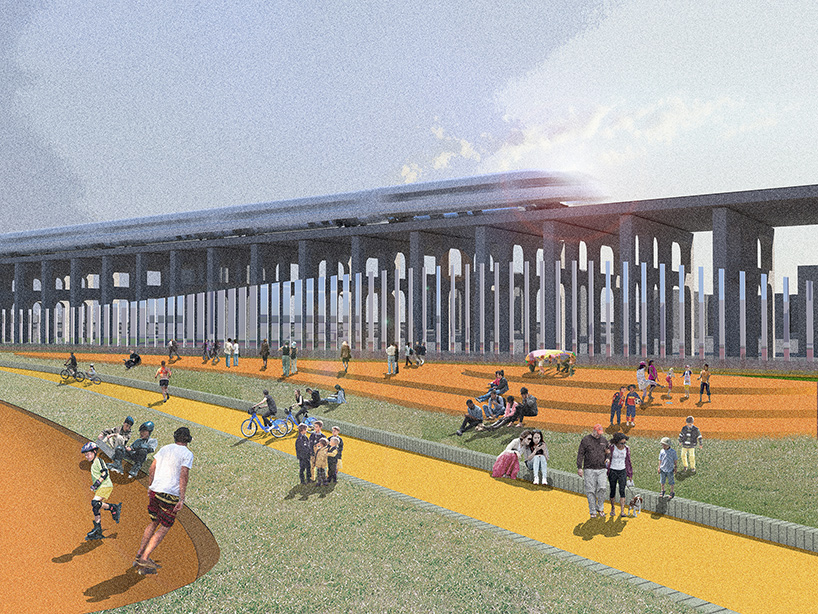 however, crossboundaries quickly became aware that just 'covering up' the bridge would be a mere decoration. urban planning considerations obliged the architects to look further into how to create more effective and functional interactions for a city's residents and visitors with its infrastructure. the design team sought to provide sustainable solutions for optimized use of space and connections as well as allowing for all kinds of activities and interplay.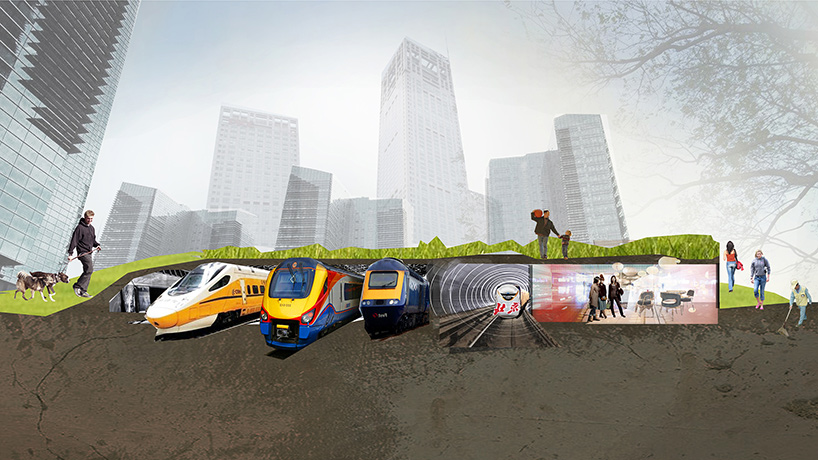 the initial approach adopted by the architects was to break through the protected safety zone along the rail tracks of the elevated infrastructure, to stimulate integration instead of separation. after consulting the bridge construction authorities, the planners had found out that the area generated by this 16 meter (52 feet) wide, heavily fenced corridor on both sides of the tracks is basically idle and unused, apart from evacuation zones every 3 kilometers (approx. 2 miles). multifunctional walkways, combining strolling, running, cycling, leisure and other activities are proposed to be inserted along both sides of the bridge.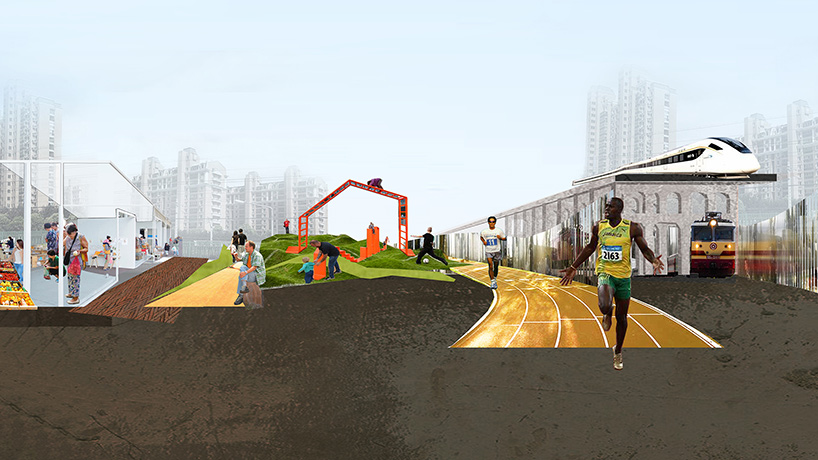 the height of this trail changes continuously. following the surrounding terrain, it can remain on the ground or be combined with green space — such as a leisure park becoming the entrance of the trail. in various places it can be lifted from the ground to above the road levels and form naturally interior spaces underneath for shops, recreational activities, or other leisure functions.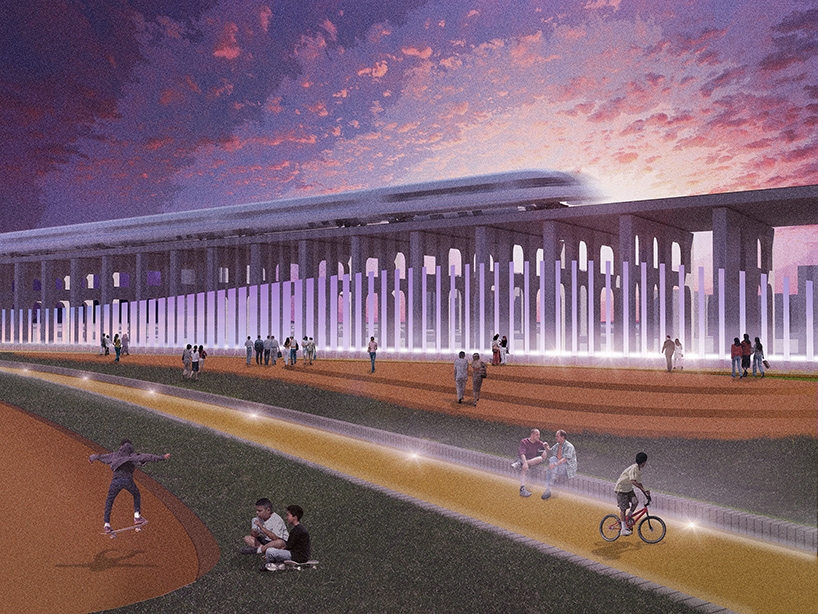 crossboundaries divided the development area into three planning sections, according to the terrain conditions and different elevations. starting from the west, the first 5 kilometers of the plan includes turning an area that consists mainly of factories and idle land into multifunctional sports and leisure park zones. next, the middle part of the project contains the 3km-long zone of the new fengtai station, where the rail tracks are all running on ground level. as it is surrounded by a large number of residential areas and newly planned subway line connections, the areas above represent large available surfaces that can potentially be developed into an urban park that connects both sides of the railway line.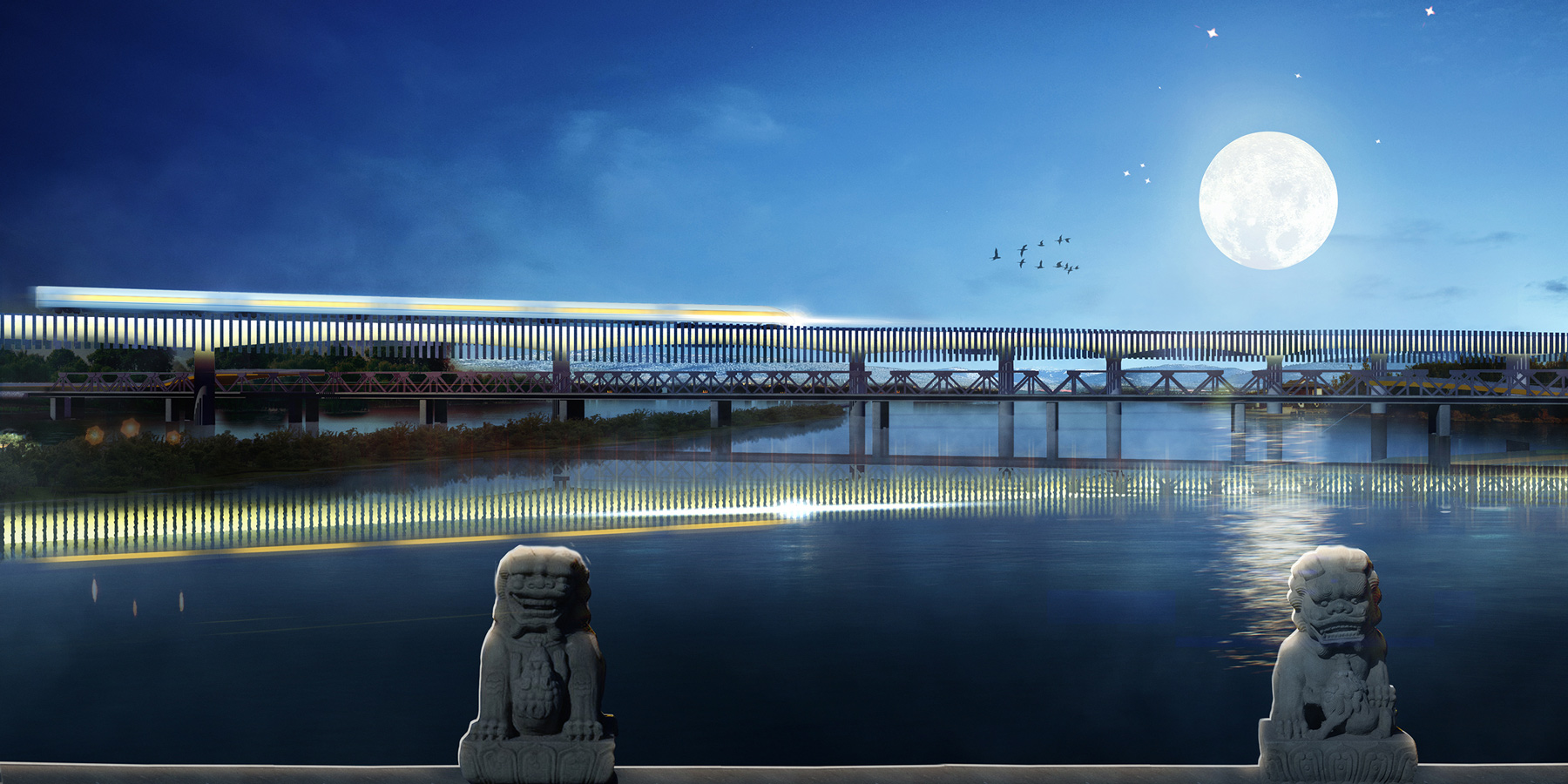 finally, the most east 2km section of the viaduct passes over the west fourth ring road, with the railway again elevated. crossboundaries developed a linear park for the areas running parallel to the existing tracks on the ground level, offering plenty of usable area for markets, sport, and leisure.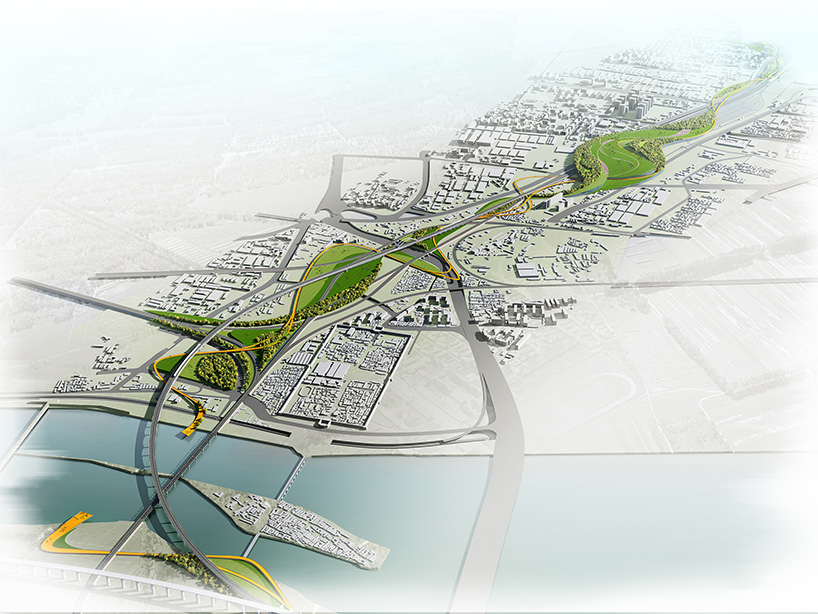 masterplan
despite the usual speed in which large construction projects emerge in china, the architects stress that a project of this scope and complexity requires extensive dialogue, exchange, and acceptance among all stakeholders. the design team therefore divided the overall landscape implementation into four steps, gradually carried out over a period of ten years to allow for enough time for alignment and a thorough approach in realizing this project.

after/before — aerial photo by china railway, edited by crossboundaries
these stages are: 1. improve the landscape within the security fences along rail tracks; 2. extend the green areas beyond the fence to the areas outside of it, begin assimilation with city landscape, partial opening; 3. remove fence and connect with surrounding landscape through different level trails, that are open to the public; 4. expand landscape into 3D – elevate landscape, plan supporting businesses and functions, sustainable development, finalize implementation of transport oriented development (TOD) principles. crossboundaries says that the mirrored paneling could be applied in step 1, as the application would take place within the existing fence, or be carried out at a later stage.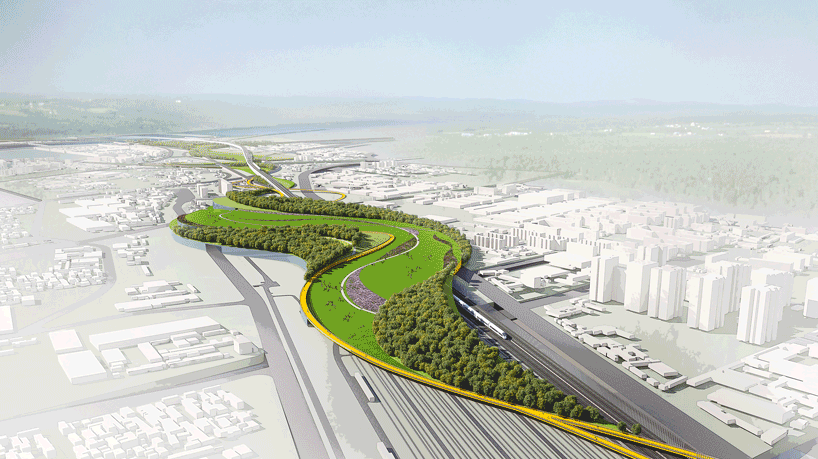 after/before — aerial photo by china railway, edited by crossboundaries
'our concept is based on a very conscious interaction with the existing spaces, the resources and the infrastructure of a city, and we adopt a special TOD approach in order to conceive social and multifunctional transportation areas,' co-founder binke lenhardt says. 'in our view, infrastructure provides to people not only more convenience, but potentially also more diversity. looking into solutions for harmonious co-existence, stimulations of interactions and integration of infrastructure, urban landscape and people are for us at the intersection of successful urban planning considerations. as architects we strongly believe that we have a responsibility to realize concepts for a livable city in the future, in order to achieve a sustainable urban living environment.'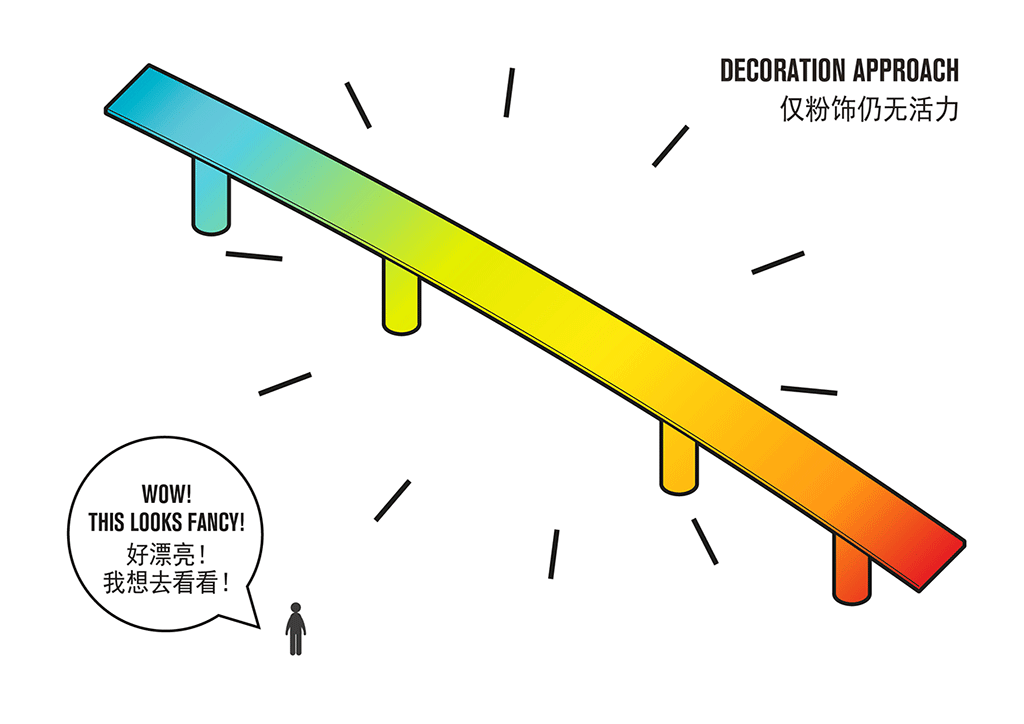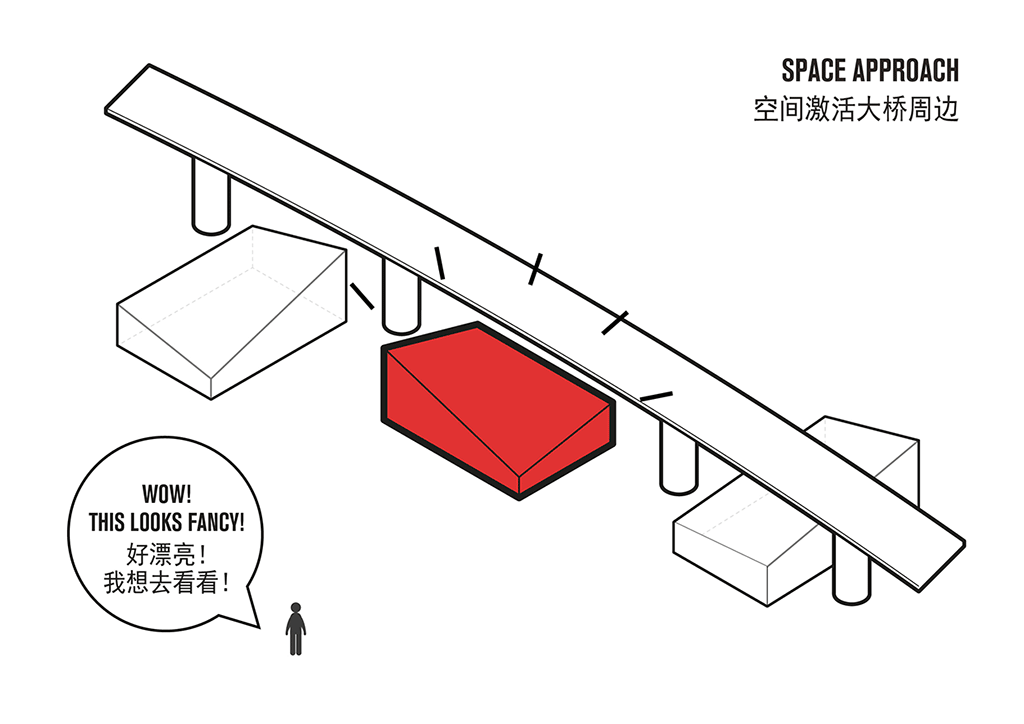 project info:
name: urban and landscape design of fengtai high speed railway bridge
location: fengtai district, beijing, china

planned total length: 9.7km (6 miles)

design time: march-august 2018

construction time: to be determined

client: china railway

architectural design: crossboundaries, beijing, china

crossboundaries partners in charge: binke lenhardt, dong hao

crossboundaries project team: gao yang, hou jinghui, yu zhaoxiong, hu bingyu, wang xudong

cooperative designer: shuimu space urban transportation and architectural design studio, beijing
architectural design and research institute, project manager: li hui
aug 03, 2020
aug 03, 2020
jul 08, 2020
jul 08, 2020
jun 24, 2020
jun 24, 2020
jun 17, 2020
jun 17, 2020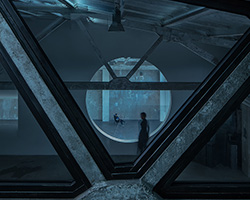 may 26, 2020
may 26, 2020
apr 12, 2020
apr 12, 2020
aug 04, 2020
aug 04, 2020
aug 03, 2020
aug 03, 2020
jul 31, 2020
jul 31, 2020
aug 04, 2020
aug 04, 2020
jul 27, 2020
jul 27, 2020
jul 20, 2020
jul 20, 2020
jun 06, 2020
jun 06, 2020
may 05, 2020
may 05, 2020
mar 16, 2020
mar 16, 2020
a diverse digital database that acts as a valuable guide in gaining insight and information about a product directly from the manufacturer, and serves as a rich reference point in developing a project or scheme.