sep 28, 2016
daluz gonzalez frames views of deciduous forest throughout swiss family home
framed by deep-green foliage all around, 'casa forest' is a dwelling by daluz gonzalez architekten designed for a family of five nature enthusiasts and art lovers.

all images © alexandra kreja & philippe wiget
the sculptural property –defined by its compact crystalline-influenced form– is positioned on a southward-sloping plot close to basel, switzerland. daluz gonzalez architekten responded with organizing the internal programs in interplay with the natural surroundings, becoming the leitmotif for the architecture. the earth-colored exterior envelope features an angular character which engages in an ongoing dialogue with the natural environment, constantly seeking to both contrast and harmonizes with nature.

large windows frame views of the forest right outside
the differentiation between bedrooms and private areas is characterized by the airy open areas on one end of the tunnel-like stairs and the room-like platforms. the central elevated hallway is integrated into every internal program, illustrated by the constant visual connection. the living room was designed to floats like a bird's nest between branches. exposed concrete walls blend with the built-in furniture in oak and evoke an elemental, reduced impression, that doesn't attempt to rival with the natural surroundings. the waxed raw plaster walls of the private rooms are polished so that they reflect the outdoors, bringing it inside. on the roof, a large terrace offers the family an outdoor space to enjoy the leafy surroundings.

concrete has been used as the primary material for the walls and ceiling

the home caters to a family of five

the central elevated hallway is integrated into every internal program

exposed concrete walls blend with the built-in furniture in oak and evoke an elemental and reduced impression

the waxed raw plaster walls of the private rooms are polished so that they reflect the outdoors

the southward-sloping plot not far from basel is framed to the east and south by a dense deciduous forest

earth-colored exterior envelope features an angular character which engages in an ongoing dialogue with the
natural environment

casa forest in switzerland
project info:
type: detached house
site: basel
country: switzerland
project: 2013
construction: july 2014 – march 2016
collaborators:
marita gelze de montiel
jose otero ares
manos tsolakis. cadrage (landscape architect)
Save
Save
Save
Save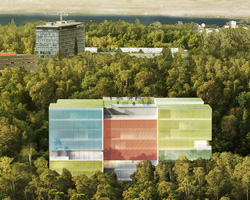 oct 31, 2017
oct 31, 2017
oct 31, 2017
oct 31, 2017
oct 23, 2017
oct 23, 2017
oct 03, 2017
oct 03, 2017
sep 21, 2017
sep 21, 2017
sep 19, 2017
sep 19, 2017