oct 27, 2015
daniel libeskind clads faceted sculpture with casalgrande padana's porcelain stoneware tiles
daniel libeskind clads faceted sculpture with casalgrande padana's porcelain stoneware tiles
all images courtesy of daniel libeskind / casalgrande padana
spiraling upwards towards the sky, this multi-faceted structure by daniel libeskind for the ceramics company casalgrande padana sits on the dinazzano roundabout in casalgrande, italy. called 'the crown', the recently inaugurated installation follows on with company collaborations with renowned architects, such as the casalgrande ceramic cloud by kengo kuma.

named 'the crown' the installation commissioned and created by italian ceramics company casalgrande padana
based near the production facility on two roundabouts situated on the pedemontana route linking casalgrande and sassuolo, the two sculptures welcome and create a notable landmark into the emilian ceramics district. its three-dimensional form explores innovative methods and experiments with the latest generation of ceramic parts. wrapped with 'fractile' porcelain stoneware tiles, the structure measures at a height of 25 meters and emphasizes the verticality of a volumetric projection, while evoking an almost hand-sketched feel.

the project is a continued collaboration between the architect and the company
the collaboration between libeskind and casalgrande is a continuation, the two parties have worked together in the cladding systems for the architect's citylife residences in milan, meanwhile the dynamic vanke pavilion at the world expo – also by the architect – utilizes the company's ceramic tiles.

the installation measures at a height of 25 meters

the structure has a ventilated façade anchored to an extremely slender

close-up of the top

three-dimensional form explores innovative methods and experiments with the latest generation of ceramic parts

the sculpture uses ceramic stoneware tiles


the two parties have worked together in the cladding systems for other projects

directions to the photopoint
oct 02, 2017
oct 02, 2017
mar 21, 2017
mar 21, 2017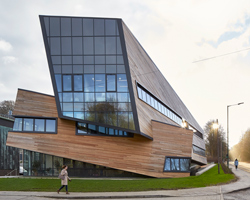 mar 06, 2017
mar 06, 2017
jan 19, 2017
jan 19, 2017
nov 09, 2016
nov 09, 2016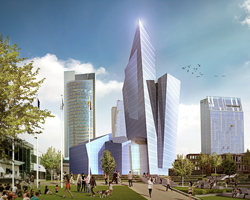 jul 14, 2016
jul 14, 2016