canada's first national monument dedicated to the holocaust has opened in ottawa. designed by a collaborative team led by daniel libeskind, the landmark structure honors those who were murdered under the nazi regime and recognizes the survivors who were able to make canada their home. 'this monument not only creates a very important public space for the remembrance of those who were murdered in the holocaust, but it also serves as a constant reminder that today's world is threatened by anti-semitism, racism, and bigotry,' says libeskind. 'canada has upheld the fundamental democratic values of people regardless of race, class, or creed, and this national monument is the expression of those principles and of the future.'

concrete volumes have been configured to create the tips of a six-pointed star
image by doublespace (also main image)
the national holocaust monument combines the fields of architecture, art, landscape, and scholarship with photographer edward burtynsky, landscape architect claude cormier, and holocaust scholar doris bergen joining studio libeskind as part of the project team. located in close proximity to the canadian war museum, the monument has been conceived as 'an experiential environment' with triangular, concrete volumes configured to create the tips of a six-pointed star — a visual symbol of the holocaust.

the entrance to the national holocaust monument
image by michael muraz
'the monument is organized with two physical ground planes that are differentiated by meaning,' explains the design team. 'the ascending plane that points to the future; and the descending plane that leads visitors to the interiors spaces that are dedicated to contemplation and memory.' specific program areas include: an interpretation space that features the canadian history of the holocaust; three individual contemplation areas; a large central gathering and orientation plaza; and a towering sky void — a 14 meter-high enclosure that frames views of the sky.

a large gathering and orientation plaza is found at the center of the scheme
image by michael muraz
each of the triangular spaces features a large scale, photographic landscape of a current day holocaust site by edward burtynsky. elsewhere, the 'stair of hope' rises from the central gathering space, and symbolically pierces an inclined wall in the direction of the city's parliament buildings. representing the ongoing contribution of canadian survivors and their children, a landscape of coniferous trees will, over time, emerge from the pebbled ground that surrounds the monument. see designboom's previous coverage of the project here.

in total, the design features six specific program areas
image by michael muraz

a 'sky void' is formed by a 14 meter-high enclosure
image by doublespace

the 'stair of hope' rises from the central gathering space
image by michael muraz

each of the triangular spaces features a large scale, photographic landscape
image by michael muraz

the current day holocaust sites have been illustrated by edward burtynsky
image by michael muraz

the monument has been conceived as 'an experiential environment'
image by michael muraz

the 'stair of hope' symbolically pierces an inclined wall
image by doublespace

the site is located in close proximity to the canadian war museum
image by michael muraz
Save
Save
Save
Save
Save
Save
Save
Save
Save
Save
Save
Save
Save
Save
Save
Save
Save
Save
Save
Save
oct 17, 2017
oct 17, 2017
oct 06, 2017
oct 06, 2017
sep 29, 2017
sep 29, 2017
sep 13, 2017
sep 13, 2017
aug 13, 2017
aug 13, 2017
aug 03, 2017
aug 03, 2017
mar 21, 2017
mar 21, 2017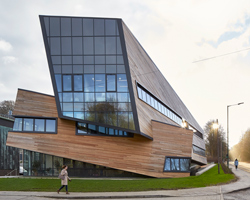 mar 06, 2017
mar 06, 2017
jan 19, 2017
jan 19, 2017