dec 27, 2012
daniel moreno flores: mike's studio and workshop
'the workshop' by daniel moreno flores, quito, ecuadorimage © daniel moreno floresall images courtesy of daniel moreno flores
in this two part article, we look at ecuadorian architects daniel moreno flores' and margarita marques' renovation of two distinct parts of a houseto incorporate a workshop (shown above) and a studio apartment. the workshop space is located on the same property as the following projectbut in an independent structure, for artist pilar flores. completed in a period of two and a half months, every piece that was removed was recycledor hidden, with extra wood beams salvaged from a nearby demolished house. a new relationship was created with the entrance garden to the house,as a large opening was installed, framed by the reclaimed timber to put the user in direct contact with the exterior. the new white space is filled withnatural light and portable furniture. as a creative area, it was designed to be re-designed, that is to say that all the individual components that fill the room may be moved around to accommodate any number of people and activities. the new foreign elements added to the interior are in someway in contact with recycled rebar, which is used as a light component that either supports, transports, or suspends the pieces, giving a feeling of floatingin the air.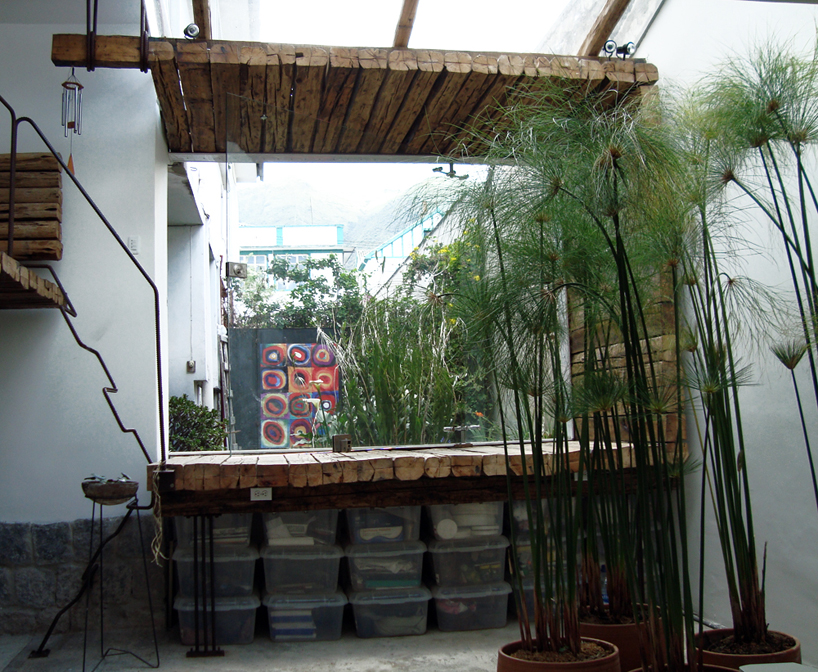 the workshopimage © daniel moreno flores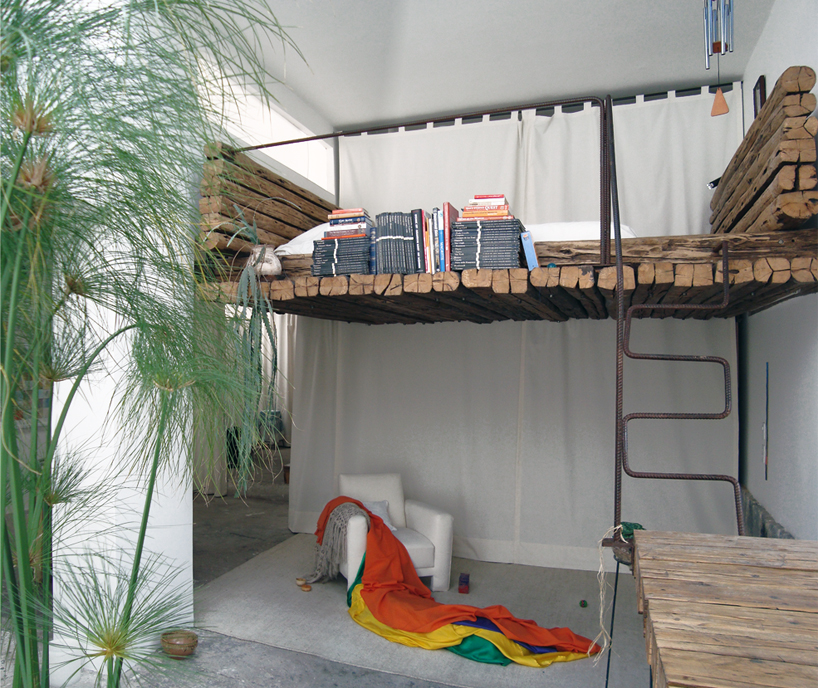 wooden loft made with reclaimed pieces and rebar ladderimage © daniel moreno flores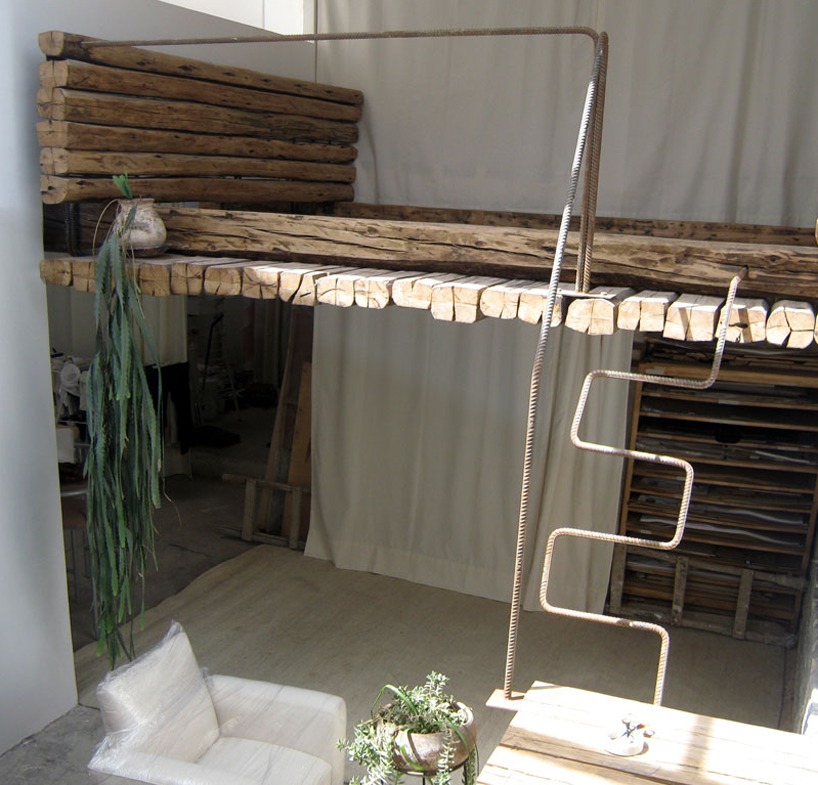 image © daniel moreno flores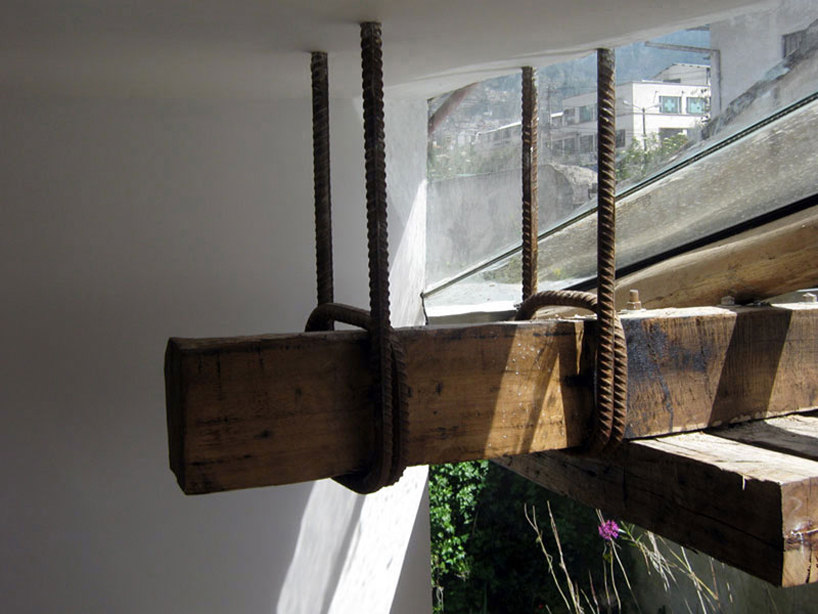 rustic connectionsimage © daniel moreno flores
new entryimage © daniel moreno flores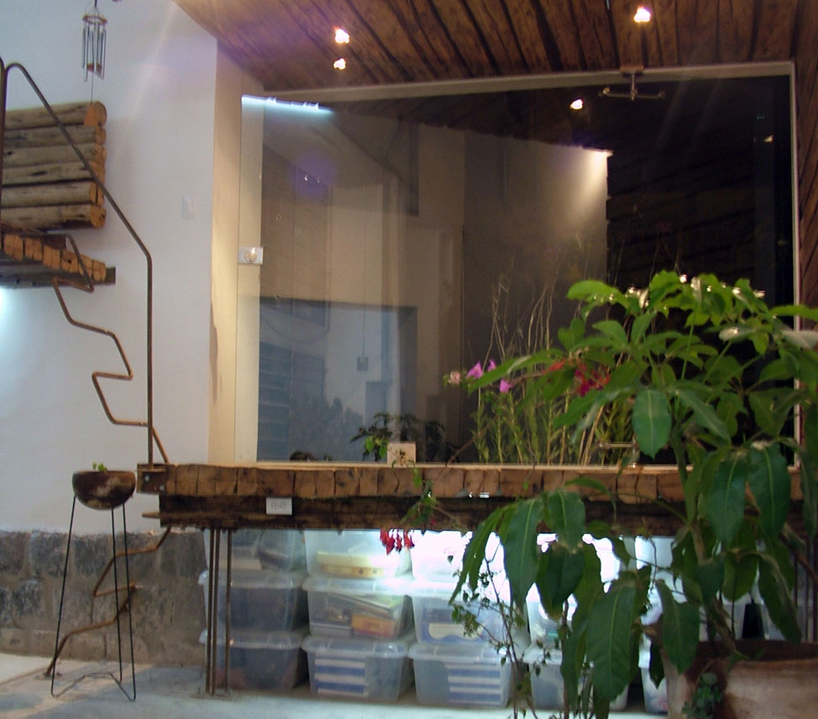 image © daniel moreno flores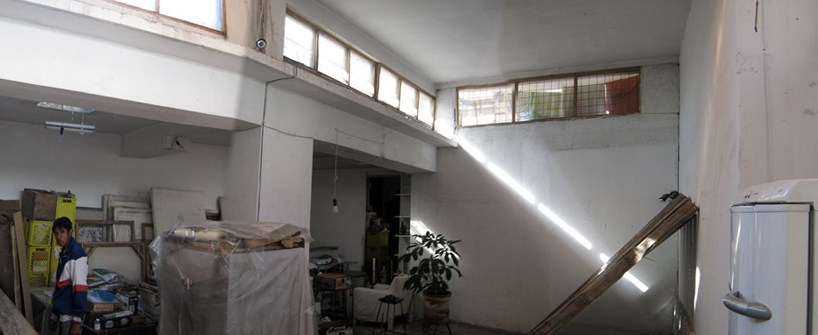 original spaceimage © daniel moreno flores
studio spaceimage © daniel moreno flores
floor plans – workshop
section
section
section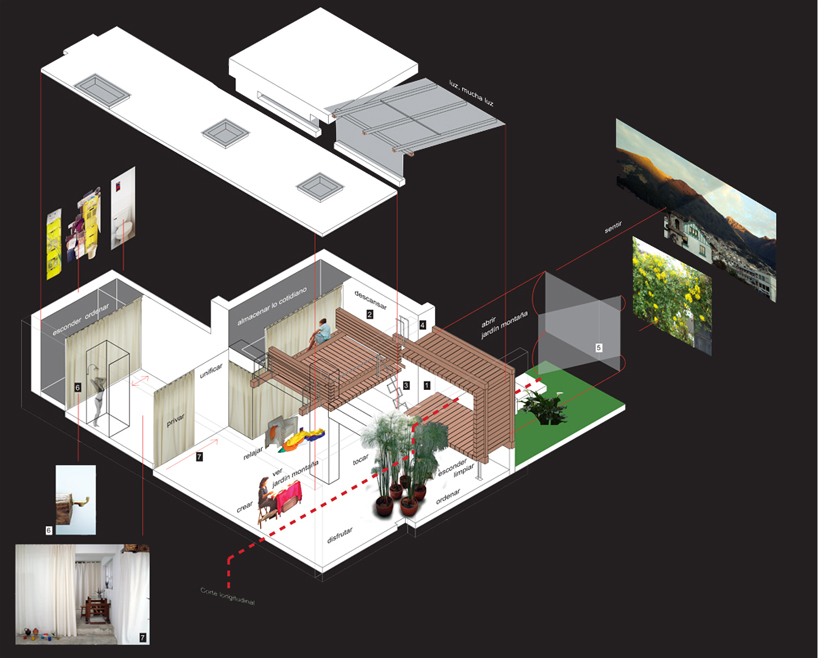 axonometric – workshop
'mike's studio'image © daniel moreno flores, sebastián calero
 with a budget of 30,000 dollars, the architects invited a group of friends to help renovate a house and find the architecture hidden within. their slogan was 'clean, remove, and discover the reality of the materials,' and can be clearly seen throughout the spaces. the first step in their exercise was to strip the house of the typical trappings that make a 'cozy dwelling' devoid of any true character. brick walls were left exposed, complete with imperfections and voids, the existing doors were reused as the form work for new concrete elements, while the timber flooring was stripped and used as stairs, platforms, racks and shelves. reclaimed lumber from the original residence was repurposed for loft stories, walls and flooring components that created new spaces entirely, or was split and laminated to create a unique new texture. the wall in the studio was knocked out where an exterior atrium creates a small garden that communicates with the interior. gifted rebar was bent and used as hand railing and even a ladder. the design strips away the falsity of the surfaces and exposes the raw nature beneath, redefining the archetypal understanding of the excess material to add greater moments of flavor. the spaces find beauty in their 'unfinished' nature, composed in a way that provides every space with a soul and still maintains quality.
wood floor made of slender slatsimage © daniel moreno flores, sebastián calero
image © daniel moreno flores, sebastián calero
view to the loft storey from the ground floorimage © daniel moreno flores, sebastián calero
(left) a mixture of new textures(right) thin catwalk connecting two the loft spacesimage © daniel moreno flores, sebastián calero
image © daniel moreno flores, sebastián calero
corrugated transparent sheets create almost-clear slihouettes image © daniel moreno flores, sebastián calero
central corridor services all areasimage © daniel moreno flores, sebastián calero
bathroomimage © daniel moreno flores, sebastián calero
living roomimage © daniel moreno flores, sebastián calero
front gateimage © daniel moreno flores, sebastián calero
front entranceimage © daniel moreno flores, sebastián calero
new range of textures and materials found throughout the houseimage © daniel moreno flores, sebastián calero
functioning staircaseimage © daniel moreno flores, sebastián calero
(left) original corridor(right) original kitchenimage © daniel moreno flores, sebastián calero
original living roomimage © daniel moreno flores, sebastián calero
original entranceimage © daniel moreno flores, sebastián calero
floor plan / level 0
floor plan / level 1
section perspective
project info:
the workshop
project: house factorylocation: la gasca, quito, ecuadorarchitect: daniel morenoteam: felipe ordonez, esteban benavides and daniel corticonstructor: fabian tenórioowner: artist pilar floressurface: 78.5  m2year: 2009budget: $ 7.000  (US dollars)
_____________________
mike's studio
project: daniel moreno flores, margarita marquesconstruction: fabian tenorio, jaime quingacollaborators: santiago vaca, claudia ponceowner: michael blanchardcost: 30,000 USDsite area: 145.82 m2interior: 138.46 m2exterior: 134.55 m2
jan 25, 2013
jan 25, 2013
dec 03, 2012
dec 03, 2012