'Dar HI hotel' by matali crasset in nefta, tunisia image courtesy Dar HI
looking for a city break? a weekend away? short or long christmas trip? parisian designer matali crasset has envisioned an experimental eco-retreat and spa in nefta, a tiny village at the base of a palm-tree oasis in southern tunisia. consisting of a composition of elevated houses protected by surrounding walls, designboom visited the Dar HI before its official opening.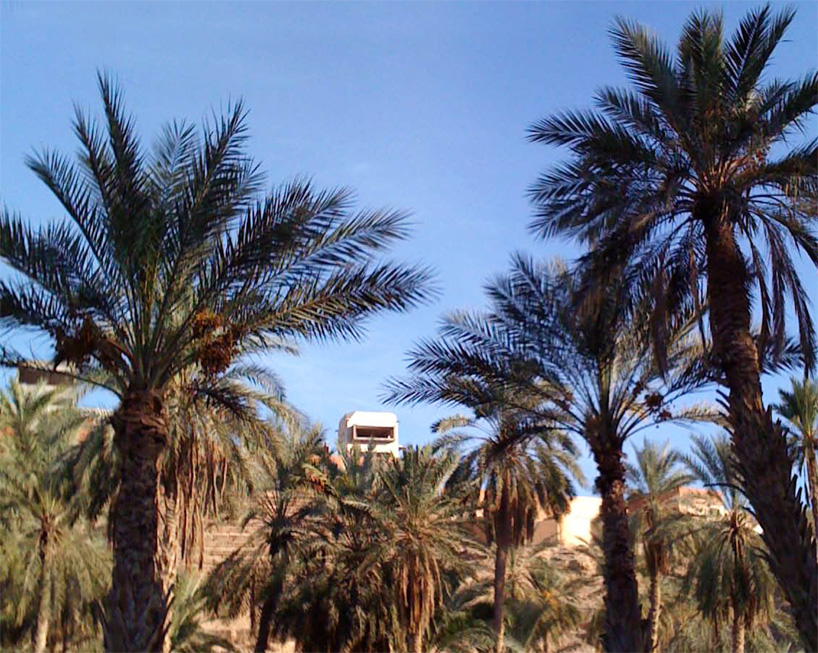 a pilotis of the Dar HI hotel overlooking the palm oasis image courtesy Dar HI
the Dar HI is a contemporary experiment, something between a guest house and a boutique hotel. it allows you to be in isolation. it is an experience of withdrawl, a place in which to take care of your body and mind, as well as exchanging and opening one's self to the other in an exceptional natural and human environment.
'nefta is only a two-hour-and-fifteen-minute flight from paris, lyon, nice or milan, but you feel like you've arrived at the end of the world,' says matali, about the location of her first architectural project. the tunisian town is a 23 kilometer distance from tozeur international airport (a 15 minute ride with the hotel's free shuttle service), is situated at the edge of the sahara desert.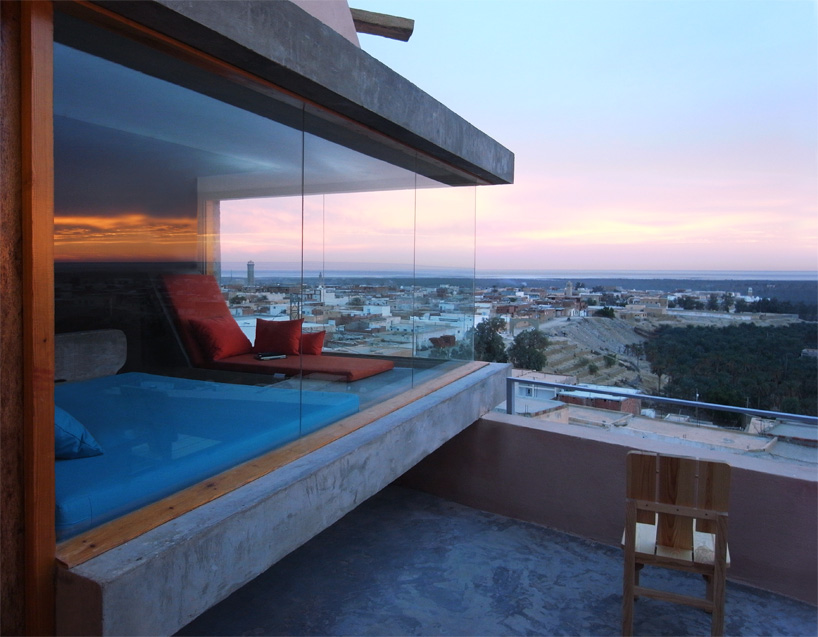 two daybeds are incorporated into the design of each pilotis, offering a sweeping view of the village, palm grove and desert beyond image © designboom
'the project has been designed so as to not be a replica. this is a new venture, built around the concepts of well-being… an unexpected eco-retreat.' matali crasset worked closely with tunisian architect, mohamed nasr on the hotel. 'the idea was to collaborate with the local artisans and not import anything,' she explains. therefore only locally sourced materials, like palm wood and clay bricks have been used in the building complex's construction. 'the hotel becomes a platform, a place for potential development of an environmentally sustainable type of tourism in tunisia.'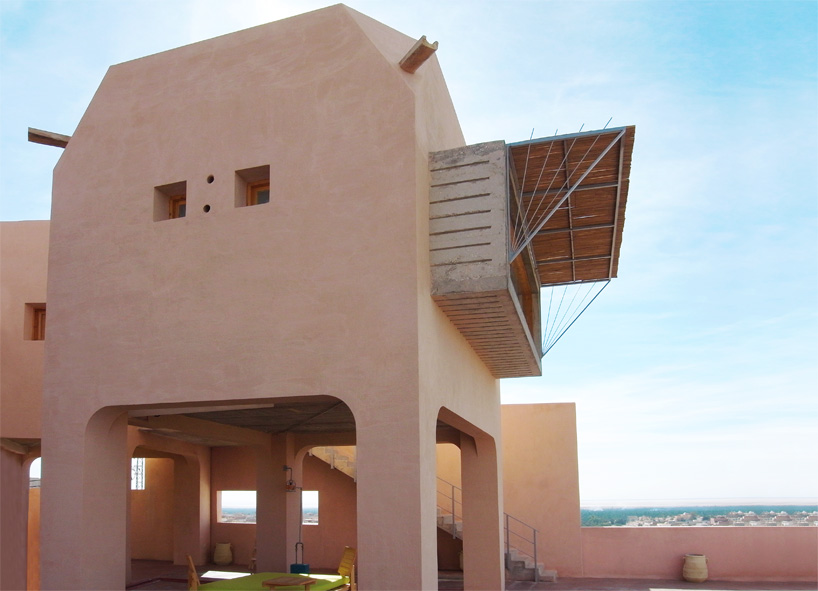 the units is propped upon four stilts offering shaded areas below. large panoramic windows are characteristic of each pilotis. image © designboom
for the Dar HI, matali crasset has designed a set of 17 'pilotis' constructed from concrete sand (mixing concrete and sand from the sahara). 'I have conceived an architecture that is towards the indoors when outside and towards the outdoors when you're inside,' she explains. the architectural proposal is meant to create a harmony between the natural location of the pilotis and the local life surrounding them. the development includes private and public spaces, a thermal pool, restaurant and spa.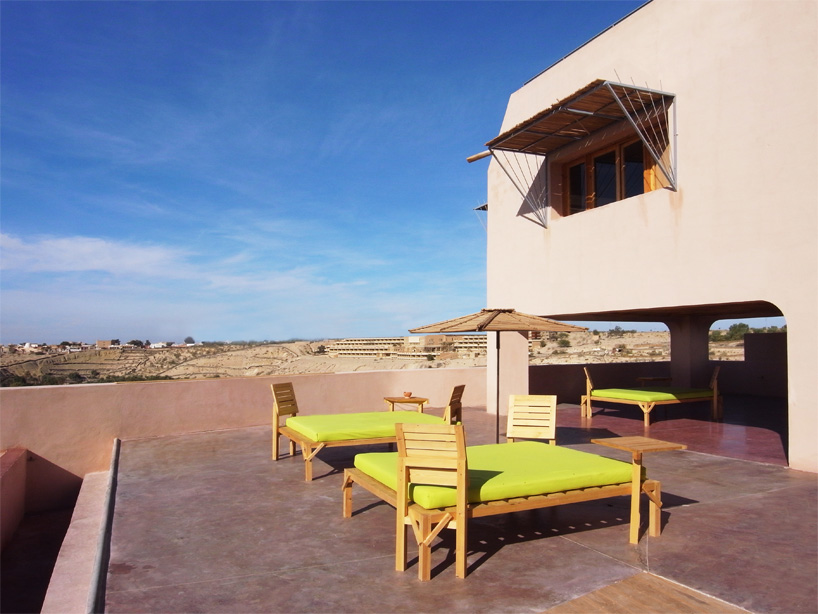 life is organized around the bow-window image © designboom
tourism in tunisia has developed around the fashionable places erected by tour operators in international travel destinations, but a country like tunisia, so replete with natural wonder, encourages a journey of greater research. until now, the country did not even have original small boutique hotels or contemporary guest houses, let alone projects rooted in ecological hospitality. with the Dar HI, tourism in tunisia now takes a new turn, towards a more humane and reasoned path.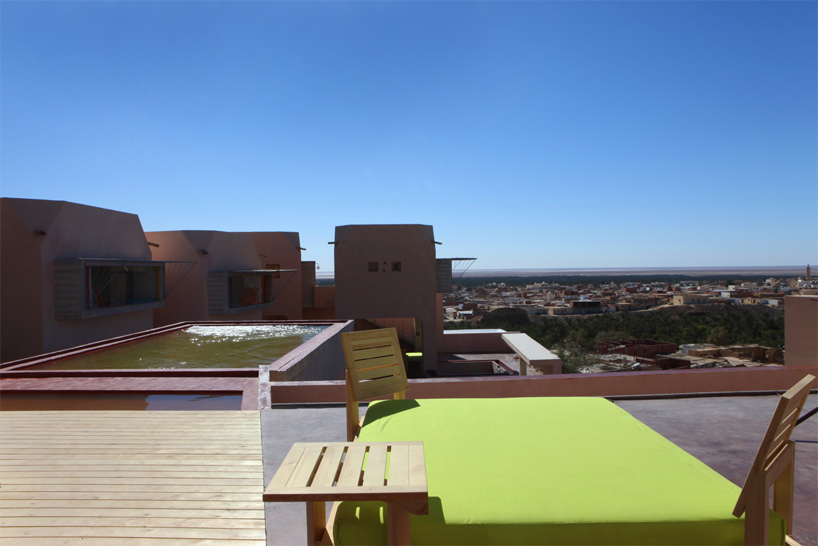 the thermal pool with hot springs from the desert and patio space image courtesy Dar HI
the sun loungers situated around the retreat act as cozy meeting places for two or three. all furniture constructed in wood and concrete are designed by matali crasset.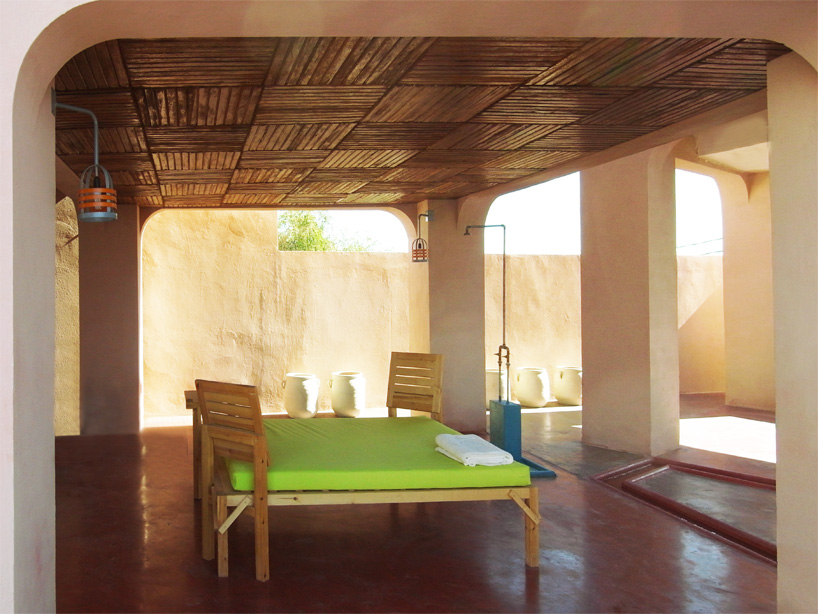 outdoor lounging areas can be found below the units, providing shade to the communal areas image © designboom
the raised rooms seem to be planted in the sand, located according to their sun exposure and panorama. roofs of the lounge areas are made of palm wood situated below the elevated 'houses'. they provide communal areas for guests to socialize and relax.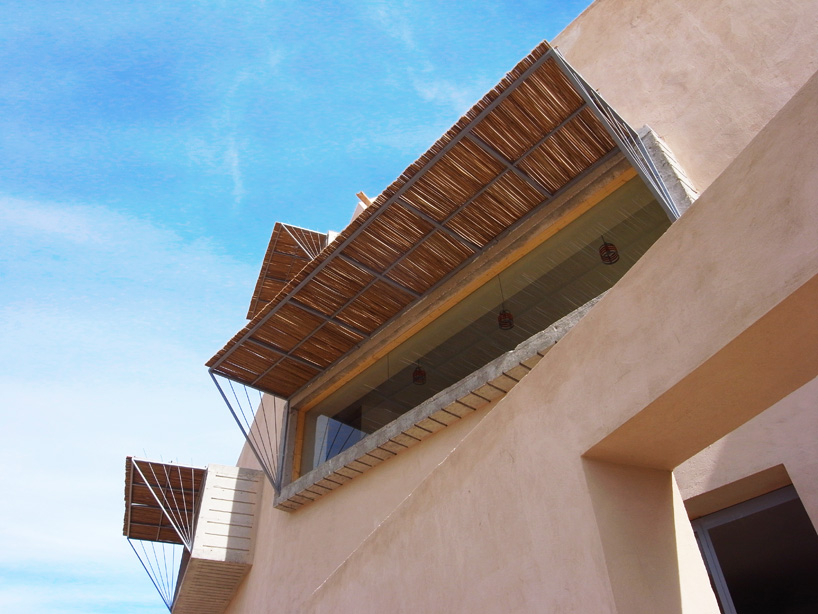 image © designboom
Dar Hi is exposed to the southwest, overlooking nefta's basin. the elevated houses are all provide different views of the surrounding geographic location.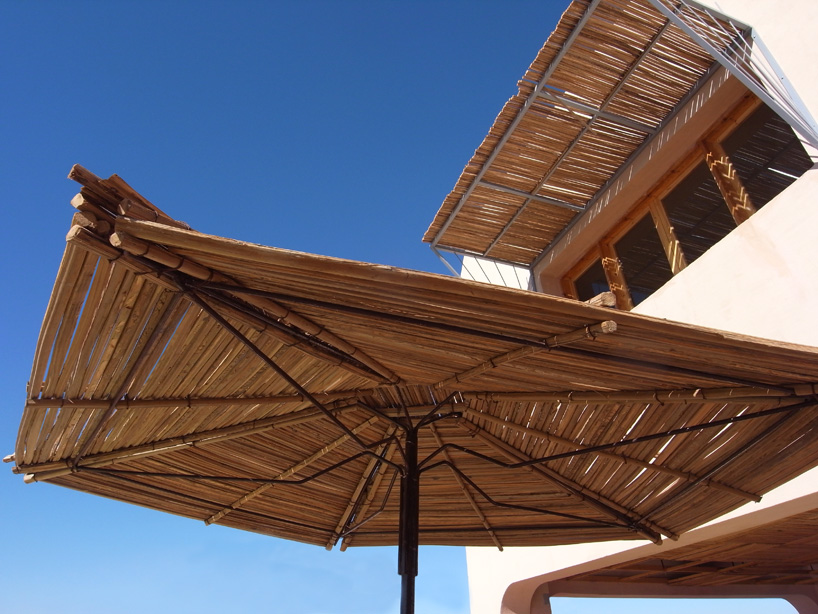 parasols with cane cover image © designboom
cane constructions on the windows and umbrellas situated around the hotel provide protection from the hot sun.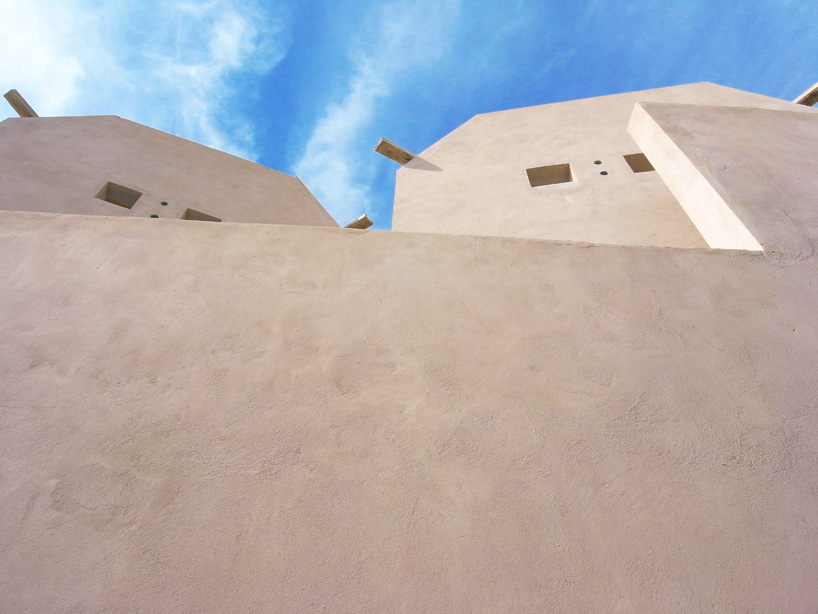 image © designboom
the Dar HI is a search for self-sufficiency and local development, using the resources available at hand rather than importing materials from abroad. the facades perfectly mix with local architecture. Dar HI's main colours are ochre and sand with a comprehensive choice of bright colors to accentuate the different social functions.
crasset worked with local craftsmen, observing their techniques – using beams and bricks – and building constraints, in which contemporary materials have been combined with local artefacts for the final structure.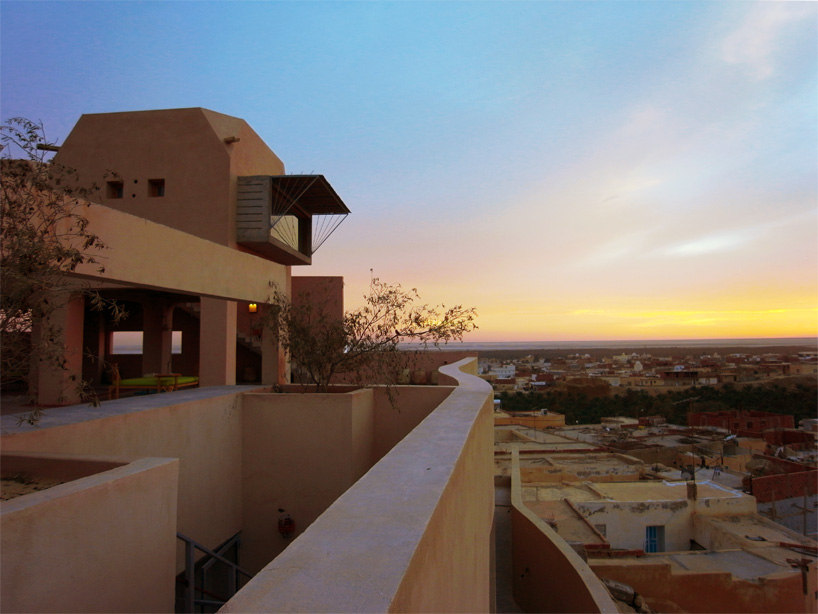 Dar HI's layout is like a village image © designboom
Dar HI's layout is like a village and it is in harmony with nefta's landscape. exposed to the southwest, overlooking the nefta basin, it is surrounded by a wall similar to those of local architectures, following the landscape's shape and emerging from the ground. a fabulous light, a landscape that invites to meditation, abrupt cliffs – the wonderful panorama is made of all these elements.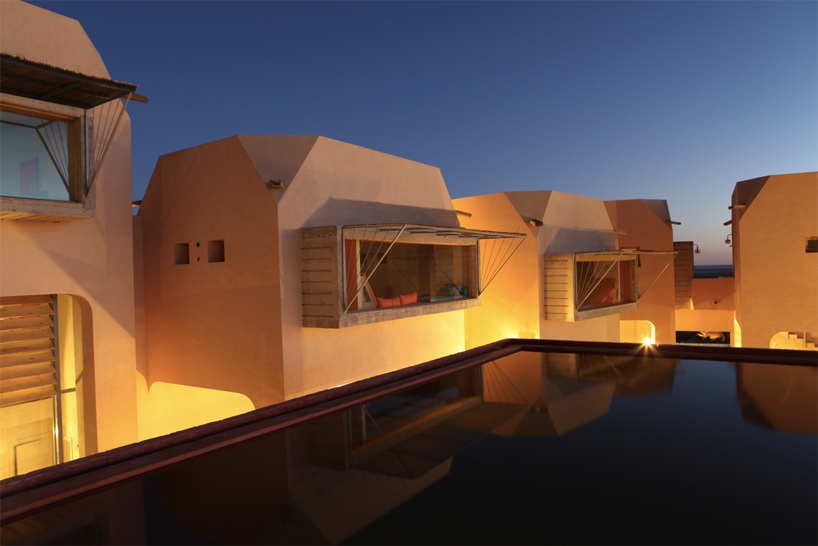 the thermal pool with hot springs from the desert at sun set image courtesy Dar HI
the raised spaces offer breathtaking views different for everyone. some benefit from views of the horizon overlooking the nearby salted lake and iridescent thermal pool, replenished with water from the hot springs of the desert. others overlook the changing landscape of the oasis. units situated lower to the ground are found amongst the communal areas of the hotel, while those located at higher ground offer more privacy.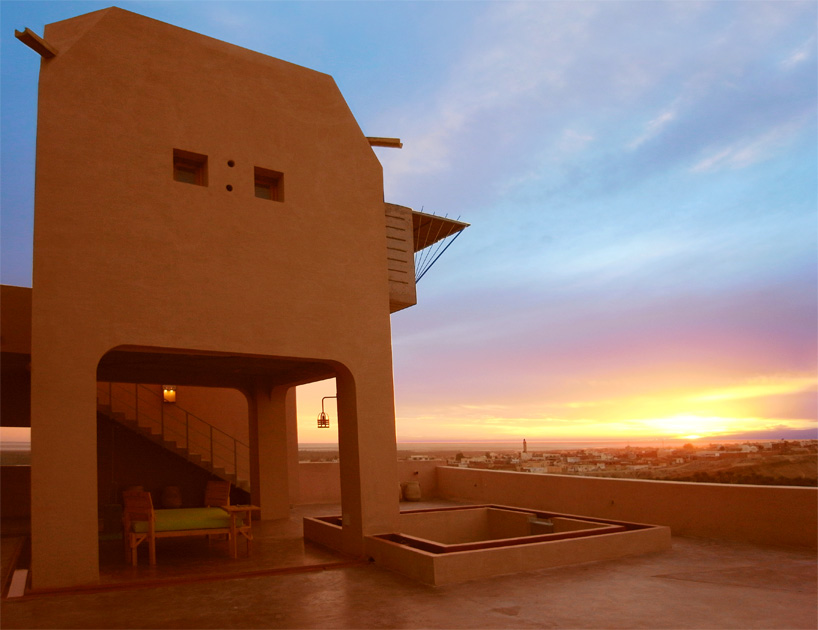 image © designboom
the project is aimed at enthusiasts of eco-spa retreats.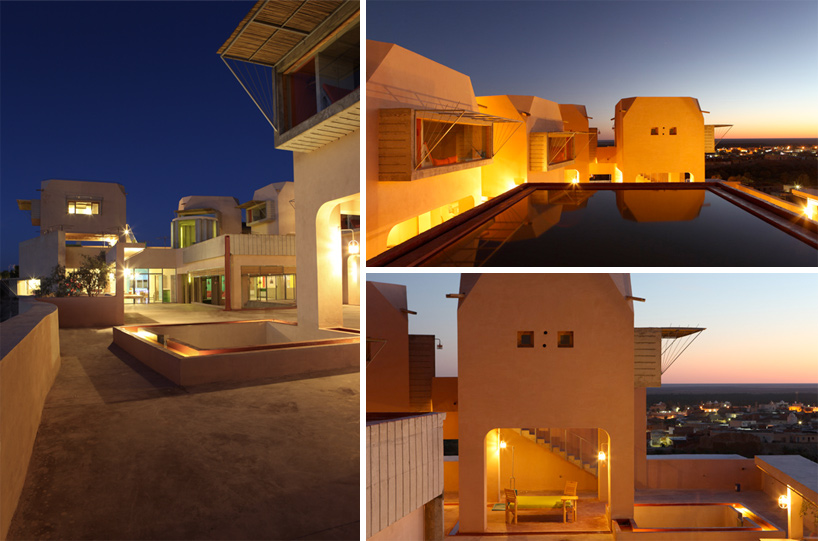 images courtesy Dar HI
the organization of the areas favors different possibilities to share moments with other people or to rest in a calm retired place.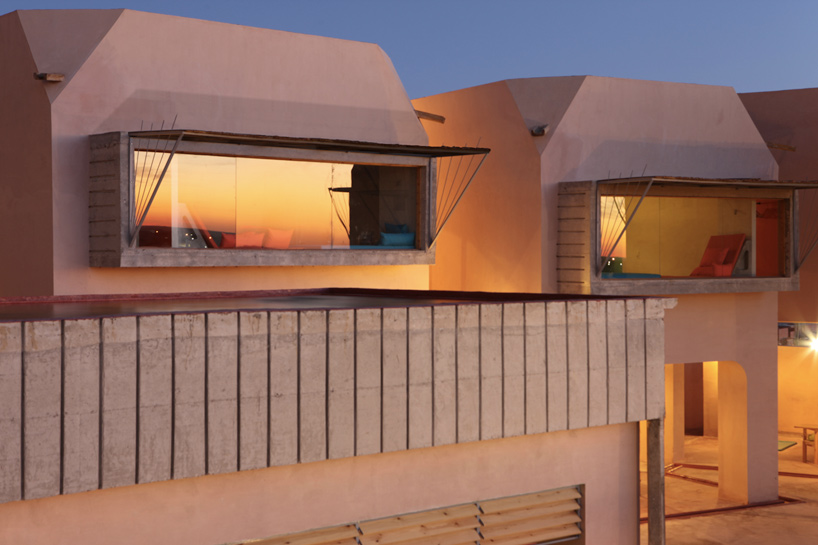 image courtesy Dar HI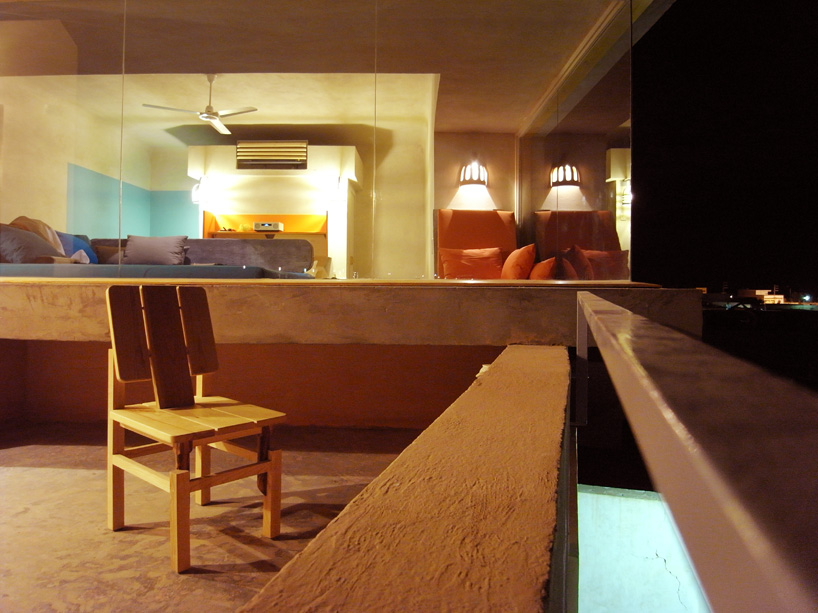 designboom's room at our stay last week image © designboom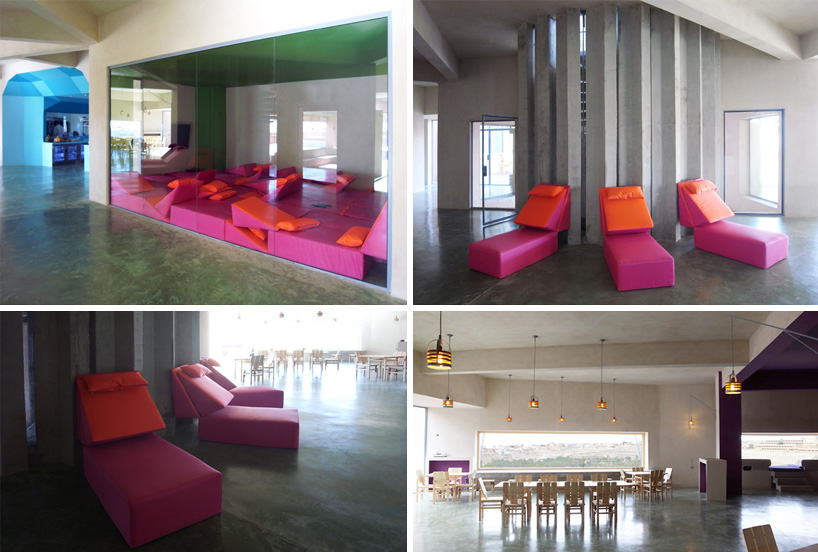 the TV – videocorner and other collective spaces images © designboom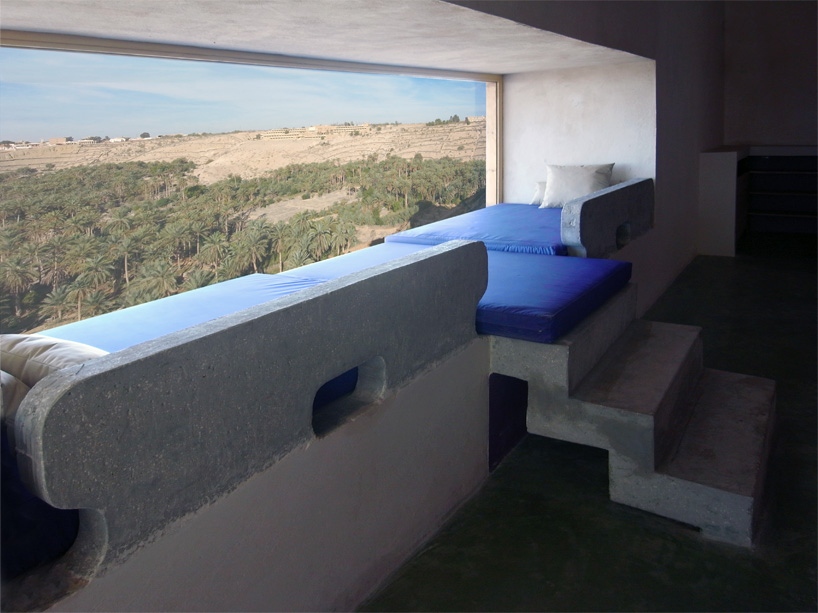 the view is framed by simple architectural intervention, the lounging area is made of concrete and sand image © designboom
… the unique panorama of nefta's palm oasis.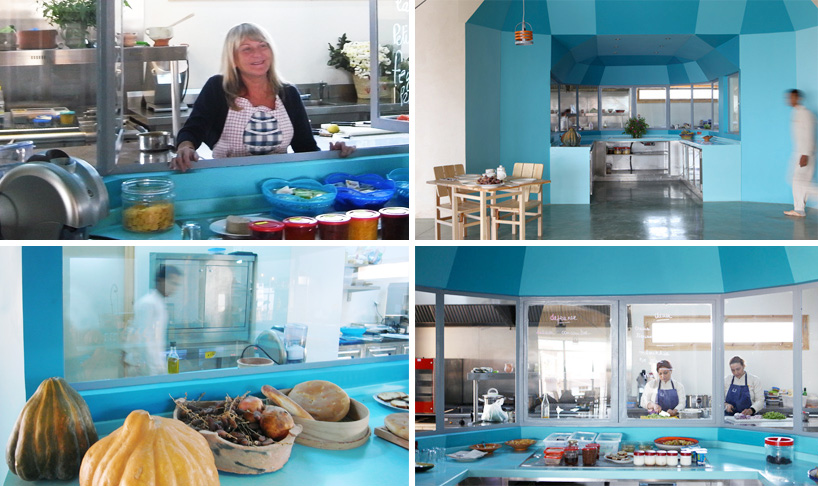 (clockwise from top left) frédérick e. grasser hermé, cooking area behind glass windows, two female cooks from nefta, native organic food images © designboom
the project is sustainable as the team has forged close relationships with the local inhabitants, who will ultimately be responsible for the guest house, its everyday upkeep and success of the retreat in the long term. local cooks are trained by world famous experts, to combine traditional local recipes with gourmets requirements of the international clients. FeGHtima – mrs. frédérick e. grasser hermé, cookbook author, food consultant of top restaurants (and muse of alain ducasse, the first french chef to achieve six stars in the michelin guide) likes her food to be simple and is particularly interested in organic food.
the Dar HI boutique by FeGHtima offers products selected or created by frédérick e. grasser hermé – in this bazaar you can find typical local products, from essential oils and other plant aromas, to interior objects, books, ceramics, cooking utensils, palm tree baskets and mats…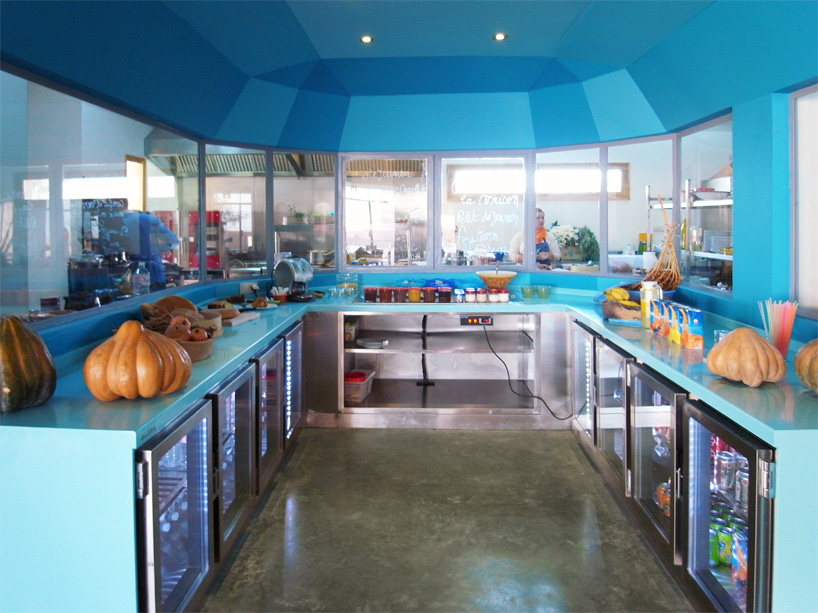 the kitchen and self-service area image © designboom
no imported products, nor the so called 'authentic cuisine for tourists' are offered, but rather a self sufficient and local development approach. here, artificial folklore is not necessary. vegetables are grown in Dar HI's own gardens in between the palms and the eco-tretreat has committed itself to buying all other food ingredients from the production of the village of nefta, encouraging a cooperative system.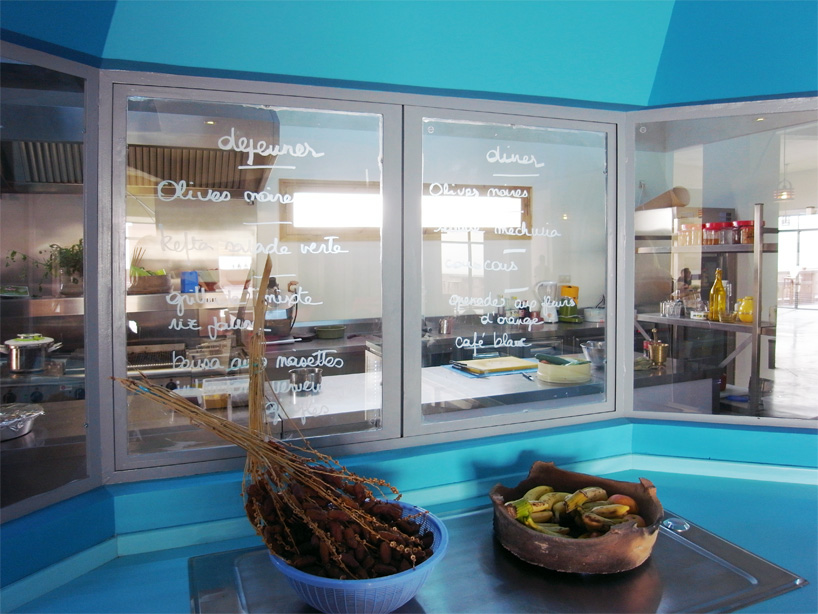 the daily menue is written on the window image © designboom
locally grown bananas and dates make a special dessert. the Dar HI offers a simple and healthy cuisine typical of the area.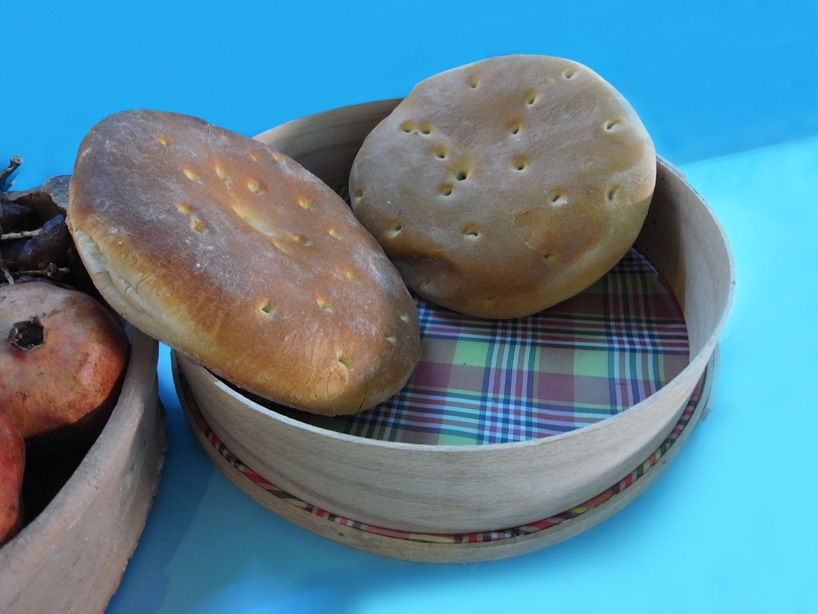 fresh tunesian bread image © designboom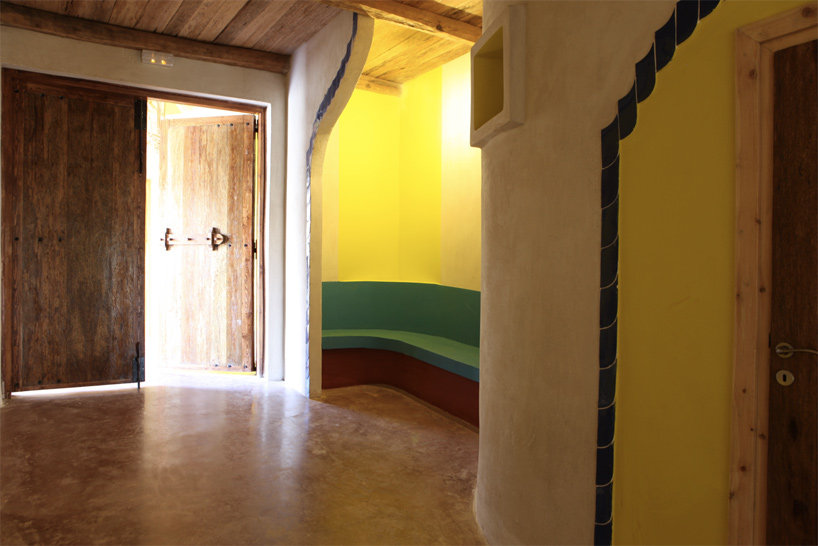 lounging near the entrance area
palm wood is transformed and reinterpreted for use within the interior, roofs and doors constructions.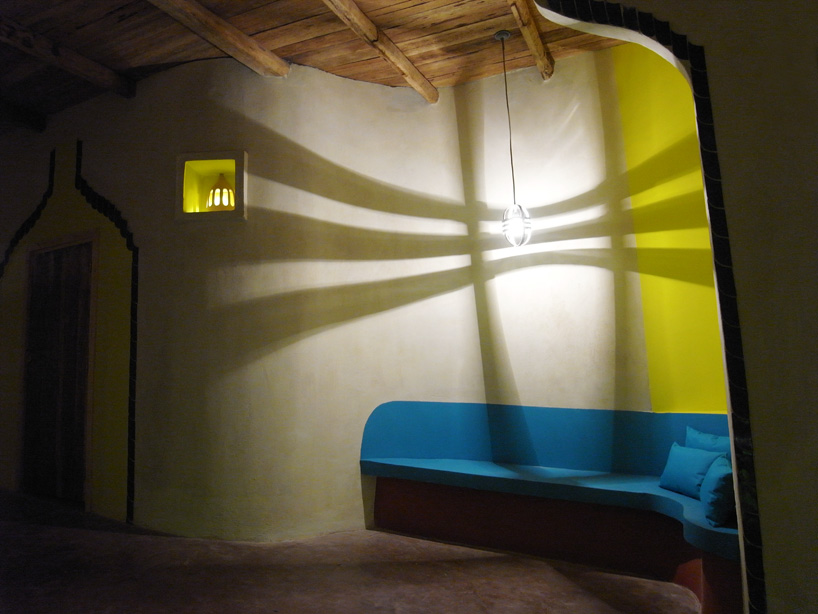 lounging near the entrance area image © designboom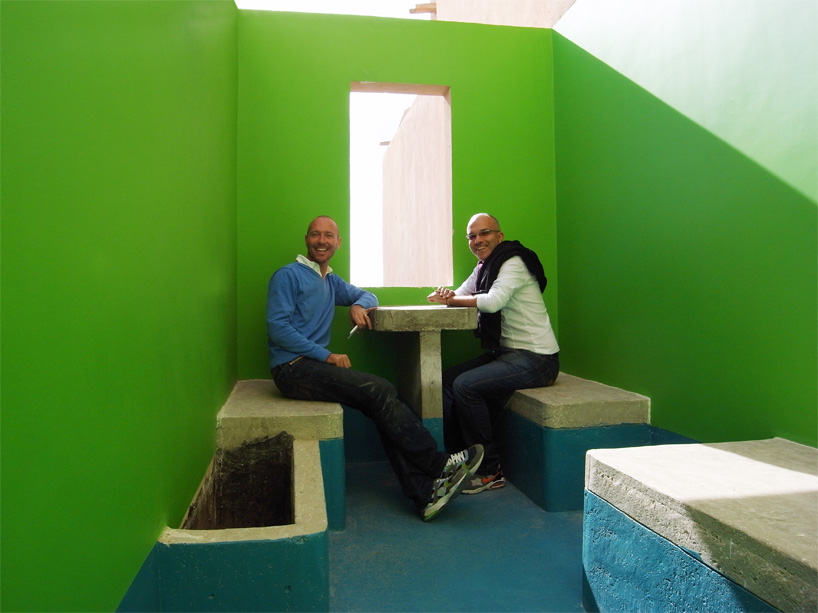 (left to right) philippe chapelet and patrick elouarghi image © designboom
the young hotelier partners, patrick elouarghi (a french man of tunisian father and spanish mother) and french philippe chapelet wanted to explore an alternate form of hospitality, to encourage an alternate way of living and a more sustainable form of tourism.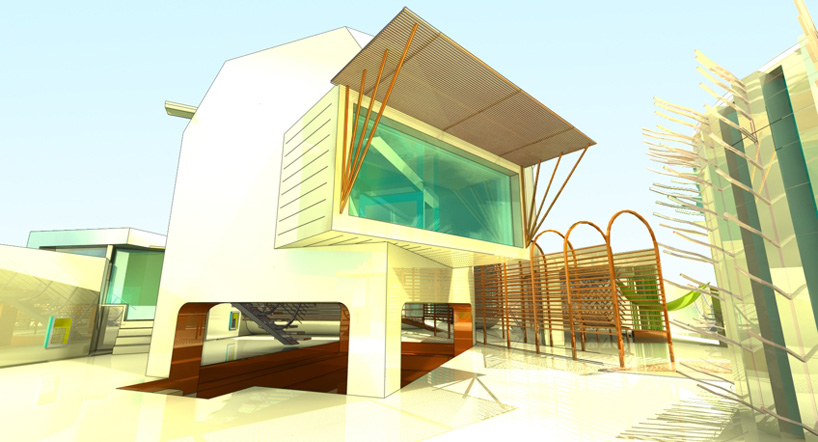 rendering by matali crasset
the discussion between philippe chapelet, patrick elouarghi and matali crasset, began in 2005,. their dialogue revolved around developing a new contemporary experience, a completely new concept of hospitality and serenity. after four years of construction and an investment of €2.5 million, the Dar HI opens the doors today. matali's initial venture into hotel design came earlier this decade, with the Hi Hotel in nice (france), by the same owners as the Dar HI, mr. elouarghi and mr. chapelet. it opened in 2003 and features 38-rooms based around nine conceptual themes.

Dar HI logo
overall, matali crasset designed 3 different typologies for the hotel: the pilotis houses, the troglodytes and the dunes. nefta is an important religious village, a platform of sufism that gives a poetic and mystical dimension to it. the 'star wars' movie was filmed in a village nearby, and the architectural set is still readily visited.
click here for part 2 of our documentation, for more images of the interiors, the steamy geothermal hammam, and views onto the date groves and palm trees galore. for further info, you might want to read the wall street journal article by lanie goodman.
Dar HI project info: constructed area and terrace: 2347 m2 project manager: matali crasset, assisted by marco salgado and francis fichot execution architect: mohamed nasr shell building works & concrete masonry: ELB, mr louhichi follow up & surveying: karconsult, tunis electricity: EBF, mr ben jemaa air conditioning: SBMF, mr ben messaoud, tunis carpentry: mokded company, nefta engineering consulting: best engineering, tunis control office: excell control, tunis upholsterer: mr hsine azouga ironwork: mr samir cherif tightness engineering: SNEC, tunis ceramic: mr mourad hsiki, nabeul fabric: I.D all creations, mme barka douida, djerba
a diverse digital database that acts as a valuable guide in gaining insight and information about a product directly from the manufacturer, and serves as a rich reference point in developing a project or scheme.
designboom will always be there for you
milan, new york, beijing, tokyo

,
since 1999