mar 12, 2015
david chipperfield to redesign the met museum''s modern and contemporary art wing

david chipperfield to redesign the met museum''s modern and contemporary art wing
image courtesy of the metropolitan museum of art
british firm david chipperfield architects have been chosen to lead the redesign of the metropolitan museum''s modern and contemporary art wing in new york. following a year-long selection process for the prestigious project, the news was publicized by the MET's director and CEO thomas p. campbell: 'we based the final selection of an architect on three criteria: vision, experience, and compatibility. david chipperfield's global architectural experience and sensibility, along with his commitment to the collaborative aspect of creating architecture, make him a perfect partner on this milestone project. his museum projects are brilliantly coherent, elegant, and accessible—from the neues museum in berlin to museo jumex in mexico city, the saint louis art museum, and the hepworth in wakefield, england."'
with a diverse and international portfolio of work, david chipperfield will be involved in a long-term plan to renovate and transform the renowned museum's gallery configuration and user navigation in the south-west wing. aiming to enhance and sustain its visitor experience, the proposal is to increase existing gallery space, design accessible on-site storage, and double the size of the roof garden, all of which is scheduled for spring 2016.
the team at the MET will be working closely with chipperfield and his team, to immediately begin establishing the plan and the initial phase of the redesign.   the first internal review is expected to take several months, followed by a comprehensive presentation process to all community stakeholders and relevant city agencies. furthermore, all necessary approvals and other legal requirements will be obtained and completed before any construction is initiated. 
david chipperfield himself commented on his successful news:  'we are delighted to have been selected for this extraordinary commission. during the competition we developed an understanding and fondness for this amazing institution and we look forward to working with tom campbell and his colleagues on the development of the design.'
'the met is a dream project, it is what every architect wants', chipperfield told designboom. 'it's a major project for us, and it will be the most important project in our office for the next five years'.
Save
oct 30, 2017
oct 30, 2017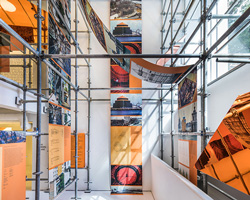 oct 27, 2017
oct 27, 2017
oct 22, 2017
oct 22, 2017
oct 21, 2017
oct 21, 2017
oct 19, 2017
oct 19, 2017
oct 17, 2017
oct 17, 2017
oct 30, 2017
oct 30, 2017
oct 30, 2017
oct 30, 2017
oct 30, 2017
oct 30, 2017
oct 04, 2017
oct 04, 2017
aug 04, 2017
aug 04, 2017
dec 28, 2016
dec 28, 2016