dec 30, 2015
carmen würth forum by david chipperfield breaks ground in south germany

carmen würth forum by david chipperfield breaks ground in south germany
all images courtesy of david chipperfield architects
eight years ago, david chipperfield architects won a competition to design a cultural events space in south central germany for adolf würth's international company. after a series of repeated setbacks, construction work is now underway on the €55 million scheme, located near the firm's künzelsau headquarters. named after würth's wife, the first stage of construction on the 'carmen würth forum' will include a large events space and a smaller chamber music hall. this phase of the project is due for completion in 2017, coinciding with carmen würth's 80th birthday.

the building is embedded within the natural terrain
surrounded by expansive meadows and fields, the building is embedded within the natural landscape. while the lower level of the hall is sunken into the earth, the upper gallery level — which is glazed on all sides — rises above the highest point of the terrain. two retaining walls made of bush-hammered, in-situ concrete frame a forecourt that serves as a forum for a diverse range of outdoor events, such as open-air concerts. behind, the main entrance leads into the naturally lit foyer, from where the large event hall is accessed.

the first phase of the project is due for completion in 2017
the event hall provides space for 3,500 people and can be used for a variety of activities, including sporting events. the trussed steel construction of the ceiling spans column-free over the entire length of the space. meanwhile, the more intimate chamber music hall seats up to 500 people. a conference center and a museum for the würth art collection are to follow as part of a second construction stage.

the trussed steel construction spans column-free over the entire length of the space

the more intimate chamber music hall seats up to 500 people
project info:
competition: 2006–2007
project start: 2011
completion due: 2017 (first construction stage)
gross floor area: 10,000 sqm
client: adolf würth gmbh & co. KG
architect: david chipperfield architects berlin
design: david chipperfield, alexander schwarz – partner
project management: harald müller – partner, martin reichert – partner
project architects: annette flohrschütz, christian helfrich, thomas schöpf
contact architect: kraft + kraft architekten
landscape architect: realgrün landschaftsarchitekten
structural engineer: RPB rückert gmbh
services engineer: ZB zimmermann und becker gmbh
façade consultant: reba fassadentechnik AG
project management: drees & sommer AG
renderings: david chipperfield architects
nov 01, 2017
nov 01, 2017
oct 12, 2017
oct 12, 2017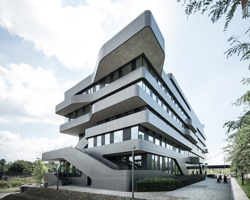 sep 29, 2017
sep 29, 2017
sep 25, 2017
sep 25, 2017
sep 19, 2017
sep 19, 2017
sep 18, 2017
sep 18, 2017
oct 04, 2017
oct 04, 2017
aug 04, 2017
aug 04, 2017
dec 28, 2016
dec 28, 2016