may 27, 2016
david chipperfield's naga museum in sudan exhibited at venice biennale
david chipperfield's naga museum in sudan exhibited at venice biennale
image © david chipperfield architects
inside the giardini's central pavilion at the 2016 venice architecture biennale, british architect david chipperfield's ongoing 'naqa museum' in sudan has been displayed. the exhibition provides an insight of the project and fundamentally questions the elegance of containment and the reasons why a classic approach in architecture makes sense in remote situations. the new museum is primarily designed to protect excavated objects from the tough conditions caused by sun, sandstorms, rain and looters, and was first proposed in 2008. the exhibition offers an overall impression of both the scheme and its context. it includes models, interviews with individuals connected to naga, a film focusing on the archaeological excavation, as well as a small range of objects from the excavation itself.
overall view of the exhibit inside the central pavilion at the giardini, venice
image © rik nys
naqa is an ancient city in modern-day sudan. only accessible via sand tracks, it sits about fifty kilometers east of the nile and is one of the largest historic sites in the country with remnants and ruins of an ancient city that was once one of the heart of the kingdom of meroë. the desert landscape is framed by a mountain, and apart from a small watch house and a temporary archaeologists' building, the area appears completely unspoiled.

models of the museum's structure are displayed
image © designboom 
when working for institutions, despite the use of contemporary languages and techniques, chipperfield delivers a classic type of architecture that aims to transcend trends and stand the test of time. he starts the description of his project for the ruins of naqa by stating that there is nothing less appealing than a visitor center. as a result, the scheme instills a simplicity, pertinence, and a sensitivity that cares for the ancient landscape. once the museum is completed, it will illustrate an example of dealing with a strong valuable heritage in places with limited resources.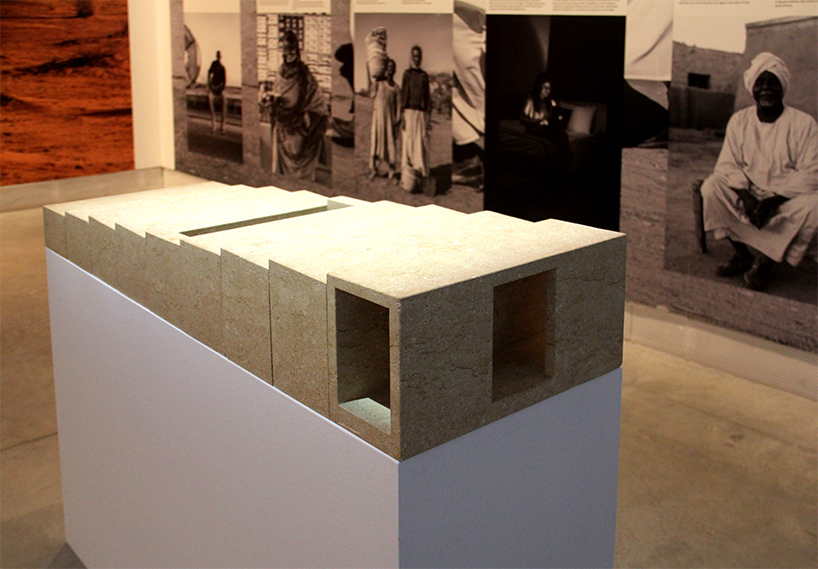 the scheme explains why a classic approach in architecture makes sense in remote places
image © designboom 
for more images, follow designboom on our dedicated instagram account @venice.architecture.biennale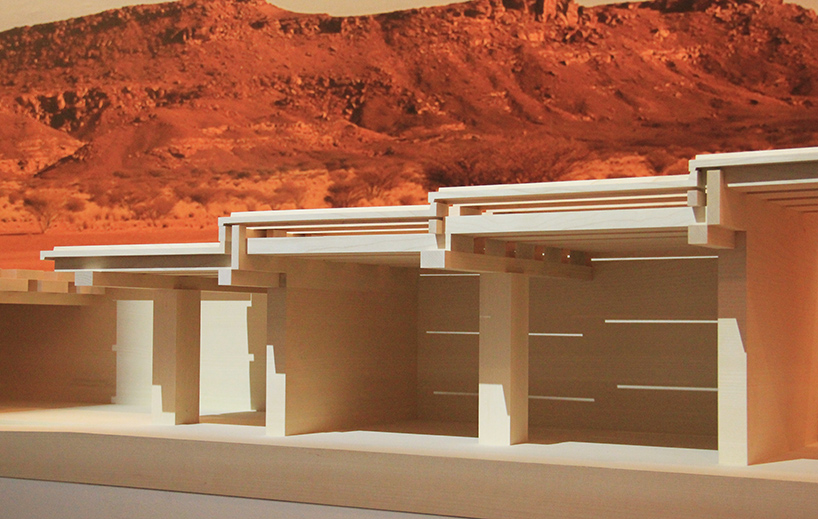 close up sectional view of the model
image © designboom 

the ancient city of naga is one of the largest historic sites in sudan and contains the ruins of a former trading city
image © designboom 
oct 04, 2017
oct 04, 2017
aug 04, 2017
aug 04, 2017
dec 28, 2016
dec 28, 2016
nov 17, 2016
nov 17, 2016
aug 07, 2016
aug 07, 2016
may 31, 2016
may 31, 2016
jun 11, 2017
jun 11, 2017
oct 17, 2016
oct 17, 2016
aug 22, 2016
aug 22, 2016