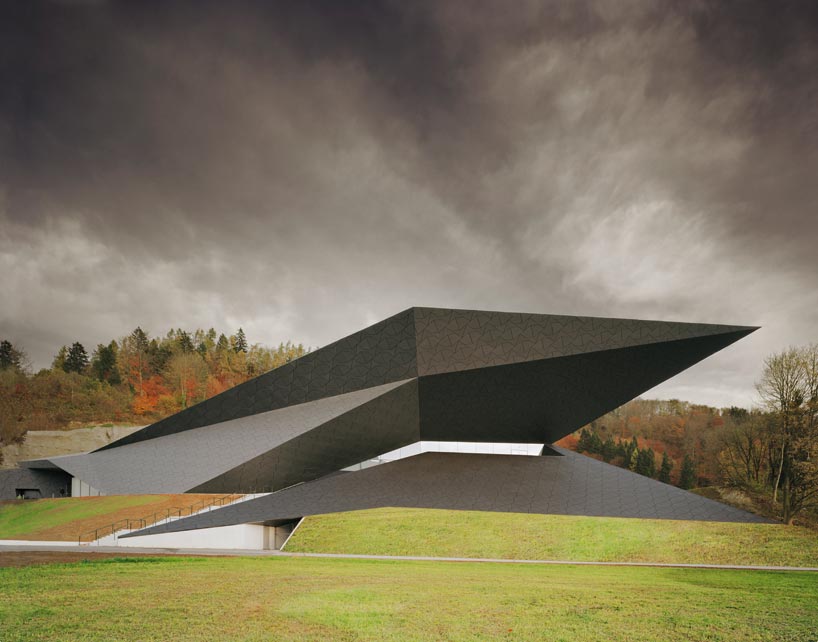 jan 06, 2013
delugan meissl associated architect: festival hall of the tiroler festspiele erl
'festival hall of the tiroler festspiele erl' by deluan meissl associated architectsimage © brigida gonzalez
the geometry of the festival hall in erl, austria by deluan meissl associated architects derives its form from the site's surrounding topography. juxtaposed against a background of rock formations, its positioning relates to the landscape and the existing passionsspielhaus in which this new structure is oriented towards. the topographic imprinting of the bordering environment is carried through to the interior of the building where two central parameters direct the architectural approach – the interplay of inside with outside – taking into consideration the spatial composition of the functionally optimized concert hall.
the geometric building is built into the terrain's topographyimage © brigida gonzalez
the staircase which leads to and offers access to the structure, is integrated into the terrain drawing visitors into the asymmetric construction of the grand foyer. a cloakroom and reception desk are situated near the entrance offering manifold views to the nature that abounds. in the opposite direction, another set of steps guides one to the upper level gallery, where the relationship between the interior and exterior is again merged through the implementation of an extensively western façade made from glass. also located on this second floor are the secondary functions of the building. the orientation, room sequence and functional relations are integral parts of the architectural dramaturgy: ample communication areas, retracting and expanding circulation areas and varying room heights translating the building's tectonic geometry in a sensory manner.
view of the new festival hall in relation to the already existing passionsspielhausimage © brigida gonzalez
the approach to the concert hall is staged through a gentle surge at the entrance level. the respective levels of the foyer are connected with the performance area through two entries. the latter is situated in the centre of the building like a shell, its rear being anchored in the rock. the overall spatial layout and pathways have been conceived as vast communication zones, narrowing and widening circulation areas as well as varying ceiling heights, translating the tectonic building geometry in a sensual and comprehensible way.
image © brigida gonzalez
one of the two entrances that leads to the foyerimage © brigida gonzalez
image © brigida gonzalez
view of how the concert hall is built into its surrounding landscapeimage © brigida gonzalez
by nightimage © brigida gonzalez
grand foyer and cloakroomimage © brigida gonzalez
image © brigida gonzalez
staircase leading up to the second floor galleryimage © brigida gonzalez
concert hallimage © brigida gonzalez
image © brigida gonzalez
during the construction phaseimage courtesy of the tiroler festspiele erl
image courtesy of the tiroler festspiele erl
aerial view of the site during constructionimage courtesy of the tiroler festspiele erl
installation of the metal claddingimage courtesy of the tiroler festspiele erl
image courtesy of the tiroler festspiele erl
large windows offer views outwards to the nature that surrounds the siteimage courtesy of the tiroler festspiele erl
image courtesy of the tiroler festspiele erl
installation of the concert hallimage courtesy of the tiroler festspiele erl
level 00
level 01
level 02
sections
project info:
total floor area: 8.800 m²floor area foyer: 1.250 m²auditorium area: approx. 580 m² (732 seats + 130 temporary seats)orchestra pit: approx. 160 m²stage: approx. 450 m²gross floor area: 10.000 m²volume: 60.000 m³site area: 9.700 m²built-up area: 4.500 m²building dimensions: 90m x 71m x 22m (longest/highest points, including cantilevers)photographer: brigida gonzález, stuttgartproject manager: sebastian brunkeproject team: philip beckmann, jörg rasmussen, eva schrade, torsten sauer, simon takasaki, anja vogl
consultants:structural engineering: FCP fritsch, chiari & partner ZT GmbH, vienna, austriabuilding services engineering: zentraplan gmbh, wiener neustadt, austriaacoustics: quiring consultants, aldrans, austrialight planning: haighlight, innsbruck, austriastage planning: e.f.f.e.c.t.s, technisches büro GmbH, klosterneuburgstage machinery: PKE electronics AG, innsbruck, austriabuilding physics: dr.pfeiler gmbh, graz, austriageotechnics: PGI, GmbH, kufsteinfire prevention: norbert rabl ZT GmbHBSB: ing. christoph wegscheider, milsgeneral contractor: STRABAG AG / dir AX, walchseeplanning & construction: KG ing.werner hann, innsbruckexecutional planning and representative of the awarding body: MHM architects
apr 28, 2017
apr 28, 2017
jul 18, 2015
jul 18, 2015
may 14, 2015
may 14, 2015