after five years of planning, the denver art museum (DAM) is set to begin renovation work on its historic 'north building', designed by italian architect gio ponti. enhancements to the landmark structure — led by the architecture team of fentress architects and machado silvetti — include presenting new and expanded gallery spaces and improving all major systems throughout the 210,000-square-foot building. a new welcome center will also serve as a central point of entry.

the gio ponti-designed 'north building' was completed in 1971
(main image courtesy of tryba architects)
fentress architects and boston-based firm machado silvetti worked closely with the denver art museum to both sensitively restore the 'north building' and design the new welcome center. once completed, the landmark structure — ponti's only realized US project — will include new spaces for the museum's design and western american art collections, as well as additional exhibition space. the project will also allow visitors to access the seventh floor, which offers sweeping mountain and city views.

the north building with the hamilton building, designed by daniel libeskind, shown in the foreground
image © jeff goldberg / esto
the design of the welcome center references the shapes and volumes originally employed by ponti for the north building. intended to visually connect the campus, the elliptical two-story facility will include amenities such as a restaurant, quick-service café, and improved ticketing and orientation capabilities. flexible program spaces will also be joined by state-of-the-art event areas and below-grade space for art storage and the museum's primary conservation lab.

proposed architectural rendering of the terrace on level 7 of the north building
image courtesy of fentress architects and machado silvetti
'preparing the building for renovation is a complex process, including the movement of thousands of art objects, and needs to be undertaken to ensure we are beginning the project on the optimal schedule,' explains christoph heinrich, frederick and jan mayer director of the DAM. 'this important renovation will extend the life of this iconic structure by addressing critical infrastructure issues which are crucial to meeting 21st-century standards for the care and presentation of art.'

the north building will be joined by a new welcome center
image courtesy of fentress architects and machado silvetti
despite the closure of the north building, the hamilton building — designed by daniel libeskind — will remain open to the public seven days a week. 'by presenting collection-based exhibitions in the hamilton galleries during this time, visitors will have the opportunity to explore DAM's permanent collections in new spaces with a fresh perspective, while exploring the world-class traveling exhibitions the DAM has become known for,' continues heinrich. the DAM will close to the public on november 20, 2017, with construction work hoped to wrap up before the building's 50th anniversary in 2021.

the welcome center seeks to visually connect the museum's campus
image courtesy of fentress architects and machado silvetti

project model detailing the new layout of the site
image © jason a. knowles / fentress architects

the welcome center appears as an elliptical two-story facility
image © jason a. knowles / fentress architects

the denver art museum's north building exterior entrance shown in 1971
image © wayne thom

exhibition galleries inside the gio ponti-designed building, 1971
image © wayne thom

the DAM's north building was designed by gio ponti in collaboration with james sudler associates
image by james florio
Save
Save
Save
Save
Save
Save
Save
Save
Save
Save
Save
oct 30, 2017
oct 30, 2017
oct 30, 2017
oct 30, 2017
oct 30, 2017
oct 30, 2017
oct 29, 2017
oct 29, 2017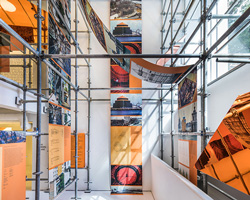 oct 27, 2017
oct 27, 2017
oct 26, 2017
oct 26, 2017
jan 16, 2015
jan 16, 2015
dec 08, 2014
dec 08, 2014
may 16, 2016
may 16, 2016