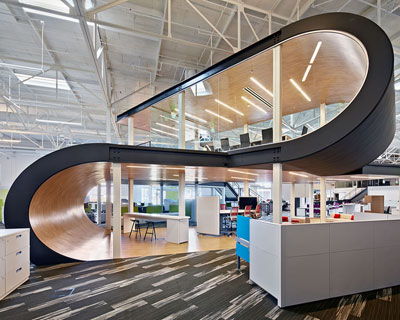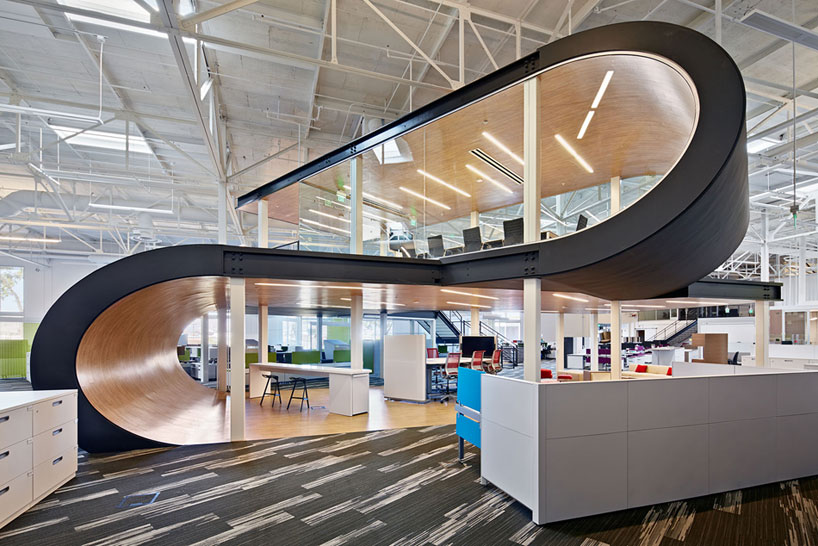 aug 07, 2013
design blitz: one workplace headquarters
design blitz: one workplace headquarters
image © bruce damonte
all images courtesy of design blitz
the collaborative and adaptive reuse of, 'the one workplace headquarters' by californian architecture and design company 'design blitz' redefines the typical showroom experience. a multifunctional indoor-outdoor environment was created for 'one workplace' – the largest furniture dealer in northern california and the single source for steelcase furniture in the san francisco bay area. their new headquarters is located adjacent to the san jose airport arterial roads and a freight train station, in an industrial part of santa clara.
the project celebrates this industrial history and is an example of urban regeneration. turning the original discarded warehouse and office buildings into a bleeding edge, world-class environment that serves both its employees and customers. the architects at design blitz mapped the experiences of both the customers and the users through carefully planned 'touch points', which resulted in a 'boomerang-type' journey where they were brought back to their original starting point. the concept was carried through into the design with the two story stacked boomerang feature in the center of the open plan office.

view of the two story stacked boomerang feature in the center of the open plan office
image © bruce damonte
the design of the interior space is key to effective sales for the company. the elevated observation platform allows staff to show customers an overview of the variety of systems and solutions that create unified and flexible working environments. the kitchen is located in the middle, connecting the two buildings, it was designed to bring the users together. upon entering the building the work-cafe is immediately presented signaling that this is a different type of workplace.
the new 35,000 square feet of office/showroom/workspace has an adjacent 180,000 square foot warehouse. the project demonstrates strong economical efficiency as the company moved from a 45,000 square foot space into the new smaller one, while increasing staff from 101 to 165. centralized shared workstations were set up for mobile workers, located around the work cafe or other soft seating areas, which helped to create a mobile flowing office.

the boomerang allows staff to show customers an overview of the variety of furniture solution
image © bruce damonte

the observation platform and conference room
image © bruce damonte

overview of the open plan office space
image © bruce damonte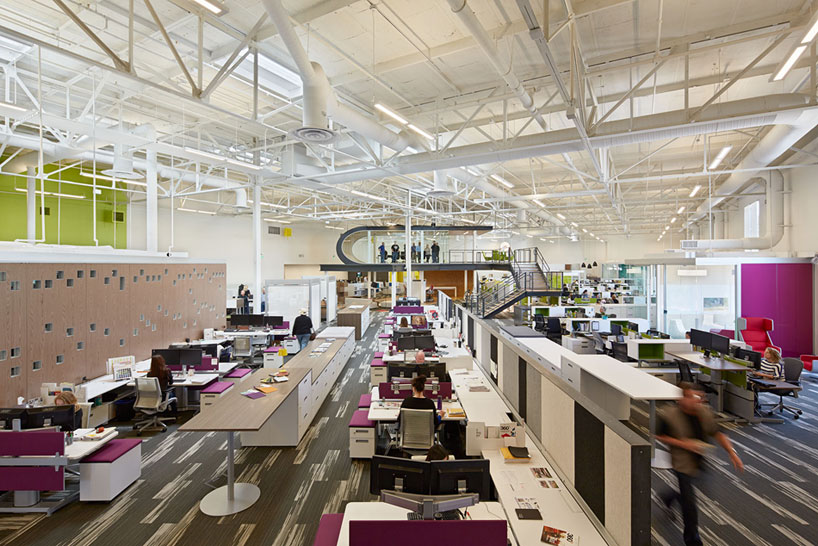 the original discarded warehouse and office buildings were made into a world-class workplace
image © bruce damonte

view of the entrance
image © bruce damonte

custom steel screen graphics
image © bruce damonte

tall windows along the front facade bathe the interior with daylight and large one workplace signage
image © bruce damonte

the warehouse and office building are connected redefining the typical showroom experience
image © bruce damonte
project info:
location: santa clara, california
size: 35,000 sf
architect: design blitz
completion date: 2013
photography: bruce damonte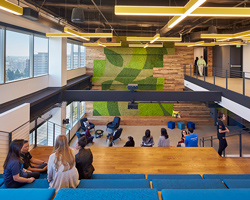 mar 21, 2016
mar 21, 2016
mar 08, 2014
mar 08, 2014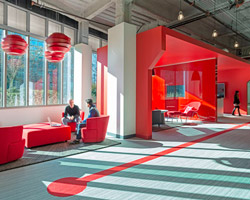 mar 01, 2014
mar 01, 2014
jul 21, 2017
jul 21, 2017
jul 16, 2017
jul 16, 2017
jul 11, 2017
jul 11, 2017