for the whitney biennial 2019, forensic architecture, winner of the social impact jury award at THE DESIGN PRIZE 2019, and praxis films, present triple-chaser, a video investigation into warren b. kanders, the whitney museum's vice chair and CEO of safariland group –one of the world's major manufacturers of weapons, including tear gas, for the police and military. in response to the controversy of kanders' association with the institution, the independent research collaborative began a project to train 'computer vision' classifiers to detect safariland tear gas canisters among the millions of images shared online, taking as its test case one of the company's grenades known as the triple-chaser.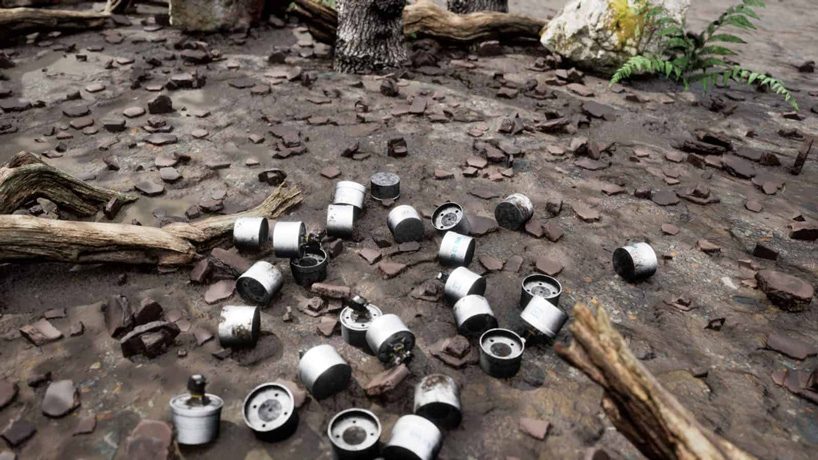 all images courtesy of forensic architecture/praxis films
using the 'unreal engine', forensic architecture generated thousands of photorealistic 'synthetic' images, situating the triple-chaser in approximations of real-world environments
narrated by former talking heads singer david byrne, forensic architecture and praxis films' 15-minute video investigation explores warren b. kanders' connection to the whitney museum and the safariland group, while explaining the methods used to reach these findings (see an excerpt of the film here). 'whereas the export of military equipment from the united states is a matter of public record, the sale and export of tear gas is not,' explains forensic architecture in its investigation statement. 'as a result, it is only when images of tear gas canisters appear online, such as they did after us agents fired tear gas grenades at civilians along the san diego-tijuana border in november 2018, that the public can know where they have been sold and who is using them. forensic architecture is training computer vision classifiers to automatically detect one of safariland's tear gas grenades, the triple-chaser.'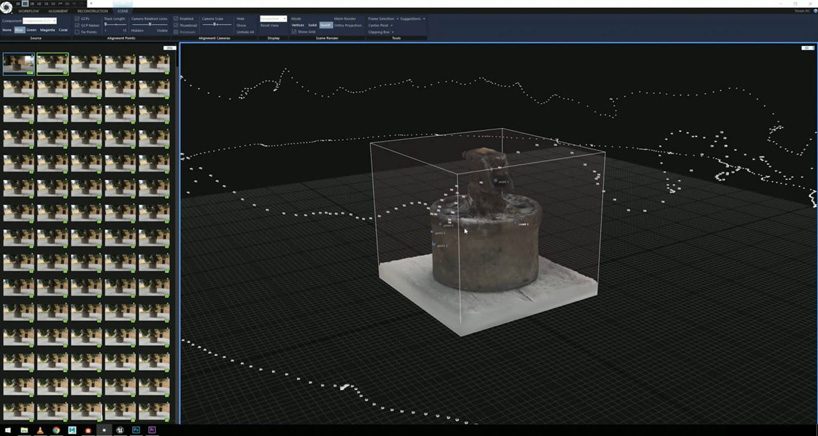 activists around the world were asked to find, and film, examples of the triple chaser grenade, which were then turned those into a precise 3D model using photogrammetry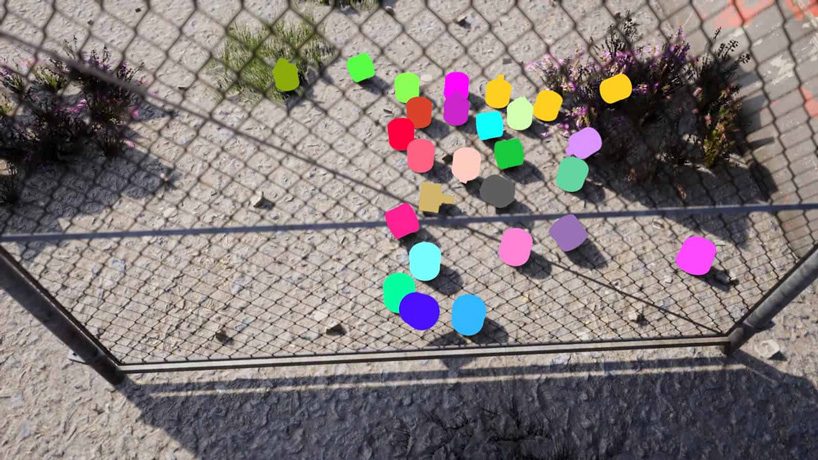 coloured 'masks' tell the classifier where in the image the triple-chaser grenade exists
'the task of training a computer vision classifier to identify a particular object usually requires thousands of images of that object,' the statement continues. 'however, images of the munitions like the triple-chaser are relatively rare. to fill the gap, we constructed a digital model of the triple-chaser, and created a set of 'synthetic' images by placing the model against bold, patterned backgrounds, and within photorealistic digital environments. in this way, 'fake' images help us to search for real ones—so that the next time safariland munitions are used against civilians, we'll know.' in addition to triple-chaser, forensic architecture presents at the whitney biennial 2019 a weekly schedule of its past video investigations of police violence. beginning in june, a different case will be screened each day in which the involvement of the police and other security forces in the killing of civilians has been investigated.

every 'synthetic image' came with a corresponding 'mask' image
forensic architecture was founded by israeli-british architect eyal weizman in 2010 in london, with the help of a european research council (ERC). the independent research collaborative began to engage in case work and investigations while developing their research culture through a series of seminars at the center for research architecture at goldsmiths, university of london, where it is based. collaborating with architects, software developers, filmmakers, and artists, forensic architecture collects, reorganizes, and interprets public-domain data as a way to address what they understand to be abuses of power and their physical traces.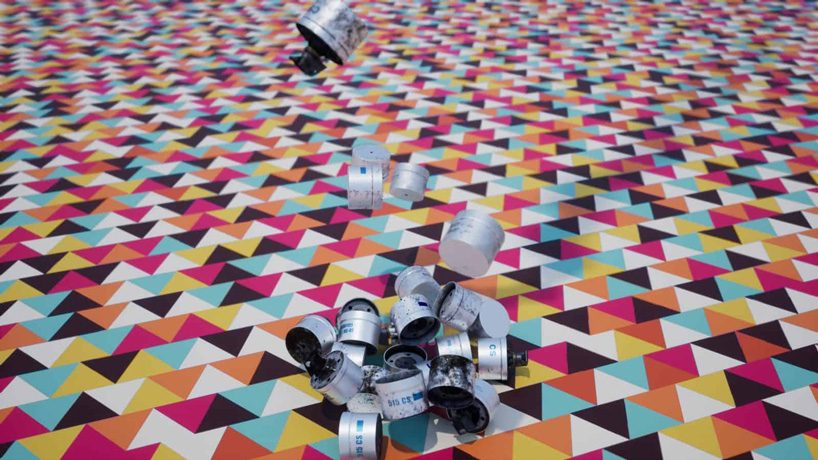 producing images of the model against bold, generic patterns improves the classifier's ability to identify the grenade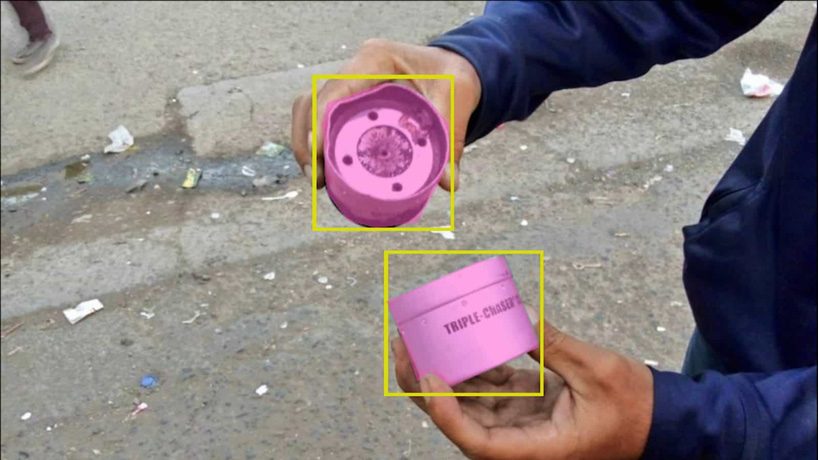 during the process of training a 'computer vision' classifier, bounding boxes and 'masks' tell the classifier where in the image the triple-chaser grenade exists
project info:
research: forensic architecture, praxis films
principal investigator: eyal weizman
project coordinator: lachlan kermode, robert trafford
modeling and design: alican aktürk
software development and machine learning: lachlan kermode
research: shourideh c. molavi, robert trafford, rob krawczyk, ronni winkler
modeling: nicholas zembashi
research support: sarah nankivell, christina varvia
collaborators: praxis films (laura poitras, yoni golijov, jonah greenstein, margot williams)
narrated by: david byrne
———————————
THE DESIGN PRIZE is energised by edison

edison, one of the largest energy companies in italy, has been a partner and promoter of the initiative since its inception in 2017. this year, edison continues its collaboration with THE DESIGN PRIZE, the international award dedicated to project culture, which is also a virtuous expression of co-planning based on the efficient use of resources for the construction of a sustainable future. edison brings its unique experience, know-how, and 130-year-long history in the energy sector to the design prize, helping foster a horizontal approach to design. together with the leading professionals and architects, edison proposes intelligent solutions for cities and people in favor of a more evolved and sustainable lifestyle.
jul 16, 2019
jul 16, 2019
jul 11, 2019
jul 11, 2019
jul 10, 2019
jul 10, 2019
jun 28, 2019
jun 28, 2019
jun 26, 2019
jun 26, 2019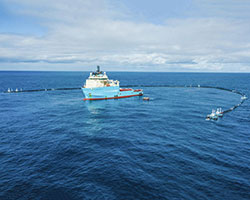 jun 24, 2019
jun 24, 2019
a diverse digital database that acts as a valuable guide in gaining insight and information about a product directly from the manufacturer, and serves as a rich reference point in developing a project or scheme.