dec 26, 2012
designboom 2012 top ten: cultural/ institutional
culture is what gives each group of people around the world a unique identity, it adds flavor to our lives and enriches our souls, so it is no wonder thatour cultural institutions usually end up resembling this with buildings that are designed for the interchange of knowledge, ideas, music, art, literatureand every other aspect that gives a society character. projects are usually monumental in size, programming and detailing, creating architectural momentsthat perhaps have never been seen before and almost always leaving a lasting impression with their iconic nature.
1. 'louvre-lens museum' by SANAA + imrey culbert
maintaining the openness of the once mine works site, the 28,000 square meter building has been broken into smaller spaces to follow the gradual grade changes of the terrain. glass-enclosed galleries open perspectives across the grounds, using transparency to create cross views through public spaces.
'louvre-lens museum' by SANAA + imrey culbert + catherine mosbach, lens, france
2. 'vennesla library and cultural center' by helen and hard
serving as a spatial connector between an existing community house, learning center, and a public square, the design is a direct result of the synergetic coupling of structures, manifesting as a series of gradually shifting ribs that provide structure in addition to furniture and storage for technical devices.
'vennesla library and cultural centre' by helen & hard in vennesla, norway
3. 'enzo ferrari museum' by future systems
dedicated to motor racing legend and entrepreneur enzo ferrari (1898 – 1988), the museum comprises exhibition spaces within the early nineteenth century house where the motor racing giant was born and raised, and its adjoining workshop, as well as a separate, newly constructed exhibition building.
'enzo ferrari museum' by jan kaplicky and andrea morgante, modena, italy
4. 'cantina antinori winery' by archea associati
the winery is set into the contours of the land as two horizontal cuts made from large planes of concrete, framing views and paying homage to the site and topped with one of its own vineyards; an exploration between man, product and process.
'cantina antinori' by archea associati, san casciano val di pesa, italy
5. 'parrish art museum' by herzog & de meuron
the first art museum built on the east end of long island in more than a century, it is nestled diagonally on a square site, the modestly designed steel and wood frame section measuring 29 meters wide extruded to an astounding 187 meters long, relying on the quality of light and immensity of space to define the exhibition space's character covering 34,400-square-feet.
'parrish art museum' by herzog & de meuron, new york, USA
6. 'chateau cheval blanc winery' by christian de portzamparc
also known as 'the winery under the hill', the new establishment is located under a massive sweeping structure with a rooftop garden and is always visually and spatially connected to the rows of grapevines.
'chateau cheval blanc' by christian de portzamparc, saint-emilion, france
7. 'book mountain + library quarter' by MVRDV
rotterdam-based MVRDV has just completed the 'book mountain + library quarter' centrally located in the market square of spijkenisse, the netherlands. a mountain of bookshelves is contained by a glass-enclosed structure and pyramidal roof with an impressive total surface area of 9,300 square meters
'book mountain + library quarter' by MVRDV, spijkenisse, the netherlands
8. 'fabrica moritz barcelona' by jean nouvel
the restoration of a 19th century brewery in barcelona would both convert the dilapidating building into a material representation of its historical significance, and create a community treasure centered around design, cuisine and culture.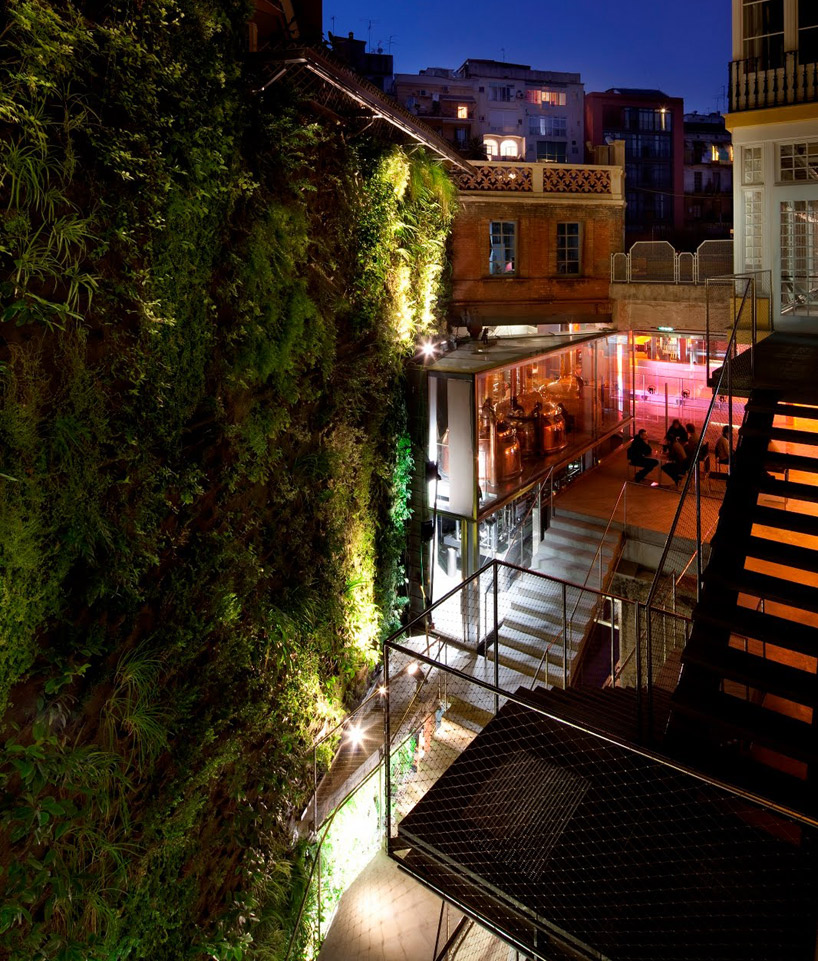 'fabrica moritz brewery' by jean nouvel, barcelona, spain
9. '12th serpentine pavilion' by herzog & de meuron and ai wei wei
a plane of water is now floating above the lawn of the serpentine gallery  in london, england, inviting visitors to pass beneath it and observe the recently exposed components of the past structures. eleven columns representing each of the previous editions elevate the roof plane 1.4 meters from the excavated ground while an additional support stands for the current construct.
serpentine gallery pavilion 2012
10. 'japan national stadium' by zaha hadid
the elevated ground connections of zaha hadid's structure will govern the flow of people through the site, while also effectively carving the geometric forms of the building, enhancing and modulating visitors around the stadium via different directions and points of access.
zaha hadid's winning design for the new national stadium japan
see designboom's TOP TEN institutional + cultural 2011
dec 31, 2012
dec 31, 2012
dec 28, 2012
dec 28, 2012
dec 27, 2012
dec 27, 2012