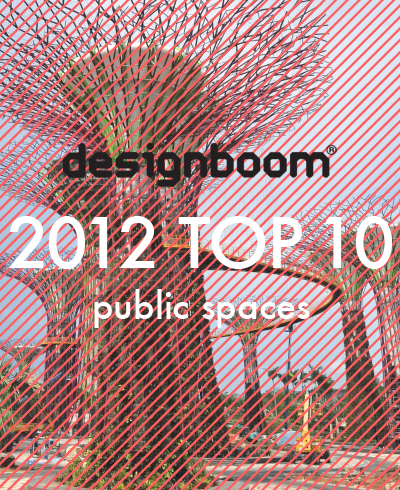 dec 28, 2012
designboom 2012 top ten: public spaces
designboom 2012 top ten: public spaces
it can be said that the majority of projects built around the world exist for a private owner or cause, and although all projects must certainly havefinancial backing by some source, the public spaces created for general use sometimes exhibit radical ideas and transform infrastructures. public architecture has the unique position – and almost necessity – to be inherently entwined within its context and impact a larger population usually performing perfunctory daily tasks, such as walking to the store or relaxing at a park. at times they are constructed to provide a new activity, other times only to enhance an existing one, and then there are cases where public space can offer a new perspective or simply a fun placeto be. we take a look at the public projects built in 2012: accessible to everyone, often times the subject of criticism, but nevertheless impact the community as a whole.
1. 'bosque de la esperanza' by giancarlo mazzanti
featuring a 700 m2 canopy structure comprised of prefabricated dodecahedrons, the design is read as a cluster of trees against the muted and monotonous background of the slum settlement.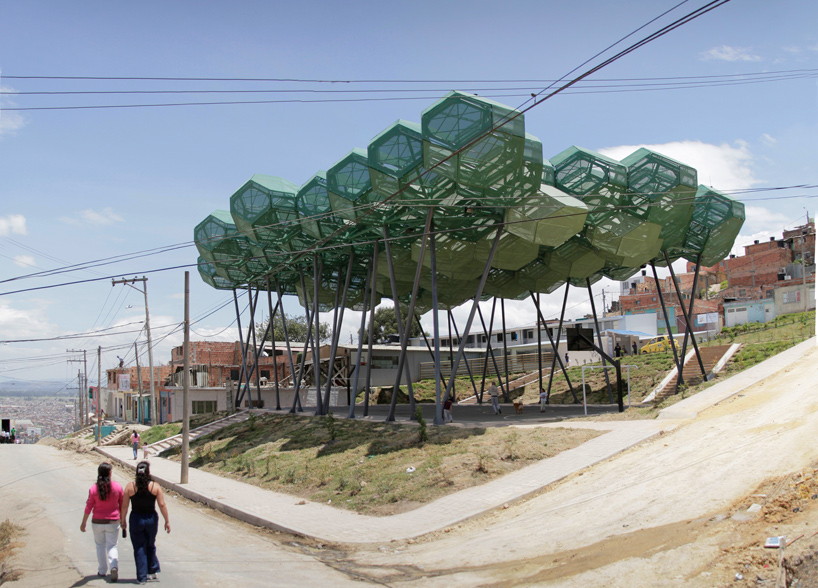 'bosque de la esperanza' by giancarlo mazzanti in altos de cazuca, colombia
2. 'melkwekbridge' by NEXT architects
'melkwegbridge' by amsterdam-based firm NEXT architects is a continuation of melkweg, which is part of the kanaalsprong master plan and connects the weidevenne district to the historical city centre of purmerend, in the netherlands.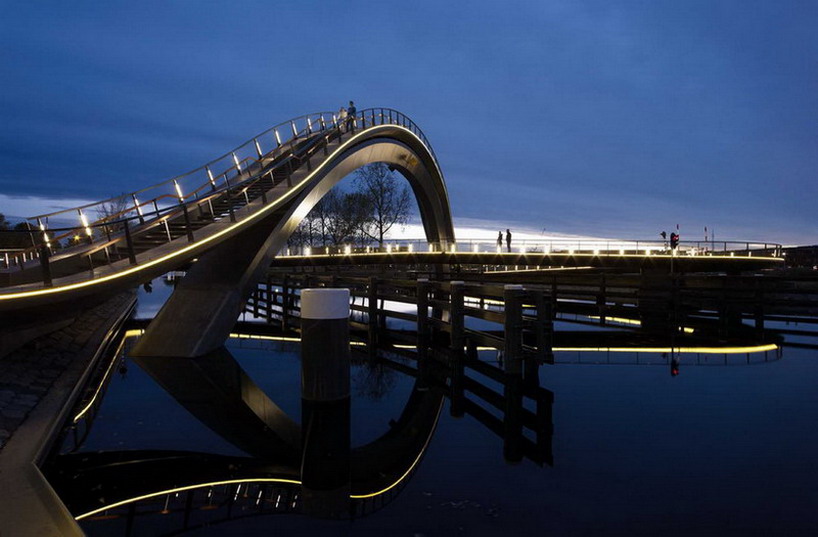 melkwegbridge by NEXT architects, purmerend, the netherlands
3. 'mechanical ramps' by roberto ercilla
bisecting the center of vitoria in northern spain and climaxing at the cultural center, roberto ercilla's 'mechanical ramps' improve accessibility for the local community from one end of town to the other in a protected and constantly transforming sequence, punctuated by sections of level ground which open to the exterior.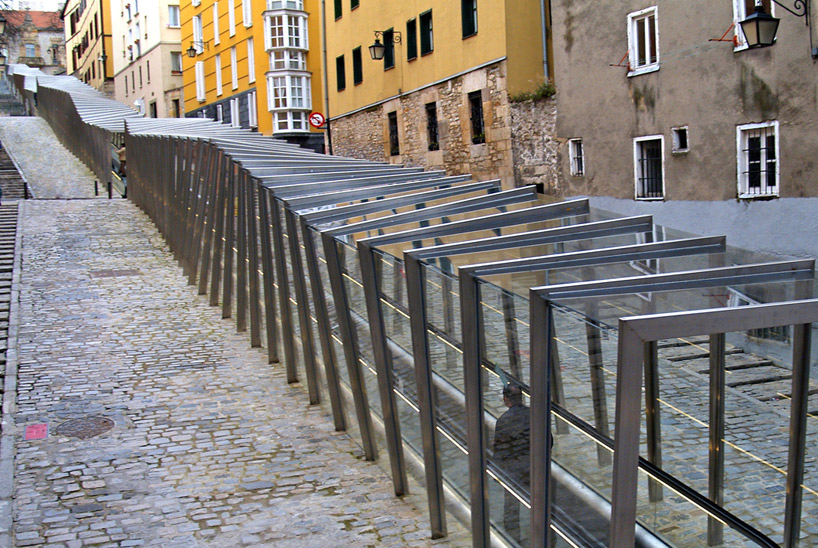 'mechanical ramps' by roberto ercilla, vitoria, spain
4. 'bay south – gardens by the bay' by grant associates
the arcadia will showcase signature features such as cooled conservatories, flower dome and cloud forest; the super trees in the golden garden, silver garden and supertree grove; the heritage gardens; the world of plants; and, the dragonfly and kingfisher lakes. changing floral displays, choreographed light and sound shows and a series of interpretive media and narratives will bring to life the story of plants, with dining and retail experiences.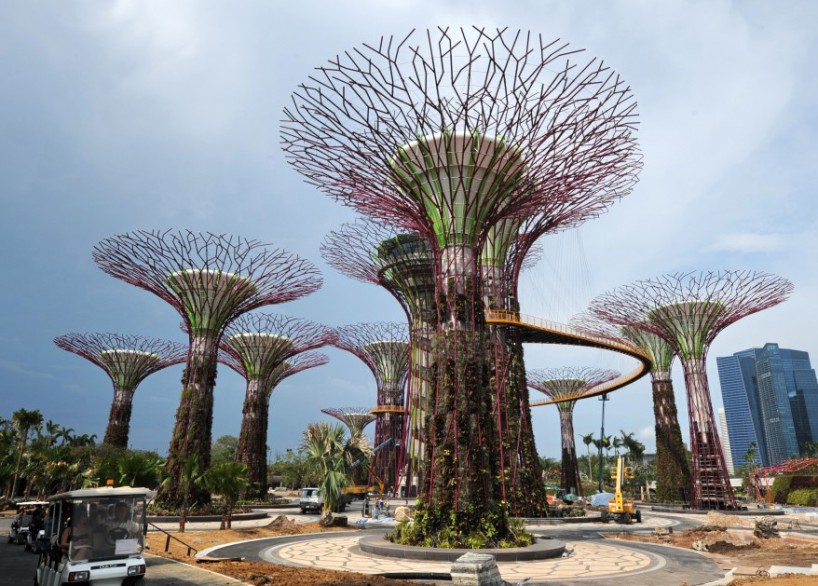 'bay south – gardens by the bay' by grant associates + wilkinson eyre, marina bay, singapore
5. 'floating cinema' by ole scheeren
surrounded by a dramatic landscape of towering rocks emerging from the ocean, the audience experienced an atmospheric convergence of nature and cinematic narratives – primordial notions of light, sound and stories suspended in the darkness between sea and sky.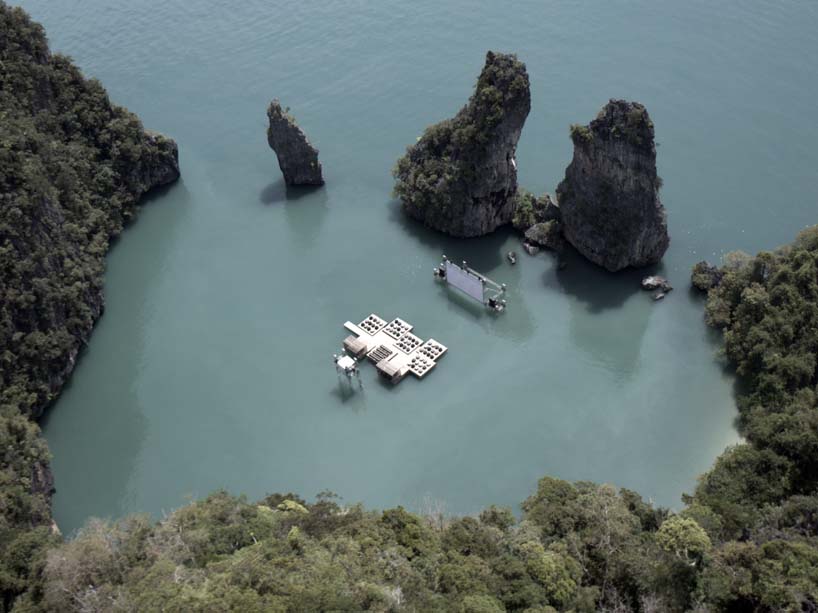 archipelago cinema by ole scheeren, thailand
6. 'peace bridge in calgary, canada' by santiago calatrava
the single span helical footbridge gently arcs across the water, sheltering users with a glass roof along its 126 meter length. adjacent to the prince's island park in the downtown district, the structure will provide pedestrians and cyclists with connecting routes between the urban center and memorial drive.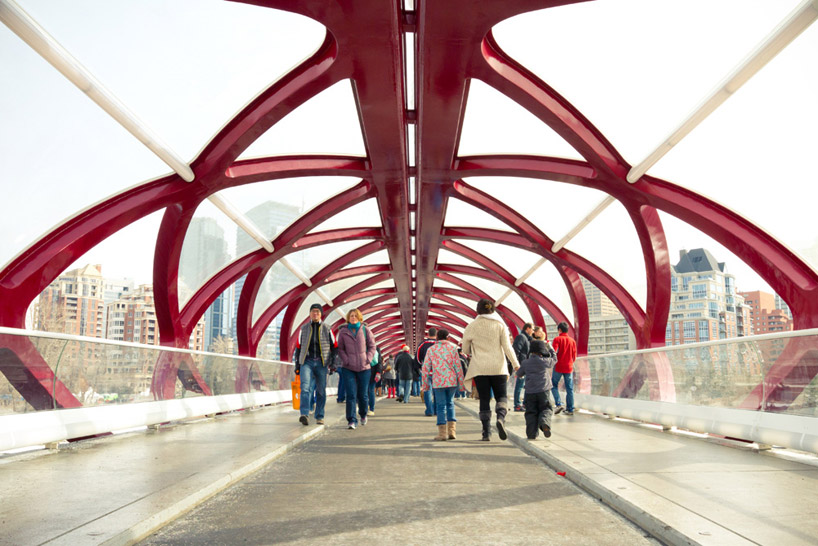 'peace bridge' by santiago calatrava, calgary, canada
7. 'superkilen urban park' by BIG architects, topotek1 + superflex
'superkilen' is a kilometer long park situated through the nørrebro area just north of copenhagen's city centre, considered one of the most ethnically diverse and socially challenged neighborhoods in the danish capital as it is home to more than 60 nationalities.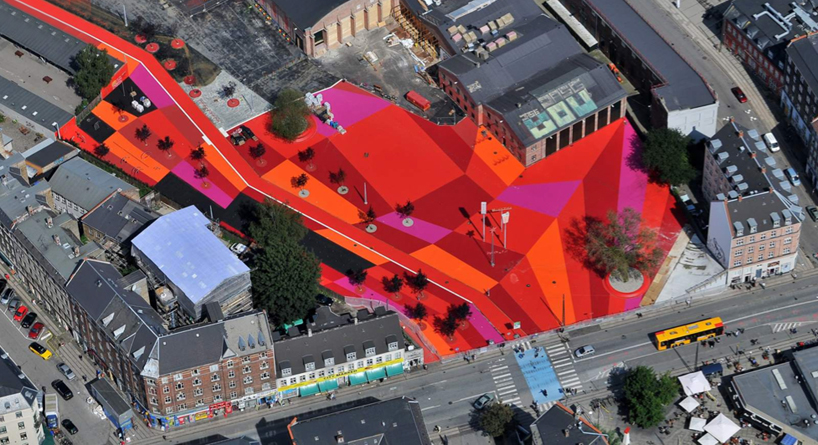 'supekilen' by BIG architects, topotek1 and superflex, copenhagen, denmark
8. 'chop stick' by visiondivision
commissioned by the indianapolis museum of art to erect a concession stand for their 100 acres: the viriginia b. fairbanks art & nature park, swedish architecture firm visiondivision (anders berensson and ulf mejergren) have realized 'chop stick', a design based on the universal notion of that you need to sacrifice something in order to make something new.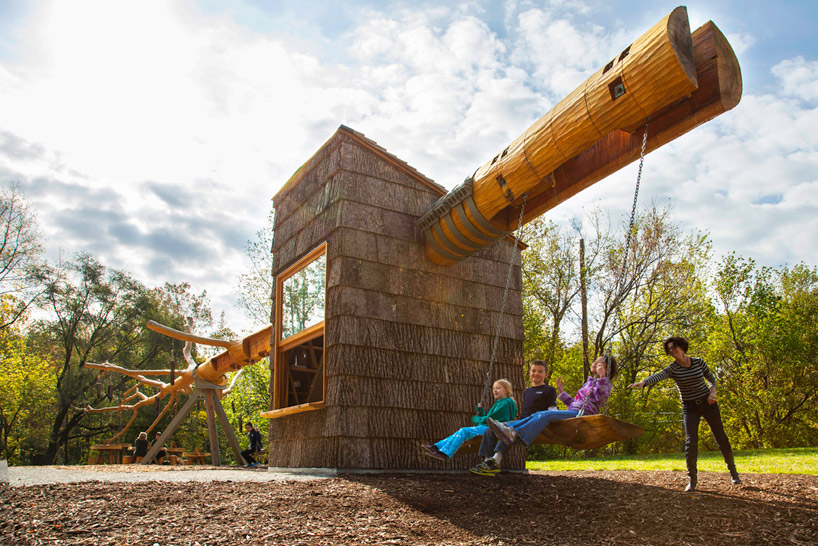 'chop stick' concession stand by visiondivision for the indianapolis museum of art
9. '170 foot trampoline' by salto architects
developed for the archstoyanie festival in russia by estonian architecture studio salto, 'fast track', the 170 foot long trampoline demonstrates the integral elements of park planning. expressed as a road installation, the project challenges the concept of infrastructure that normally focuses on technical and functional aspects, tending to be ignorant to its surroundings.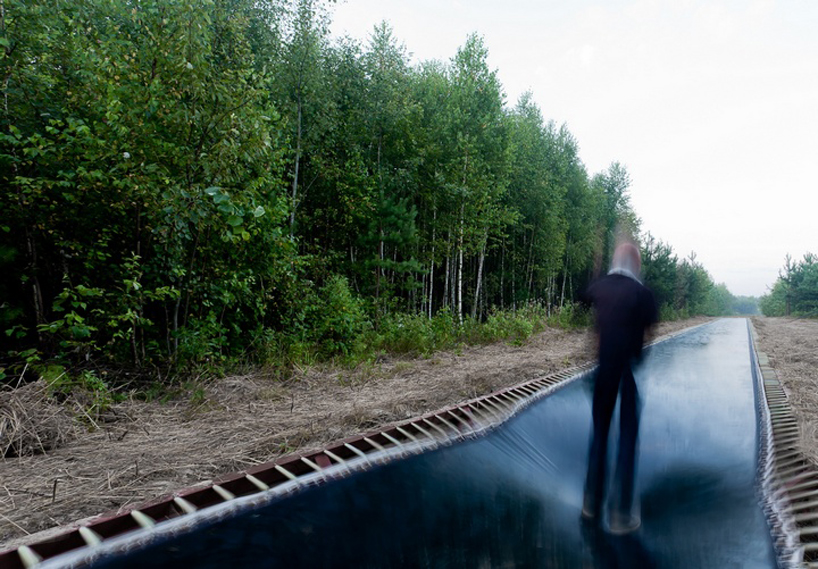 'fast track' – a 170 foot long trampoline in russia by salto architects
10. 'festina lente bridge in sarajevo'
developed by designers adnan alagic, bojan kanlic and amila hrustic, the basic idea of the overpass is the union of the secular and spiritual and to establish a balance between left and right side. crossing the bridge is a unique experience because of it's specific layout and views that we encounter when going through the gate, preparing users to enter into another dimension, awakening spirituality.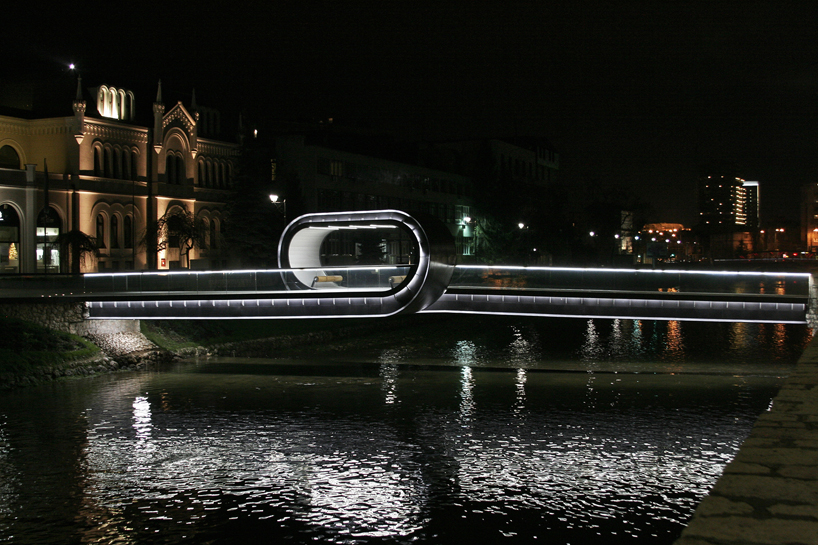 'festina lente bridge' in sarajevo by alagic, bojan kanlic and amila hrustic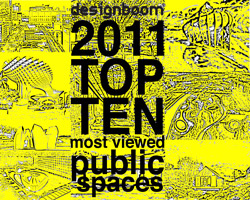 see designboom's TOP TEN public spaces of 2011
dec 31, 2012
dec 31, 2012
dec 27, 2012
dec 27, 2012
dec 26, 2012
dec 26, 2012
dec 24, 2012
dec 24, 2012
dec 22, 2012
dec 22, 2012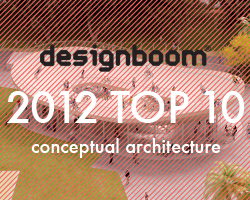 dec 21, 2012
dec 21, 2012
a diverse digital database that acts as a valuable guide in gaining insight and information about a product directly from the manufacturer, and serves as a rich reference point in developing a project or scheme.