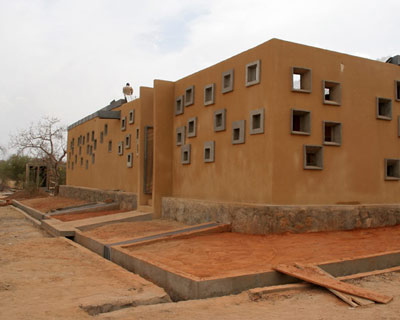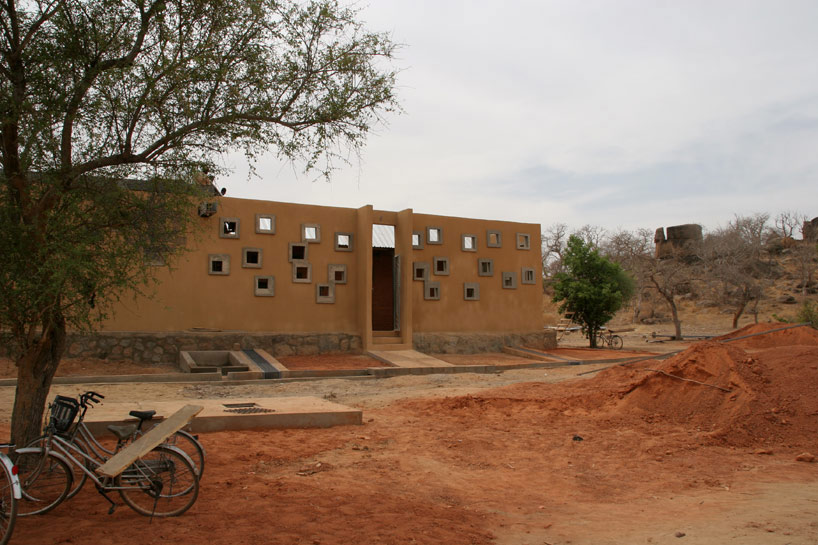 may 23, 2013
diebedo francis kere: centre for health and social advancement, burkina faso
'centre de sainte et de promotion sociale' by diebedo francis kere, laongo, burkina fasoall images courtesy of diebedo francis kere
the original idea to build an opera house in one of the world's poorest countries led to the creation of the opera village in laongo, burkina faso – a development undertaken by architect diebedo francis kere that has provided the community with medical, educational, residential, and cultural opportunities. the latest addition to the village, an infirmary called the 'centre for health and social advancement' provides health care for the general public in a structure  made of local material and labor that expresses the beauty of a contemporary interpretation of vernacular design. the center is located just down the hill from the village, exposing a sense of scale as the low-lying building is seen at the foreground of an expansive savanna.
the infirmary is made up of three parts – dentistry, gynecology and obstetrics, and a general health unit – organized in square buildings around a central waiting room with an outer wall that creates two large outdoor courtyards with shaded seating areas. each individual volume also contains an interior courtyard, an architectonic expression that manifests itself as much in plan as it does in elevation. the outer walls are dotted with an array of small strategically-placed windows conceived as compositional picture frames that give the patients varied views of the exterior whether they be lying down in a bed, sitting, or standing, complete with a fly screen and either a glass pane or a metal shutter.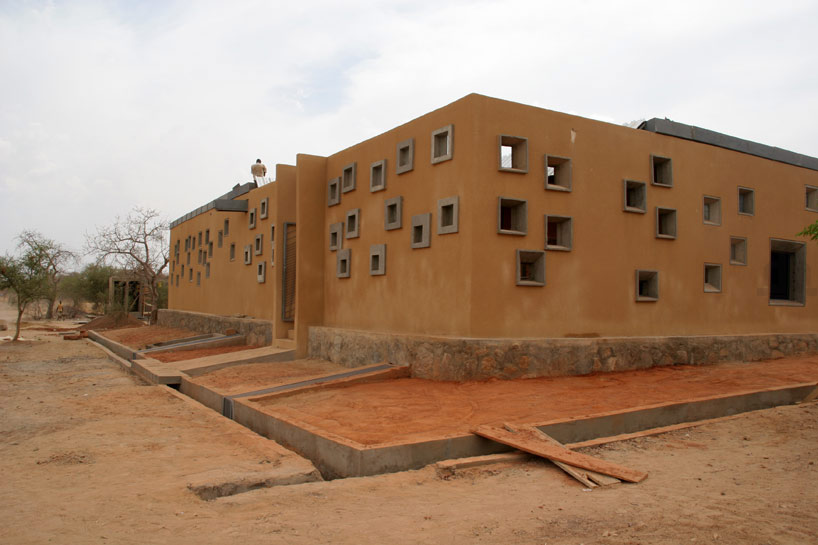 construction of the surrounding ground plane with exposed stone foundation
the construction also retains the local characteristics of burkina faso. the primary building materials used are clay, BTC brick (compressed clay brick), and laterite stone around a concrete foundation. each building contains a double-wall system whereby the outer envelope is made of hollow concrete bricks covered in clay plaster and the inner layer is composed of BTC brick. this construction strategy provides the necessary water-proofing membrane and frees the low-pitched corrugated roof structure – mimicking the gentle forms of two distant hills – from having to overhang which would have compromised the aesthetic composition of the volumes and would have pushed the project wildly over budget.
exterior facade with various square windows
facade constructionimage © till groener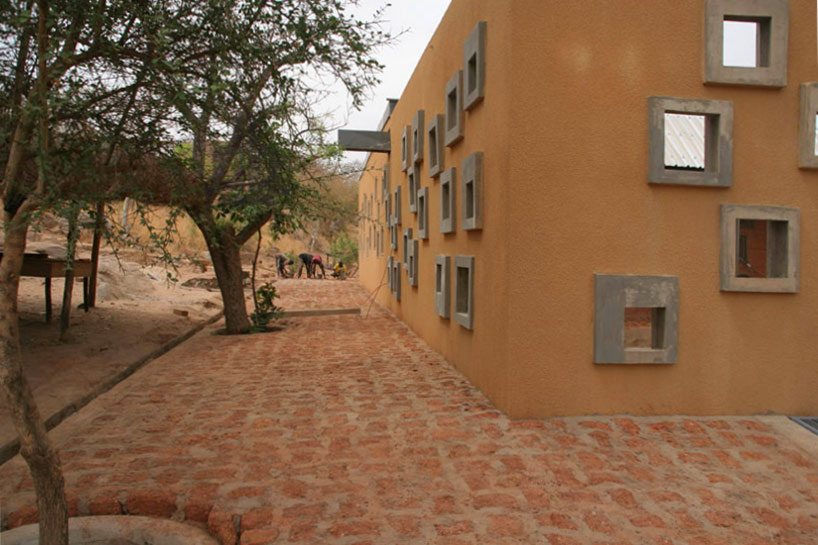 clay cricks used throughout the ground and wall constuction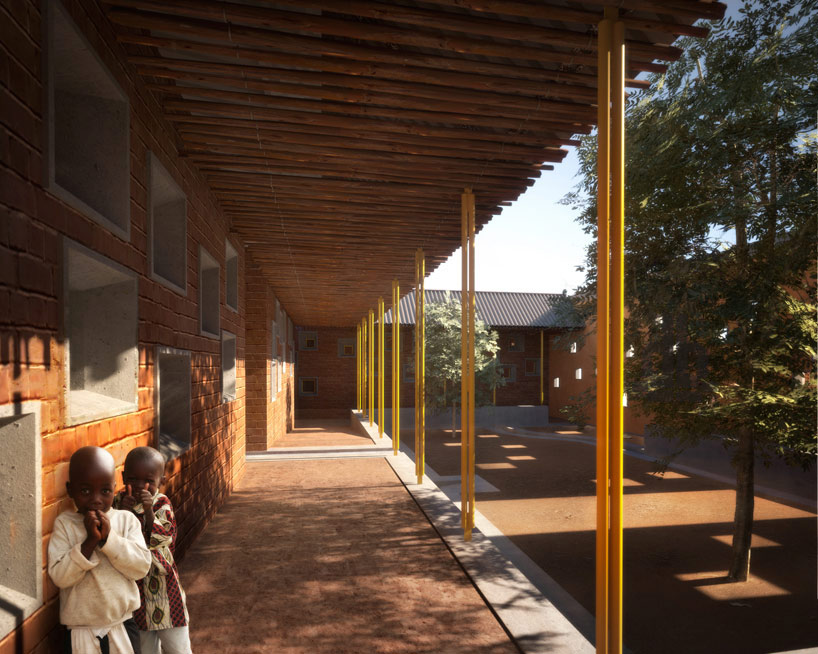 exterior courtyard with covered peripheral walkways and brightly colored slender columns

interiorimage © till groener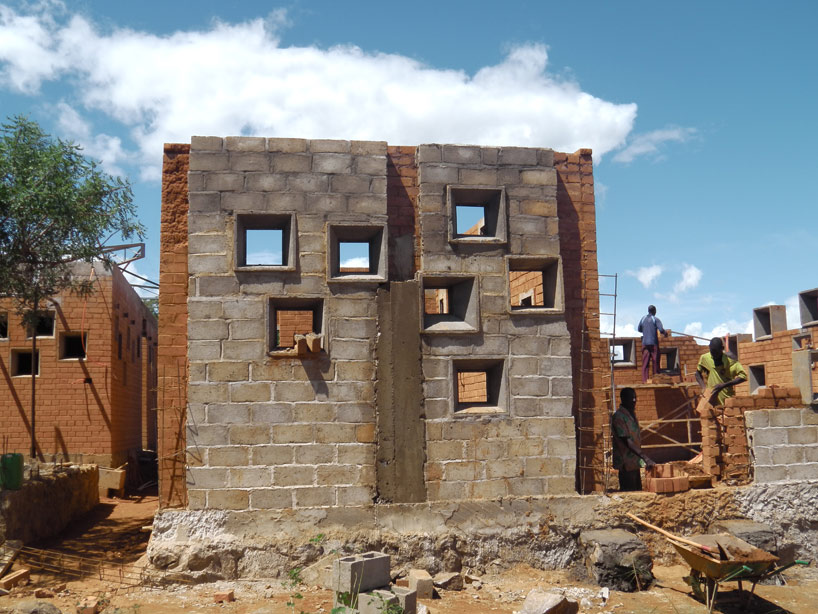 exterior wall constructionimage © severin sobgo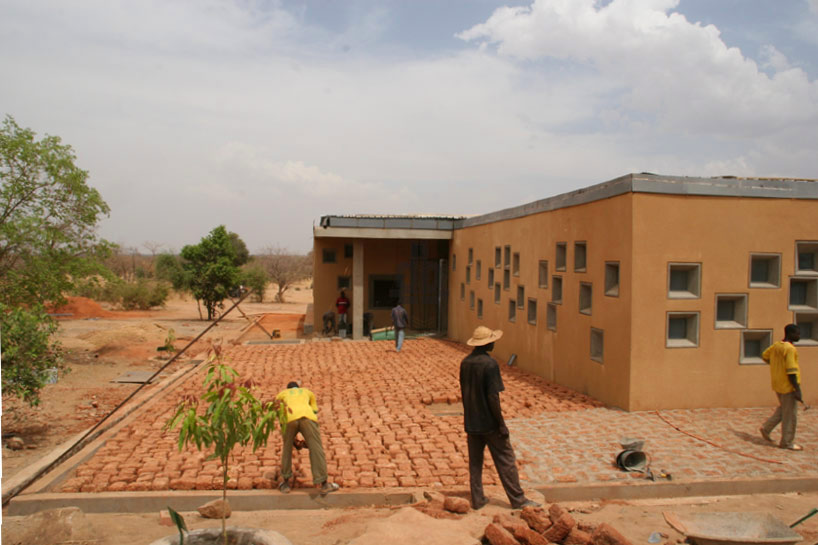 construction of the BTC ground plane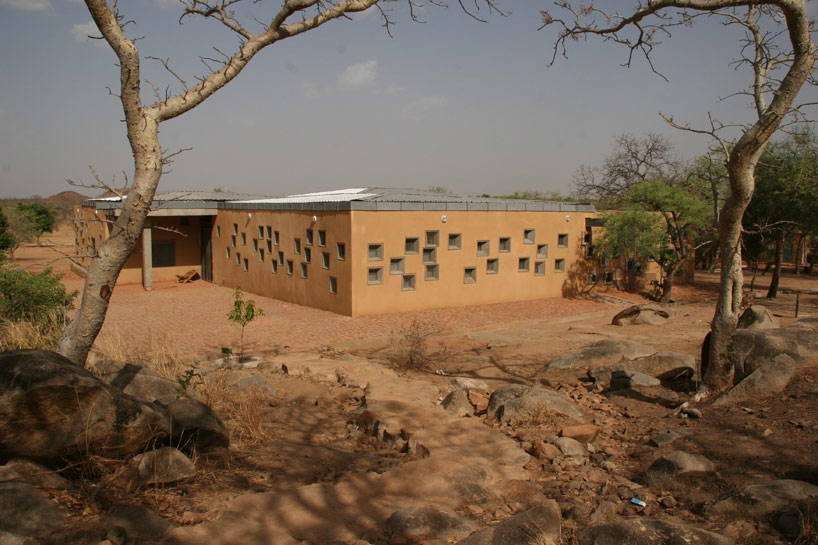 entry sequence onto the site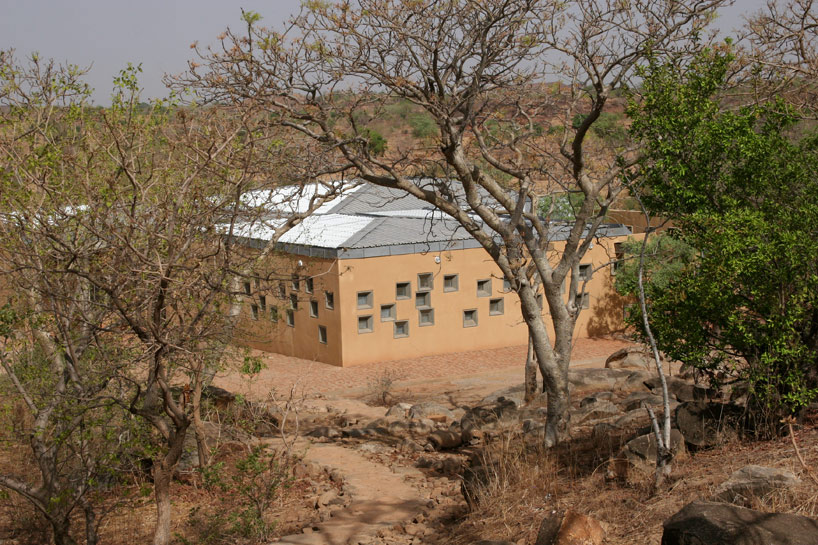 constructionimage © till groener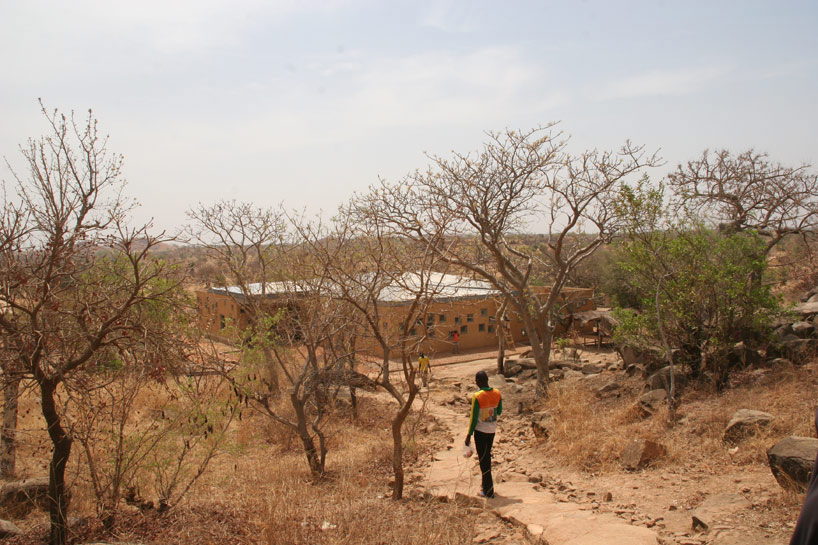 approach from the opera village

bird's eye view
local laborimage © till groener

model
full article here
site plan

floor plan / level 0

section

section

elevation

elevation

wall construction detail
project info:
completion year: under construction, opening mid 2013gross floor area: 1.340m²client: festspielhaus afrika ggmbh
jun 20, 2017
jun 20, 2017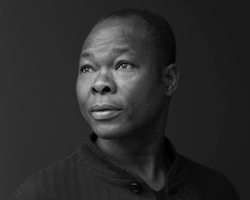 jun 16, 2017
jun 16, 2017
feb 21, 2017
feb 21, 2017