this highly ornamental structure is designed entirely by algorithms, comprises 1.35 billion surfaces and is materialized from 7 tons of printed sandstone. following the realization of their first human-scale architectural object back in 2013, architects michael hansmeyer and benjamin dillenburger have completed 'digital grotesque II' — a full-scale 3D-printed grotto. the abundance of differentiated and diverse geometries form an incredibly rich and dynamic spatial experience for each viewer.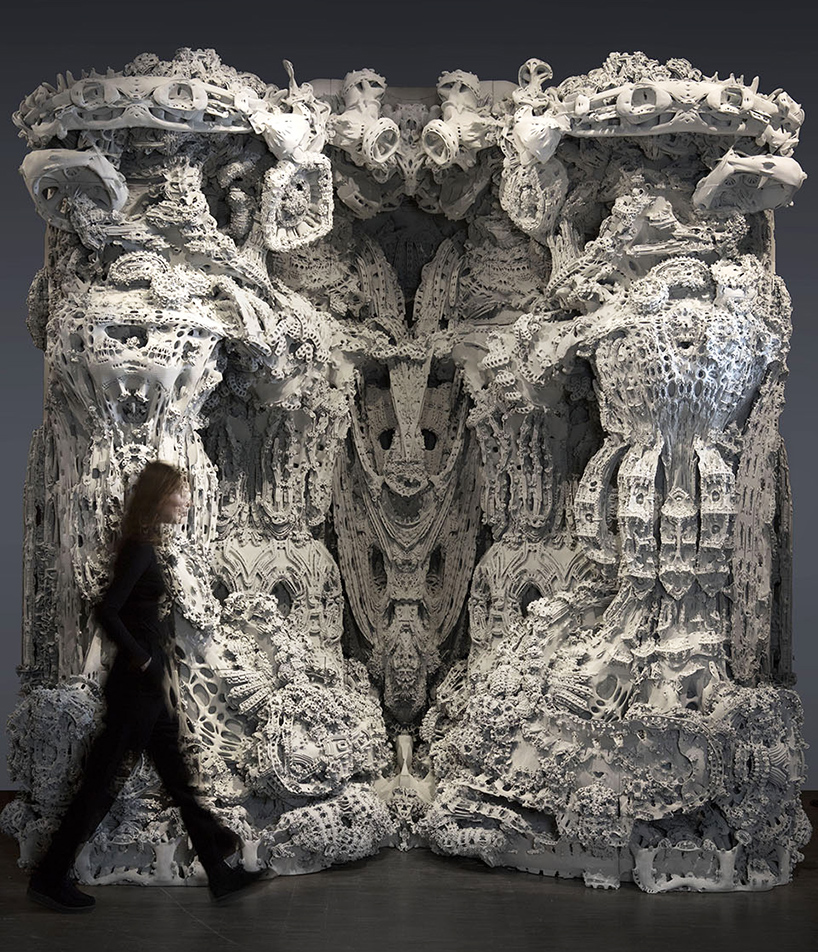 digital grotesque II at centre pompidou imprimer le monde exhibition 
image by fabrice dall'anese / main header video by kaufmann & gehring
commissioned by centre pompidou, and premiered at its 'imprimer le monde/printing the world' exhibition earlier this year, 'digital grotesque II' is a testament to new kinds of architecture that use technology to re-conceive traditional building paradigms. in development by michael hansmeyer and benjamin dillenburger for two years, the angles and perspectives of the structure were first simulated during the design process. later, a subdivision algorithm was devised to harness the 3D printer's full potential by creating topologically complex, porous, multi-layered structures with spatial depth. a single volume spawns millions of branches, where hundreds of square meters are compressed into a 3.5m high block that forms a complex, yet organic landscape.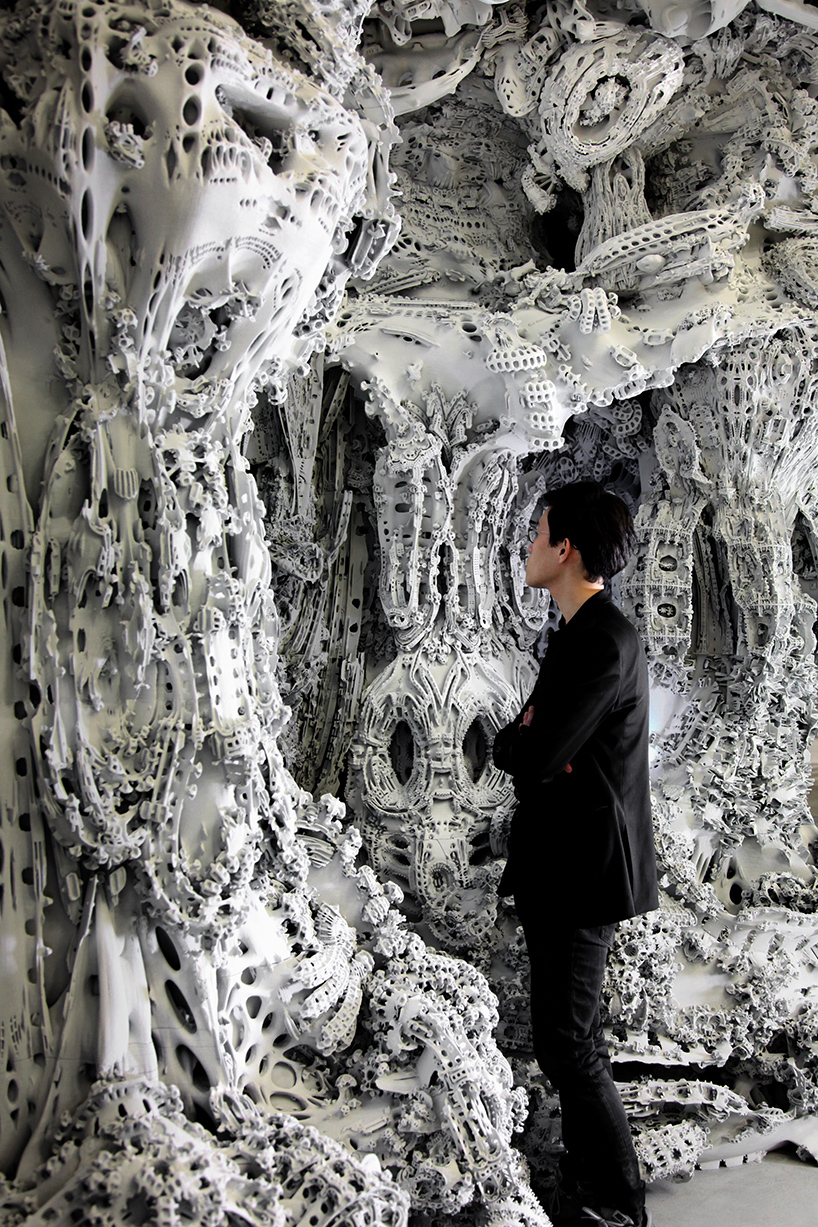 inside the digital grotesque grotto
image by demetris shammas
'in digital grotesque II, we sought to develop new design instruments,' the architects describe. 'we viewed the computer not as parametric system of control and execution, but rather as a tool for search and exploration. the computer was a partner in design who proposed an endless number of permutations, many of which were unforeseeable and surprising. further, the computer was able to evaluate its generated forms in respect to an observer's spatial experience. it learned to evolve these forms to maximize their richness of detail and the number of different perspectives they offered.'

image by fabrice dall'anese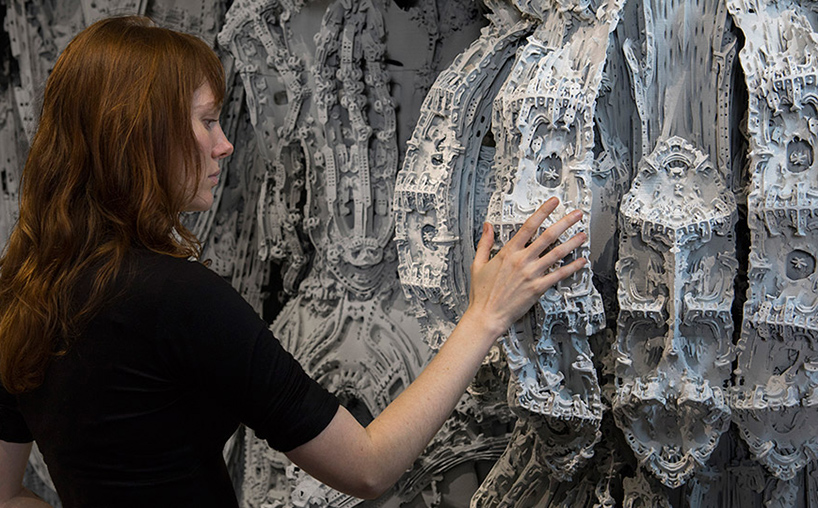 this highly ornamental structure is designed entirely by algorithms
image by fabrice dall'anese

image by fabrice dall'anese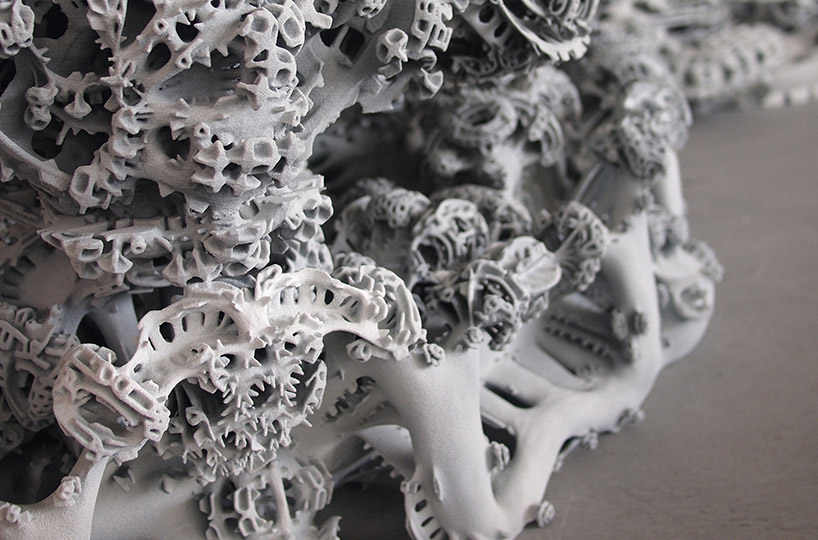 the architectural object comprises 1.35 billion surfaces and is materialized from 7 tons of printed sandstone
image by hyunchul kwon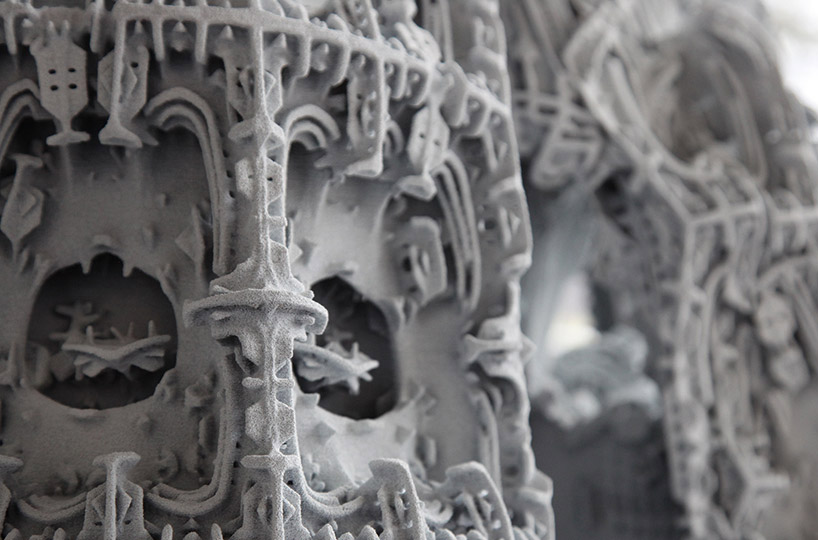 'digital grotesque II' is a testament to new kinds of architecture that use technology in their realization 
image by michael hansmeyer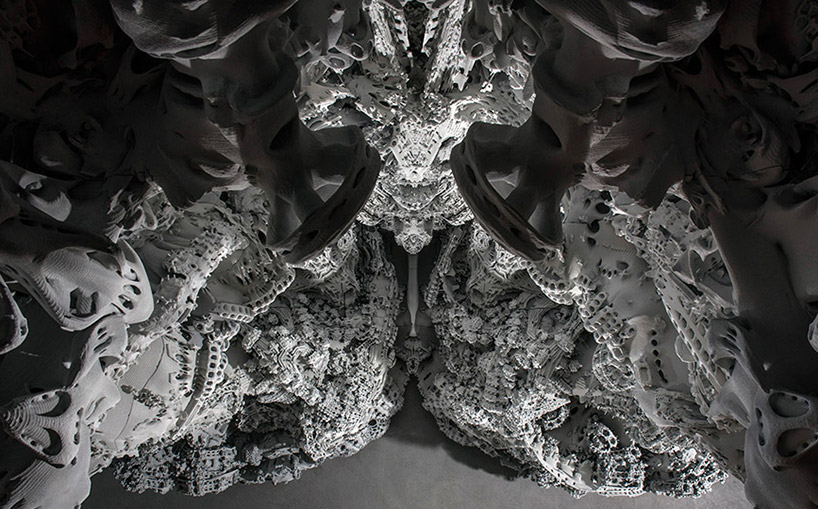 the angles and perspectives of the structure were first simulated during the design process
image by michael lyrenmann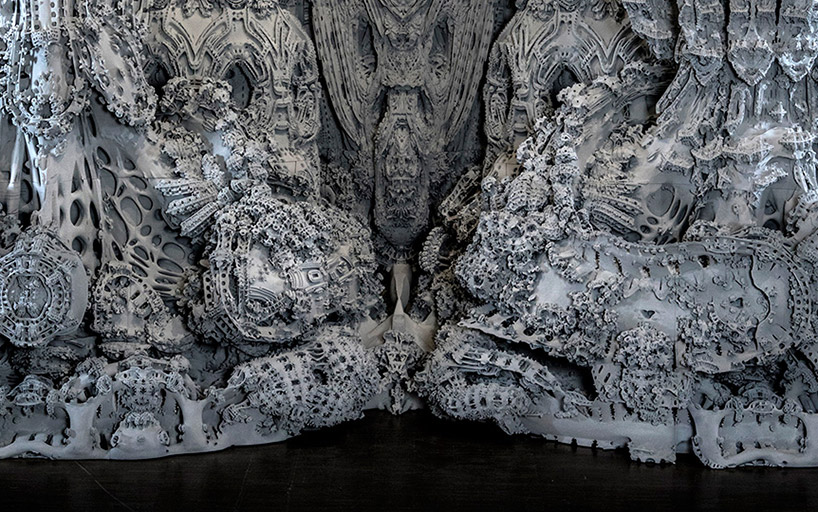 a subdivision algorithm was devised to harness the 3D printer's full potential
image by fabrice dall'anese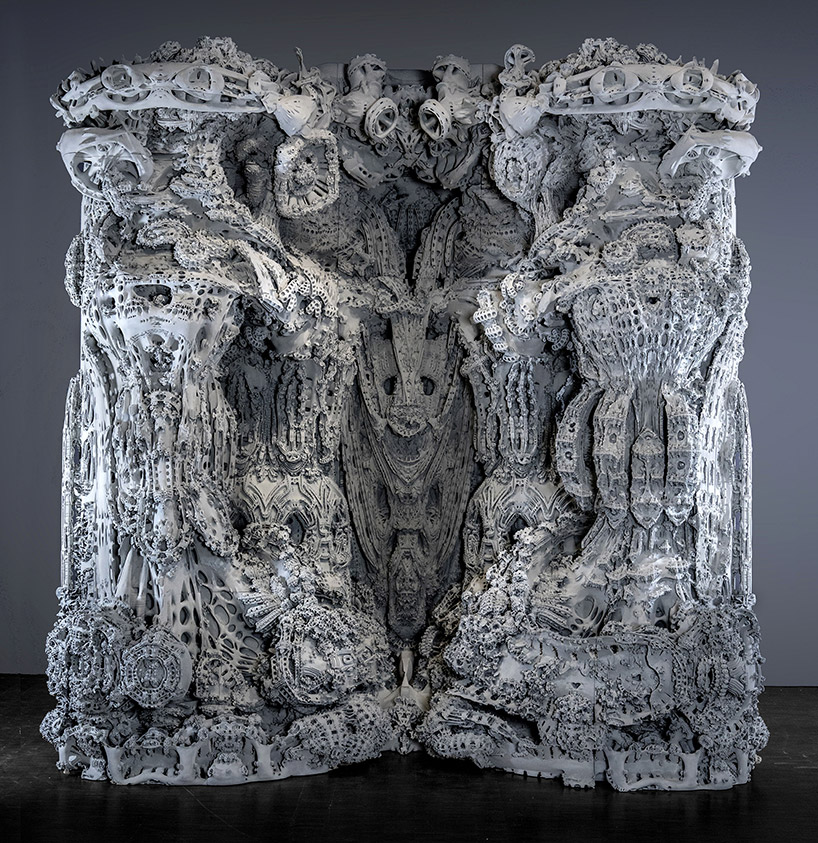 the algorithm created topologically complex, porous, multi-layered structures with spatial depth
design development of the grotto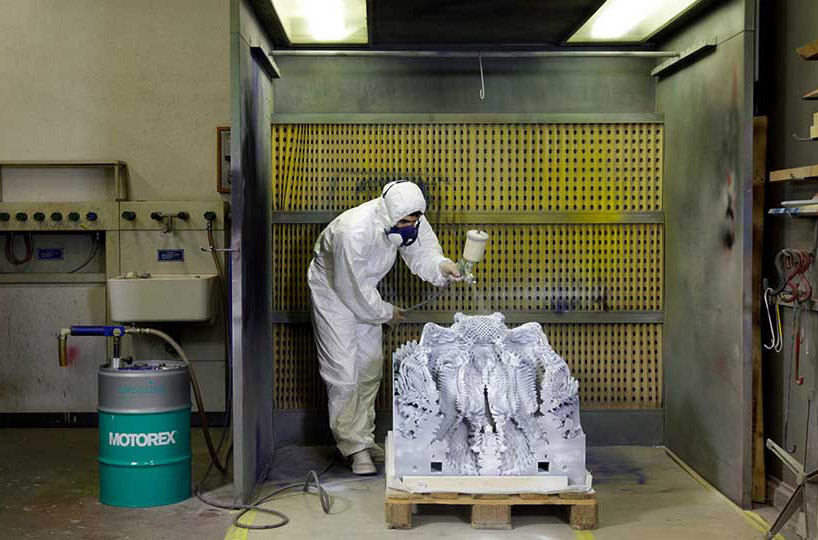 surface coating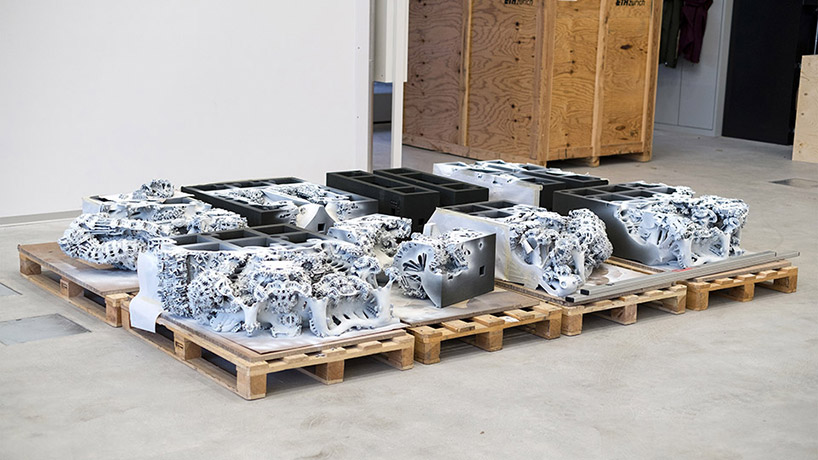 printed components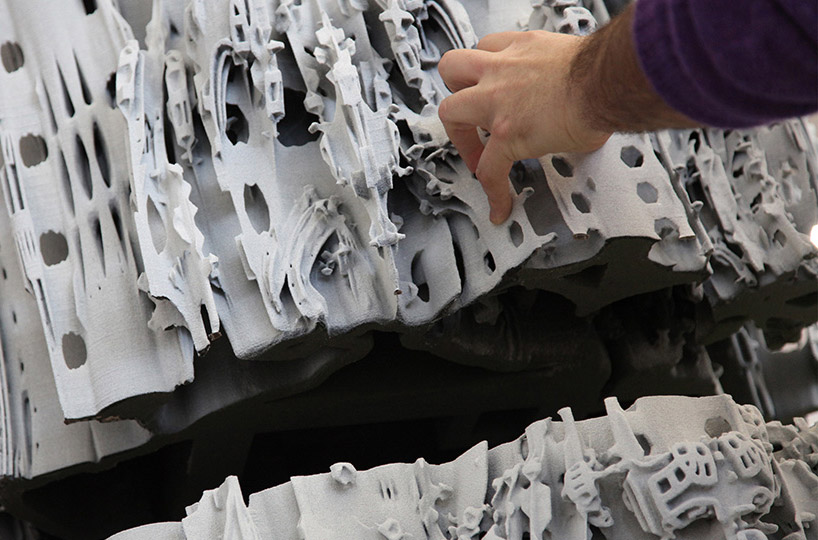 component assembly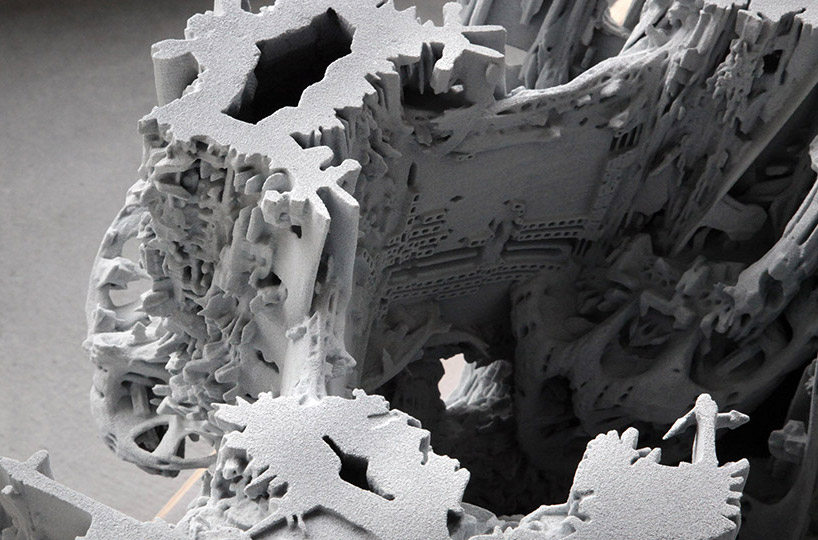 a single volume spawns millions of branches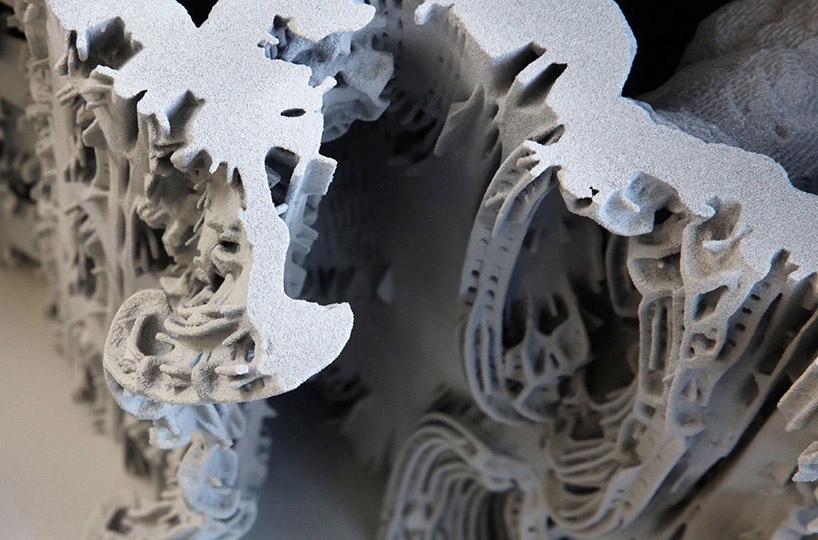 hundreds of square meters are compressed into a 3.5m high block
project info:
fabrication team: michael thoma, philippe steiner, allegra stucki, florentin duelli, jan francisco anduaga, katharina wepler, lorenz brunner, nicolas harter, dominik keller, max spett, alexandre figueiredo canario
digital support: matthias leschok, alvaro lopez
photography: fabrice dall'anese, michael lyrenmann, demetris shammas, hyunchul kwon, jann erhard
oct 30, 2017
oct 30, 2017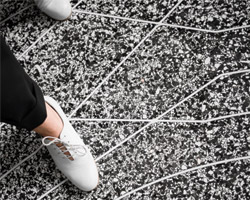 oct 23, 2017
oct 23, 2017
oct 18, 2017
oct 18, 2017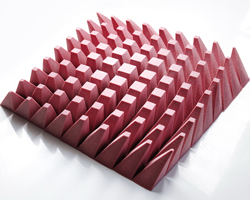 oct 17, 2017
oct 17, 2017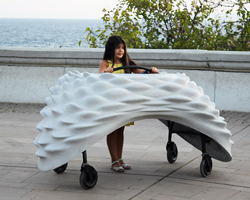 sep 28, 2017
sep 28, 2017
sep 13, 2017
sep 13, 2017
nov 11, 2016
nov 11, 2016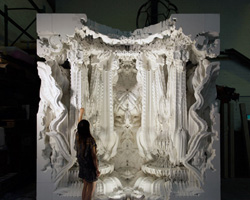 sep 16, 2013
sep 16, 2013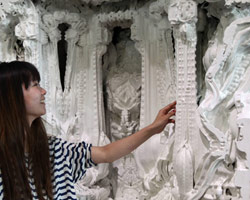 jun 20, 2013
jun 20, 2013