the value of Integrated Design
Architect Steven McKay has been selected as the newest CEO of the global, 100% employee-owned firm DLR Group. He began his journey with the company in 1996, and has led the firm's integrated design practice during those three decades. The team celebrates this model of 'integrated design' as a valuable and more efficient workflow that involves a range of disciplines working together in harmony. The process brings all of the voices together to make the crucial design decisions and iterations at the earliest stages of a project.
'In our firm it means that we get to approach everything not simply through the lens of the architect, but through the lens of all disciplines,' McKay explains in an interview with designboom.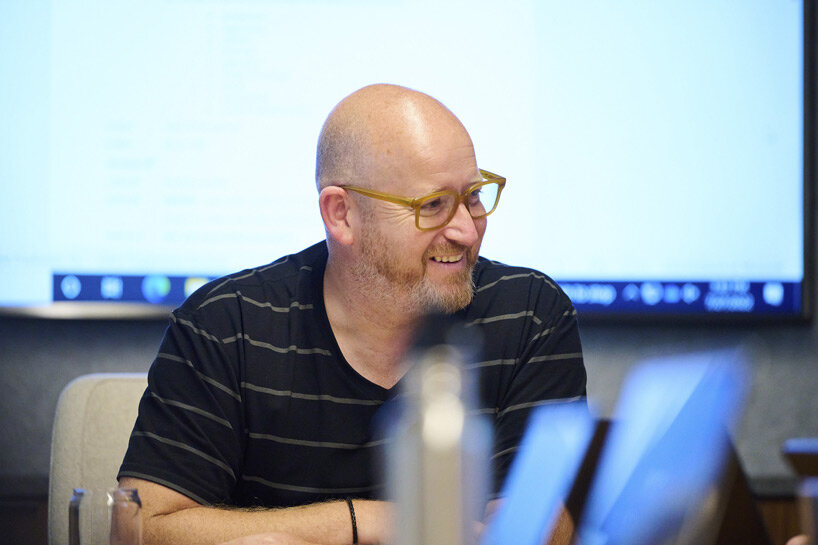 Steven McKay, CEO | image © Daniel Kelleghan, courtesy DLR Group
With its streamlined and integrated model, the team at DLR Group includes a diverse range of disciplines which are able to seamlessly work together at each step of the project. It naturally invites collaboration and creativity to the moments in-between the organized meetings.
'It's often forgotten that we are life-long learners,' Steven McKay explains, 'I learned more about structural engineering because a structural engineer sat next to me. I learned more about the necessities of mechanical engineering or sustainable methodology because I didn't have to phone to organize a meeting, and expect that at that calendar event we'd have creativity.'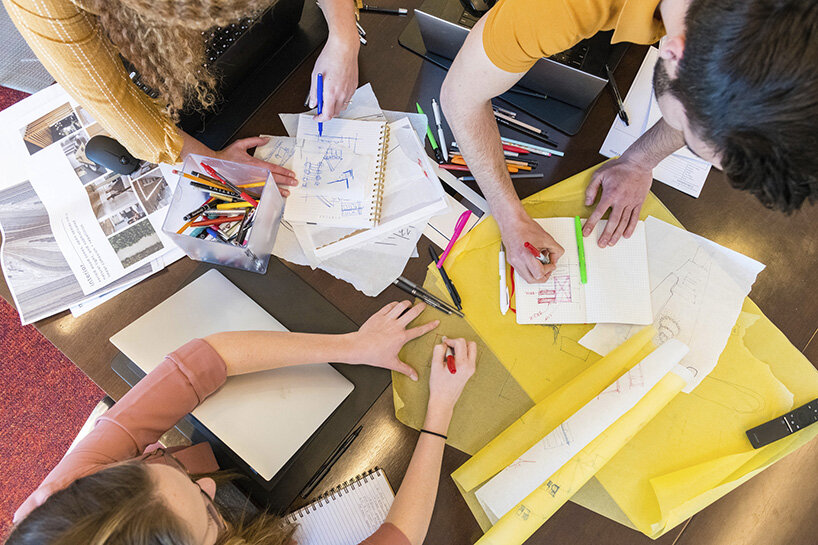 image © Marjorie Becker Shah, courtesy DLR Group
the Impact of Design Technology at DLR group
As McKay puts it, 'the impact of technology has certainly accelerated the expectation of what we do.' With advancements in machine learning, artificial intelligence, and automation, the acceleration of technology is only getting quicker and brings with it an ever-accelerating expectation of its utilization.
Predicting only a constant acceleration, the architect looks ahead to speculate on technology's impact within the next one, three, and five years: 'there are a lot more people involved in it, and inside our industry. The demographic of our design firm has changed.' While DLR Group now has fifty technologists in the design field, it has now seen data scientists, software programmers, and application developers join its team. McKay notes: 'I don't think there's a project that doesn't utilize some level of value… from the standpoint of 'proof of concept."
While design-centric technologists such as parametric designers add creative value, McKay adds: 'data is a valuable thing, to be able to prove that our designs work.' Instead of relying on trust in the industry, the firm is able to provide proof, or evidence that its concepts work.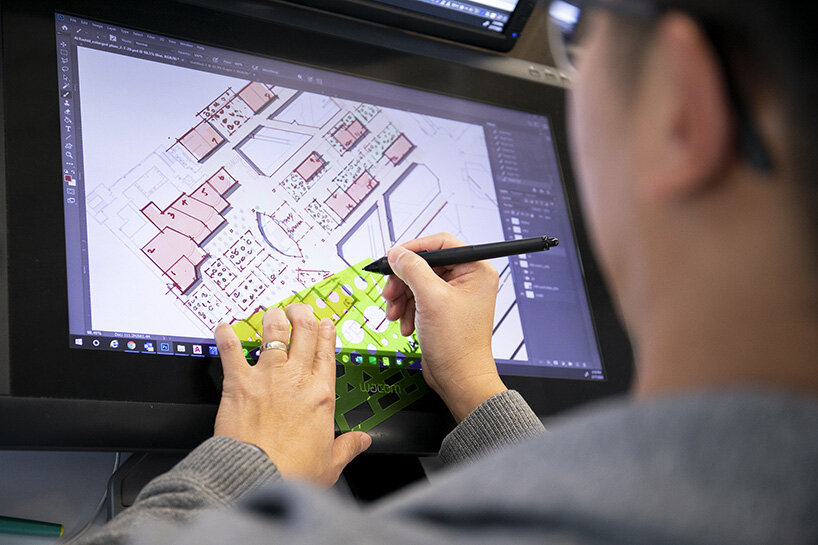 image © DLR Group
Integrated project: Canyon View High School
In the hot climate of Waddell, Arizona, DLR Group demonstrated its integrated design process with its Canyon View High School. The school is organized with a flexible layout, and is designed to serve a broad range of ages and levels of ability. A series of interconnected buildings introduces both interior and exterior spaces which can host different classes according to the needs of the students and faculty.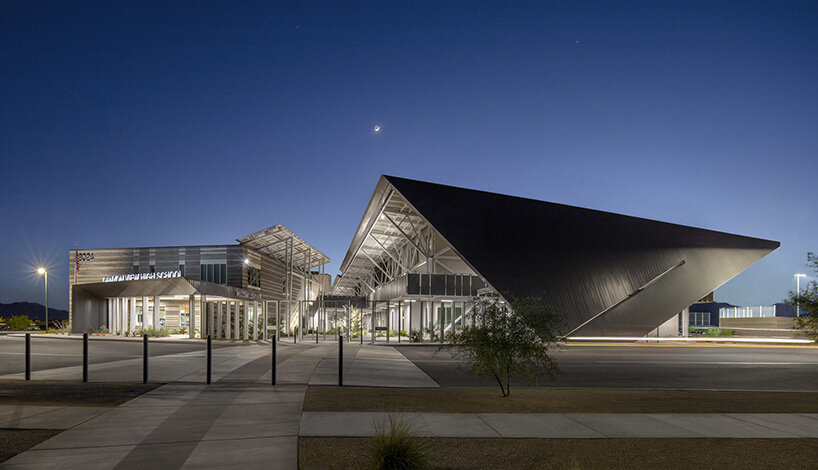 Canyon View High School | image © Bill Timmerman, courtesy DLR Group
The planning stage of the project saw the involvement of more than 480 community members, students, parents, business owners, and government officials. Together, the diverse group worked to determine the ideas and principles which would guide the design. This resulted in the implementation of its flexible classrooms, along with an 'incubator' for teaching and learning known as the 'Accelerator.' This space promotes progressive education strategies by inviting faculty from across the district to share their knowledge and modern practices.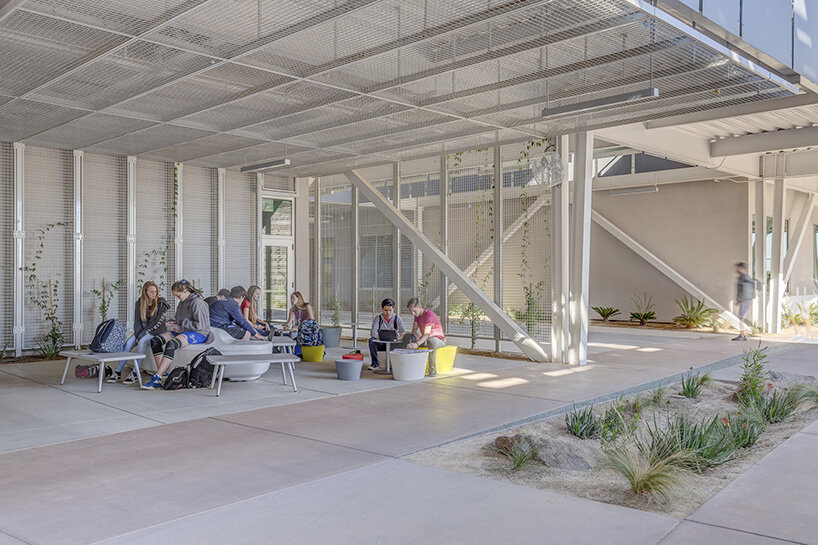 Canyon View High School | image courtesy DLR Group ©Tom Reich / trPHOTOart
Through the use of innovative technologies, DLR Group integrates its Canyon View High School with a new approach to thermal storage — one of the campus buildings is both heated and cooled using a Bio-PCM ENRG blanket. The team will actively research the performance of the building to determine the relationships between the indoor and outdoor temperatures, the phase-change charge and recharge cycles, thermal comfort levels, and other variables.
Ultimately, DLR Group hopes that the project will operate 78% more efficiently than a typical high school in a similar climate, resulting in an efficient, high-performance architecture that is comfortable for students and teachers even during the hottest months.
integrated project: dream hotel
DLR Group takes to the luminous desert city of Las Vegas for the design of its Dream Hotel, elevating a boutique destination. The project will introduce 525 luxury guest rooms within a single tower, rising atop over three floors of vibrant nightlife venues. Aiming to break down the massive scale of the development, the team designs the stack of lower levels to shift and undulate, expressing a terraced landscape of roof decks rather than a single, imposing block.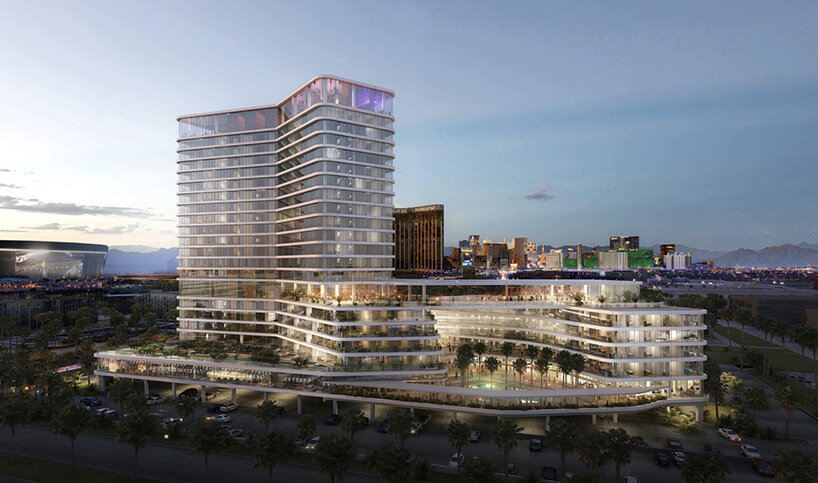 Dream Hotel, Las Vegas | image © DLR Group
Through its series of shifts and shears, the typical hotel block is transformed into a unique, twisting massing. At a local level, these moves are environmentally responsive, determined by the structure's relationship with daylight, views toward the desert, and its sculptural image from the perspective of the occupant and pedestrian.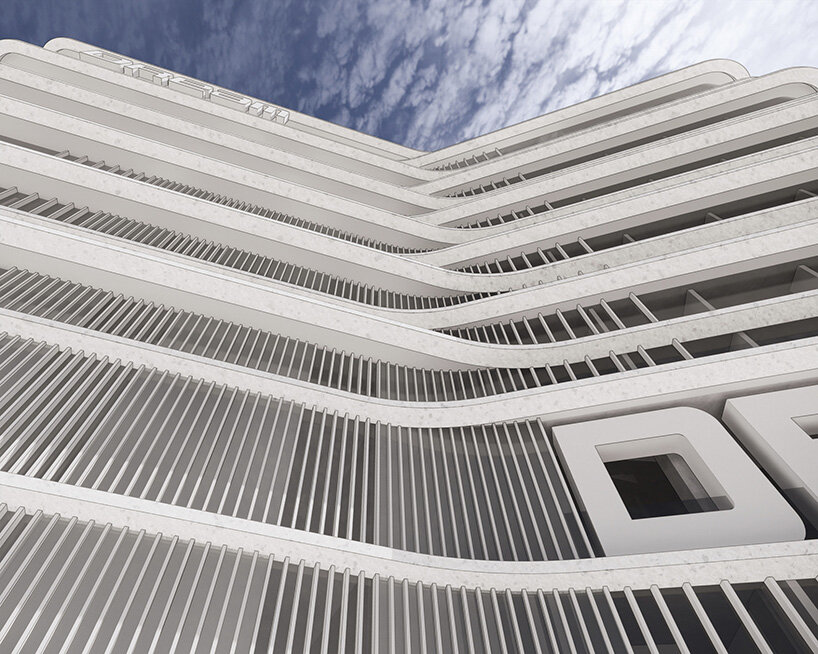 Dream Hotel (facade detail), Las Vegas | image © DLR Group
DLR Group looks to the natural environment of its desert context, employing methods of biomimicry to ensure a passive architecture. The team notes that many of its design solutions are influenced by the native cactus and wind-sculpted landforms. These influences have helped the team achieve the unique expression of its rhythmic façade, along with the bending and undulating layers of the volume overall.
integrated project: Sacramento Theater
Dubbed the SAFE Credit Union Performing Arts Center, DLR Group's theater renovation in Sacramento, California transforms a former community center theater built in 1976. The structure has long stood as an example of American brutalism, but had since aged and become removed from the surrounding urban fabric. The team at DLR Group introduces a modern reinvention of the building which better integrates with its community and meets the accelerating acoustic and lighting requirements for performance art — demonstrating the diverse skillset of the integrated design team.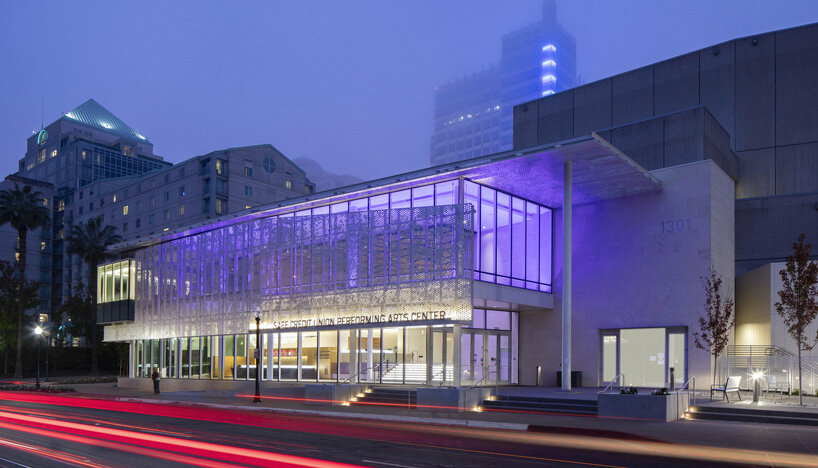 SAFE Credit Union Performing Arts Center, Sacramento | image © David Huff Photography, courtesy DLR Group
DLR Group's renovation of the Sacramento theater includes a palette of transparent materials. These lightweight elements create a delicate contrast with heavy concrete volume of the pre-existing structure. The lobby interior is flooded with patterned light and shadowing as natural sunlight filters through an intricate screen. Renovated spaces can be found largely along the audience chamber and orchestra pit. Here, visitors are invited to experience what DLR Group calls the largest electro-acoustic enhancement system in California.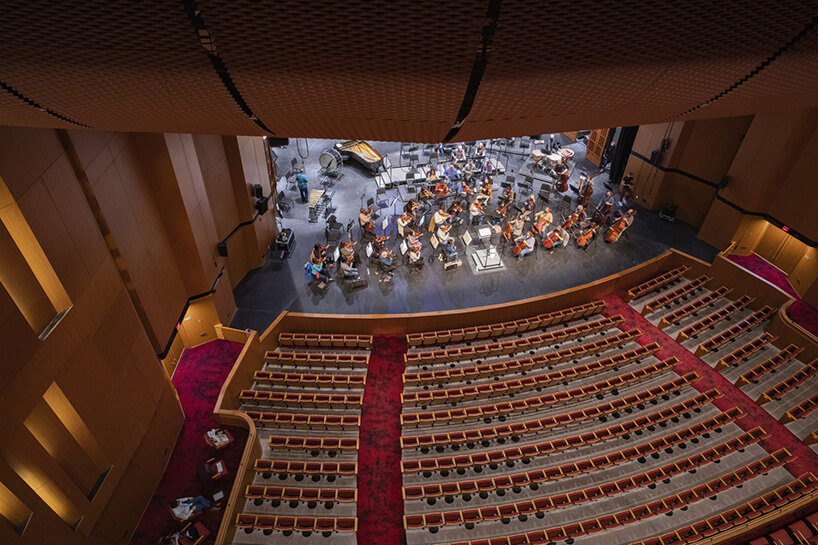 SAFE Credit Union Performing Arts Center, Sacramento | image © David Huff Photography, courtesy DLR Group
The theater is thus transformed into a performance space with superior acoustic qualities, an achievement led by the integrated firm's Acoustic Design Leader, Jonathan Hopkins. The team employed a range of acoustic tests to precisely calculate reverberation timing across all areas of the space — even bringing performers from the Sacramento Philharmonic & Opera and the Sacramento Choral Society & Orchestra to test the new sounding room before its completion.
working with mass-Timber
With much of its work driven by the 2030 Challenge, DLR Group is committed to its goals toward sustainability. While a large part of this commitment includes a reduction in the operational and embodied carbon of its new structures, the use of mass timber plays a key role. The team at DLR Group recognizes that, when used as a superstructure for large-scale constructions, wood is a prime candidate for at once mitigating climate change and creating an inherently beautiful built environment.
DLR Group notes that it has already 2.5 million square-feet of timber projects either in design, under construction, or realized. So far, all of the team's completed mass timber projects celebrate the qualities of the material with fully exposed frames. These structures are designed with an integrated approach, as all MEP systems and components are on display in harmony alongside the structure.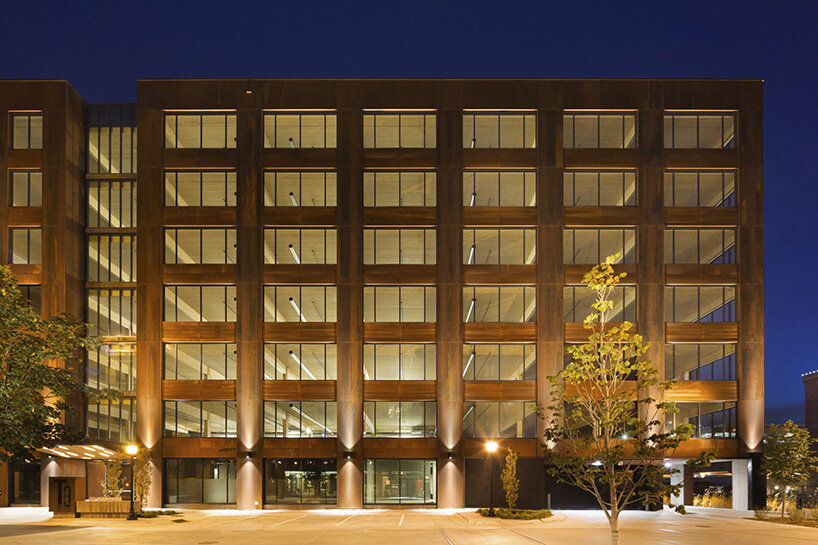 T3 North Loop, Minneapolis | image © Ema Peter, courtesy DLR Group
hines T3 partnership
DLR Group's celebration of mass timber has been welcomed by real estate leader Hines, Together, the duo is exploring a response to the growing interest in timber architecture as a sustainable solution. This endeavor has materialized as the 'T3 Concept: timber, transit, and technology.'
T3 works towards sustainable, authentic, and contemporary workplace environments, all integrating exposed wood columns, beams, and flooring. The mission is to ensure renewable and responsible architecture with a welcoming atmosphere of warmth and wellness benefits of biophilia. After seven years, the Hines T3 Partnership has so far resulted in thirteen projects: two built, five under construction, and six in design at a range of stages.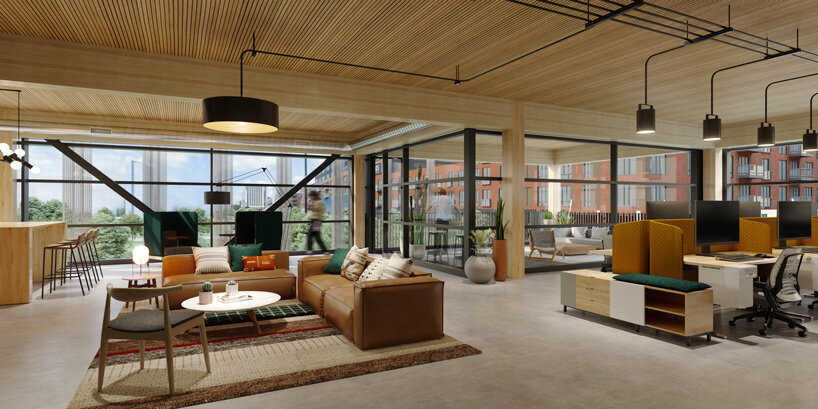 T3 Eastside, Austin, Texas | image © DLR Group
The first T3 project built is the North Loop in Minneapolis. At the time of its completion in 2016, the work marked the largest mass-timber building in the U.S., and the first multi-story timber office building built in the U.S. in over one hundred years. The project was designed by DLR Group in collaboration with Michael Green Architecture.
DLR Group's second completed T3 building is the 205,000 square-foot T3 West Midtown in Atlanta. Designed in collaboration with Hartshorne Plunkard Architecture, the mass-timber building is enclosed by a façade of blackened steel to reference the site's steel mill heritage.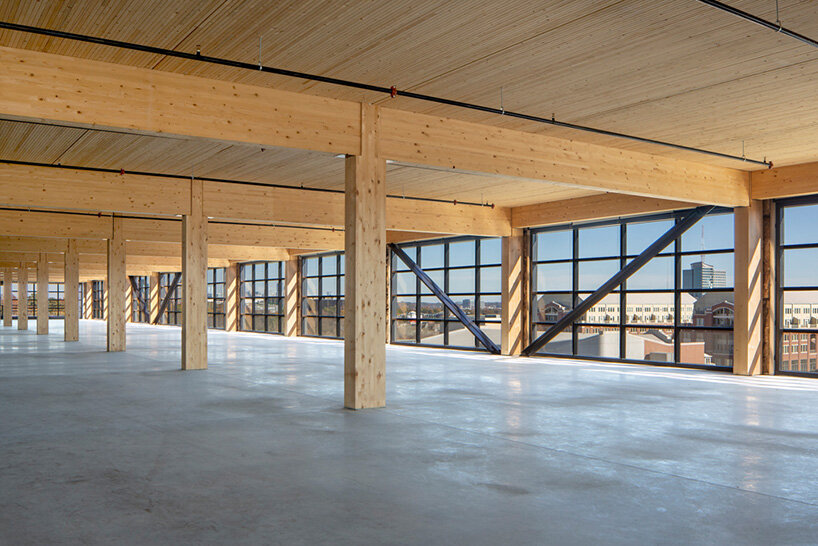 T3 West Midtown, Atlanta | image © Creative Sources Photography / Rion Rizzo, courtesy DLR Group
Currently under construction is T3 Sterling Road in Toronto's Lower Junction neighborhood. The project will showcase an important addition to the growing area, and will echo the architecture of T3 West Midtown in Atlanta with its façade of blackened steel to contrast its timber structure.
The two-building composition encompasses 300,000 square feet and links Sterling Road to the West Toronto Rail Path while announcing its presence adjacent to the landmark Toronto Museum of Contemporary Art. The T3 buildings activate a park that serves as the patio for the museum's café. T3 Sterling's west building will rise eight stories and thirty-three meters (108 feet) in height.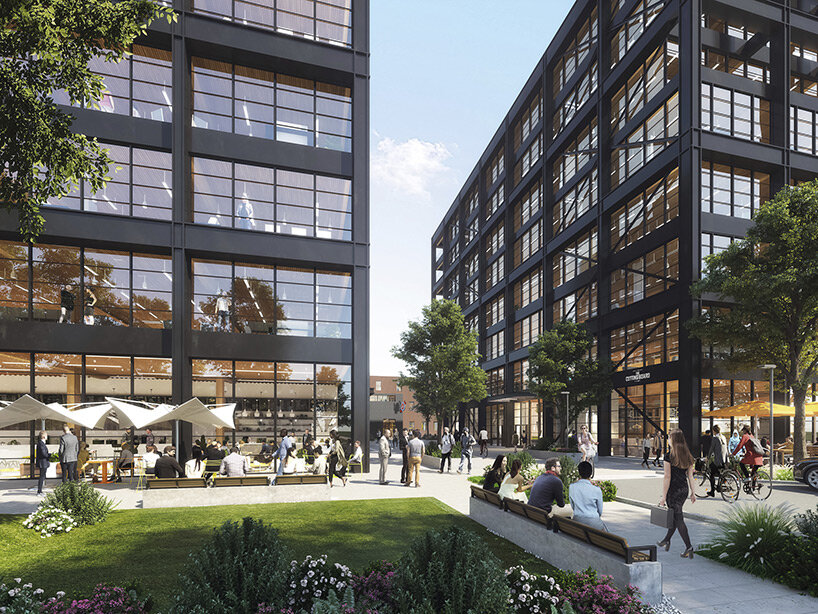 T3 Sterling Road, Vancouver | image © DLR Group
The most recent proposal developed as part of the Hines T3 Partnership is T3 Mount Pleasant, a mass-timber workplace featuring all exposed timber in Vancouver, British Columbia. The Mount Pleasant neighborhood within Vancouver has emerged as the city's creative hub. The preservation of a 1929 heritage building on site becomes a focal point for the arts, offering public programing to further enrich this development's connection to the neighborhood. At twelve stories and forty-five meters in height (148 feet), T3 Mount Pleasant will be the tallest in the Hines T3 portfolio.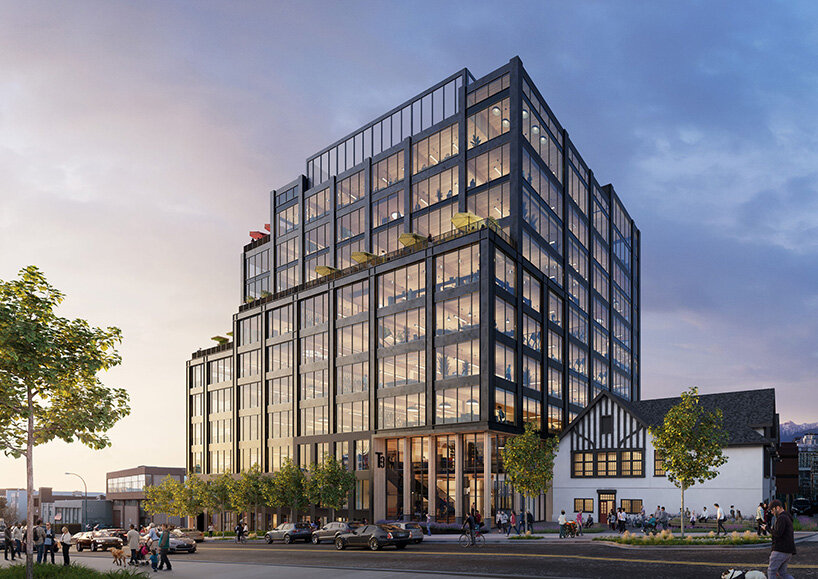 T3 Mount Pleasant, Vancouver | image by Steelblue, courtesy Proscenium
a diverse digital database that acts as a valuable guide in gaining insight and information about a product directly from the manufacturer, and serves as a rich reference point in developing a project or scheme.
designboom will always be there for you
milan, new york, beijing, tokyo

,
since 1999