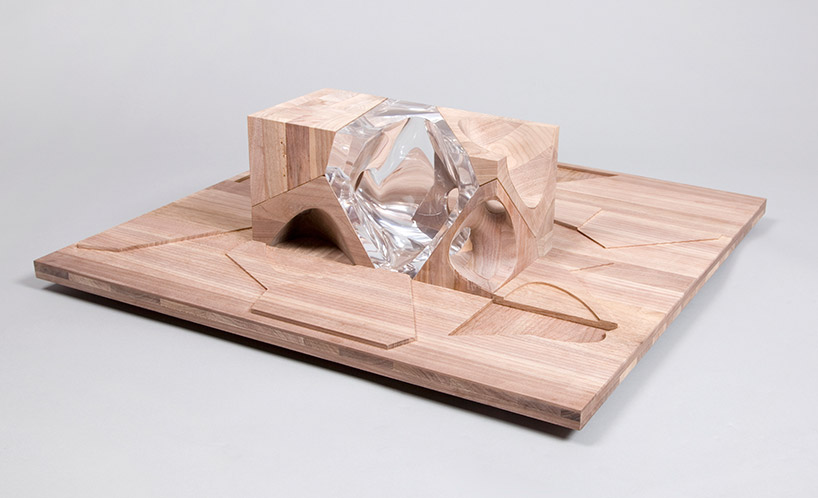 oct 11, 2013
dolls' houses by designers, architects and artists
a dolls' house
top image: this must be the place by zaha hadid architects
photo by thomas butler
on 11th november twenty well known architects and designers will present their version of 'a dolls' house' in an exhibition and auction at bonhams, london in aid of kids – a british charity working with disabled children, young people and their families.
participating architects and designers include: adjaye associates, allford hall monaghan morris, amodels, coffey architecture, dexter moren, DRDH architects, DRMM, duggan morris architects, FAT architecture, glenn howells architects, guy hollaway architects, HLM architects, james ramsey raad studio with lara apponyi, lifschutz davidson sandilands, MAE, make architects, morag myerscough & luke morgan, SHEDKM, studio egret west and zaha hadid architects.
(all images by thomas butler)

this must be the place by zaha hadid architects (detail)
this must be the place is an interpretation of the ideal house pavilion commissioned in 2007, the ZHA doll's house is a puzzle offering many possibilities to play and experiment in creating endless variety of unique compositions. it is designed to encourage a continual re-evaluation of composition and form. pieces can be assembled and dismantled in many combinations, to be re-assessed with each new composition – voids are interpreted as new unique rooms or courtyards for dolls to inhabit.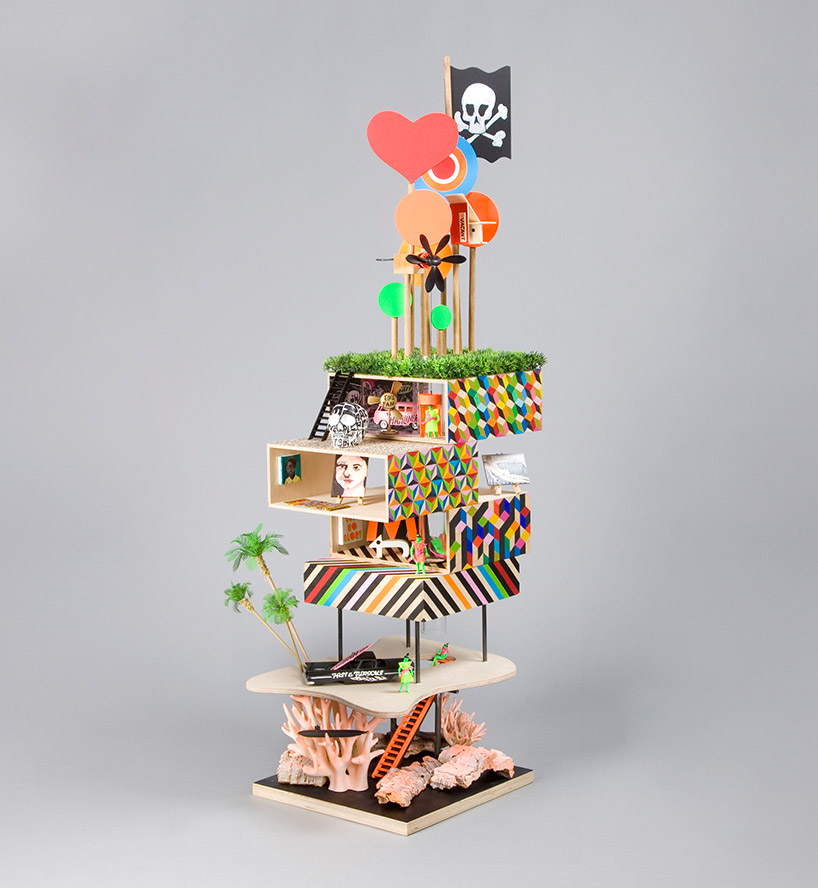 on a giant coral far away by morag myerscough & luke morgan
(in collaboration with artists ishbel myerscough, chantal joffe and poet lemn sissay)
there's a place out there to the west of town, where nobody pushes no one around
a place where birds and fishes play, on a giant coral far away
where the sun is warm and the breeze is cool, and the sea is bluer than a swimming pool
you can play music and dance all day, on a giant coral far away
a house on a coral in the deep blue sea, a house on the coral in the deep blue sea
just imagine you could be, in a house on the coral in the deep blue sea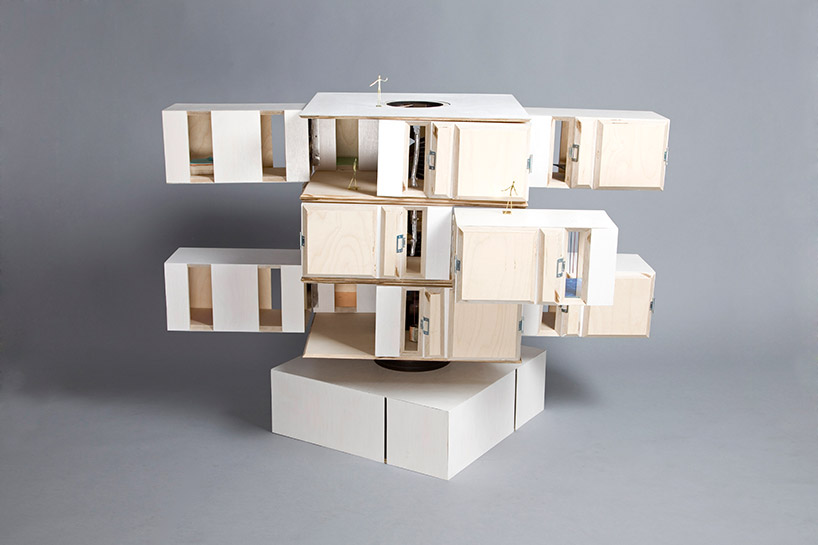 outside / in by SHEDKM – in collaboration with artist james ireland
outside/in is a collection of exterior-like spaces that celebrate the sensory experience of being in the landscape. a house that is elemental in its experience, with colour, light, shade, reflectivity, long-distant views being important stimuli. it rotates like a rubik puzzle around a spiral stair. we have considered a house that could provide escape for a visually impaired child. this house is about looking through and beyond.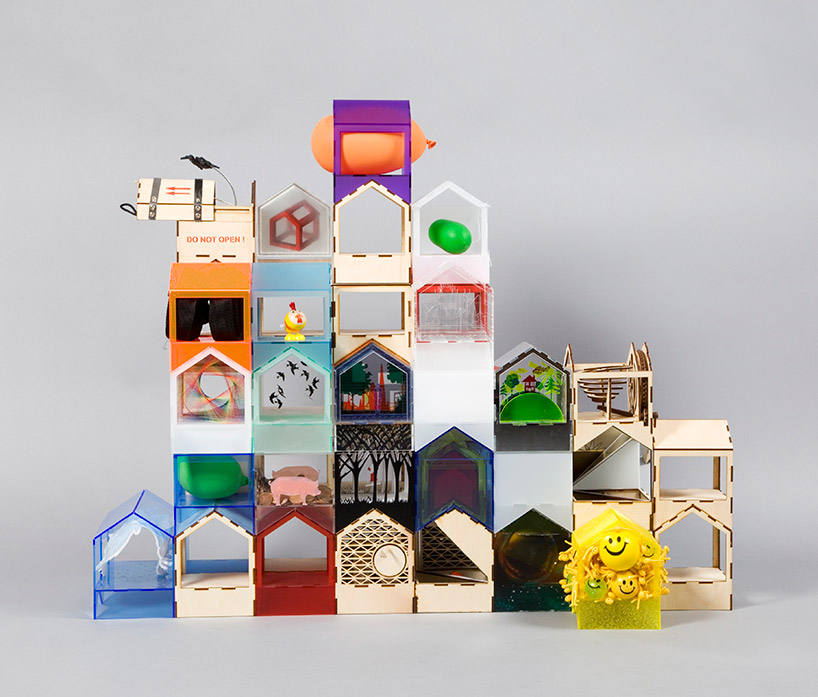 jigsaw house by make architects
jigsaw house is inspired by one of the oldest and simplest games,the jigsaw puzzle, a large house was created, made up of many small houses. each partner in the practice was encouraged to invent their own house filling each room with their own sensory expressions of play and colour. the result is 26 fully designed houses with a further 20 empty houses to combine and complement the jigsaw house.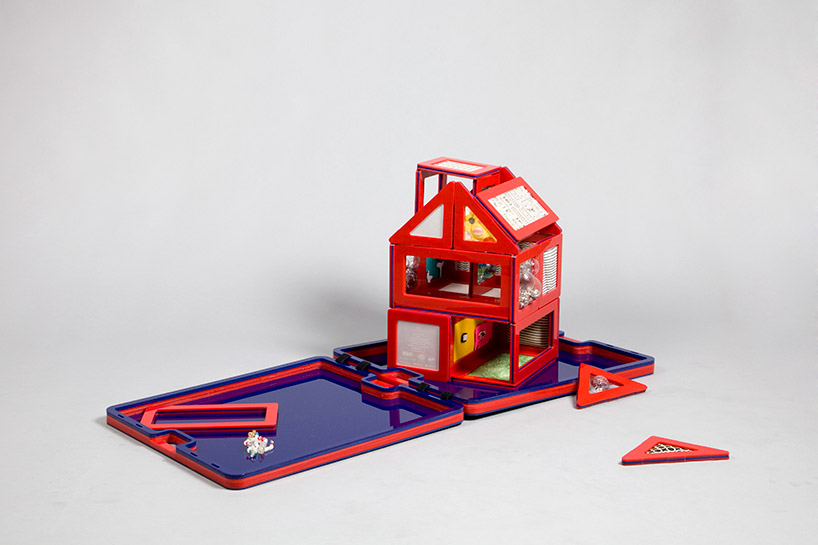 mae-mak house by MAE – in collaboration with MAKLab and burro happold
mae-mak house is a house that can grow and change. it engages the senses and allows kids to stick and stack walls, floors, roofs to form a simple house, a complex house, many houses or a very big house. brightly coloured and textured panels are made to stimulate the senses and inspire customisation. it exploits mae's interest in flexible housing, maklab's skill at fabrication and buro happold's understanding of inclusive design.'

tower of fable by FAT architecture in collaboration with artist grayson perry
tower of fable is a fantasy about a very real piece of architecture: a toy sized remake of the balfron tower. this transformation brings out qualities of goldfinger's architecture that lie just beneath its surface. brutalism here is revealed as exciting as a country cottage. high architecture joins with the imagination of inhabitation and fantasies of play. which of course, is exactly what architecture should always be.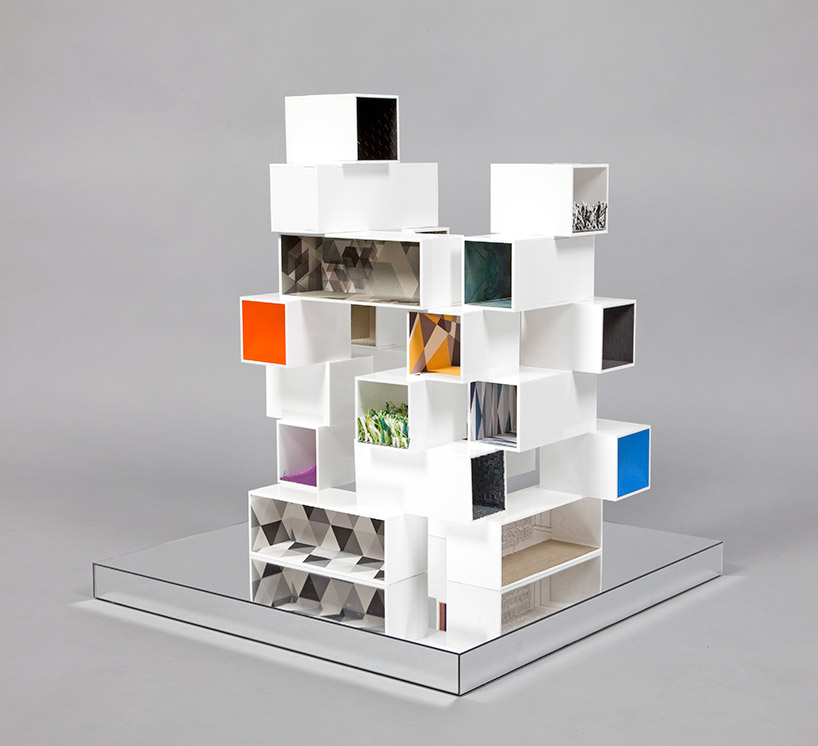 haptic house by dexter moran
haptic house is based on the concept of 'sensory play', the dolls' house encourages children to look, listen, touch and feel. a series of components, identical in character, which aim to inspire children, bring the house to life by stimulating the primary senses. unlike conventional doll's house design, the 360-degree access means there are no defined rules of how it should be played -inviting the option of group play or individual discovery.

inside out by coffey architecture
inside out is an inclusive dolls' house for all children whatever their needs and abilities. one element is a concrete house with a bonsai tree and herb garden which sits outside. the second, a series of elements that are individual oak rooms, hollowed out in bright colours that can be inserted into the house. it is fun for children and encourages outdoor play and most importantly raises a critical housing issue for families with disabled children.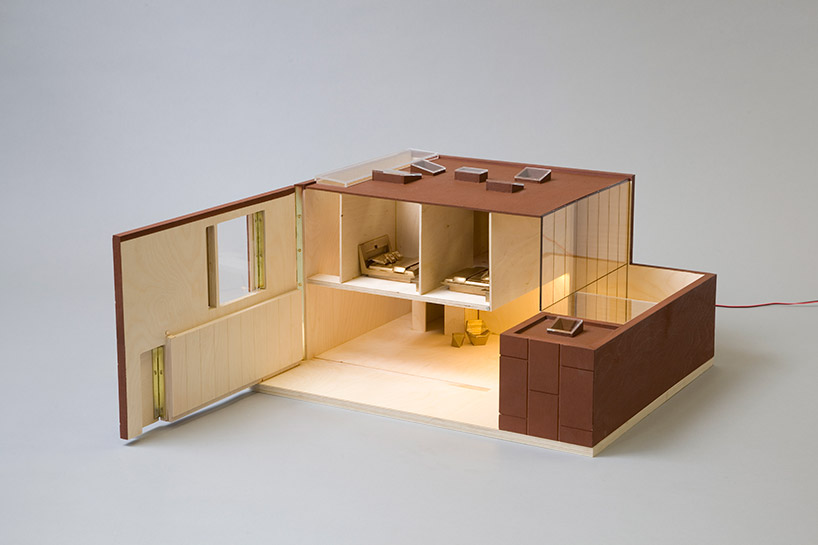 electra house by adjaye associates – in collaboration with base models and artist chris ofili
electra house is a flexible home that contains a live/work space. designed to be accessible to all, the ground floor is a continuous space, undulating between outdoor courtyard and creative indoor space. light is a phenomenological presence inside the house, its properties of reflection, luminosity and movement provide the focal experience for all.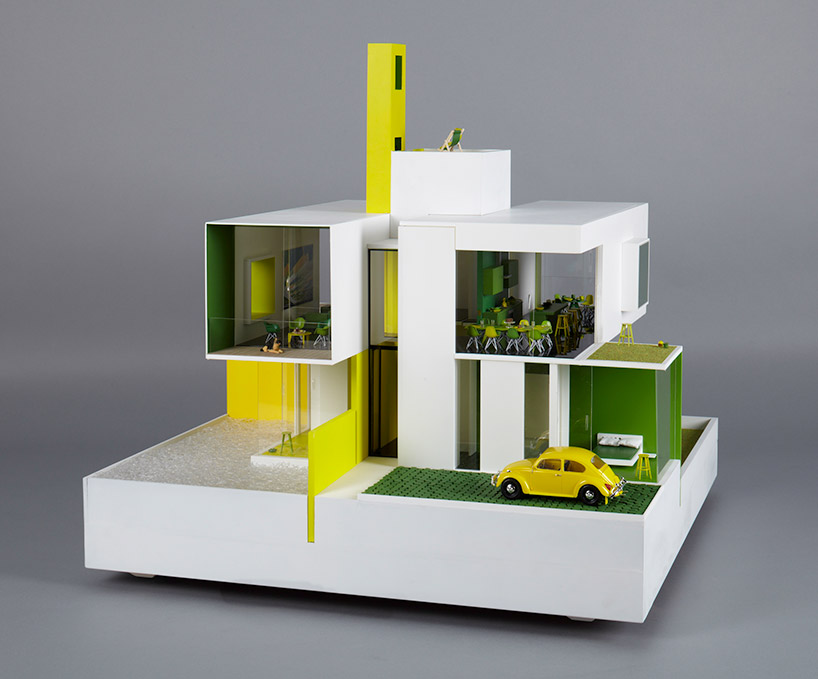 compass house by allford hall monaghan morris (AHMM)
compass house has been designed for children with visual impairment in mind, we expanded our use of colour and texture to bring the house to life for them. it's a weekend retreat – a place of escape that acts as a backdrop for ever changing scenarios
for more information about the project and to see all of the houses visit www.adollshouse.co.uk – you can also visit the online auction here.
mar 17, 2010
mar 17, 2010
feb 16, 2010
feb 16, 2010
aug 03, 2017
aug 03, 2017
jul 02, 2017
jul 02, 2017
may 16, 2017
may 16, 2017
dec 09, 2014
dec 09, 2014
nov 23, 2014
nov 23, 2014
nov 12, 2013
nov 12, 2013
apr 17, 2009
apr 17, 2009
mar 31, 2008
mar 31, 2008
FAT
(6 articles)
aug 08, 2014
aug 08, 2014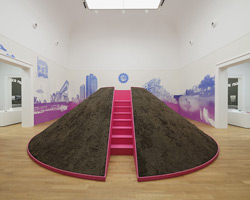 jun 05, 2014
jun 05, 2014
oct 03, 2012
oct 03, 2012
feb 22, 2014
feb 22, 2014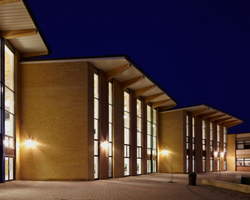 jun 01, 2013
jun 01, 2013
aug 02, 2012
aug 02, 2012
jul 06, 2017
jul 06, 2017
feb 02, 2017
feb 02, 2017
oct 02, 2016
oct 02, 2016
jul 19, 2017
jul 19, 2017
jul 06, 2017
jul 06, 2017
jun 23, 2017
jun 23, 2017