jul 11, 2014
domed grass pavilion by SeARCH hides exotic rainforest retreat
domed grass pavilion by SeARCH hides exotic rainforest oasis
(above) image © designboom

planted on the opposite side of the street from the historic sonneveld house in rotterdam, 'yourtopia' acts as a quiet and mysterious refuge from the city, a secret hideaway for contemplation and rest. amsterdam-based architecture practice SeARCH has been commissioned by the het nieuwe instituut to complete a temporary pavilion, set within the grounds of the renowned exhibition center.
the dome-shaped structure bears an exterior completely covered in grass, seamlessly integrating into the existing landscape. within the cavernous space, an exotic and lush variety of rainforest botanicals grow towards the sky, gathering plenty of light from a circular window at the ceiling. 

passers-by on bikes admire the pavilion 
image © designboom

consciously referencing traditional nomadic habitats such as the igloo and the yurt, the innovative steel structure spans 14 meters in diameter across the turf. it is envisioned as a 21st-century living space that is as personal as it is utopian. a small iron tunnel leads visitors to the actual pavilion entrance, where, once inside, they encounter strange and unknown plants and trees that evoke the sense of a tropical paradise. 

the exterior of the structure is clad in grass
image © designboom

the white floors and ceilings form a clean and calming environment, inviting entrants to relax and experience the sun-filled space. light enters freely through a ceiling window, shining down onto the greenery. hammocks installed throughout the volume hang and hover within the pavilion, further enhancing the serenity of the scene.

a small portal leads visitors inside 
image © designboom

'social themes such as the influence of globalization, the longing for privacy, and the almost perverse imbalance in prosperity have radically altered the role of contemporary architects.' the architects describe 'in the pavilion design, SeARCH returns to a fundamental question: what is the minimum needed to achieve a maximum quality of life?'

the metallic door features cut-out words
image © designboom


the door swings open to reveal the interior of the pavilion
image © designboom


lush vegetation grows within the space 
image © designboom


a rounded white space surrounds visitors 
image © designboom


image © designboom


exotic plant life grows towards the ceiling 
photo by ronald tilleman

the pavilion acts as a place of rest and retreat 
image © designboom


hammocks are installed to enhance the peaceful setting 
image © designboom


once inside, the city life is forgotten 
image © designboom

time lapse video construction of the new pavilion 2014 – yourtopia by SeARCH
video courtesy of
het nieuwe instituut
project info:
architect: SeARCH, amsterdam
construction
contractor: van omme & de groot, rotterdam
steel: vic obdam staalbouw, obdam
prefabricated concrete: bruil prefab, weert
synthetic roof covering: vos zeildoek projecten, barendrecht
earthwork: municipality of rotterdam, rotterdam
timber mast: brasker masten, enkhuizen
entrance door: constructor staalbouw, heerhugowaard
inside garden
garden design: ernst van der hoeven studio for the urban landscape, amsterdam
planting: nieuwkoop europe, de kwakel
advice
structure and engineering: pieters bouwtechniek, haarlem
climate: DGMR, arnhem
fire safety: valstar simonis, rijswijk
cost estimate of structure: MIB, kronenberg 
seARCH
(6 articles)
feb 04, 2016
feb 04, 2016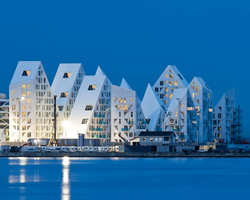 dec 19, 2012
dec 19, 2012
jun 28, 2011
jun 28, 2011
may 19, 2011
may 19, 2011
jan 21, 2010
jan 21, 2010