the wadden sea centre – the gateway to a viking UNESCO world heritage site – has recently been inaugurated, with the sculptural design realized by danish firm dorte mandrup. situated in ribe, on the west coast of denmark, the sharp form emerges from the ground drawing a soft, long profile casting contrast against the wadden sea's horizon.
'the wadden sea centre is located in an area where, back in the viking age, there were several viking yards and just like the viking yards the wadden sea centre has been placed on a platform between sea and land. therefore we have decided that the building should be sculptural and embedded in the environment so it appears as though it has emerged from the ground.' – dorte mandrup

all images © adam mork
the exhibition facility took eighteen months to complete with dorte mandrup architects leading the conversion and expansion of the original structure. the use of locally harvested straw creates the salt-absorbing thatched roof and outer walls. ultimately, the wadden sea centre is rooted in the heritage and harmony of the existing landscape, yet at the same time, instills a contemporary approach thanks to its sculpted form. the centre now comprises of 2,800 square meters for exhibition and communication activities. the façade features large glass panels, where a number of the rooms are fully integrated with the outdoor exhibition area as well as with the surrounding landscape.
taking cues from the traditional architecture of the area –specifically the four-winged thatched farmhouses– dorte mandrup added an extra wing to the original three-winged exhibition building, providing shelter in the open landscape and inherently, offer visitors a humble yet significant starting point to their visit.
'the main concept of the architecture is a new sculptural interpretation of the existing building culture of the region. it has been our ambition to build a project that points to- wards the future and has its roots in the local building tradition and history. thus we aim to bring the architecture of the wadden sea into the 21st century' – dorte mandrup
project info:
client: esbjerg municipality
architect and consultant: dorte mandrup a/s
exhibition: jac studios, jason bruges, no parking
landscape: marianne levinsen landskab aps
general contractor: bo michelsen a/s
engineering, construction: anders christensen rådgivende ingeniører aps
engineering, installations: steensen varming
area: 2,800 square meters.
price: cost approximately 7.2 million euro (53 million dkk)
Save
Save
Save
Save
Save
Save
Save
oct 03, 2017
oct 03, 2017
sep 28, 2017
sep 28, 2017
sep 26, 2017
sep 26, 2017
sep 09, 2017
sep 09, 2017
sep 01, 2017
sep 01, 2017
aug 28, 2017
aug 28, 2017
jun 22, 2016
jun 22, 2016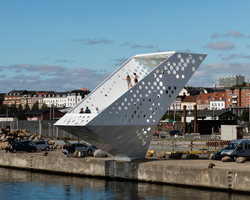 mar 04, 2016
mar 04, 2016
nov 28, 2014
nov 28, 2014
oct 18, 2011
oct 18, 2011