in portugal, pritzker laureate eduardo souto de moura has helped transform a historic farming village into a luxury hotel and retreat. surrounded by ancient oaks, olive groves, and vineyards, 'são lourenço do barrocal' is situated in south-central portugal, close to the spanish border. the agricultural complex, which measures just over 37,000 square meters, is characterized by seven farmyard buildings accessed via a central street.

all images by nelson garrido
the project is the brainchild of josé antónio uva, the eighth generation of the same family to have lived on the estate. determined to bring the once thriving community back to life, uva drew up plans to rejuvenate the area as a farm retreat. the developer commissioned eduardo souto de moura to overhaul the site's existing buildings, a challenging brief that involved converting agricultural architecture into living spaces for human occupation. the architect worked alongside interior design studio anahory almeida and landscape architect joão gomes da silva.
'this is truly a mini-universe, a village. it has its own hierarchy: a street, a square, outbuildings, cloisters,' explains eduardo souto de moura. 'the only way to preserve heritage is to live with it and use it, even if it is damaged in some places. because only everyday life transforms it into something natural and gives it heritage status.'
set in the foothills of medieval monsaraz, são lourenço do barrocal comprises 22 rooms, 16 cottages, and two suites. on site amenities include a farm-to-table restaurant, a spa with cosmetics designed by susanne kaufmann, a winery, horse stables, and a swimming pool complete with a 4 meter granite boulder. the farm building will be joined by a series of 29 new homes, carefully integrated into the rural landscape and spread out across the 780 hectare estate.
'there is a process that is very absorbing: finding out how an olive press, for example, can become a place for a living room with a bar, how agricultural outbuildings can be made into houses, and how a cowshed can be made into a restaurant,' continues souto de moura. 'this change in use needs hardly any intervention at all. the challenge is how architecture will respond.'
project info:
name: são lourenço do barrocal
architect: eduardo souto de moura
interior design studio: anahory almeida
landscape architect: joão gomes da silva
project engineering: afaconsult
project inception: 2002
architectural project development: 2008-2016
construction work completion: 2016
photography: nelson garrido
location: monsaraz, alentejo, portugal
estate foundation: 1820
farming village (monte) establishment: 19th century
estate area: 780 hectares
construction gross area: 13.524,5 sqm
site plan area: 13.019 sqm
farming village (monte) total area: 37.175 sqm
accommodation & amenities
accommodation units (22 rooms, 2 suites, 16 cottages): 42.729 sqm
spa and studio: 575 sqm
restaurant with outdoor terraces: 599,5 sqm
bar: 102 sqm
winery: 521 sqm
shop with courtyard: 194,50 sqm
horse stables and riding ring: 1.060 sqm
outdoor adult's pool: 240 sqm
children's pool: 21,50 sqm
children's playroom with courtyard: 153 sqm
Save
Save
Save
Save
Save
Save
Save
Save
Save
Save
Save
oct 31, 2017
oct 31, 2017
oct 22, 2017
oct 22, 2017
oct 12, 2017
oct 12, 2017
oct 05, 2017
oct 05, 2017
sep 11, 2017
sep 11, 2017
aug 25, 2017
aug 25, 2017
may 14, 2017
may 14, 2017
jun 02, 2016
jun 02, 2016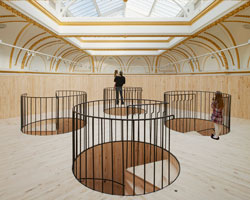 feb 16, 2014
feb 16, 2014
sep 05, 2012
sep 05, 2012
mar 28, 2011
mar 28, 2011
mar 22, 2011
mar 22, 2011
oct 31, 2017
oct 31, 2017
oct 27, 2017
oct 27, 2017
oct 19, 2017
oct 19, 2017
oct 08, 2017
oct 08, 2017
sep 27, 2017
sep 27, 2017
sep 27, 2017
sep 27, 2017
oct 22, 2017
oct 22, 2017
jul 30, 2017
jul 30, 2017
may 31, 2017
may 31, 2017
apr 21, 2017
apr 21, 2017
mar 16, 2017
mar 16, 2017
sep 06, 2016
sep 06, 2016