the partners behind renzo piano's first residential project in the US have finalized a construction loan that will allow the building to begin vertical construction. titled 'eighty seven park', the 66-unit condominium building was first unveiled in 2015. now, almost two years later, the start of vertical construction follows initial site work that involved placing 300 foundation pilings into the ground. located at 8701 collins avenue in miami beach's north beach neighborhood, the development is bound by the atlantic ocean to the east and a 35-acre public park that will be re-imagined by west 8 to the south.

all images and video courtesy of eighty seven park
terra, new valley, great eagle holdings, and bizzi & partners have secured $155 million USD in construction financing for eighty seven park, which is now 60% sold. the development's design is being led by italian architect renzo piano, while west 8 is designing the property's landscapes, including a two-acre private park serving residents and their guests. paris-based RDAI will fit out the tower's interior and exterior living spaces. furthermore, isabel and ruben toledo — who have created illustrations to promote the project — will also be designing the staff uniforms, from the butler to the botanist.

the development is located in miami beach's north beach neighborhood
'local and international buyers are responding to eighty seven park's brand of intelligent luxury, with more than sixty percent of our sixty-six units now sold,' says terra president and co-founder david martin. 'eighty seven park's singular location, combined with renzo piano's sophisticated design and the equity we've built through pre-construction sales, have created a powerful combination that put us in position to secure construction financing.'

large outdoor living spaces equal approximately 70% of each unit's interior space
the 66 residences range from 1 to 5 bedrooms and 1,400 square feet to over 7,000 square feet, with prices ranges from $1.6 million to $15.2 million USD. amenities will include concierge and butler service, an outdoor juice bar, a full-service salon, and a full-time botanist who will assist residents with their private balcony gardens. homes feature large outdoor living spaces that equal approximately 70% of each unit's interior space. see designboom's previous coverage of the project here.

the 66 residences range from 1 to 5 bedrooms

generous living spaces are wrapped with balconies facing the atlantic

dutch firm west 8 is designing the property's landscapes

prices range from $1.6 million to $15.2 million USD

a full-time botanist will assist residents with their private balcony gardens

the development will be bound by the atlantic ocean to the east

west 8 is also designing a two-acre private park serving residents and their guests

isabel and ruben toledo have created illustrations to promote the project

the toledos are also designing the staff uniforms, from the butler to the botanist
Save
Save
Save
Save
Save
Save
Save
Save
Save
Save
Save
oct 29, 2017
oct 29, 2017
oct 19, 2017
oct 19, 2017
oct 19, 2017
oct 19, 2017
oct 18, 2017
oct 18, 2017
aug 11, 2017
aug 11, 2017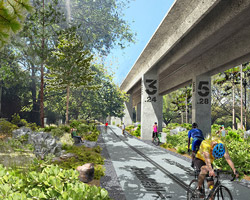 aug 07, 2017
aug 07, 2017
oct 30, 2017
oct 30, 2017
oct 30, 2017
oct 30, 2017
oct 30, 2017
oct 30, 2017
sep 28, 2017
sep 28, 2017
aug 14, 2017
aug 14, 2017
jul 27, 2017
jul 27, 2017