nov 08, 2012
ekler architect: champagne maturing factory
'champagne maturing factory' by ekler architect, somló, hungary
image © tamás bujnovszky
all images courtesy of ekler architect
the 'champagne maturing factory' by budapest-based practice ekler architect has been recently completed in hungary's
wine region of somló. the first phase within a larger development, the twin buildings contain the winery and maturing factory.
concealed from the approach by a volcanic hill, their orientations are positioned to direct outward views towards the adjacent vineyards.
receiving daylight from above, the monolithic concrete masses evoke tectonic forms of geological forces. the ground level
spaces contain the processing and administrative offices and the cave-like cellars facilitate bottling, storage and statistics.
the cantilevered structure houses the tasting room for visitors with a panorama of the countryside.

concrete mass cantilevers over the landscape
image © tamás bujnovszky

images © tamás bujnovszky

view of vineyards from wine tasting area
image © tamás bujnovszky

image © tamás bujnovszky

image © tamás bujnovszky

image © tamás bujnovszky

image © tamás bujnovszky

image © tamás bujnovszky

image © tamás bujnovszky

images © tamás bujnovszky

image © tamás bujnovszky

image © tamás bujnovszky

image © tamás bujnovszky

image © tamás bujnovszky

images © tamás bujnovszky

image © tamás bujnovszky

image © tamás bujnovszky

fermentation room
image © tamás bujnovszky

image © tamás bujnovszky

lab
image © tamás bujnovszky

image © tamás bujnovszky

barrel storage
image © tamás bujnovszky

image © tamás bujnovszky

central circulation
image © tamás bujnovszky

image © tamás bujnovszky

image © tamás bujnovszky

image © tamás bujnovszky

during construction
image © tamás bujnovszky

during construction
image © tamás bujnovszky

during construction
image © tamás bujnovszky

during construction
image © tamás bujnovszky

exterior during construction
image © tamás bujnovszky

site context

cave study

floor plan / level 0
1. visitors' tasting room
2. barrels
3. fermenting
4. manipulation
5. wine reception
6. lab
7. store/stock
8. dining room
9. logistics
10. press room
11. fermenting
12. reception
13. tasters' room
14. office


section

section

elevation

sketch
project info:



client: szent ilona winery ltd., kreinbacher champagne cellars ltd.
architect: dezső ekler, ekler architect ltd
team members: árpád koncz, gyöngyi berta, balázs győri, jános gatter, veronika katona, dalma kiss, bálint berki
structural engineer: e&h ltd. 

m&e: phq ltd.
interior design: ekler architect, biva ltd. 

environment design: bojza lp.
contractor:  pannon épszer ltd.
photographer: tamás bujnovszky

total floor area: 5.947 m2
date of completion: 2012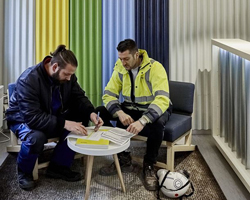 jul 13, 2017
jul 13, 2017
jul 08, 2017
jul 08, 2017
jun 18, 2017
jun 18, 2017