an international group of students has designed and built a small sauna in vang, a remote region of central norway. the timber structure, which has a footprint of just five square meters, has been constructed on a complex site perched above a mountain stream. reaching a total height of four and a half meters, the building contains a changing area in addition to its tiny sauna.

all images courtesy of NTNU / video courtesy of ben orp
named 'eldmølla', the scheme was designed by students at NTNU (the norwegian university of science and technology), who were led by august schmidt, arnstein gilberg, and ina samdal. the course culminated in a two-week construction period where students, together with teachers and the client, were able to experience the challenges of 'real-world' building in a remote location.

the sauna has a total footprint of just five square meters
the project references the traditional mills found in the region, which channel water inside to turn millstones — consequently grinding grain and producing flour. by positioning the enclosed sauna at the top of the structure, the lower level is able to form a more natural relationship with its surroundings. here, visitors are neither enclosed or exposed, and are offered glimpses of the rushing water beneath them as well as the impressive mountain backdrop.

the building has been constructed above a mountain stream
the bridge leading to the sauna not only provides access, but also collects water from the stream in a small basin within the changing area. the project is entirely built from timber, with the bridge fabricated by the students on site. 'the complete expression of the project is a structure that relates to the tall, open spaces between the mountains, and the energetic, rushing water that falls into the valley below,' explains the design team.

the structure reaches a total height of four and a half meters

the project is entirely built from timber

the design collects water from the stream below in a small basin

a changing area is located on the lower of the two levels

a wooden staircase leads to the sauna above

the structure was built in just two weeks

the sauna's wood burning stove

narrow apertures provide natural light
project info:
name: eldmølla
function: sauna
location: leirholsstølen, vang i valdres, norway
footprint: 5 sqm
owner: knut lerhol
course: typology/topology/tectonics, NTNU
course leaders: august schmidt, arnstein gilberg, ina samdal
course participants: julie allémann, ana baía, quentin desveaux, roger escorihuela, rahel haas, anastasiia ignatova, feliks ulvåen isaksen, agathe ledoux, louis meny, sebastià mercadal, adrienne michels, thuy nguyen, pierre-louis passard, kristinn pálsson, benoît perrier, benedikt profanter, pedro simões, ninni westerholm
Save
Save
Save
Save
Save
Save
Save
Save
Save
Save
Save
oct 12, 2017
oct 12, 2017
aug 31, 2017
aug 31, 2017
aug 22, 2017
aug 22, 2017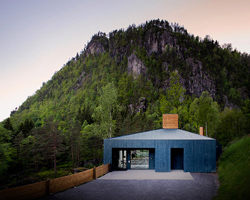 jul 18, 2017
jul 18, 2017
jun 29, 2017
jun 29, 2017
jun 18, 2017
jun 18, 2017
saunas
(28 articles)
nov 01, 2017
nov 01, 2017
jun 05, 2017
jun 05, 2017
may 22, 2017
may 22, 2017
oct 29, 2017
oct 29, 2017
oct 16, 2017
oct 16, 2017
oct 11, 2017
oct 11, 2017