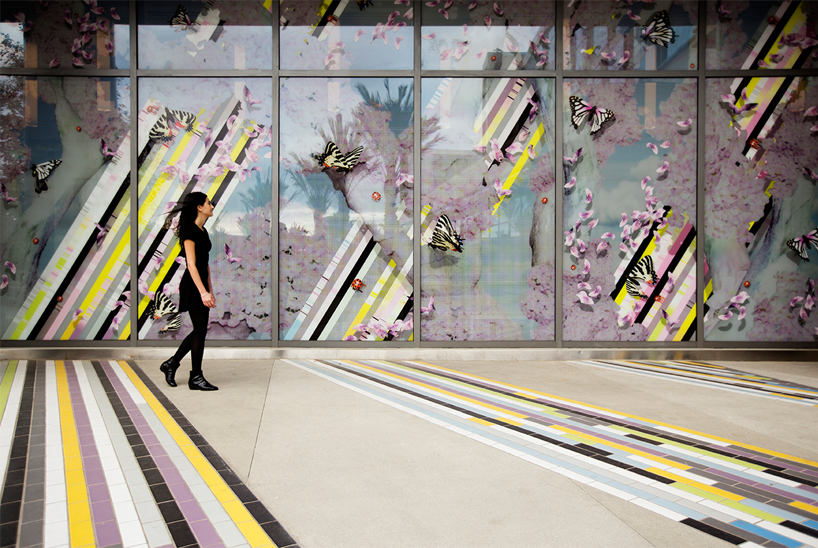 atelier manferdini, founded by italian engineer-turned architect elena manferdini, is an architectural design firm based in venice, los angeles, california. spreading across multiple disciplines, the practice has completed art installations, architecture and industrial design projects in the US, europe and asia. notable work includes the good award design winning alessi 'blossom' fruit basket, the BMW 'at human scale' installation, and the 'inverted landscapes' installations for the zev yaroslavsky family support center, which won the PAN award as best public art project 2015 in the USA.
during a recent trip to los angeles, designboom went to visit elena manferdini at her venice-based studio. here, we were shown round the workspace, gaining detailed insight into their practice and their day-to-day activities. afterwards we sat down with elena to discuss her background in architecture, current projects that she is working on, and her recent appointment as chair of graduate programs at SCI-arc (southern california institute of architecture).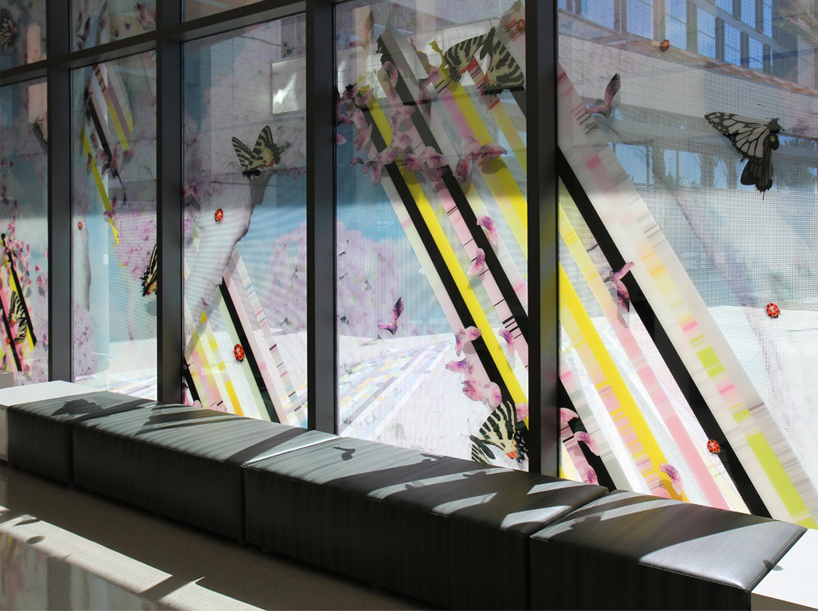 inside the 'inverted landscapes' installations for the zev yaroslavsky family support center
see more coverage of this project here on designboom
all images courtesy of atelier manferdini
located just a few minutes' drive from the stylish sand of venice beach, atelier manferdini's studio is situated in a building shared by many craftsman. their office of 10 years, located on the second floor, beckons guests in with a wall façade taken from the trial sheets of the 'inverted landscapes' installation for the zev yaroslavsky family support center. by walking through the bookshelf gallery, stocked with creative literature including the atelier's catalogue of work, we enter the main office workspace. a long system of white desks stretches across this entire space, placing employees side-by-side along the work top. this intimate office enables dynamic and often group collaboration on tasks.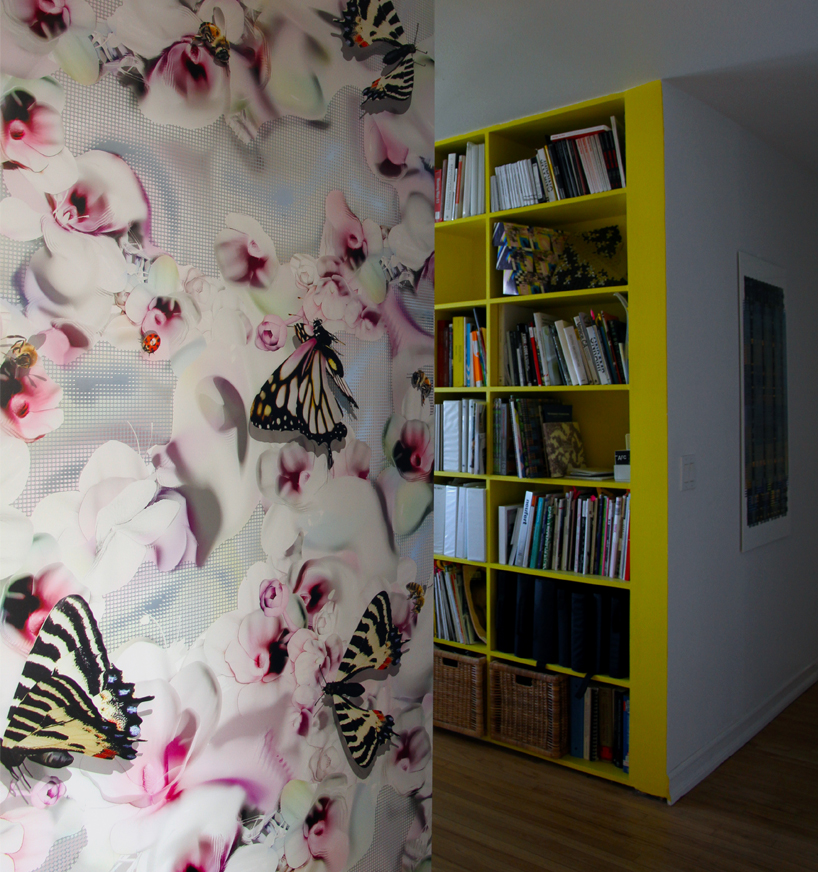 image © designboom
computers line the central desks, providing the perfect workstations for the atelier's creations to be developed. a key influence for their projects are photo-realism and glitch artwork, as seen more recently with the 'inverted landscapes' façade. however, these elements are reflected throughout the studio's work and not just in architectural façades. they inform the designs and details of abstract landscapes, engineering architecture, fabrics, products and furniture. by entering many different inputs, their coding software combines them and generates attractive yet surreal patterns that then enlighten their creations.
after touring the studio and seeing the dynamic work of the team behind the atelier's projects, we sat down with elena manferdini to talk more about her practice. furthermore, we discussed in depth about the coding software that informs so many details for her designs, and the reasons why she first moved from italy to the US.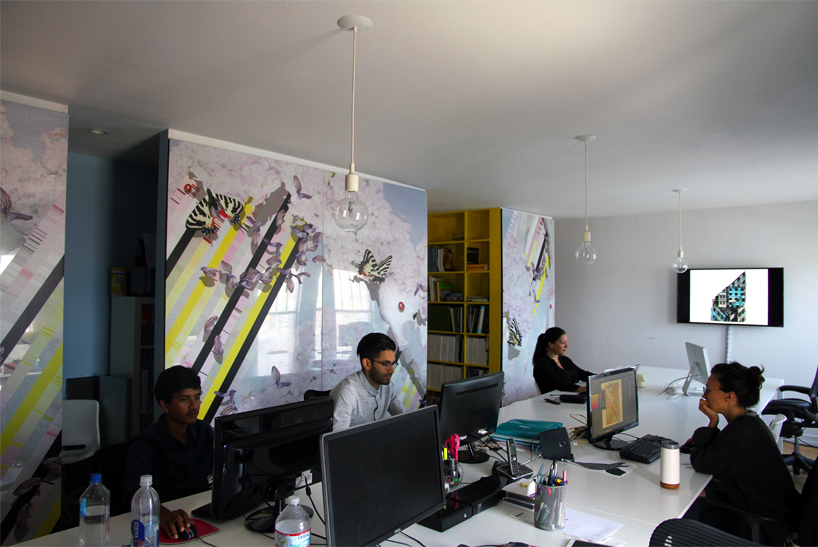 image © designboom
designboom (DB): what originally made you want to study architecture and become an architect?
elena manferdini (EM): I came to architecture as a second career when I moved to the USA. I initially started out as a structural engineer, studying at the engineering university of bologna in italy. I moved to the los angeles when I was 23 because I received a one year scholarship from the engineering department of UCLA (university of california, los angeles). the reason I decided to come to the united states was partially personal, but it was also propelled by the desire to gain a highly specific education, learn a new language and being exposed to a different culture. initially it was not meant to be forever, but los angeles has unexpectedly become my home for the past 19 years. when I arrived and visited the campus, I quickly realized the UCLA architectural program was going through an important transition and I decided to add a master in architecture to my engineering education. generally speaking, I have always been a creative person, even as an engineer. creativity is part of an innate attraction to an overall sense of order and both fields are intrinsically based on geometrical principles.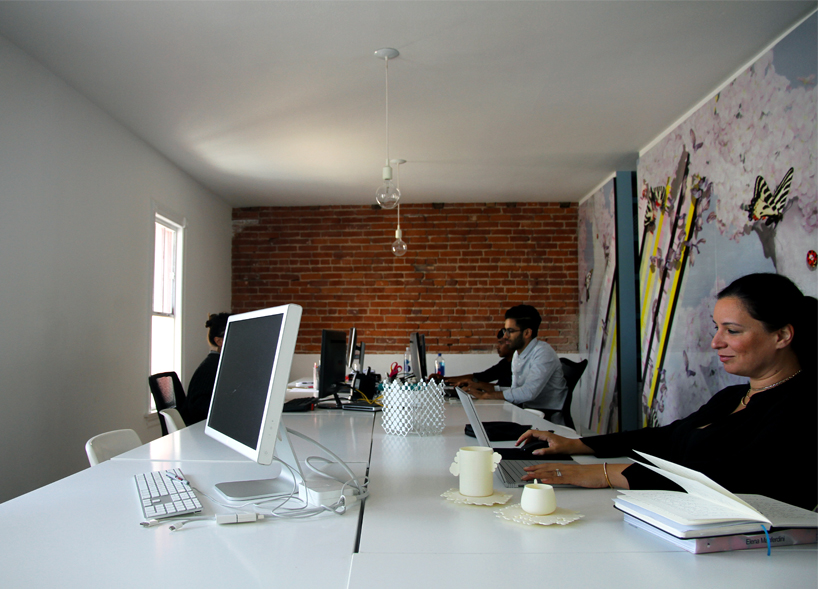 image © designboom
DB: what particular aspects of your background and upbringing have shaped your design principles and philosophies?
EM: I have been in los angeles for 20 years and my office work has stemmed from my education and professional experience here in the USA. however, my practice model shares a few aspects that one would find in europe and specifically come from the idea that an architect should be engaged in design at different scale.
in my upbringing the role of an architect was influenced by the european bauhaus curriculum, which propelled the idea that an architect could design 'from the spoon to the city'. 20 years ago, when I was studying, architecture was the main design education degree that one could choose. whereas now students can select among more specialized design degrees, for instance in industrial design, fashion, toy design and even topics within these. until much more recently, these options were not there. becoming an architect was a core design degree and then people could specialize in different practices afterwards. I think that level of general interest in creativity and how this can be expressed in multiple platforms remains in my practice. this mentality is shown in what types of projects we attract, which is from a variety of fields. I enjoy the change. I enjoy the challenge of changing mediums. I find that the research stage of any project is important, and that such idea can be applied to different fields and different scales. in this way you can actually develop all the possible complexities of that idea and it becomes much richer in the process. for instance, my interest in scripted drawings and the sense of order in them, really informed that kind of exploration in facade systems and textiles. they are all very different mediums but they bring their own strengths to an original core idea.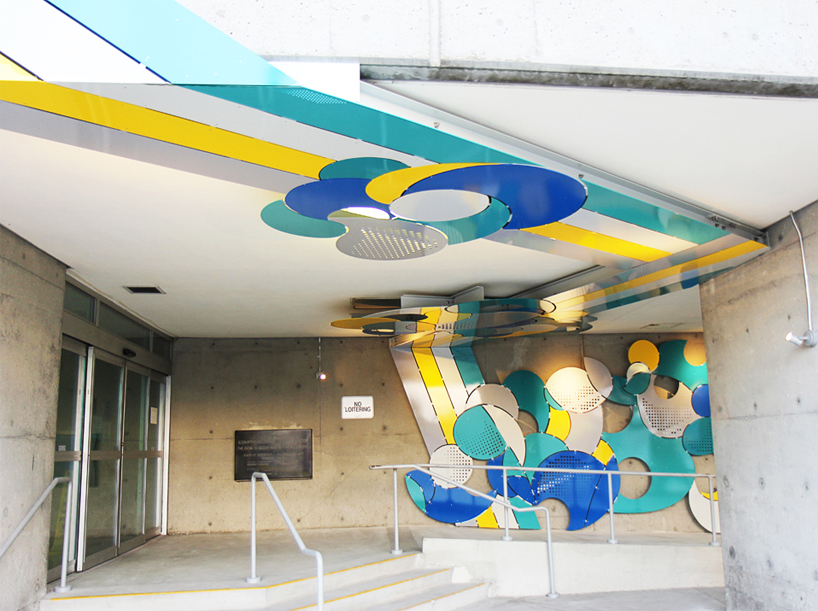 hubert humphrey entry gate, los angeles, 2013
DB: you mentioned how influences such as the bauhuas movement have shaped your education and creative process. who or what has been the biggest influence on your work to date?
EM: in terms of my american education, greg lynn has been an important professor during my years in graduate school and along with him some individuals that were teaching at the same time in the department like theorists bob somol, sylvia lavin, jeff kipnis, and famous architects that influenced my design work like frank gehry, zaha hadid, tom mayne, mark lee and toyo ito. after my graduation I worked for greg lynn FORM for three years, and although our work is now aesthetically different, I believe that we share a common fascination with new tools and techniques. my way to understand tools, and their ability to shape new ways of design and formal palettes came from a mix of my engineering background and his influence on my architectural education.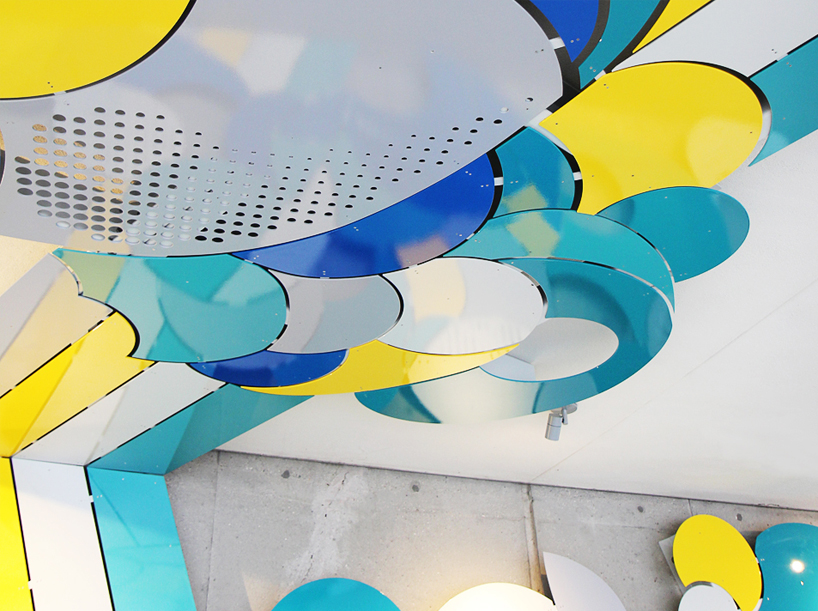 a close-up of the gate
DB: what projects are you currently working on that our readers should look forward to seeing in the next year or so?
EM: I think they should look forward to seeing a facade project in st. petersburg, florida. it is a facade for the hermitage parking garage that will be done by spring 2017. as well, there is the gate and the façade project for the la peer hotel in los angeles, california, which is also very exciting and nearing completion. furthermore, there is also the façade of the alexander montessori school in miami, florida to look out for.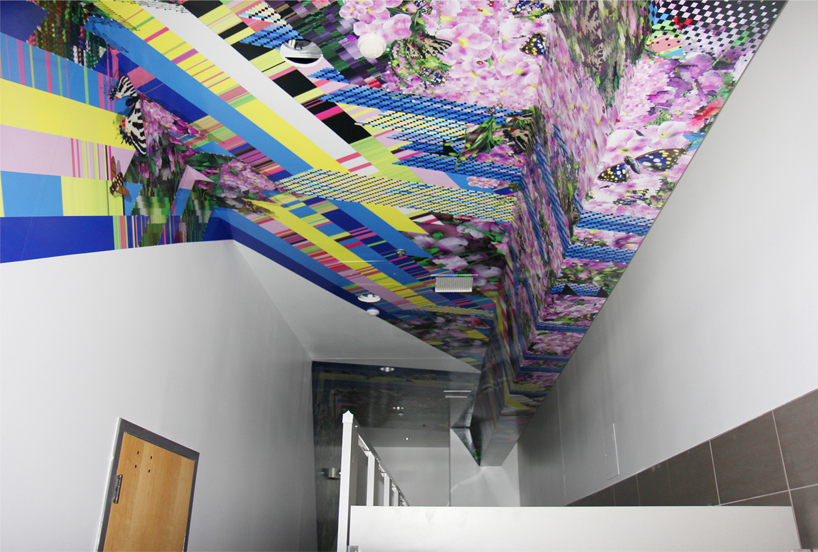 'loo with a view' at the longmont museum in colorado, 2015
DB: on the topic of your façades, could you tell us more about the scripting and almost glitch-art process that goes into the designing of these?
EM: often my work revolves around figures, patterns and recursive geometries. this attraction for an overall sense of order in drawings has been in my work since the beginning. the element of repetition, intricacy, overall behaviors, flatness and lightness has always been a silent protagonist of the work. the use of scripting was a natural evolution from the first experiments with animation tools applied to lines. scripting added another level of sophistication to the work, both in terms of possible geometries, behaviors and colors. the process of scripting allowed me to transform pixels into vectors and therefore images into something that is tectonic.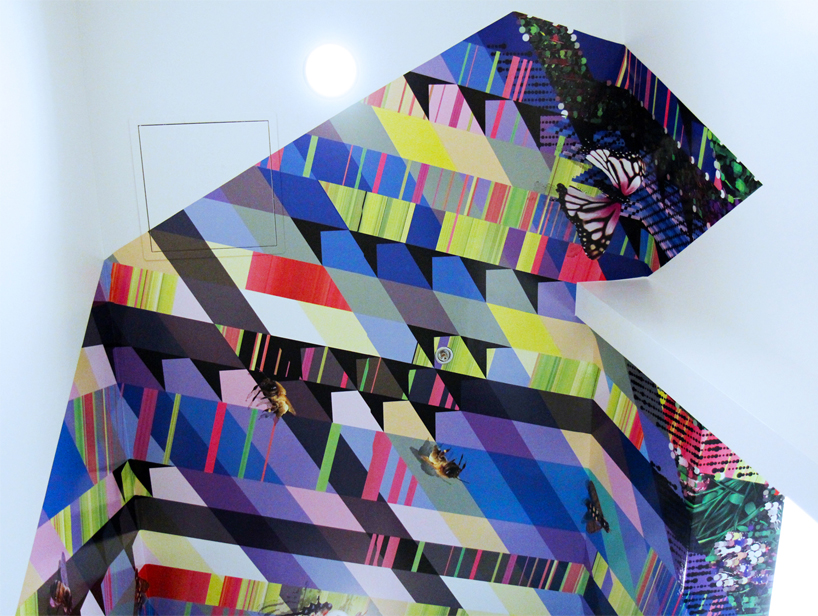 the abstract art wraps around the walls and ceiling
DB: now that computer generated visualizations are so commonplace, is there still a place for physical model making or sketching designs by hand?
EM: in my practice, all drawings are done on the computer. I would still categorize some of them as sketches but they are not hand-drawn. in my office, a sketch is always digital. that doesn't mean that they do not ultimately get printed on paper. I define them as sketches when they aren't technical drawings but are ideas of buildings.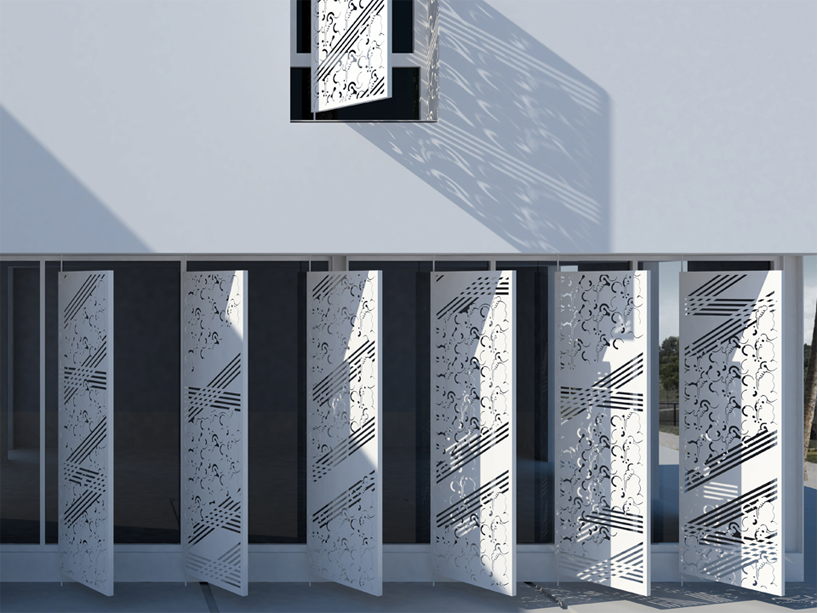 shading panel for the alexander montessori school, miami, florida, 2015
DB: as we are at your los angeles studio, could you give your own assessment of the current architecture scene in the city?
EM: this city has always had a vibrant architectural scene. 20 years ago, when I first arrived here, it was exciting and it still is. there is a community of progressive architects in LA, who have been able to push the boundaries of what is possible. this city is open to a level of creativity and experimentation uncommon in other places. LA is a place where the art, technology and film industries permeate our culture, and as a consequence the field of architecture has always been visually strong. we have few famous schools of architecture here, and I am the chair of graduate programs at one of them, SCI-Arc. in our school, we propel the architectural discipline and reinvent the present and the near future of the city. there are important figures like frank gehry and thom mayne, who have been active in our school for 40 years. thom mayne is one of the founders of SCI-Arc and frank gehry is part of our board of directors. their involvement with our institution grants a healthy exchange between academic discipline and professional practice.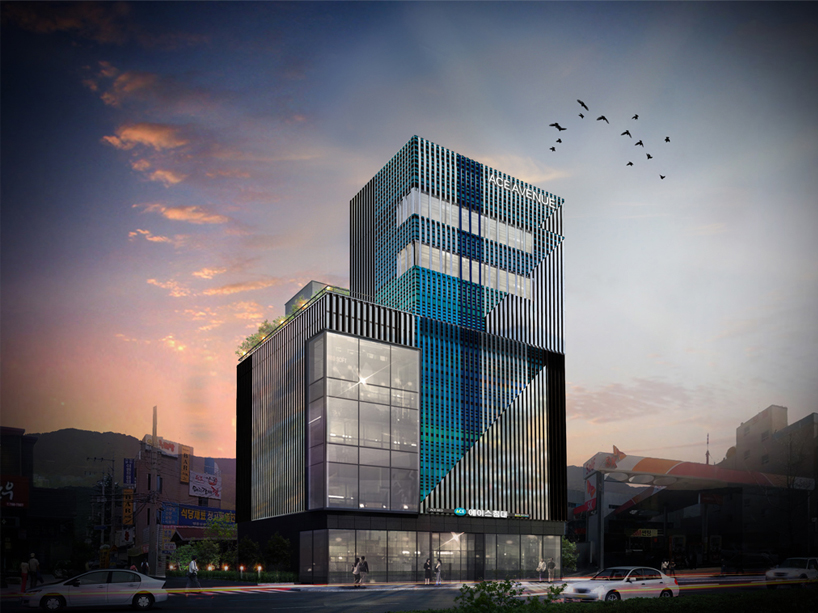 ACE avenue in seoul, south korea
DB: can you tell us more about your work at SCI-arc, and more specifically about the graduate programs?
EM: I became the chair of the graduate programs in 2015. however, I have been teaching at SCI-Arc for 14 years, and for the last five, I have been the coordinator of our graduate thesis. SCI-Arc is a school dedicated solely to architecture. we offer two NAAB accredited master degrees and there are 250 students studying here at the graduate level. the school is at the top of the creative field, which is a fantastic achievement for an institution that is 44 years old. it was founded as a school of rebellion. from its inception it has always been a school for people who break the rules and ask themselves what else is possible. this ethos is very strong in the program today. there is also a focus on technology and being at the forefront of what is new, which is another reason to be located in the art's district in los angeles.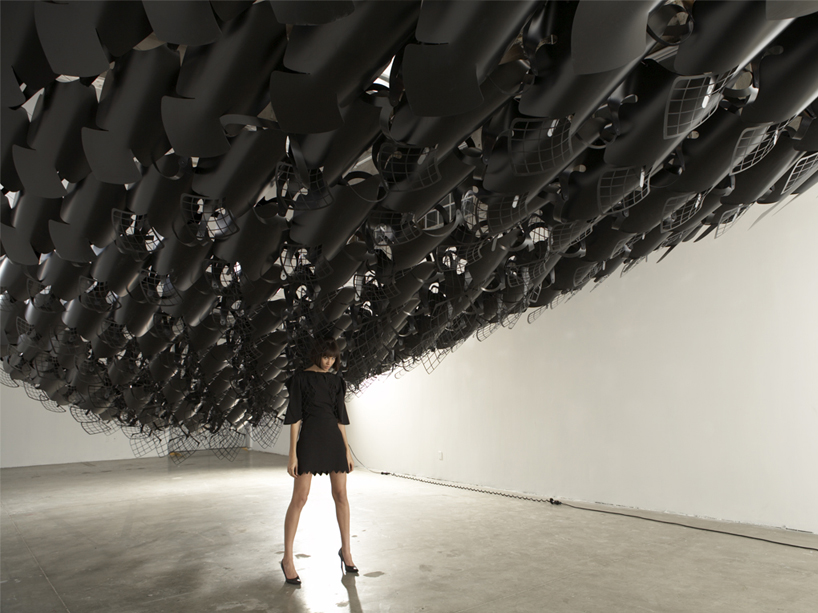 the 'merletti' temporary installation at the SCI-arc gallery, los angeles, 2008
DB: can you tell us more about the special weekly lecturers at the school, and possibly mention a few of the previous guest speakers who have been involved?
EM: in 2011, the school received a grant to create the SCI-Arc digital lecture archive. this free web archive contains more than 1,000 hours of key architectural and design lectures and symposia from 1974 to the present. it is something that as an institution we are very proud of because it constitutes a record of the lectures of the most out-spoken avant-garde architects that came to SCI-Arc from all around the world. you can see the videos of famous architects when they were 35 years old and they first framed their position in the field. this fall amale andraos, enrique norten, preston scott cohen were some of our guests' speakers.
I considered lectures as fundamental for our collective education, because they create a conversation between students and the practitioners and theorists everywhere. they are open to the public, and they create a platform for thinking and sharing information about the field of architecture. this variety of attendees ultimately creates a cultural practice.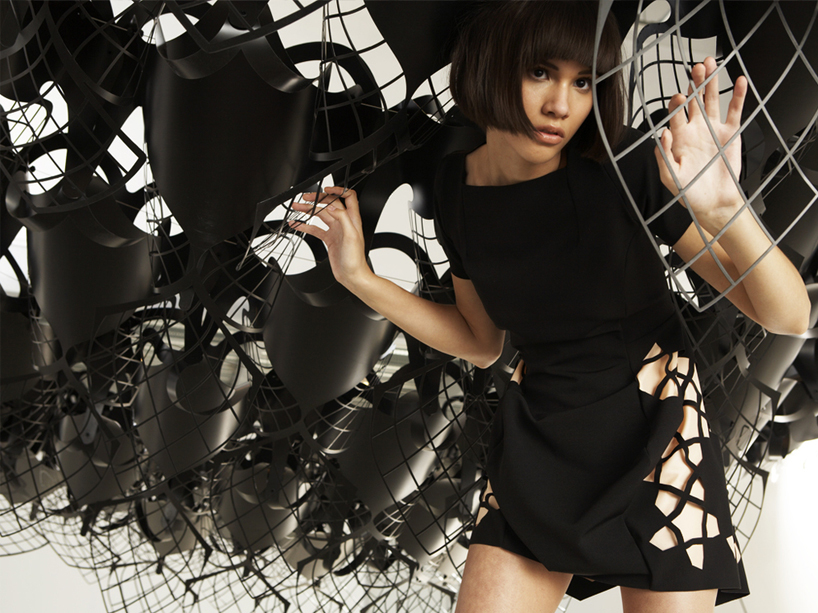 'merletti' references italian lace
DB: what is the best advice that you have received, and what advice would you give to young architects and designers?
EM: frank gehry was the UCLA guest speaker in 2000, when I graduated with a master degree in architecture and urban design. during his speech he mentioned many of the difficulties of being a practicing architect, but he also conveyed the idea that young practitioners need to work on what they are passionate about. I remember him saying, 'so you get an idea. a stupid idea but you like it. so you look at it till you don't like it. so then you make another model as another way of looking at the first stupid idea; and you like it but only for a little while. until you got so many models it costs a fortune to store them. but you go on anyway. more and more till voila, the piece de resistance. it's glorious, it's cheap, it looks different. so nobody likes it'. and he described the ups and downs of an architect in front of his or her work. from his words, I realized that the real struggle was not the relationship with the rest of the world, but the internal creative fight with the discipline and the definition of what matters. a few years afterwards, peter eisenman taught me the difference between projects and practices, and I learned to want to have a project while practicing, at any cost.
I am not sure I have a specific advice for a young architect, and at times I still feel like I am one of them, but there is something I can share. I have never chosen a job solely because it paid well or seemed convenient and yet I found myself being in a place I never imagined possible 20 years ago. I always followed a genuine interest in being involved in what matters the most, and as far as I am concerned, it has always paid off.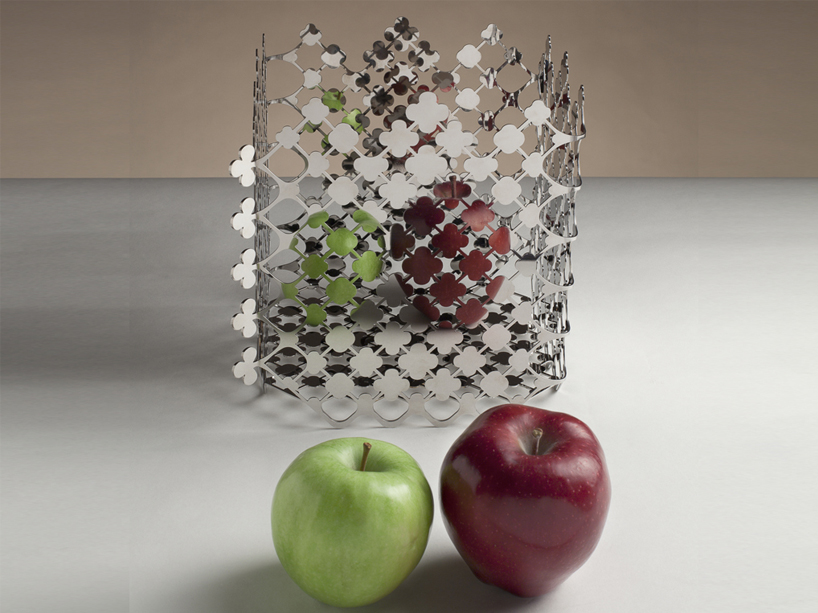 the alessi 'blossom' fruit basket, 2011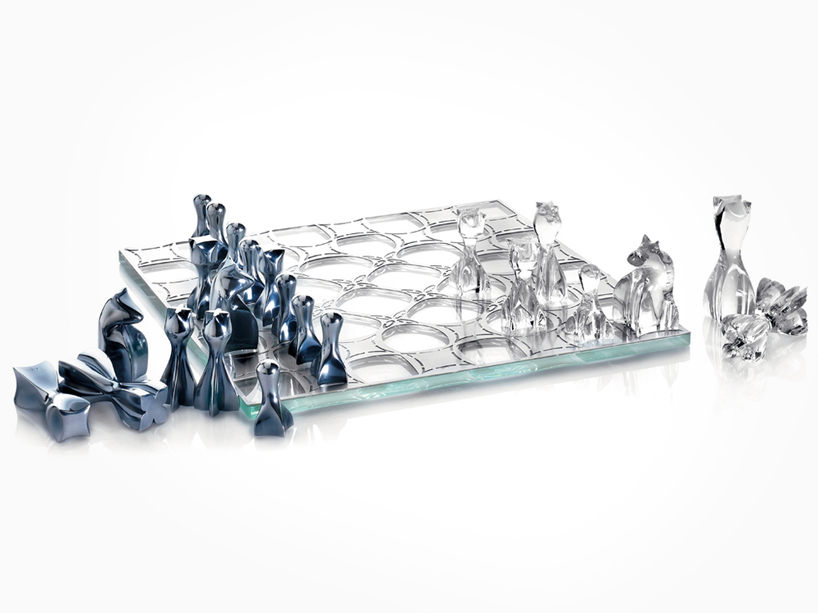 the chess set for ottaviani international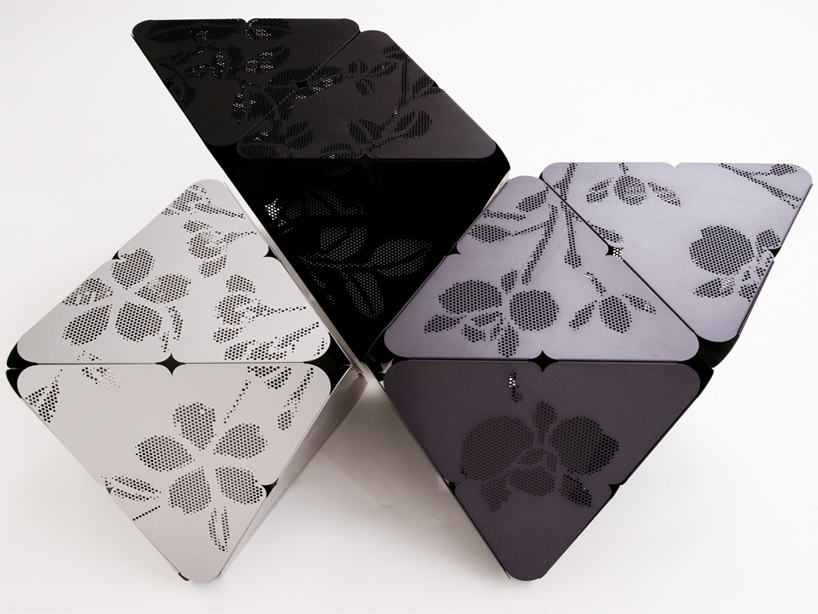 the GEMs low tables, 2010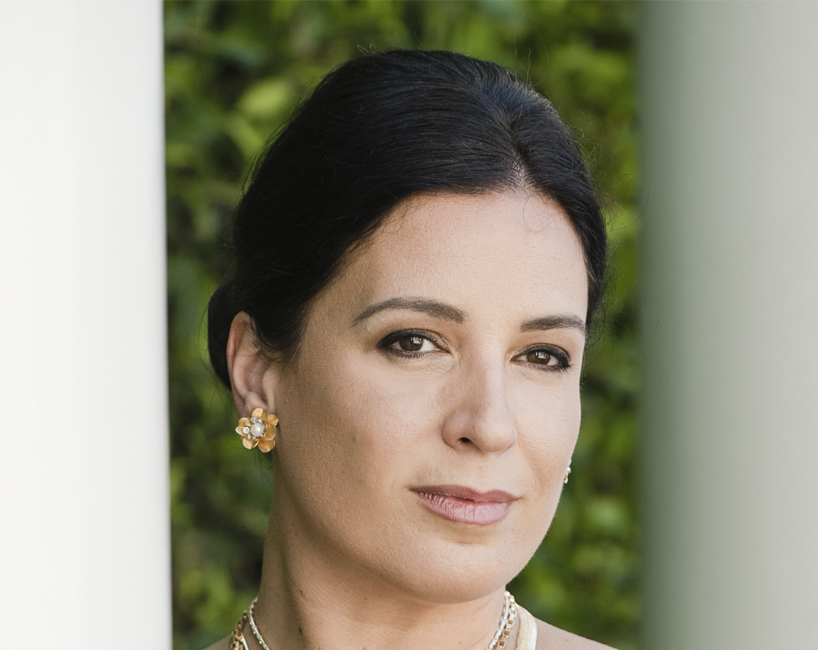 portrait of elena manferdini
Save
a diverse digital database that acts as a valuable guide in gaining insight and information about a product directly from the manufacturer, and serves as a rich reference point in developing a project or scheme.
designboom will always be there for you
milan, new york, beijing, tokyo

,
since 1999