aug 20, 2009
elevation workshop: songmax store
the entrance to songmax image courtesy of elevation workshop, JR & others
located in the dongfeng art district of beijing, songmax is a show room and prototype store for a new women's clothing brand. designed by elevation workshop, the overall goal of the design was to respond to the client's desire to serve stylish, confident, career women. situated within the brand's design studio and clothing factory, near its former fabrication studio, the new concept is housed within the pre-existing conditions of the space. it has limited ceiling heights and openings, with the showroom focusing on the transformation and transition of space through subtle and responsive material changes. there is an 'L-container' within the store which functions as a spacial volume as well as a separation element. the 'L' shaped container introduces an alleyway which has been contoured to emulate the feeling of a private walk-in-closet at home.
a convertible dressing room at the short end of the 'L' places women at the center of the deepened 'display window' which projects directly towards the structure's entryway and traverses through the whole store. the catwalks have been paved with gray tiles, moving through the 'L-container' and weaving in and out of the public and private areas of the store. the composition of the store's circulation creates the visual and physical connections between all essential areas of the retail establishment.
inside, there is a two-way hanger system which creates a red belt, lacing through the lit wall niches around the room. CNC technology was used to pre-fabricate the building materials such as the flooring and resin panels, while thousands of beads were arranged by hand to create a crystal curtain which presents the store's logo patterned within.
entering songmax image courtesy of elevation workshop, JR & others
gray tiles pave the catwalks within the store image courtesy of elevation workshop, JR & others
a look through the cut sections of the 'L-container' image courtesy of elevation workshop, JR & others
the 'L-container' with openings image courtesy of elevation workshop, JR & others
a view down the central focus of the store – the 'L-container' image courtesy of elevation workshop, JR & others
a small lounging area image courtesy of elevation workshop, JR & others
image courtesy of elevation workshop, JR & others
change rooms occupy part of the 'L-container' image courtesy of elevation workshop, JR & others
a read belt laces through the lit wall niches of the space image courtesy of elevation workshop, JR & others
a read belt laces through the lit wall niches of the space image courtesy of elevation workshop, JR & others
curtain made of beads which have been arranged by hand displays the store's logo patterned within image courtesy of elevation workshop, JR & others
image courtesy of elevation workshop, JR & others
image courtesy of elevation workshop, JR & others
convertible change rooms image courtesy of elevation workshop, JR & others
rendering of the space before and after with the implementation of the 'L-container' image courtesy of elevation workshop, JR & others
various components of the store image courtesy of elevation workshop, JR & others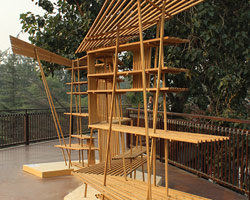 oct 03, 2013
oct 03, 2013
mar 02, 2010
mar 02, 2010