nov 11, 2012
zaha hadid: eli and edythe broad art museum at MSU opens
eli and edythe broad art museumimage © paul warcholcourtesy MSU's eli and edythe broad art museum
more than five years after philanthropist and michigan state university (MSU) alumnus eli broad pledged 28 million USD  for a new art museum, the glass doors opened yesterday, on november 10th, 2012.the 46,000-square-foot building features galleries for special exhibitions, modern and contemporary art, new media, photography and works on paper, and is home to a study collection of more than 7,500 objects spanning the greek and roman periods to modern art. the eli and edythe broad art museum is a project by zaha hadid and built by construction manager barton malow co. of southfield. (see a video of the construction here)
eli and edythe broad art museumimage © paul warcholcourtesy MSU's eli and edythe broad art museum
with its façade of pleated stainless steel and glass, it stands out against the historic red brick buildings on the university's north campus. the angles of the louver-type windows accentuate the unique angle of the building. although the building may appear small, its interior is open and spacious. it has eight galleries and two floors. the main gallery, on the northwest of the building, is stunning. the vertical window strips go from floor to ceiling and are all slightly different shapes. as you gaze at the art, you are also looking out onto grand river and east lansing. there appears to be no square corners in the building. each room is a different shape, a different angle and different light. there is an overabundance of windows and the glass is treated to provide natural light without being blinded, but there are also many areas of the museum that have no windows. some galleries are window-free save a tiny accent window sliver that provides just enough light to add texture to the room. there is a beguiling floating staircase at the center of building and one huge elevator that serves as a people transporter and freight hauler.
at the opening ceremony, zaha hadid gave a short discourse on the logic of the building, talking about its role as 'a cultural facade and moderator of the university', a bridge between city and campus, attuned to the flows of people around it, reflecting them on its skin. some visitors stated that the museum 'looks like being blown by a gust of wind'.
eli and edythe broad art museumimage © paul warcholcourtesy MSU's eli and edythe broad art museum
video featuring the interior of the museum
one of the museum's two opening exhibitions, 'in search of time', juxtaposing art from the broad collection with art from the museum's permanent collection. featured artists include damien hirst, andy warhol and salvador dali.a second exhibition, 'global groove 1973/2012', investigates the origins and evolution of international video art.
museum walk-through visualization
video © zaha hadid
eli and edythe broad art museumimage © paul warcholcourtesy MSU's eli and edythe broad art museum
various media reports a total cost of the project as between $40 and $45 million.the museum is expected to attract somewhere between 125,000 to 150,000 annual visitors and pump 5.75 million USD per year in new spending into the regional economy, an economic study predicts. the east lansing-based anderson economic group projects that visitors to the museum will spend more than 2 million USD  for shopping, entertainment and other retail; 1.4 million USD  for food and drink; 1.1 million USD for transportation-related expenses; and 1.1 million USD for overnight accommodations.
eli and edythe broad art museumimage © paul warcholcourtesy MSU's eli and edythe broad art museum
eli and edythe broad art museumrendering by zaha hadid architects
site plan
floor plan / level 0
floor plan / level 1
floor plan / level -1
section
section
elevation
elevation
sill detail for openings
see more renderings of zaha hadid's project in our article of 2009.
sep 02, 2015
sep 02, 2015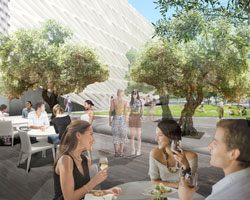 feb 12, 2014
feb 12, 2014
dec 20, 2013
dec 20, 2013
jul 19, 2017
jul 19, 2017
jul 06, 2017
jul 06, 2017
jun 23, 2017
jun 23, 2017