dec 20, 2013
elizabeth diller of DS+R discusses the broad in los angeles
elizabeth diller of DS+R discusses the broad in los angeles 
image courtesy the broad art foundation
during art basel 2013, designboom was invited to a luncheon at the setai hotel in miami, where elizabeth diller and ricardo scofidio of DS+R were on hand to show the work and progress of the 'broad' contemporary art museum. diller discussed the design of the eagerly anticipated 140 million USD project, alongside eli broad a devoted art collector and philanthropist, who with his wife edythe, is curating and developing the grand avenue project in downtown los angeles.
set to open in fall 2014, 'the broad' forges a strong dialog between the permeable exterior skin of the building, the 'veil', and a storage area archiving the museum's extensive collection, termed the 'vault'.
'the archive being on-site was one of the motivating features for us, because it presented a paradox: how do you have a storage facility on grand avenue?', explained diller. 'our original design concept and image is very close to the way it, (the building), has turned out'.
the circulation routes which connect the scheme's programs allow for the fluid transition from streetscape to immersive exhibition environment.
'the circulation is very much part of the concept, you come from the street… then you shoot through to the large gallery. after you've had your experience in the gallery on your way down, it takes you into various views of the archive, the live storage. this is very important to us that the public understand that this is basically a collector and that the work is constantly unpacked on top of this suitcase, and repacked.'
considering the context of 'the broad', the renowned architect acknowledged the challenge of constructing a building so close to frank gehry's disney hall –
'it's very daunting to be the neighbor of one of the best buildings in the US, if not anywhere. disney hall is an fantastically exuberant place to host concerts',  continued diller.
speaking about the challenging construction of the project, and the importance of CAD engineering, diller explained, 'the veil has been very trying thing to pull off, it is actually made of a glass fiber reinforced concrete'.
initial plans for the complex were unveiled in early 2011, while construction is currently on-going at the grand avenue site.
aug 17, 2017
aug 17, 2017
aug 16, 2017
aug 16, 2017
aug 16, 2017
aug 16, 2017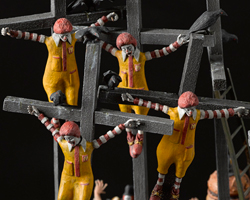 jan 08, 2014
jan 08, 2014
jan 04, 2014
jan 04, 2014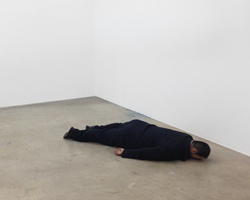 jan 02, 2014
jan 02, 2014
jul 10, 2017
jul 10, 2017
jun 21, 2017
jun 21, 2017
jun 15, 2017
jun 15, 2017
sep 02, 2015
sep 02, 2015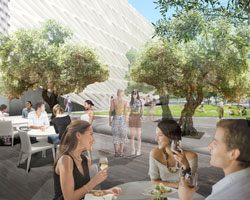 feb 12, 2014
feb 12, 2014
oct 03, 2013
oct 03, 2013