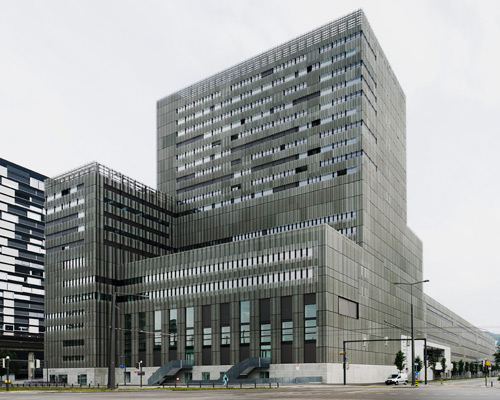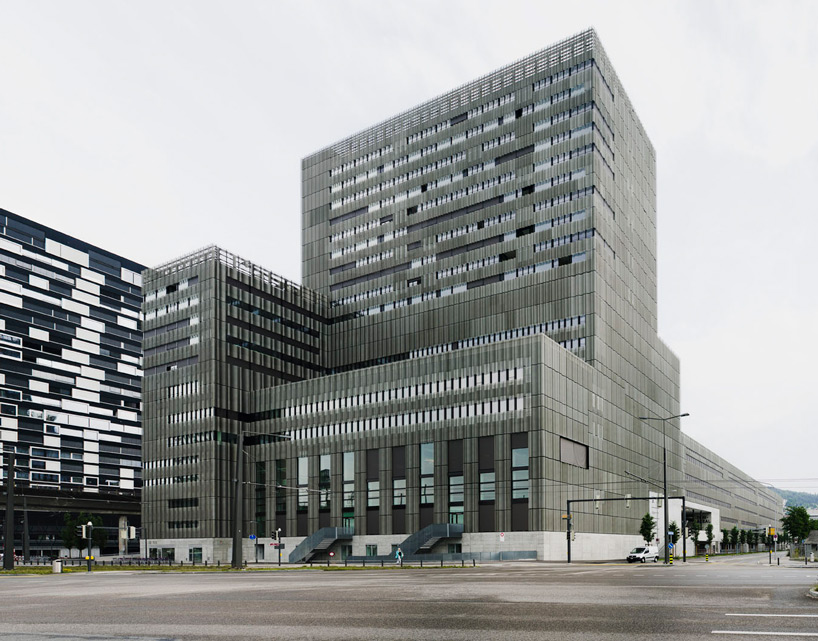 sep 23, 2014
EM2N converts milk factory for toni-areal mixed-use center in zurich
EM2N converts milk factory for toni-areal mixed-use center in zurich
photo © simon menges
all images courtesy of EM2N architects
the conversion of post-industrial buildings for use as cultural and mixed-use centers has proven to be a defining quality in contemporary architecture, and serves to accurately reflect shifts in societal conditions. to add to this development, the toni milk processing building in the periphery of zurich has been transformed into a center for eduction, culture, and housing, with design led by the swiss architecture office EM2N. now known now as 'toni-areal', the facility is intended to be an active urban element which will enliven and diversify the previously mono-functional district.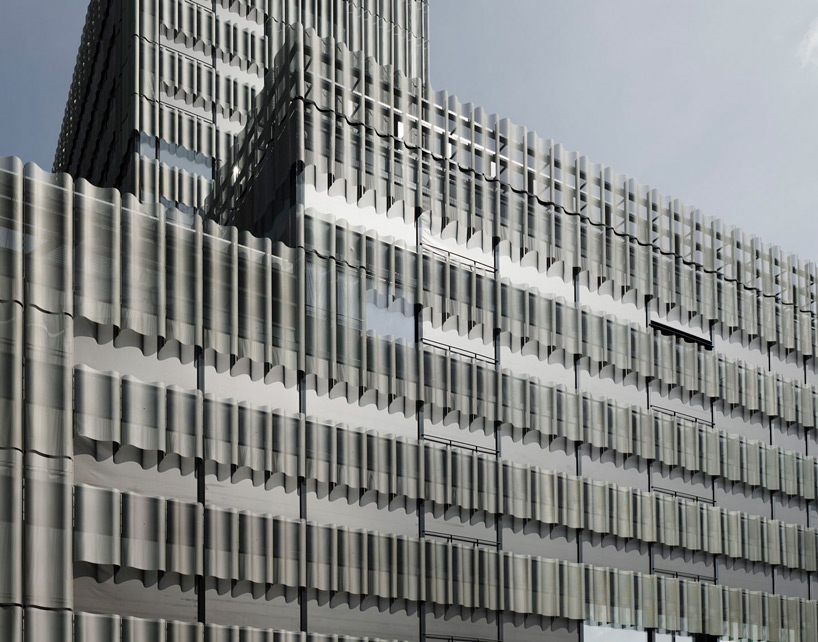 the conversion project involved the addition of waving expanded-metal façade panels
photo © simon menges
EM2N received the project's commission based on their winning urban and program study in 2005, which proposed a specific combination of internal functions as well as a productive connectivity with the surrounding areas. the design team states, 'our design suggested dealing with the size of the project by means of a kind of internal urbanism. the existing system of ramps was reinterpreted as a vertical boulevard and became the building's main circulation system.' to complement the facility's circulation, the layout places a large entrance hall, which acts as a public space, at the intersection of the high-rise and lower block elements of the existing structure.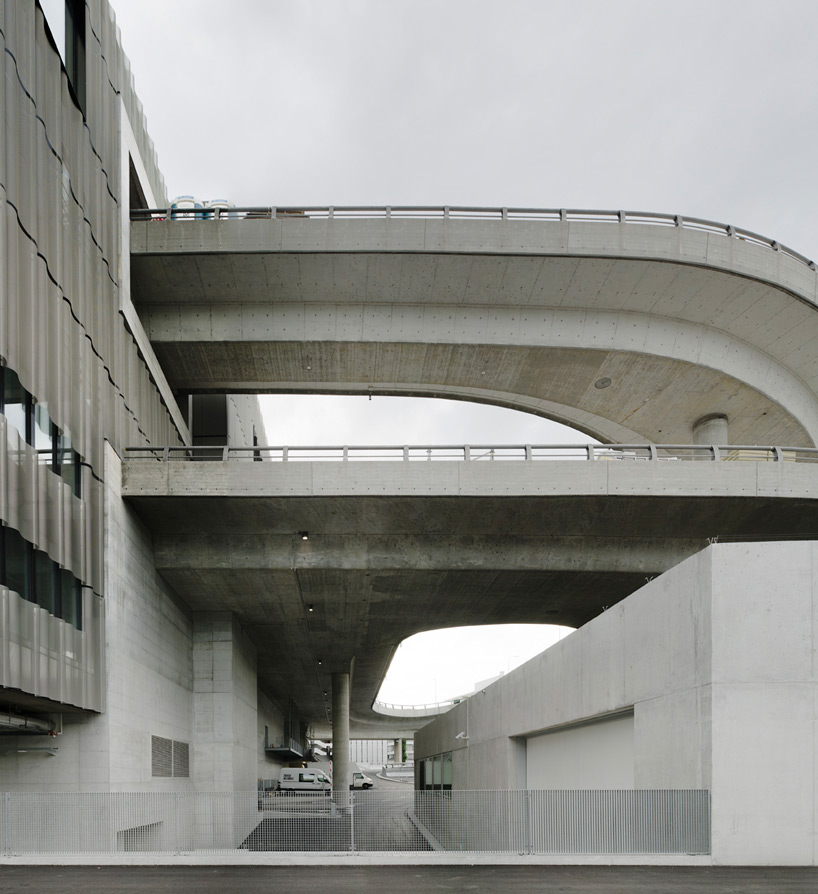 large concrete ramps rise to the building's upper levels
photo © simon menges
the conversion's design seeks to simultaneously maintain and reinterpret the performative and spatial qualities of the existing structure. namely, its façades have been wrapped with waving expanded-metal panels, which reference the original trapezoidal-profile metal sheeting. additionally, many robust concrete elements have been preserved to produce an industrial character and reflect the factory's former spatial sequences.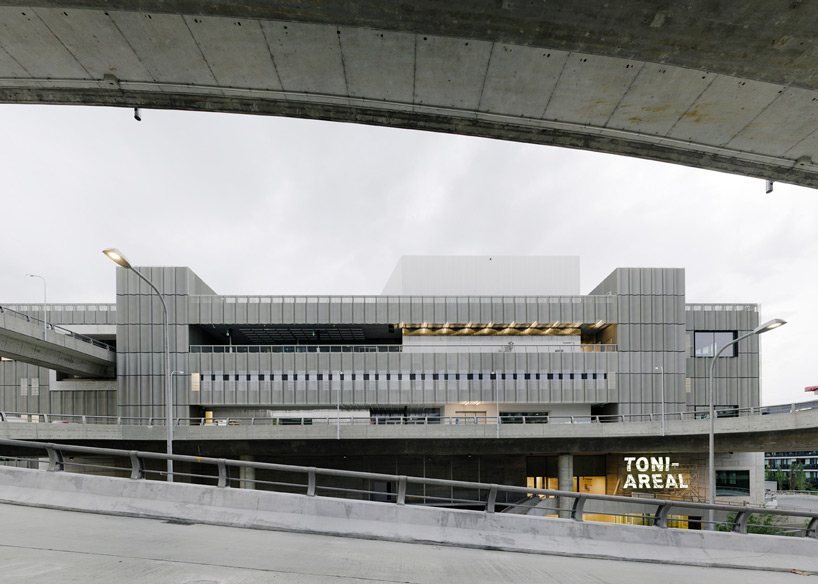 the center fuses eduction, culture, and housing programs
photo © simon menges
'to create diversity and variety the architecture works with various degrees of refinement at different places: generally raw, here and there more refined, sometimes over-defined, mostly under-defined. a wide range of extremely different spaces is created, extending from functional public halls and circulation spaces to intimate rehearsal cabinets, from the multi-functional workshop to the highly specialized sound studio: the building as city, the city as building.'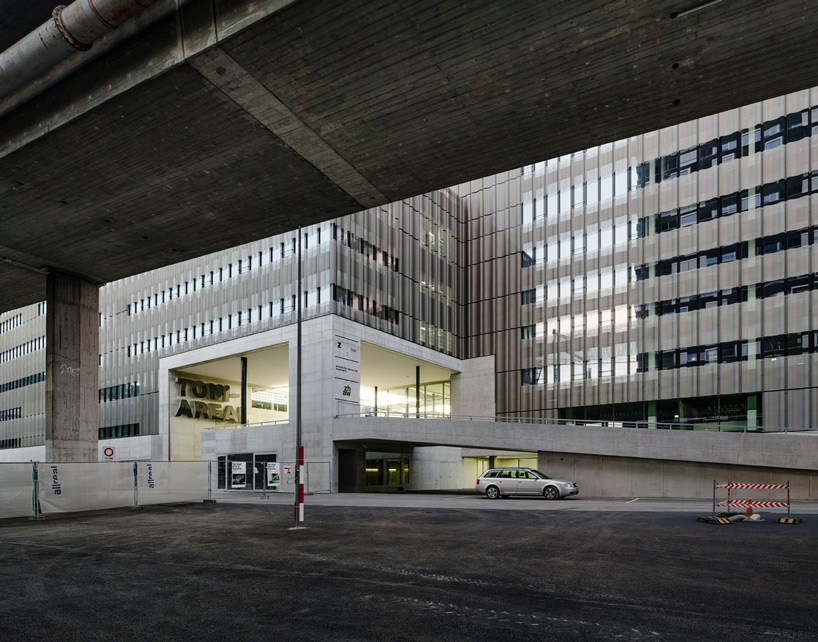 photo © simon menges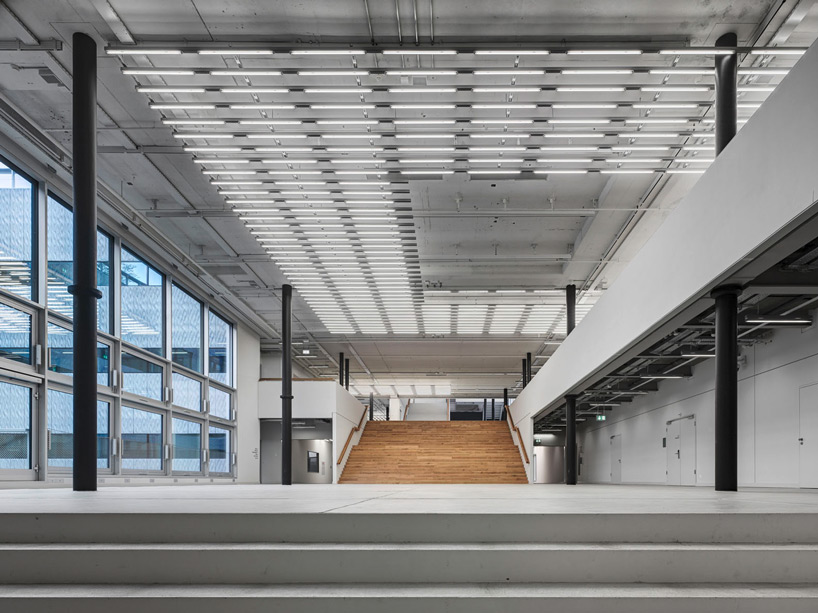 cascading staircases link various levels together
photo © roger frei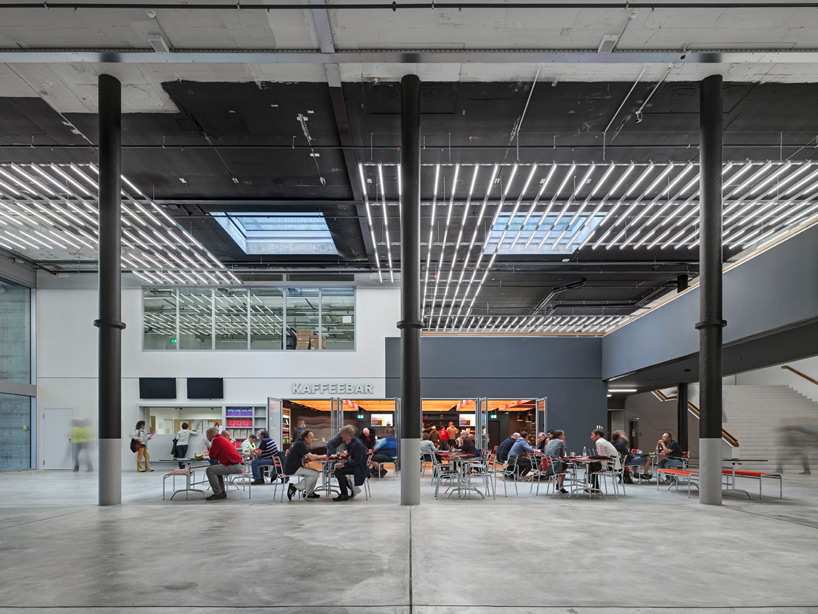 a large entrance hall and café serve for public use
photo © roger frei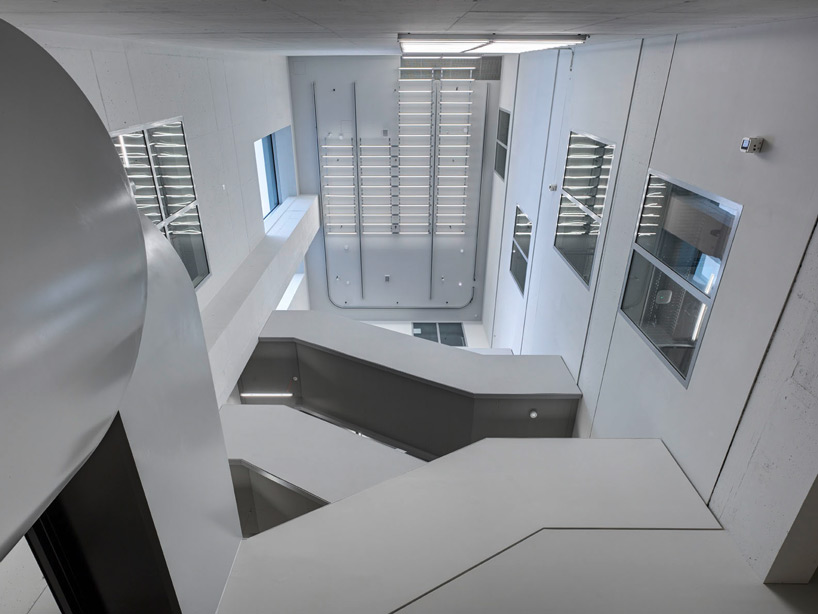 staircases through the high central atrium link various program elements together
photo © roger frei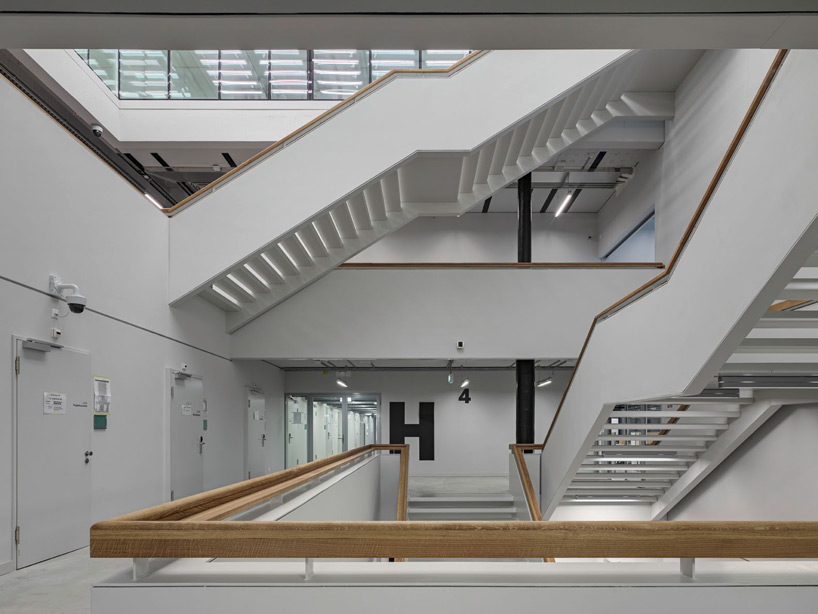 photo © roger frei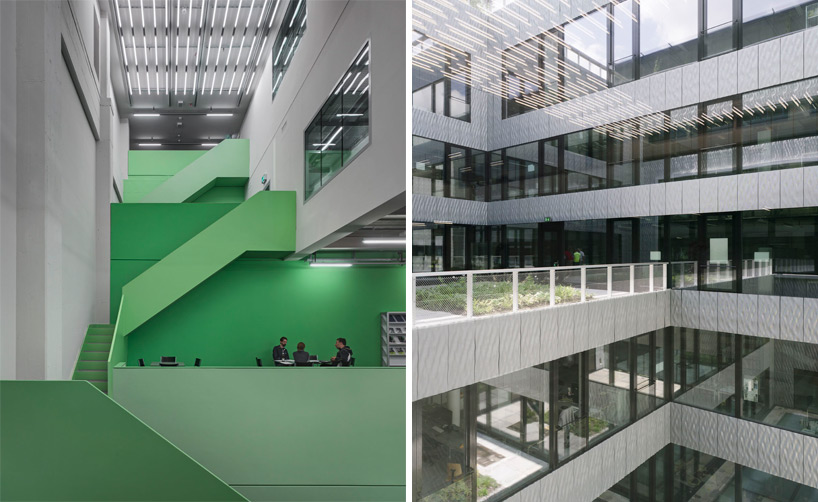 (left) photo © roger frei
(right) photo © simon menges
project info
location: zurich, switzerland
type of commission: study commission, 1st prize
dates: 2005 (study commission), 2005 – 2011 (planning), 2008–2014 (construction)
space program: zurich academy of the arts ZHdK, zurich academy of applied sciences ZHAW, museum für gestaltung, schaudepot (open collections), culture and event spaces, restaurants etc., shops, 100 apartments
site area: 24,400 sqm
gross floor area: 125,000 sqm
total usable floor area: 108,000 sqm:  84,500 sqm (universities), 13,500 sqm (apartments), 10,000 sqm (underground car-parking + other)
building volume: 493,400 cbm
building dimensions: length 170 m, width 90 m
building height: tower 75 m from the level of the city, low-rise building 25 m from level of the city
investment costs (allreal): 547 million CHF
tenant fitting-out costs (canton): 139 million CHF
tenant equipment, fittings etc. costs (canton): 89 million CHF
client, full service contractor, owner, landlord: allreal toni AG represented by allreal generalunternehmung AG
tenants: canton zurich, represented by the department of education canton zurich (client, commissioner for the fitting-out of the interior)
user: zurich university of applied sciences ZHAW (22% of the users, 15% of the usable floor area): 1,100 students, 250 lecturers and staff | zurich university of the arts ZHdK (78% of the users, 85% of the usable floor area): 2,500 students, 1,400 lecturers and staff
architecture and general project management: EM2N | mathias müller | daniel niggli architekten AG | ETH | SIA | BSA
sustainability: minergie-standard (not certified)
specialist planners
architecture: EM2N architekten AG, zurich
cost and project management: b+p baurealisation AG, zurich
landscape architecture: studio vulkan landschaftsarchitektur, zurich
civil engineer: walt + galmarini AG, zurich
façade planner: gkp fassadentechnik AG, aadorf
fire protection planner: gruner AG, basel
planning building automation: ISP und partner AG, hochdorf
planning and coordination heating / ventilation / air-conditioning / cooling technology: portman planung with büro 349 gmbh, zurich
sanitary services + sprinkler system planning: GRP ingenieure, rotkreuz
building physics, acoustics: wichser akustik + bauphysik AG, duebendorf
special acoustics: applied acoustics gmbh, gelterkinden
electrical services planning: bürgin & keller AG, adliswil
lighting design engineers: vogt & partner, winterthur
hybrid art installation serving as illumination system for the building's main circulation: realities:united, studio for art and architecture, berlin
signage: biv & hi gmbh, visuelle gestaltung c/o bringolf irion vögeli gmbh, zurich
gastronomy planning: creative gastro concept and design AG, hergiswil
quality control + PQM: conarenco AG, zurich
architecture team
partners: mathias müller, daniel niggli
overall leaders: björn rimner (associate), christof zollinger (associate)
project leaders: enis basartangil, nils heffungs, fabian hörmann (associate, project management competition), jochen kremer
project team: marius annen, john baker, stefan berle, benoît clément, ruben gonzalvo daluz, melih dilsiz, david duca, vera egli, markus emde, jerome fischer, christian furrer, marita gelze de montiel, frank gysi, nadine hagen, sabrina kählert, sophie kaiffer, orkun kasap, roman koch, jörn küsters, andrea landell (subproject management special rooms), verena lindenmayer, loan ly, raul mera, yoshihiro nagamine, klaudija oroshi, claudia peter, paritteepan premraj, yves reichenbach, gabriela rutz, katie schakat, ines schmid, martin schriener, caroline senn, christiane singer, tomoko suzuki, norbert zambelli
information on the former toni milk processing building
architects: a.e. bosshard + h. widmer
construction manager: m. hausammann
dates: 1976 (completion), construction period – 20 months
cost: 170 million CHF
EM2N
(8 articles)
mar 23, 2018
mar 23, 2018
aug 20, 2015
aug 20, 2015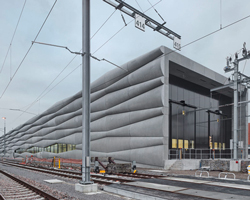 may 21, 2014
may 21, 2014
aug 18, 2013
aug 18, 2013
aug 16, 2013
aug 16, 2013
aug 06, 2012
aug 06, 2012
a diverse digital database that acts as a valuable guide in gaining insight and information about a product directly from the manufacturer, and serves as a rich reference point in developing a project or scheme.