feb 19, 2013
encore heureux: cine 32, france
'cine 32' by encore heureaux, auchs,gers, france image © sébastien normand all images courtesy of encore heureaux
paris-based architects at encore heureux consistently find design synthesis through poignant and standout collaborations. their bold sensibility finds its way into a the 850-seat 'cine 32', an art house movie theater on the site of a former military camp in the auch, the historical capital of french gascony. the five stadium-style rooms are an adventurous foray into the collective joy of movie-going, architecturally expressed in bold color and honest materials. the downtown building had to straddle an aesthetic that both appealed to an always-mixed public and showed a streamlined sense of individualism.
a view of the movie theater in contextimage © sébastien normand
the result is an architecture that puts the traditional forms of pedimented tobacco dryers, seen widely in southwestern france, in dialogue with the graphic signage of contemporary artist bonnefritte. the 'headlining' sign dances with gestures of neon along the main street, joyfully hand-painted and unabashedly present. the curved, peaked projection rooms are additionally clad in a wooden skin fixed into geometric patterns. cinema affords architecture the complex and unique opportunity to create spaces of collective discovery and make atmospheres for a specialized public that is embarking on an unusual journey, it is only so appropriate the the building matches the exuberance of the endeavor.
the hand-painted signage is tempered by a graduated wooden skin image © sébastien normand
the theater attracts a mixed crowd image © sébastien normand
five stadium-style projection rooms stagger in plan image © sébastien normand
the cinema benefits from ample outdoor space image © sébastien normand
detail of the patterned wooden cladding image © adélaide maisonabe
concession stands continue the language of honest materials image © adélaide maisonabe
programmed public spaces curate the theater's paths of circulationimage © adélaide maisonabe
image © sébastien normand
interiors are aesthetically flexible to fit the changing film posters image © sébastien normand
image © sébastien normand
sharing the cinematic experience was a priority image © sébastien normand
the theater's administrative offices are situated in the pediment of the main building, with a translucent facade to boot image © sébastien normand
projectors are cooled by duct-work woven into exposed beams image © adelaide maisonabe
each room is arranged by color, from 'starry night' to 'sunrise' image © sébastien normand
the sunrise room image © sébastien normand
starry night twinkles in the dark image © sébastien normand
cinema is designed to be a collective journey image © sébastien normand
bathrooms are clad in vintage movie posters image © sébastien normand
rich colors draw the architecture together without detracting from the films image © sébastien normand
views of the outdoor terrace image © sébastien normand
artist bonnefritte's signage makes the building a beaconimage © sébastien normand
at night the cinema is a vibrant standout in downtown suburbia image © sébastien normand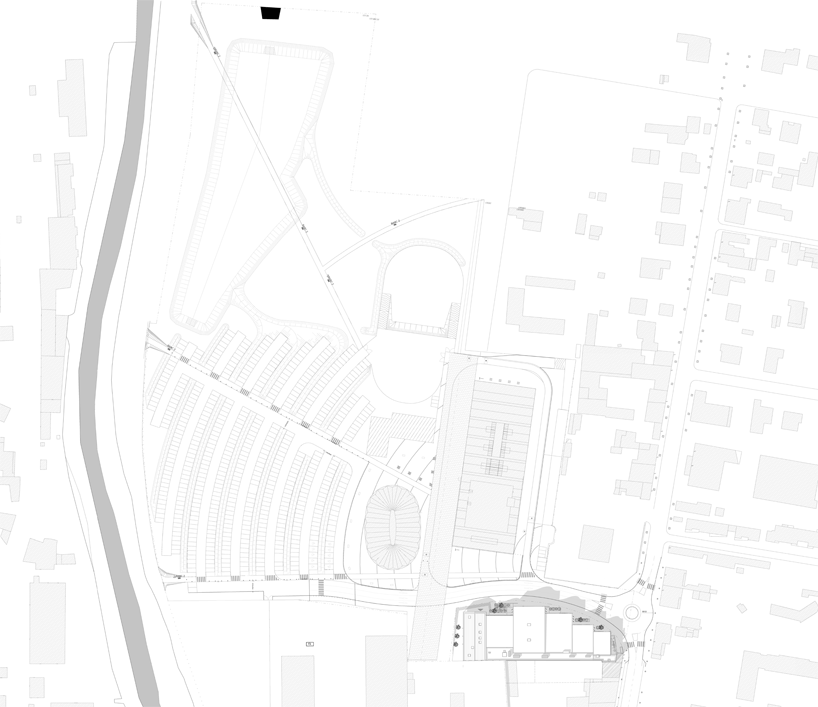 site plan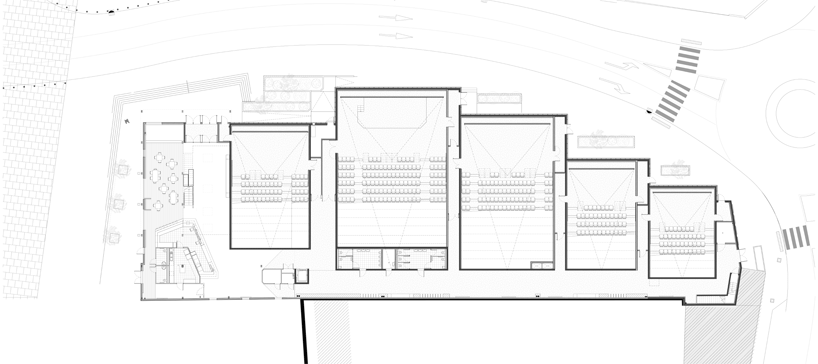 floor plan

floor plan

ambulatory section

longitudinal section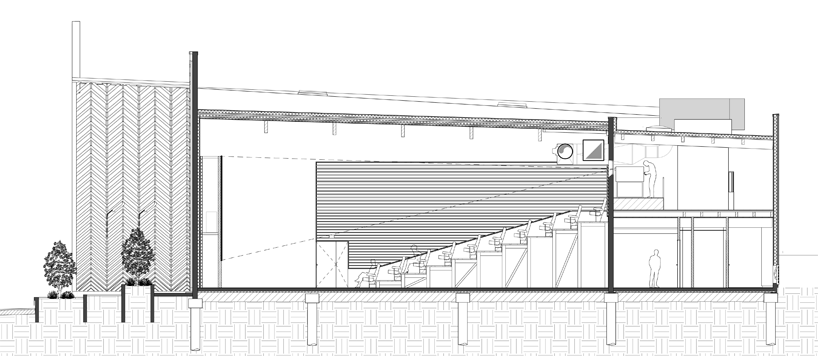 short section 1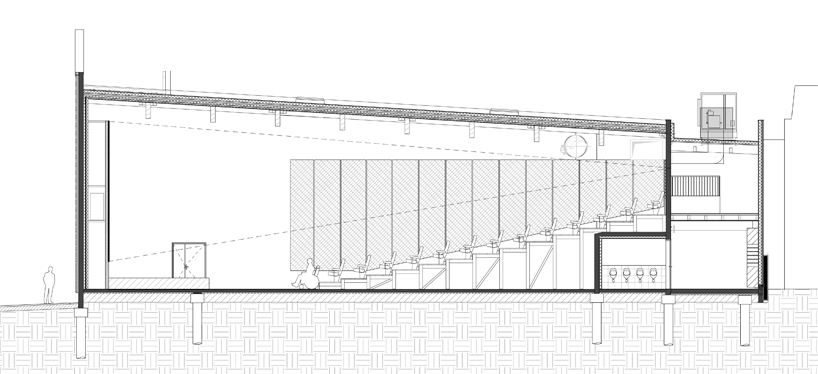 short section 2

elevation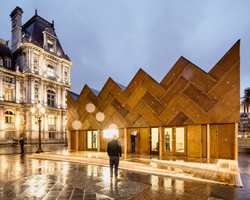 dec 16, 2015
dec 16, 2015
jan 26, 2010
jan 26, 2010
jan 26, 2010
jan 26, 2010