this winery in italy was born from an architecture competition in which the studios of francesco librizzi, andrea caputo, muller van severen, studioerrante architecture, and architecten de vylder vinck taillieu each submitted proposals. the chosen underground design has now opened its doors in the ancient city of matera.


all images © delfino sisto legnani
the scheme by belgian studio architecten de vylder vinck taillieu (DVVT) gave life to a three-level wine contained within one of the city's historical caves. a nod to the client's venetian background, the winery intends to become a familiar and inviting location — a convivial and welcoming place where one may savor italian wines and chicchetti. the interior is defined by a stone encasing in which the vaults of the ceiling continue along all the walls, before transforming into blocks of stairs that both accommodate visitors and form display elements.

the winery extends throughout the three levels of the cave
from the green door of the patio, one enters the inner rooms of the cave: a large staircase leads visitors throughout all three levels, enclosing each environment thanks to the circular movement of its structure.

a stone encasing lines the vaults of the ceiling
the seats are a modular elements from which all other furnishing is formed. developed as overlapping particle board panels, like the other elements, they have been painted in green. guided by the staircase and the lights, the bar environment is located along the vaulted tunnel. here, a circular space is divided in two by a glass wall.

the lighting design references the shape and color of wine bottles

the circular space is divided in two with a glass wall

terracotta tiles extend throughout the cave

the green glass lights were blown by a venetian craftsman in three different designs

wine bottles stacked on the staircases

the use of stone distinguishes the cave as being a nod to the city of matera
Save
Save
Save
oct 15, 2017
oct 15, 2017
oct 04, 2017
oct 04, 2017
oct 01, 2017
oct 01, 2017
sep 26, 2017
sep 26, 2017
sep 05, 2017
sep 05, 2017
aug 29, 2017
aug 29, 2017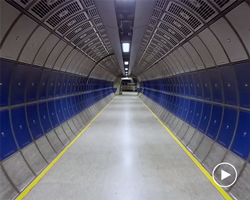 jun 23, 2017
jun 23, 2017
apr 03, 2017
apr 03, 2017
jul 21, 2016
jul 21, 2016
jul 19, 2016
jul 19, 2016
mar 17, 2016
mar 17, 2016
mar 11, 2016
mar 11, 2016
jul 06, 2017
jul 06, 2017
may 15, 2017
may 15, 2017
mar 10, 2017
mar 10, 2017
feb 27, 2017
feb 27, 2017
jan 16, 2017
jan 16, 2017
oct 19, 2016
oct 19, 2016