in aiguablava, a town on catalonia's costa brava coast, architect enric ruiz-geli has constructed a house conceived as a 'mediterranean case study'. the pilot scheme was built using the latest technological advancements as well as digital and sustainable manufacturing methods. using advanced fiberglass engineering, the residence reinterprets the catalan vault — a type of low brickwork arch common to the region, which typically forms a vaulted ceiling. 'the main aim of this project isn't to design a villa, but to carry out a case study,' explains the design team.
video documenting the project's construction | main image by jordi alcalà (itot produccions)
elsewhere on the site, enric ruiz-geli's cloud 9 studio has collaborated with california's artcenter college of design to create an experimental pavilion that stands adjacent to the house. for both designs, state-of-the-art materials have been used to create lightweight and sustainable structures. ruiz-geli references architects such as richard neutra and the eames who helped to define this concept.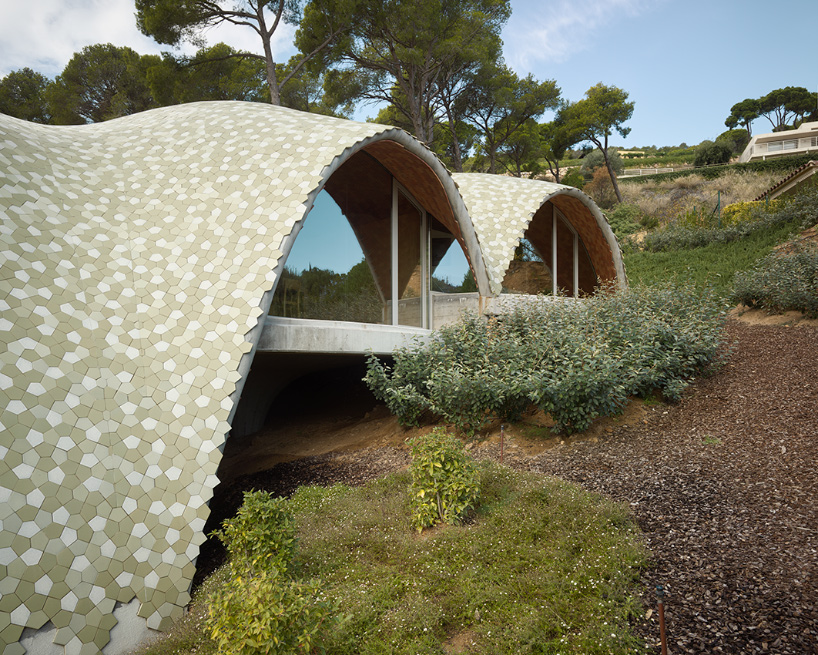 image by gregori civera
in los angeles in the 1950s, richard neutra established a new form of construction with prefabricated parts and rapid manufacturing and assembly. this inspired a revolution, reducing costs and opening the market up to the middle class. charles and ray eames introduced aluminum as a material into the production process of prefabricated parts. in a similar way, 'stgilat aiguablava' represents a pilot housing project based on a 'smart' version of mediterranean architecture.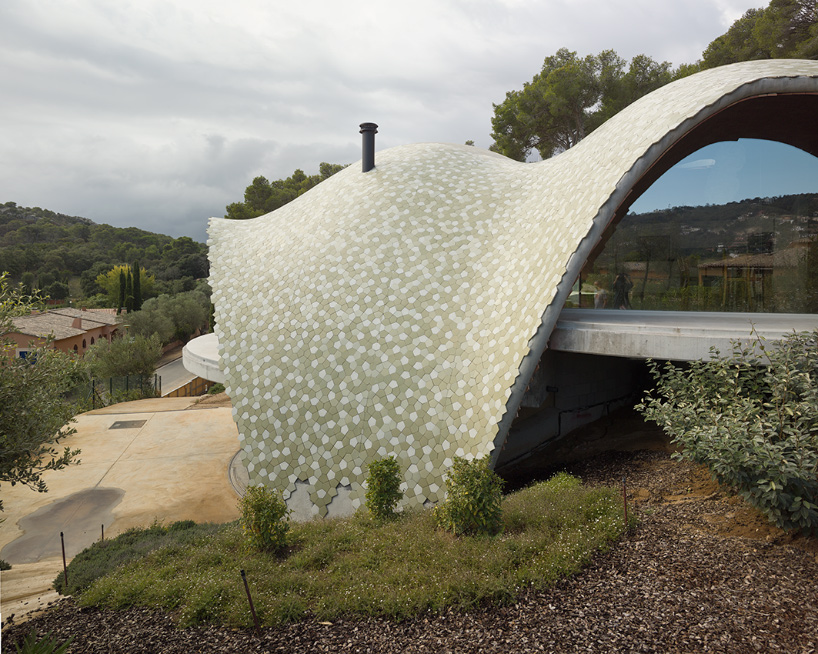 image by gregori civera
the project's client is a european family who are passionate about the mediterranean culture and lifestyle, and whose priority was the project's quality of architecture and promoting research, development, and innovation over luxury. with this in mind, ruiz-geli used a holistic approach, presenting a style of architecture that seeks to evoke sensorial experiences on every level.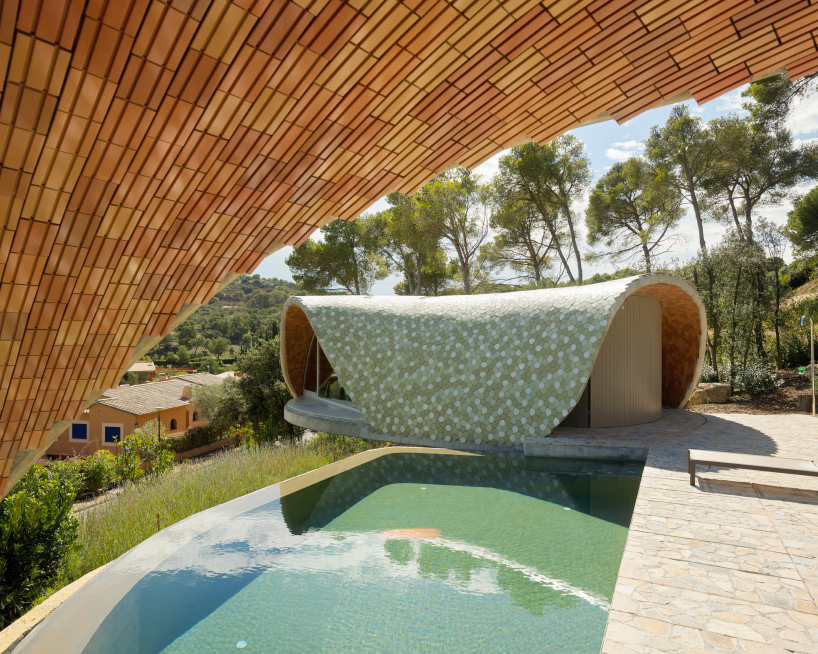 image by gregori civera
the catalan vault gives the main residence its structure — a large space, much like the region's farmhouses, that defines the house's interior. the vault is made of a material that works in compression, providing the house with great thermal mass — protecting the interior from external heat, while enabling the house to retain heat in the winter. it is also a highly porous material, providing dwellers with superior natural breathing conditions. the lightweight and energy efficient arches have been designed using a minimal amount of materials.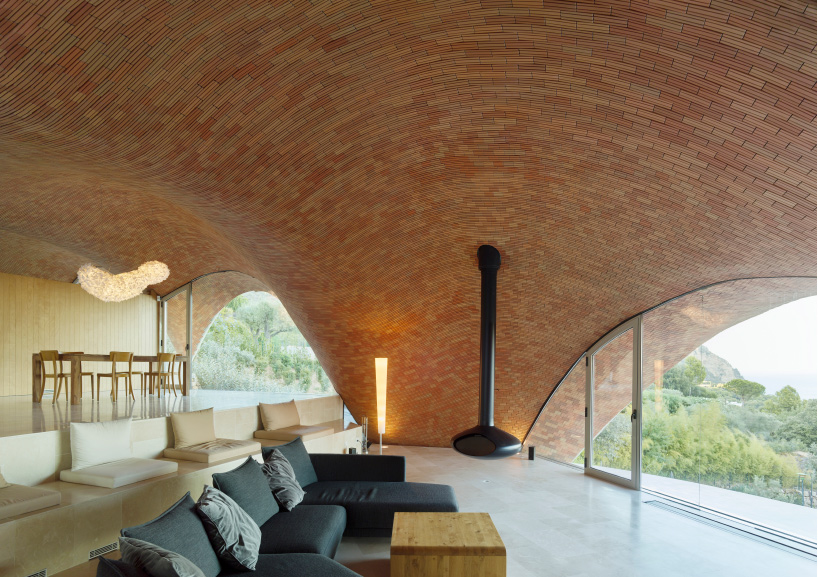 image by gregori civera
the vault's fiberglass façade adds to the landscape by following the curves of the surrounding mountains. the green tones of the exterior ceramics are integrated with the natural colors of the area. inside, a special type of ceramic, crafted by toni cumella, has been designed to achieve high-level acoustics.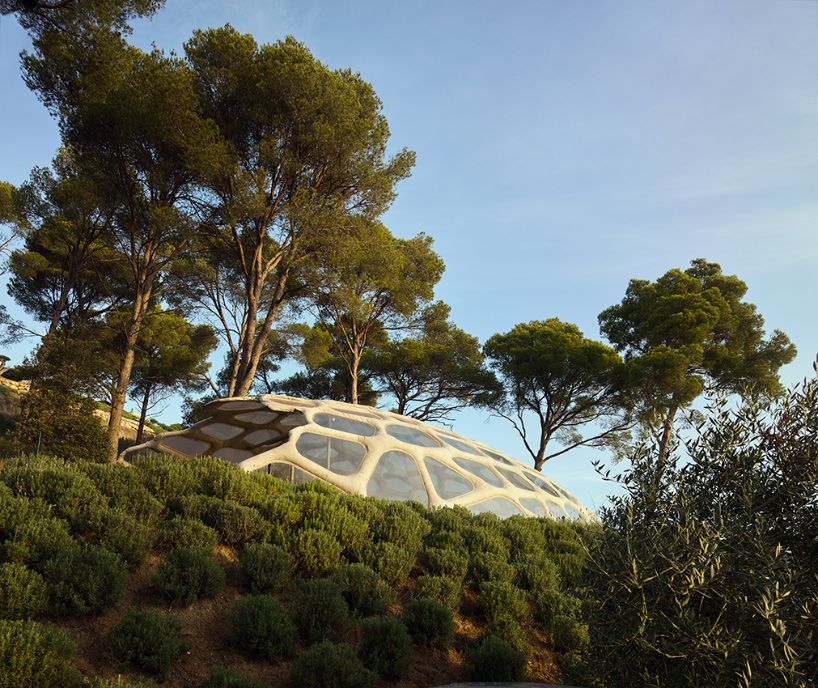 image by jordi alcalà (itot produccions)
'the key to this project is its integration with the environment,' explains the design team. 'the ceramics, the warm mediterranean materials, the freshness, the sun and shade, the colors, the terraces and the curves of the coastline are elements that have inspired and conditioned the design of the stgilat aiguablava villa. the property's wild garden has preserved the existing trees and the swimming pool collects rainwater, filtering it with natural processes.'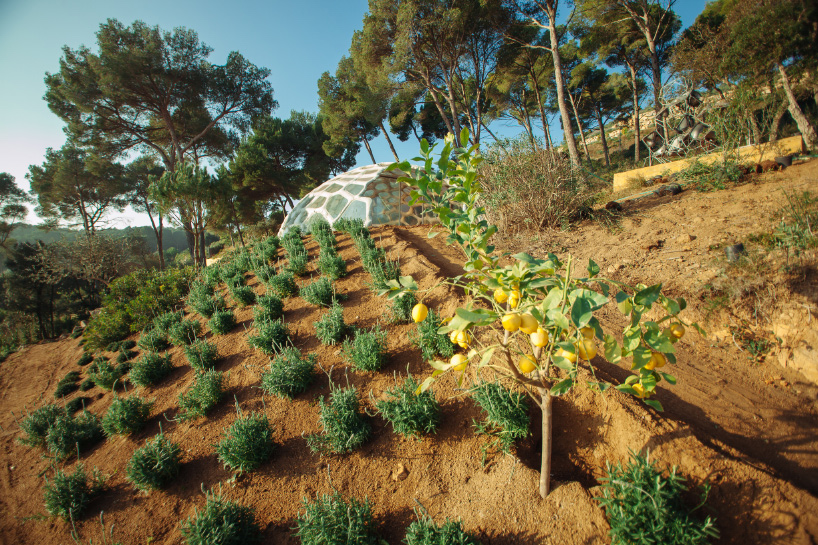 image by jordi alcalà (itot produccions)
the project also includes an ephemeral and experimental pavilion, dedicated to innovation, and designed in collaboration with the artcenter college of design in pasadena, california. professors david mocarski, james meraz, jason pilarski and kenneth cameron visited barcelona with four of their students to oversee the construction. inspired by the surrounding pine trees, and designed based on prototypes, the pavilion is an inflatable scheme. a smart, lightweight and ecological concrete is injected into the structure, giving it an organic shape.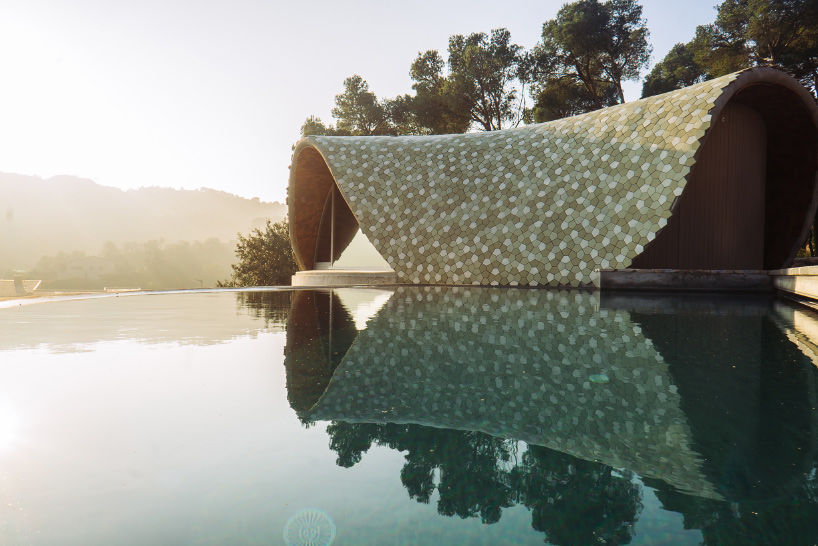 image by jordi alcalà (itot produccions)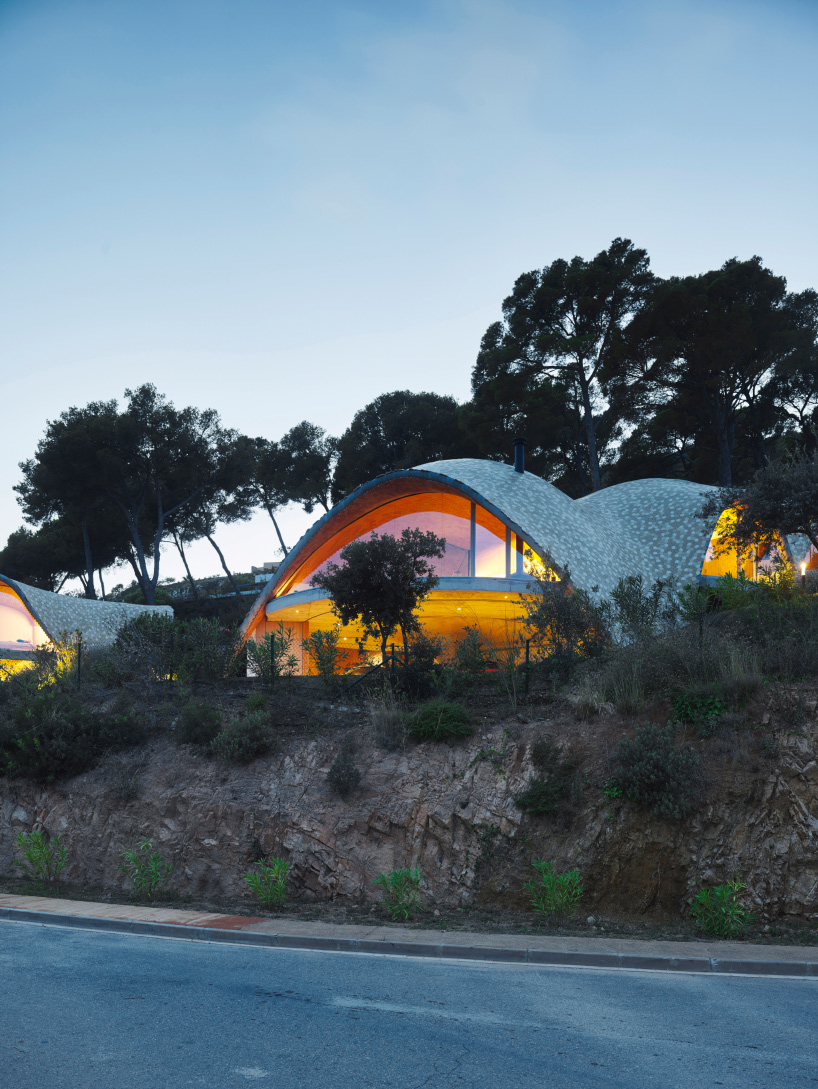 image by gregori civera
project info:
stgilat aiguablava —
chief architect: enric ruiz geli
architectural team: cloud 9
building engineer: claudia galicia
engineer: daró la bisbal
layout: BAC engineering, consultancy group
energy and installations: PGI group
acoustics: david casadevall
home automation: loxone
technical consultant: jose montsuñer
fiberglass engineer: florencio solana
fiberglass: R&B composites
ceramics: cerámica cumella
glass: vidres berni
landscaping: buresinnova
garden: pedro martín
photographers: itot produccions, jordi alcalà, gregori civera
experts committee: josé maría torres nadal, esteve bonell
stgilat pavilion —
enric ruiz geli/cloud 9 in collaboration with artcenter college of design, pasadena
management: david mocarski, nik hafermaas
professors: james meraz, jason pilarsky, kenneth cameron
artistic collaboration: colin honigman
student participation: wen han, marc dubui, sean chen, andrew walton
coordinators: elizabeth collins, regina dowling, ronit droker
may 28, 2020
may 28, 2020
may 19, 2020
may 19, 2020
may 12, 2020
may 12, 2020
may 10, 2020
may 10, 2020
apr 30, 2020
apr 30, 2020
apr 27, 2020
apr 27, 2020
nov 07, 2011
nov 07, 2011
jan 21, 2010
jan 21, 2010
nov 18, 2009
nov 18, 2009
may 31, 2020
may 31, 2020
may 30, 2020
may 30, 2020
may 29, 2020
may 29, 2020
a diverse digital database that acts as a valuable guide in gaining insight and information about a product directly from the manufacturer, and serves as a rich reference point in developing a project or scheme.